The famed Italian motorcycle name Mondial will return to the market in 2019, not as the original F.B. Mondial, but as MondialMoto with a 200hp 1000cc V5 road bike.
MondialMoto claims the bike will "suck enough air into its cylinders to drain a bathtub in half-a-second"!
V5 Superbike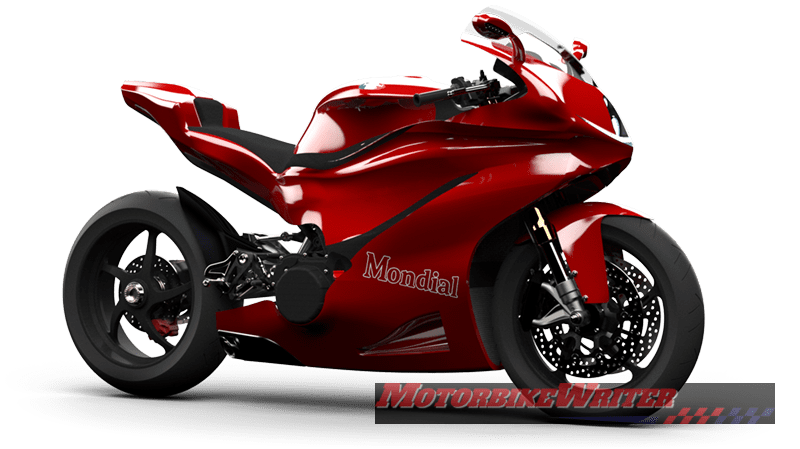 It will feature a 75.5 degree engine, weigh 179kg and come in two models, costing €27,995 (about $A43,750, $US32,500) for the S model and €35,995 (about $A56,255, $US42,000) for the R variant.
The MondialMoto 200hp 1000cc V5 Superbike would compete with the 214hp/1103cc Ducati V4 Panigale (priced from $28,990-$59,990 +ORC).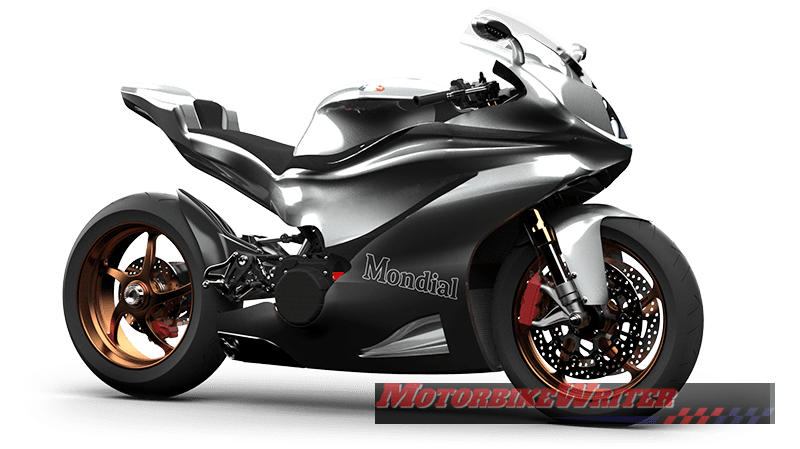 The first production bikes can be reserved for €10,000 ($A15600) for the S and €15,000 ($A23,400) for the R.
It will have a carbon fibre chassis and a valve train made of titanium, enabling the bike to rev to over 13,000rpm "for long periods of time", the MondialMoto press release says.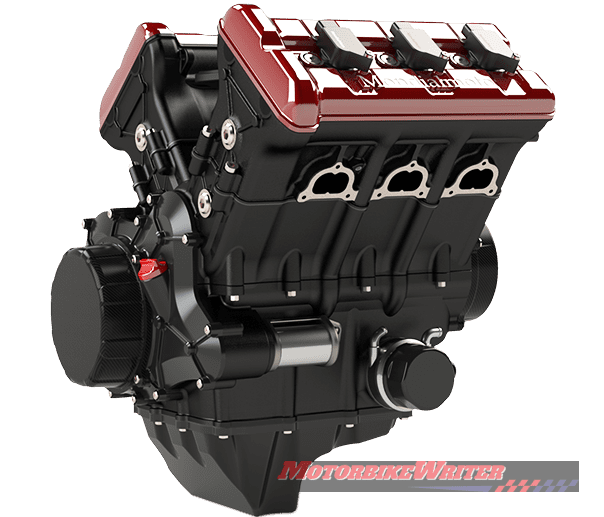 At full chat, it will suck enough air into its cylinders to drain a bathtub in half-a-second.
It will also feature a titanium exhaust, hi-tech electronic rider aids, LED lighting, electrically operated mirrors, electronic steering lock, keyless remote, satnav, Brembo brakes, Ohlins suspension, a comprehensive instrument panel with information such as lap times. 
The R version adds a one-piece carbon frame, subframe, single-sided swingers and wheels.
MondialMoto
We are not sure of the ownership of MondialMoto, but it is based in Modena and is not associated with F.B. Mondial.
The latter was founded in 1929 in Milan, dominated Motorcycle World Championships between 1949 and 1957, and returned to the market in 2016 with a range of hipster single-cylinder motorcycles.
MondialMoto say they have secured a €2.5m ($A3.9m) loan from the Italian government to start production in Italy next year. The bike will be unveiled at the EICMA Motorcycle Show in Milan in November 2019.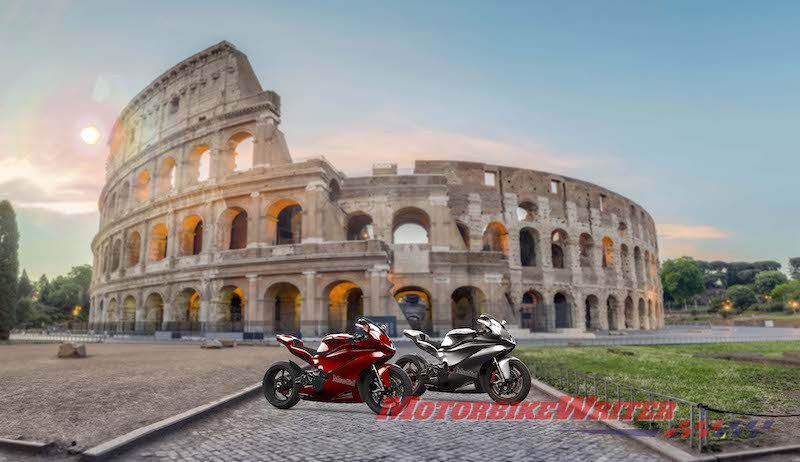 Meanwhile, they have launched a crowd-funding campaign to raise more capital.
The company is offering 2000 "mini-bonds" at €500 with 20% interest, maturing in July 2023. The deadline for crowdfunding is 31 July 2019.
MondialMoto says they have been working on the V5 superbike for 10 years.
Director Antonio Matarollo points out that "only one other manufacturer has produced a V5", referring to Honda's RC211V race bike.
"It dominated MotoGP for five years but it never went into production. We will be the first to put a V5 on the road," he says.
(Interestingly, the original Mondial factory had a very close relationship with Honda.)
MondialMoto is actively seeking dealers and importers around the world for the bike.
The company has also announced a "MondialMoto Experience" factory visit which includes a meal in the company restaurant and a photo opportunity seated on the first V5.  Tickets can be bought online for €150 (about $A235).
MondialMoto 

V5 Superbike
Price: 

€10,000 ($A15600) for the S, €15,000 ($A23,400) for the R

Engine: 1000cc, DOHC, 75.5 deg, 4-valve V5
Compression: 13.5 .1
Transmission: 6-speed, slipper clutch
Wheels: 350×17, 600×17 (forged alloy OZ on S, carbon on R)
Brakes: Brembo with 320mm front floating discs
Suspension:  Öhlins USD electronic 48mm forks; Öhlins rear, Öhlins steering damper
Seat height: 78.74cm (31ins)
Steering angle: 24 deg
Wheelbase: 143.5cm (56.5 ins)
Weight 179kg