The famed Italian FB Mondial motorcycle brand is returning to the market with a Hipster scrambler, enduro and supermoto with a single-cylinder 125cc engine and three engine sizes coming in the next few years.
FB-Mondial produced bikes from 1948 to 1979, won 10 World Championships in the 1940s and '50s.
The company produced a limited-edition, Honda-powered Piega super bike in 2002 and set a world record with the sale of a 1953 Mondial 125 Monoalbero for £60,000 ($109,000) in 2014 at a Coys of Kensington auction.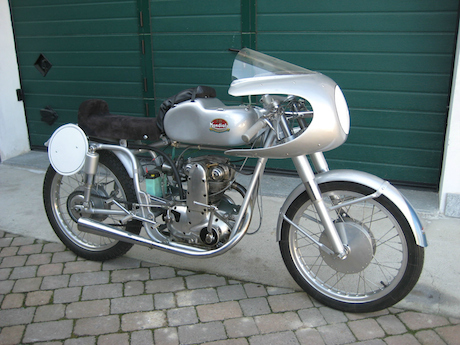 Now it's back with the Hipster HPS 125 which they will reveal at the INTERMOT auto show in Cologne next Tuesday, October 4, 2016.
There is no word yet on pricing or a potential distributor in Australia, but they have announced they will  hit the market in the third quarter of 2017.
The company is also expected to unveil an enduro and supermoto version, but there are no details on their website.
At the heart of the bikes is a 124.2cc liquid-cooled single-cylinder unit used in Derbi motorcycles which is part of the big Piaggio Group.
While the HPS 125 has only 11kW of power at 9750 revs, the little scrambler weighs just 130kg dry.
It features an 18-inch front wheel, four-piston brakes, 41mm upside-down forks, a 14-litre fuel tank, six-speed transmission and a small single-pod digital instrument which is offset and looks similar to the Ducati Scrambler.
The HPS 125 will be followed by a 250cc scrambler version weighing the same.
However, the HPS 250 249cc single-cylinder engine will produce 18.5kW of power at 9000 revs.
If the Milan factory designs and produces the engine, it will be the first new Mondial engine in 56 years.
FB Mondial history
FB in the brand name stands for Fratelli Boselli or the Boselli brothers. The brand was revived in 2014 by Pier Luigi Boselli with Italian company Pelpi International.
It has taken the company two years to produce their first product.
However they say they will produce "three more different bikes" in the next six years.
"They will be developed with different engines, right to offer one complete range of bikes as the band had in the '60s and how one brand has to evolve naturally in the market.­­­­," their website says­.