MOMO "Komposit" Carbon Fiber Motorcycle Helmet
There was a time not too long ago when the terms "industrial design" and "consumer products" weren't used in the same sentence. Functionality was the watchword, and no one thought much about how style.
There wasn't a deliberate movement against industrial design – it just wasn't really considered as anything that should consume much time or effort, especially for low-end consumer goods.
It has only been within the last couple of decades where design is an integral and even a primary goal of any and all consumer goods. Cameras, watches, portable audio devices and more are sometimes purchased as accessories rather than as tools.
There's an interesting article in the December 2004 Cycle World magazine that illustrates this point. Apparently, Harley Davidson motorcycles weren't "designed" until Brooks Stevens, a famous industrial designer from the '40's, was hired after World War II to add some spice to the front end of the new models. Prior to that, Harley engineers were primarily responsible for design, which had been stagnant at Harley for many years.
Stevens and other designers in the '40's and '50's started the consumer products industrial design movement, which now plays such an important role in everything we buy, right down to the way the buttons look and feel on the most basic electronic devices.
MOMO evolved from this movement, and went on to become one of the best-known industrial design firms in the world. Their radical and unique designs have made them a leader in the movement for many years.
Their first product was the MOMO steering wheel used by the 1964 Formula 1 Championship winning Ferrari team in the mid-'60's. MOMO steering wheels then became the object of desire for any sports car fanatic of that era.
Their success with that single product was huge, and made the MOMO name known throughout the world. They have since expanded into every segment of industrial design, and the MOMO "look" (and logo) is almost instantly recognizable, in everything from watches to eyeglasses to…motorcycle helmets.
But is modern industrial design compatible with something as functional as a motorcycle helmet?  That's what we wanted to know.
MOMO has a small line of helmets, including the full-face "Devil", the Komposit carbon-fiber model shown here, and the "Fighter". The MOMO Fighter helmet has recently been in the news as the first helmet to have an optional Bluetooth communication capability, jointly developed with Motorola.
This is an interesting concept, because the Bluetooth wireless capability could mean things like hiding a radio, voice communications and safety information somewhere on the motorcycle while providing wireless communication to the rider.
We chose the Komposit for this review simply because it looked cool and it embodies some of the classic MOMO design elements. The first thing that is noticeable about the Komposit is its weight, or lack thereof. At 949 grams (2 lbs., 1-1/2 oz.), this has to be one of the lightest motorcycle helmets available. It's lighter even than the Vega XTS half-helmet (see the wBW review), which weighs in at 974 grams, yet the Komposit is still ECE 22.05 approved.
The panels of carbon fiber on either side of the helmet appear to be of good quality, and they provide the helmet with it's unique look. The shape of the Komposit is sort of a take on the typical half-helmet, but it's not quite as large as an open-face helmet. It's two ear coverings are reminiscent of a 1940's leather fighter pilot helmet with its ear flaps, complete with a nylon webbed chin strap.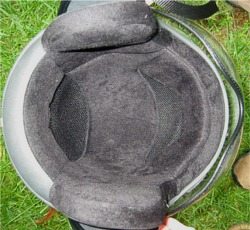 Unfortunately, the chin strap uses a quick release, and doesn't have a loop or device to secure the loose end, which is a puzzling design oversight. Although the loose strap end hanging down does give the wearer that wind-in-the-face look of a '40's era barnstormer.
There was a short strip of padding that came in the box that can be wrapped around the strap to provide minimal padding under the chin. It folds over the strap and closes with a section of "hook and loop" fastener.
Since the strap cuts right under the Adam's Apple (thyroid cartilage), any padding in this area is helpful.
The Komposit's liner is comfortable enough, and we found that the padding works for riders with or without eyeglasses.
There are no cutouts for the ears; just a solid section of padding on either side. The sizing seems just about perfect; a size large fit exactly as expected.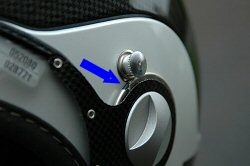 The visor is also a distinctive design element on the Komposit. It's not your typical motorcycle helmet visor; this one is relatively flimsy, although it does the job.
But this is where the style of the helmet seems to take precedent over functionality. The visor's edge trim a sort of cheap-looking vinyl that's sewn on.
The visor is attached to either side of the helmet with a faux carbon-fiber connector section that has small rivets added in a rather untidy fashion.
And the circular spacers that allow the visor to rotate up and down have a very thin matte metal plating that is already flaking off on our brand new specimen (blue arrow, photo left).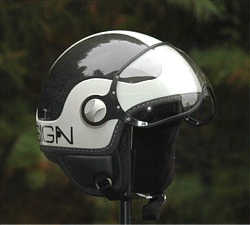 The helmet shell has a vinyl stitched edging around the entire circumference. Depending upon your taste, it either adds to the retro look or it gives it the style of a circa 1950's football helmet.
It's always surprising when an open-face helmet is quieter than a full-face, but the Komposit seems to have less noise than might be expected. The visor does flex a little at speed, which is especially noticeable on an unfaired bike. But it's very comfortable and so light weight that it feels just like wearing no helmet at all.
We have mixed feelings on the "MOMO DESIGN" script across the back of the helmet. A simple "MOMO" would probably suffice. But it probably wouldn't be too hard to cover this area up with reflective stickers or paint if you don't care for the large text.
One thing's for certain: you won't see yourself coming and going when you're wearing the Komposit. I rode a friend's cruiser down to the local hangout, and the crowd absolutely loved it. Everyone wanted to know where they could get one. So maybe MOMO will start a new trend – helmet-wearing cruiser riders!
Product Review:  Momo  Komposit Carbon Fiber Helmet

Available From:  Designer Helmets (UK)
Suggested Retail Price:  £175.00
Colors:  Silver, Matte Black, Red, Yellow
Made In:  Italy
Product Comments:  Light weight at 949 grams (2 lb., 1-1/2 oz.), unique design, some quality problems.
Note:
 For informational use only. All material and photographs are Copyright © webWorld International, LLC since 2000. All rights reserved. See the webBikeWorld® 
Site Info page
. Product specifications, features and details may change or differ from our descriptions. Always check before purchasing. Read the
Terms and Conditions
!
Owner Comments and Feedback
Other WebBikeWorld Helmet Posts