Unpredictable English weather, clouds of blue smoke, the heavy scent of two-stroke fuel and rainbow oil spots on the road provided some authenticity to the second annual Mods V Rockers ride in Brisbane on Sunday (May 17, 2015).
The ride is one of many around the world held on the anniversary of the famous 1964 Brighton beach clashes between Mods and Rockers.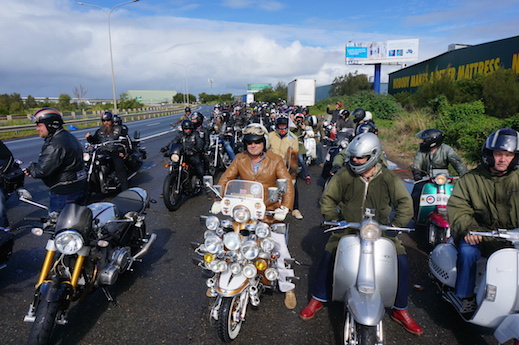 More than 170 riders and pillions gathered at Harry's Diner, 104 Newmarket Road, for the ride through the city to the Brighton beach at Redcliffe. 
Most of the early arrivals rode Triumphs old and new, but there were also plenty of cafe racers, an odd assortment of Harleys and even a new Ducati Scrambler, but hardly any Mod scooters.
However, the Canetoads Scooter Club arrived late en masse to provide a screaming, blue-clouded aromatic show.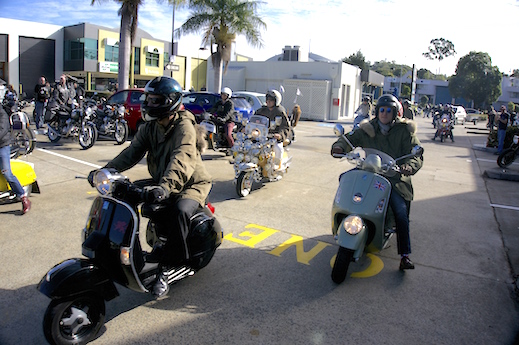 While that total number of riders was more than the 130 who attended the 50th anniversary ride last year, more could have attended but chose to stay away as the ride was to be escorted by the police.
However, the four police motorcycle cops who escorted the ride for free were well drilled and provided an almost uninhibited procession through the city streets.
The cops blocked most of the intersection so the riders could continue on through stop signs and red lights.
Despite so many bikes in the ride, they were well marshalled in one continuous pack to its destination where many of the riders congratulated the police on their help.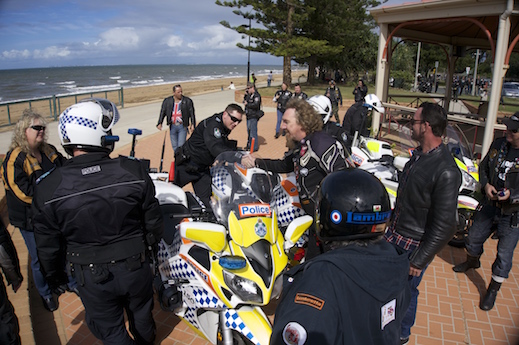 The police then took their leave, allowing the Mods and Rockers to party on. No riots like the original Brighton clash!
Organiser Matt Jones of Rocker Classic Motorcycles at Redcliffe said he was happy with the turnout and the way the police conducted themselves.
He said that just as as the ride celebrates the healing of the age-old rift been between motorcycle and scooter riders, it also provided an opportunity for the police to start healing the rift with the riding community in the wake of the controversial VLAD laws.