The Breakdown
The Thawdaddy from Mobile Warming is a battery-powered heated vest that is much lighter and thinner than typically heated vests. The result is a heated garment that can fit under most any other apparel and, combined with the battery-powered nature, the Thawdaddy can be used in a wide variety of situations. Of course being small and battery powered there are going to be limitations.
Pros
Thin and light design / Battery power simplifies use / Simple, integrated controls / Reasonable price
Cons
No "vehicle" charging option / Not for coldest riding weather
Introduction
With winter getting into full swing here in the Northern Hemisphere some riders will be packing up their gear and winterizing their bikes until spring. Others will do our best to keep riding throughout the winter and as such, will be breaking out the cold weather riding gear.
Winter riding gear an excellent study in compromise. On the one hand, it allows riders to continue enjoying their two-wheeled addiction – activity during the colder times of the year. On the other hand warmer, insulated gear is going to be bulky and can be a bit restrictive thus reducing the overall enjoyment of motorcycle riding.
Electrically heated gear can be added to help keep riders warm when it gets really cold out but it could also be used for wearing lighter outer layers when it is only chilly outside. Of course, a heated jacket or vest can still add some bulk and might not fit well under more snug riding gear.
If only there was a happy medium, right? Enter the Thawdaddy from Mobile Warming.
Shopping Now? We Recommend:
webBikeWorld has worked closely with Amazon over the years to provide our testers with products to review. In addition to being a great site to shop from, they're also a great partner.
Amazon

Free shipping (with Amazon Prime)
30-day return policy
Excellent selection
Competitive pricing
The Mobile Warming Thawdaddy
I believe it was a simple Google search that leads me to the Thawdaddy. I was looking for a "thin and light" heated vest that would fit comfortably under a variety of riding gear. I prefer my riding gear run on the snug side. Close fitting gear will do better at holding the armor in position in the event of a crash and many heated jackets and vests can be a bit too thick for comfort.
The Thawdaddy may be the least bulky heated vests of all, at least in my searches. It is seriously small and light (8.5oz / 241g) to the point I wondered how effective it could really be. We'll look at that shortly but first, let's have a look at the vest and what else is included with the vest.
What's Included
In the small package from Mobile Warming is, of course, the vest but also included are the instructions, two batteries, and the charger. The vest itself is very small and, due to the nature of the construction, it can be easily folded small enough to fit in practically any tank bag or most any pocket found on a typical adventure jacket.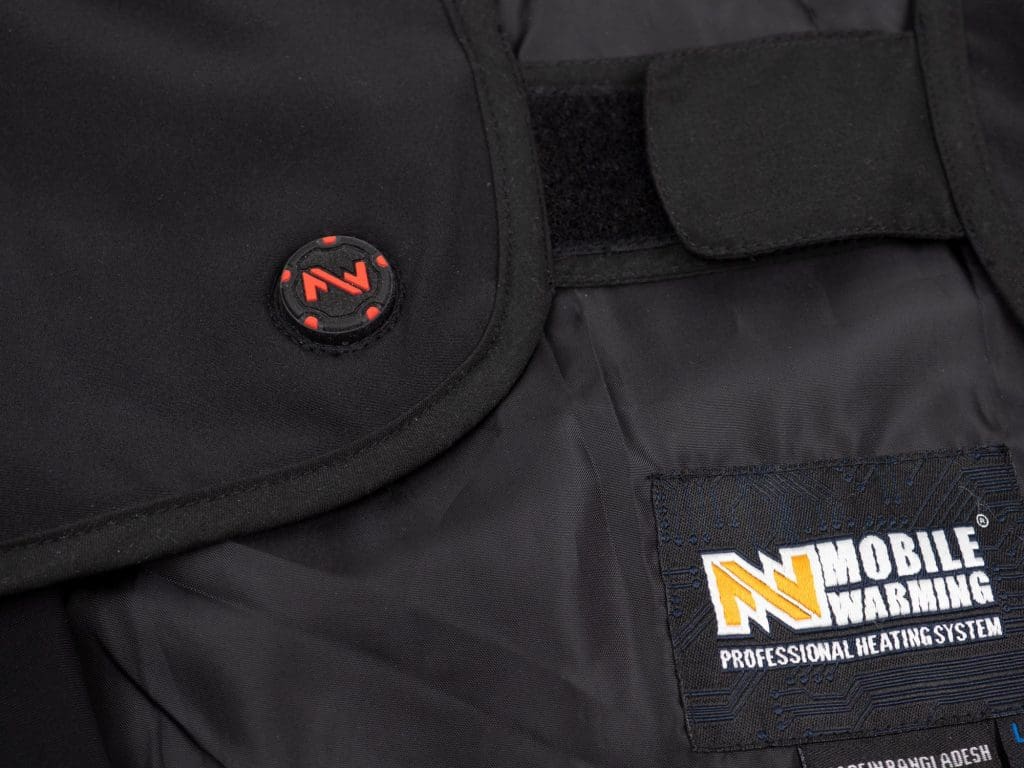 The batteries are very small and one could easily fit the pair into an Altoids tin (if desired). Being Lithium Ion batteries, they are also very lightweight at 1.3 ounces (37grams). Extra batteries are also available from Mobile Warming for $14.99 each. Not a bad price to pay to double the use time.
The charger is an average size "wall wart" with a 48 inch (122cm) long cable which splits into two connectors which provide the ability to connect to both batteries at the same time. The charger is also small enough that it can easily fit in the tank bag or other small storage space.
On the wall wart, itself, are a pair of LED's that indicate charge status. These change from red to yellow to green and the batteries are topped up. One thing I would have liked to see is an optional 12-volt charger. This would allow one to easily be charging a pair of batteries during a ride instead of having to stop at a 120v power source.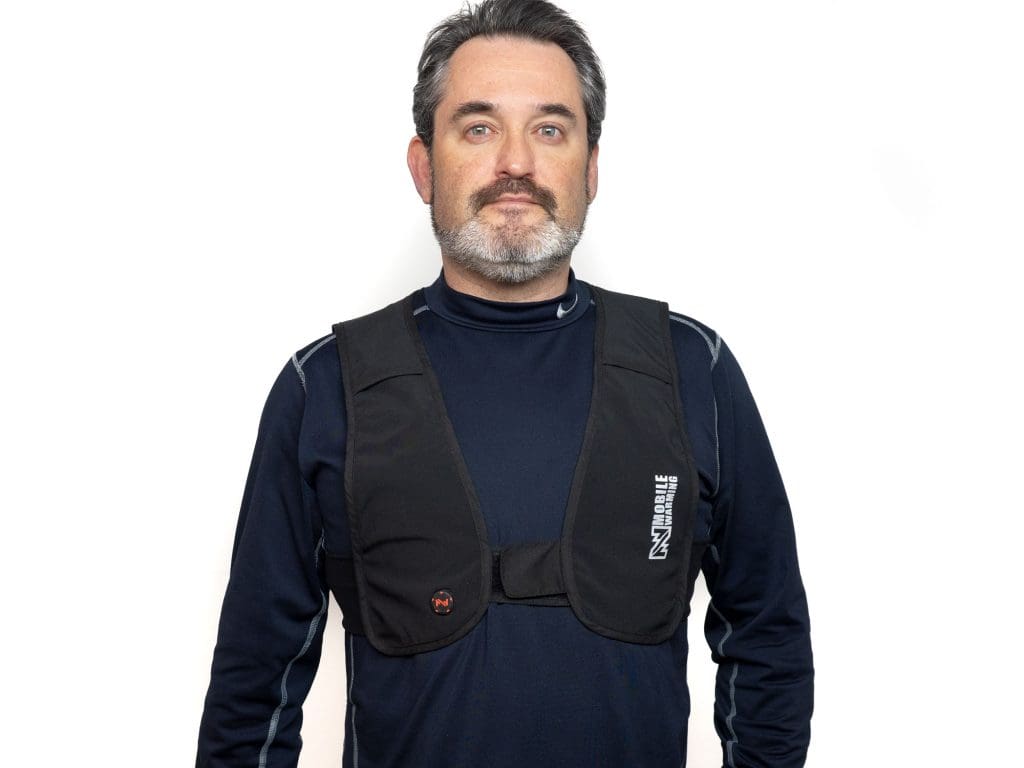 Construction
The main body of the mostly black vest is polyester with two stretch panels connecting the front and rear positions of the vest together. At the lower portion of the front is a pair of tabs that connect via hook and loop fastener. This makes the process of putting on / taking off the vest very quick and easy.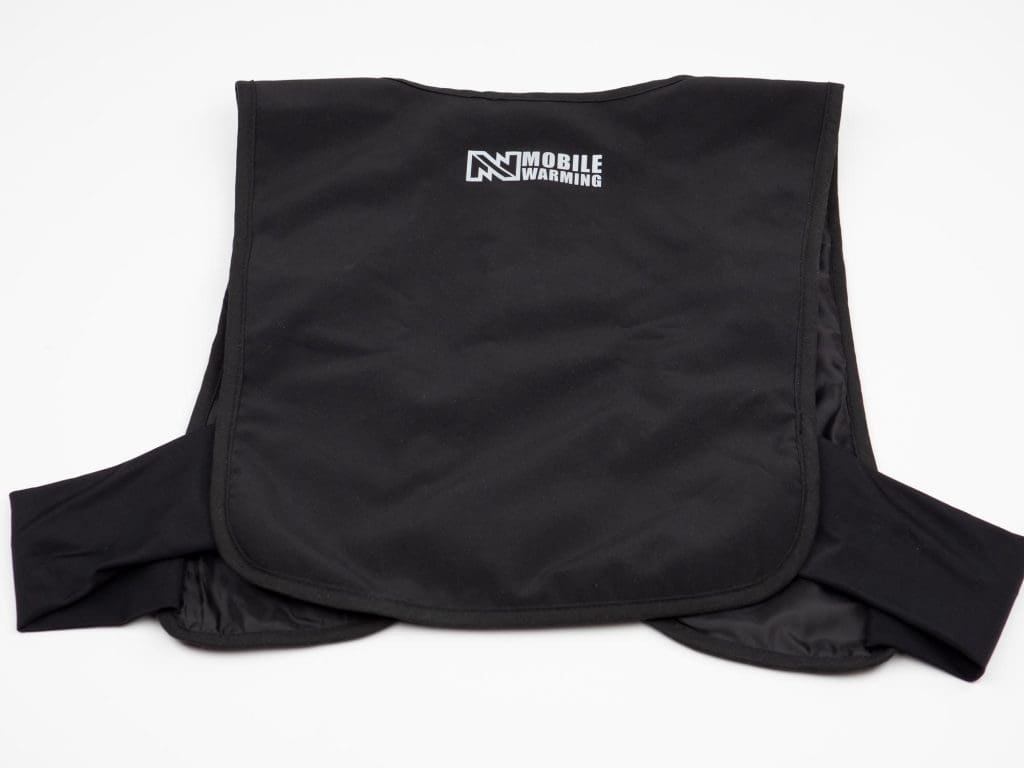 The material on the outside of the vest has a bit of texture while the interior has a very smooth lining. On the front panels near the clavicle are two pockets that use a simple overlap for closure. These pockets house the batteries and the associated connectors. The overall design of the opening makes access easy but very secure at the same time.
Visibility
On the back and on the front left side panel is a bright white Mobile Warming logo. Phoslite ® is used to make the logos visible at night which makes a nice combination of marketing and safety. Even though my intended use is going to be under other gear there are plenty of cases where it could be the top layer of apparel so it's good to see this has been considered.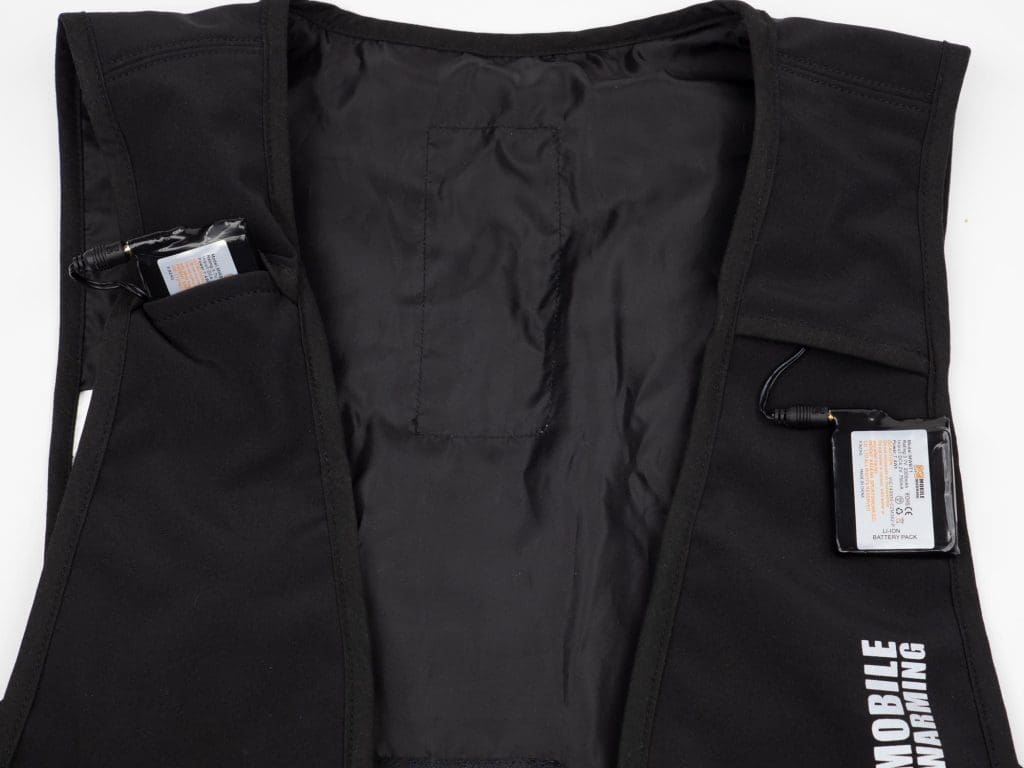 Heat Sources
Heating elements are located on the two front panels on the chest with one centrally located panel in the back. Each of the panels measures 2 by 5 inches (5 by 12.7 cm) and these small panels allow one to fold up the vest without much danger of damaging the heated areas.
LED Button
There is only one button used to control the vest and it is placed on the front right-side panel. The .75 inch (1.9cm) rubberized button has LED's inside of it to provide visual feedback of the vest's status. The button is pretty easy to find under most jackets but very heavy riding jackets might make it hard to tell if one has really pressed the button or not.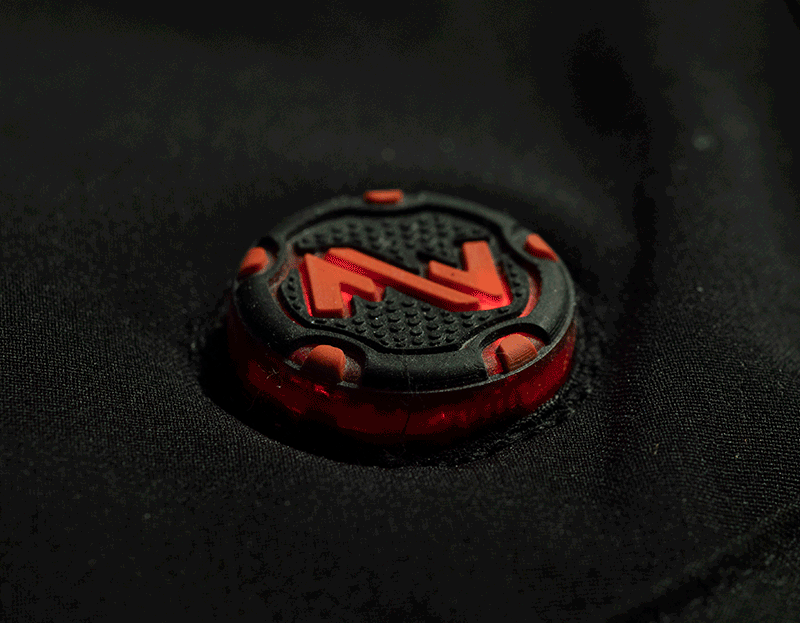 Under my Pilot Trans Urban V2 jacket I was able to find the button and adjust the heat level without much difficulty. One needs to remember the sequence of levels though in order to make a setting change since one cannot see the button under a jacket.
Maybe a future version will have a mobile app where the setting can be changed or at least monitored? It's possible as Mobile Warming offers a more traditionally designed battery heated vest that does include this very feature.
Fit & Sizing
The Thawdaddy is available in four different sizes with stretch fabric sides employed to help each cover the between sizes. The smallest, or SM/MD size, should work for chest sizes up to 40 inches (101.6cm) while the largest size (2XL/3XL) maxes out at 49 inches (124.5cm).
Mobile Warming points out these are "body size" measurements and are not meant to account for any clothing worn under the vest. Interested buys should make sure to include their clothes in the measurements when determining size.
With my 42 inch chest, I chose the LG/XL size which accommodates up to a 43.5 inch (110.5cm) chest size and it fits as expected. The stretch material has plenty of give so even if one maxes out the stretch I doubt it would ever feel constrictive. I typically wear a long sleeve t-shirt or Henley under the Thawdaddy and the vest is hardly noticeable.
The thin nature of the vest allows it to fit under most any jacket. My AGV Sport Compass jacket fits pretty snug in size medium on me. The Thawdaddy sits under this jacket without any noticeable bilk and the closer cut makes it easier to find and use the control button on the vest.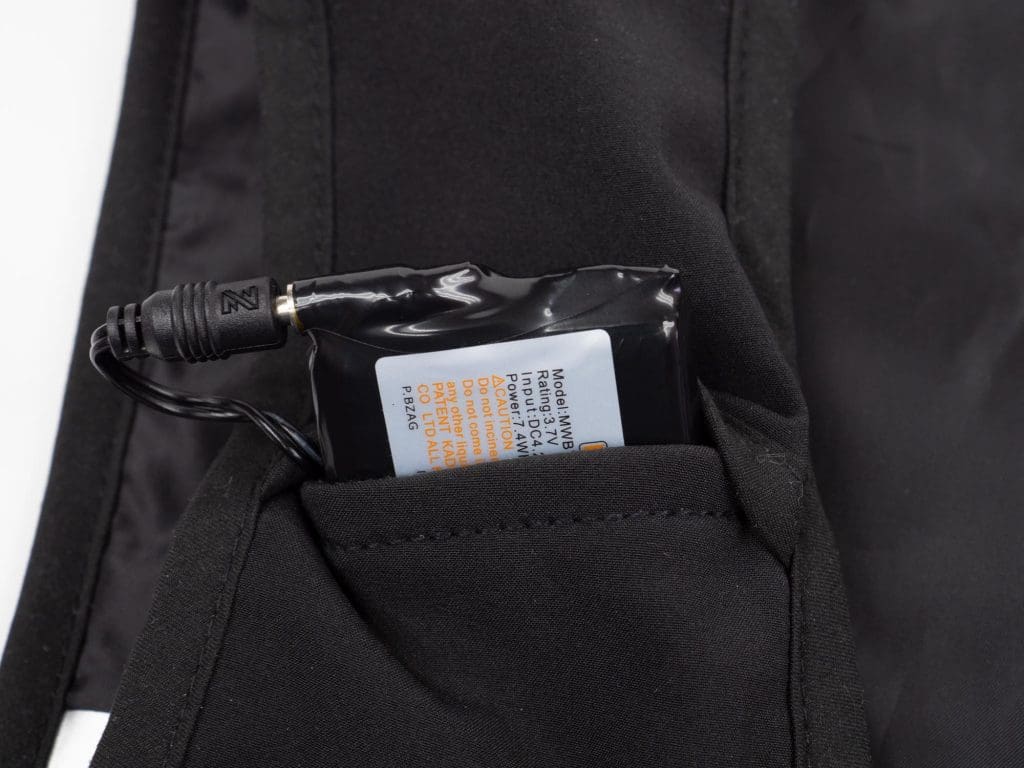 Vest on Skin Contact
I should point out that one shouldn't wear the Thawdaddy or any other heated vest directly against the skin unless it is designed specifically for that use. On higher settings, these vests could cause burns and also they have to be hand washed (don't put them in the washer) so keeping them separated from your skin will help them stay fresh longer.
Shopping Now? We Recommend:
webBikeWorld has worked closely with Amazon over the years to provide our testers with products to review. In addition to being a great site to shop from, they're also a great partner.
Amazon

Free shipping (with Amazon Prime)
30-day return policy
Excellent selection
Competitive pricing
In Use
Operation of the Thawdaddy vest couldn't be much easier. Turning on the vest requires holding down the control button for four seconds and doing the same again turns the vest back off. The button LED's will light up once powered on. The LED also indicates the power level and each setting has its own LED color indication. Red is the highest setting followed by orange, green and then blue.
A quick press of the control button will cycle through four power levels starting with the highest setting. Each subsequent press will lower the level until it reaches the lowest. From there it will cycle back up to the hottest setting and the cycle starts over.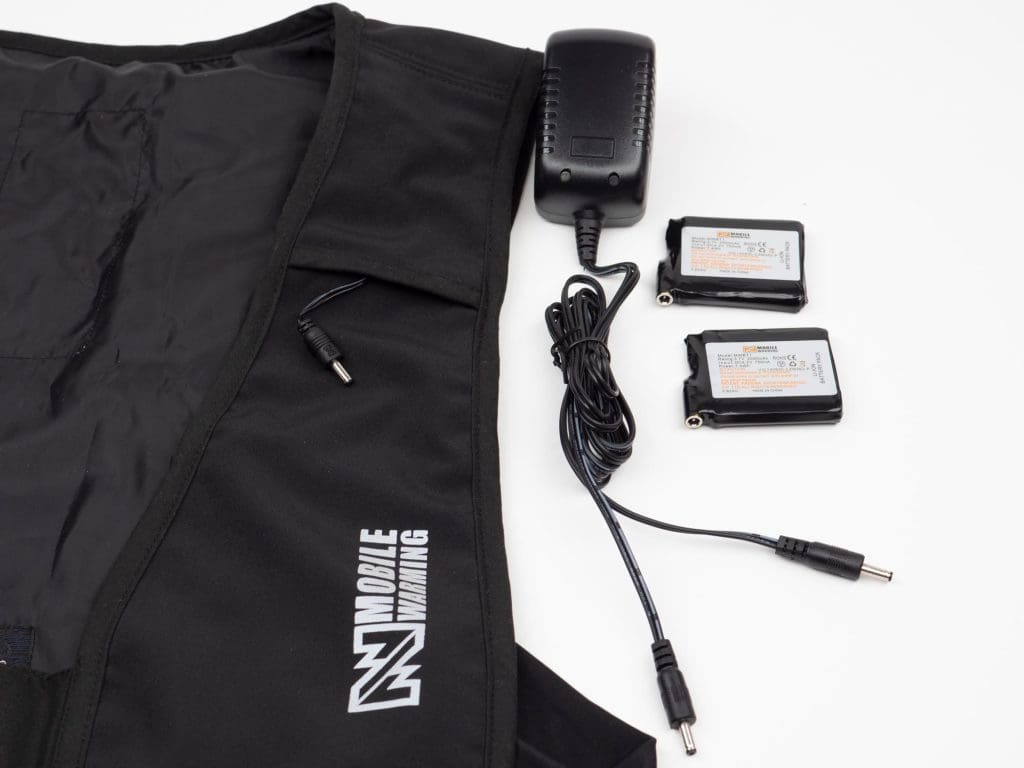 How Hot is It?
The amount of heat is more than I expected considering the coverage of the heated panels, the fact it runs on two 3.7 volt batteries, and the size of said batteries. On the highest setting, there is no mistaking the vest is on. Here was a recent use example.
Last month decided to ride to work and as I was getting ready to leave it was 39 deg (F) outside. I had already planned on wearing my Trans. Urban jacket but I didn't want to mess with installing the liner. Instead, I grabbed the Thawdaddy. I turned it on and left it on high as I left the house heading out onto the secondary roads. After a few minutes, I had to turn the heat down a notch as it was too warm for the pace I was going.
My morning commute involves about seven miles of interstate and anticipating the higher speeds I powered the vest back up to high (pressing the button three times). While I wasn't burning up at 70mph I wasn't freezing either. And once I got off the interstate I had to turn the heat back down.
Windchill does make a difference on the effectiveness of any heated/insulated gear. I was pleased that I was able to ditch the quilted jacket liner in favor of the much thinner vest.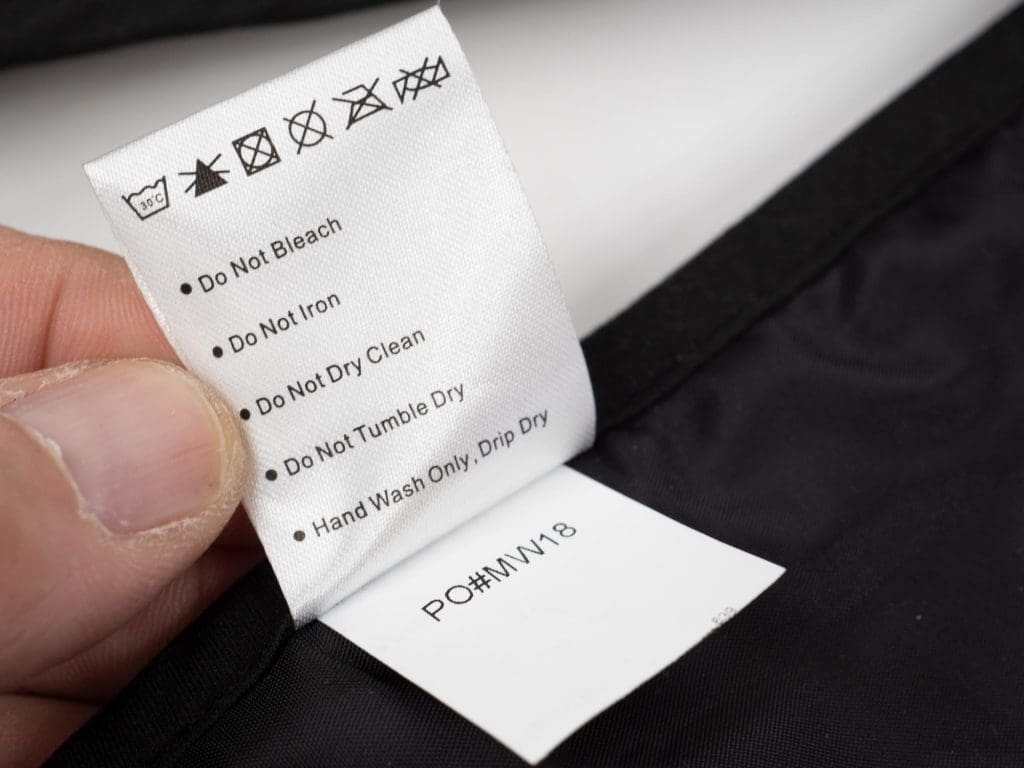 Out of curiosity, I broke out the laser temperature gauge and tested the panels at the highest and lowest settings. I tested at an ambient temperature of 70F (21C) and waited 5 minutes between setting changes. This isn't very scientific as there are a lot of variables but it is a good starting point for an overall comparison of settings.
On the lowest setting, the temperature reached 83F (28C). Subsequent checks at each higher setting were 90F (32C) and 101F (38C) with the highest setting reaching 106F (41C) degrees. Not a bad showing at all. Of course, the effectiveness will vary depending on things like the ambient temperature, windchill, insulating properties of the apparel over the vest, etc. Keep in mind that these readings were taken with the vest laying on a table. The heat will build up much higher when it is up against clothing and one's body.
Battery Life
Using only two small batteries means there will be a finite amount of heat one is going to get before those batteries are drained. Mobile Warming claims the Thawdaddy will deliver heat up to eight hours or nine hours depending on which part of the product page one reads. (Yeah, they should fix that).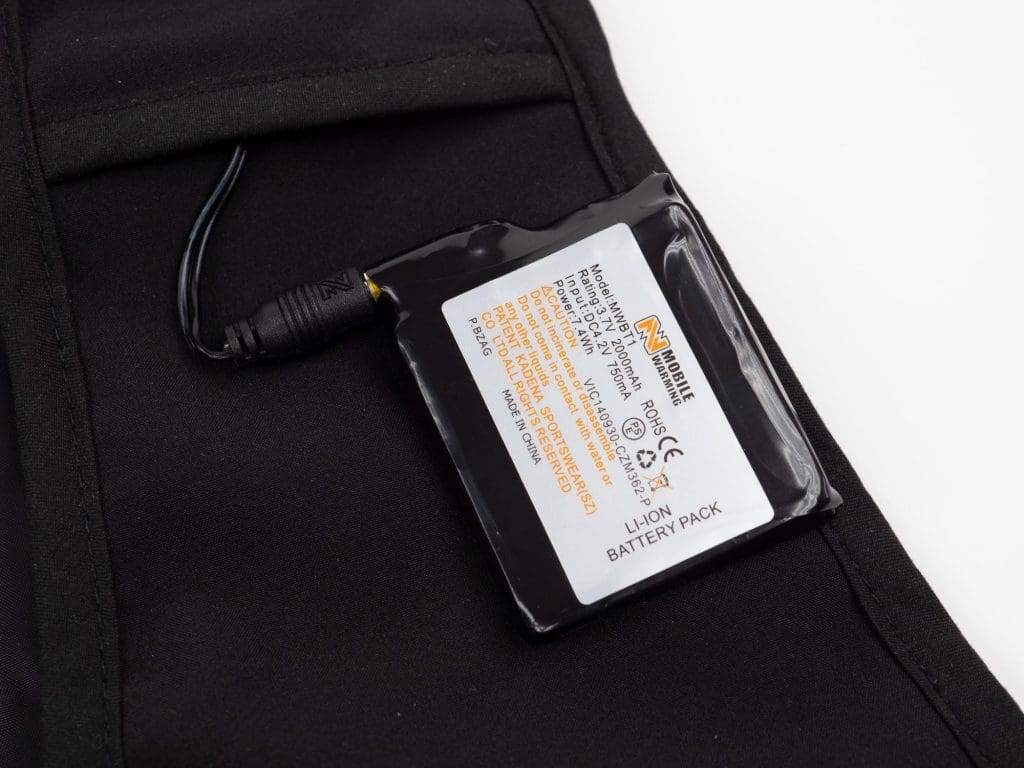 It's obvious this time is based on the lowest setting and I can imagine that might be true as the blue setting isn't very warm. With a full charge and with the vest on the highest setting, it turned off after 2 hours and 23 minutes. Several factors can affect this measurement such as ambient temperatures and condition of the batteries but that is a pretty good run time for such a small pair of batteries.
Charging the batteries back up to full took just over three hours so not too bad a wait. As I mentioned earlier Mobile Warming doesn't offer any sort of mobile charger which is a shame. On the other hand, extra batteries are only $14.99 each and one could actually fit them in the battery pocket with the connected batteries at the same time. A brief stop to swap them out could make them practical for longer rides.
Conclusion
The Thawdaddy heated vest is an excellent answer for those looking for a heated vest "lite". It works very well for those looking to extend their riding into colder days without the bulk of other heated vests and jackets. Being battery powered also means no installation of wires and controllers.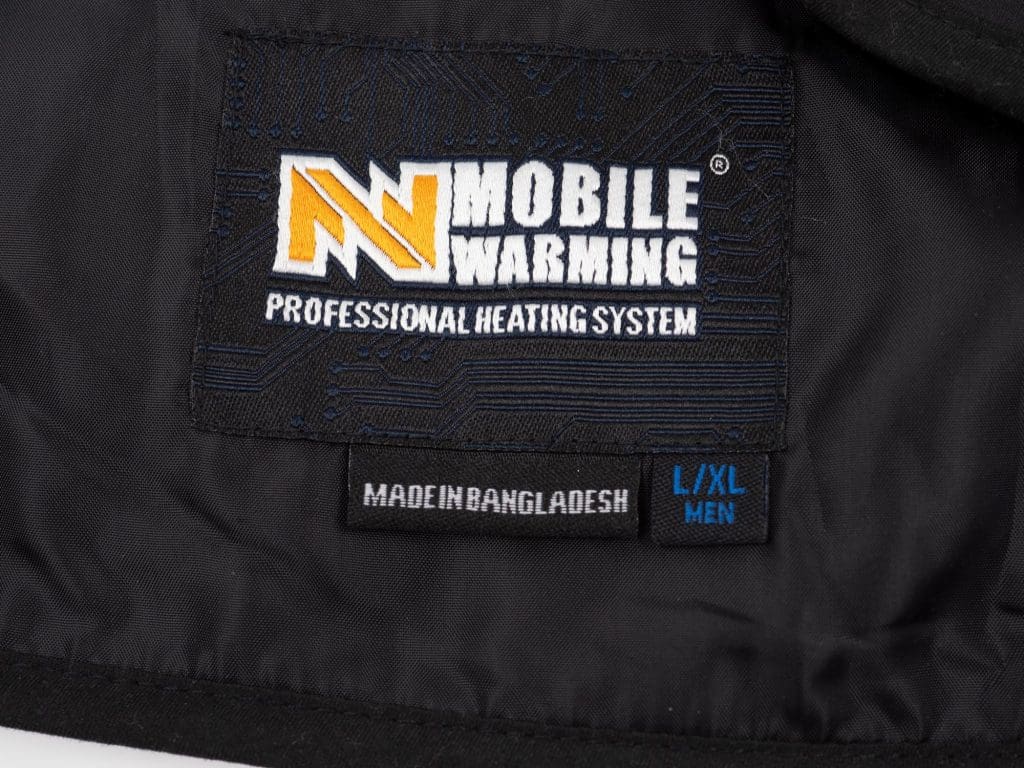 This vest is perfect for commuters who don't need heat for long stretches of time and already have some insulated gear to go over a vest. Sports riders who want to be able to wear their favorite "track cut" leather jacket a bit further into the colder months will appreciate how well this vest will fit under those jackets.
The price of $99.99 (USD) seems very reasonable for this vest but I feel like the return on investment here is greater than the vest itself. The ability to fit under pretty much any riding gear can expand the seasonality of lighter and more close-fitting jackets. And don't get me started on how many other uses this heated vest one can come up with.
Pros
Thin and light design
Battery power simplifies use
Simple, integrated controls
Reasonable price
Cons
No "vehicle" charging option
Not for coldest riding weather
Specs
Manufacturer: Mobile Warming
Price (When Tested): $99.99
Made In: Bangladesh
Color: Black
Sizes: SM/MD LG/XL XL/2XL 2XL/3XL
Review Date: December 2018
Shopping Now? We Recommend:
webBikeWorld has worked closely with Amazon over the years to provide our testers with products to review. In addition to being a great site to shop from, they're also a great partner.
Amazon

Free shipping (with Amazon Prime)
30-day return policy
Excellent selection
Competitive pricing
Mobile Warming Thawdaddy Image Gallery