Mini Foot Pump Tire Image Gallery
Small size means it's easy to pack when touring.
Valve adapter difficult to fit on some wheel designs.
Somewhat difficult to maintain balance when pumping.
Otherwise useful for adding a few pounds of air to motorcycle tires.
Maintaining the correct air pressure in motorcycle tires is critical for safety and performance.
All that horsepower and weight meets the road on two tiny contact patches that are only about the size of a credit card — something you probably don't want to start thinking about when you're leaned over in a tight corner!
Motorcycle tires take a beating, as evidenced by their atrocious wear rates. Much of this has to do with the heating and cooling cycles that the tires experience during the ride.
Motorcycle tires seem to get much hotter than other vehicle tires, and even a very small difference in air pressure can greatly affect the safety and performance of the tire.
So it's essential for safety reasons to check motorcycle tire air pressure before every ride and adjust to factory specifications.
To do that, I use either the Roadgear digital tire pressure gauge (see the wBW review) or other tire air pressure gauges that I own.
I also have a small electric air compressor, but I don't use it that often for topping up motorcycle tires.
It's a bit of a pain to plug it in, wait for the tank to fill up and mount the correct valve adapter just to pump in a few pounds.
It then needs to be shut down and drained of any moisture, so it ends up being used mostly for big chores, like mounting a new tire, because it's essential for popping the bead on the rim and filling a tire up from zero pressure.
I've been using a double-action Zéfal hand operated floor pump that was made in France and was originally designed for filling bicycle tires.
I purchased this interesting pump about 20 years ago through a bicycle catalog store.
It has two air chambers that work to push air into the tire on both the up and the down stroke, so it takes half as many strokes to fill a tire as the single-action variety.
It has served me well over many years for filling both motorcycle tires and automobile tires, but recently the pump's valve adapter that attaches to the valve stem on the tire started acting up.
I found a replacement adapter, but it's much bigger and bulkier than the original, which makes it very difficult to fit on most motorcycle tire valve stems.
The Zéfal pump itself is still in excellent condition, but apparently they're no longer manufactured, which is too bad.
I came across an advertisement for the Mini Foot Pump.
It seemed to fit the bill as a replacement for the Zéeacute;fal, so we ordered one to try.
One of the big selling points of the Mini Foot Pump is its small size.
It's claimed to be the "world's smallest foot pump", which is an interesting claim, because it's probably also the world's only foot pump!
Made in Germany, the Mini Foot Pump is ideal for packing on a motorcycle tour.
When fitted in its supplied carrying case, it measures about 150mm (~6″) by 70mm (~23/4″) by 90mm (~3-1/2″).
The Mini Foot Pump, its accessories (brass Presta valve extender, needle valve for basketballs and other types of balls, and a tapered adapter for filling other miscellaneous devices) and the nylon case weigh 310 grams (10-7/8 oz.).
The accessories and the instructions fit in a pocket inside the case, but be careful, as the pocket doesn't have a closure and we found that the plastic bag holding the adapters can easily fall out as the Mini Foot Pump is removed.
The Mini Foot Pump has a rather ingenious design that allows it to be compacted to fit very tightly in its small carrying case.
The foot stand folds up over the top of the spring-loaded pump and serves as a retainer to keep the pump compressed for storage.
Take the Mini Foot Pump out of its case, fold down the foot stand (be careful, as the pump valve is under spring tension and pops up like a Jack-in-the-Box!), unwrap the air hose (about 55cm long) and you're ready to go.
The valve adapter on the Mini Foot Pump follows a convention that seems to have become standard on many air pumps lately.
The valve adapter is pushed on to the tire's valve stem, then the lever must be moved from 90 degrees to a straight up position. This locks the adapter on the valve stem.
But on some motorcycle tires, especially those with large disc brakes, we found that it can be very difficult to reach in under the discs and flip the lever up into a vertical position.
It's very hard to get enough leverage with your fingers, especially on bikes with spoked wheels.
The new valve adapter I purchased for the Zéfal pump has a similar adapter design.
It would be much easier for use on motorcycle tires if the lever started in the vertical position and then folded down to secure it to the tire's valve stem.
That's because it would be much easier to gain the leverage necessary to do this in the narrow confines of a motorcycle tire.
Better yet, the adapter would probably be more suited for motorcycle use if it had some type of locking collar that could be rotated horizontally, rather than having a lever that had to be flipped up.
We also had some trouble getting the Mini Foot Pump's adapter to stay seated on the tire's valve stem on some wheels.
Again, that was mostly because we found it difficult to reach in between the spokes to get the adapter seated properly on the tire's valve stem while at the same time pushing up the locking lever and doing so without releasing lots of air from the tire.
We didn't experience these problems with cast wheels that have enough clearance to fit the adapter.
The bottom line is that if the wheel has an open design and if you haven't experienced any difficulties fitting other types of hose adapters, you probably won't have any problems fitting the Mini Foot Pump's adapter either.
But just be aware that the Mini Foot Pump's adapter can be difficult to install correctly on some types of motorcycle wheels.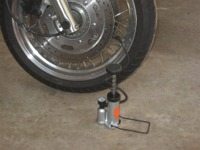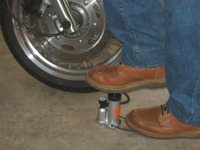 Other than that, the Mini Foot Pump works as advertised. Once the adapter is seated on the tire's valve stem, step on the foot stand with one foot to steady it and pump using the other foot.
It takes a little while to get used to doing this and you may have to balance yourself by holding on to the bike's handlebar.
That's because the unit is so small that your feet are very close together, which can make it difficult to maintain balance while lifting one foot up in the air.
The instructions recommend taking it easy and pumping slowly at first until you get used to the position, and we agree.
The Mini Air Pump can pump up to 140 psi (10 bar) of air pressure, which is way more than necessary for motorcycles, but the high pressure levels are useful for some types of bicycle racing tires.
Because of the small capacity in the Mini Foot Pump's air chamber, it can take up to 10 strokes or more for every one pound of air pressure, depending upon the size of the tire.
We averaged 50 strokes to raise a size 160/70-17 rear tire from 32 to 36 pounds per square inch (psi), and it took exactly 100 strokes to raise a 120/90-18 tire from 23 to 30 psi.
Fifty or more strokes can get a bit tiresome, but if you're on the road, it may be your only choice.
The instructions claim that it will take 90 strokes to fill a 26×2.0 off-road bicycle tire, so the Mini Foot Pump apparently is designed for occasional fill-ups rather than for fully inflating a motorcycle tire from zero pressure.
The Mini Foot Pump is an alternative to carrying a battery operated air pump when on a motorcycle tour.
See the wBW Technical Article on adapting a Campbell Hausfeld 12-Volt battery operated air pump for use with motorcycles.
The problem with using a battery operated air pump is worrying about making sure the battery is in good operating condition. The Mini Foot Pump depends only upon leg power. The device is warranted for one year from date of purchase.
If you need a small, lightweight air pump to carry on your motorcycle, you probably won't find one smaller than the Mini Foot Pump.
At $29.95, it's a bit pricey — you can probably find a floor standing hand-operated pump in a bicycle shop for a lot less, but it would be hard to pack one on tour.
The Mini Foot Pump easily stows in a kitchen or garage drawer and it will fit in most any size tank bag.
If it works with your motorcycle's wheel design, it would be useful to have for maintaining air pressure, but I still wish I could find the original valve adapter for my Zéfal pump.
The double-action mechanism means only about 3-4 pumps to add a couple of pounds of air to a motorcycle tire, which minimized the amount of time necessary for this necessary chore.
More: Adapting a 12-Volt Battery Operated Air Pump
w

BW

 Review: Mini Foot Pump Air Pump
Manufacturer: Mini Foot Pump
List Price: $49.95
Colors: Silver
Made In: Germany
Review Date: 2003 (?)
Note:
 For informational use only. All material and photographs are Copyright © webWorld International, LLC since 2000. All rights reserved. See the webBikeWorld® 
Site Info page
. Product specifications, features and details may change or differ from our descriptions. Always check before purchasing. Read the
Terms and Conditions
!
Owner Comments and Feedback
---
From "W.E." (May 2012): "I bought two of these … on a no-returns arrangement. With shipping I paid less than $24 total. These units are made of plastic and do not weigh much.
One had a faulty valve and would only rapidly deflate the tire.
I transferred that pressure gauge to the good pump because it was a little more accurate, but still way off, and the error is not linear. It registered 75# for a true 60#, and 40# for a true 35#.
I was impressed with the efficiency of the good pump. I also like how when you flip the chuck lever back down it releases the tire stem valve, losing practically no tire pressure as you remove the connector.
Here is a tip – loosen the plastic thumbscrew on the connector before attempting to force it onto the valve stem, then snug it, then flip the lever up.
Reverse this procedure when removing the connector. I think this will increase the life of the connector.
I will pack the good pump as a back-up for my electric pump. I can't complain too much for what I paid."