Doughboy Helmet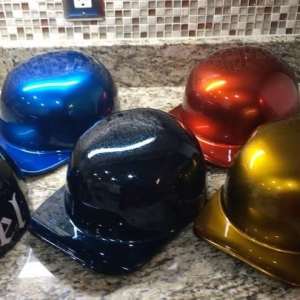 And you thought only adults hate wearing helmets even though it is imperative in order to ride a bike safely. Ever tried to get a kid to wear it? All hell breaks loose! It is only natural for today's children to want their headgear to be as stylish and comfortable as their clothes and shoes.
Adults want the same thing, so, do they really have the right to complain about how tough it is to get their children to wear a boring, cheap looking helmet when riding a bike? While there are a few helmet makers who have realized the importance of strong and good-looking, well-designed helmets for adults, the market for children remains untapped.
With our children mimicking us like never before, especially when it comes to fashion, will it ever be possible to get them to eagerly wear their helmets? Or will we continue to have these nightmares knowing that the children are riding their bikes without a helmet on their respective heads?
Buy from a Badass Helmet Partner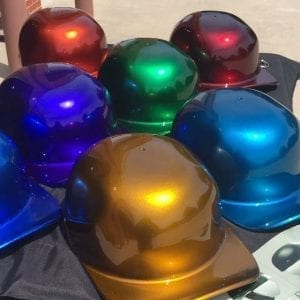 We have worked closely with RevZilla, Amazon and 2Wheel over the years to provide our testers with products to review. They are all great partners and unique in their own ways, so make sure to check out their prices. Please don't forget we may get a commission if you buy from them.
RevZillaBuy
AmazonBuy
2WheelBuy
Mikes Prolids to the rescue:
Many of you might not be aware of this company, but it has definitely addressed this concern of ours. Just another protective father, named Mike, was worried that his twins would hurt themselves if they didn't have a helmet on and they refused to put on the boring, dull helmets that you get in the market. The twins demanded a helmet that looked more like a hat because they thought it was "cool". So Mike was left with no choice but to figure out a way to solve this problem.
He made a prototype that fulfilled his children's need of looking cool and Mike's own need of protecting them. It looked stylish and could be worn both forwards and backwards, depending on the wearer's wish. The children liked it and soon after every child in the neighborhood was asking for one. Mike partnered with Brett and after 6 patents, the two now run this successful company that manufactures this amazing helmet that we are reviewing today, the Doughboy!
First look: Just imagine a brimmed hat with a fresh tweak that allows the wearer to wear it anyway he'd like – forward or backward. The Doughboy's design is unique and fresh and something that the children will enjoy. What we really like about it is that it also protects your child as he enjoys cycling in the neighborhood while adding the oomph factor to his or her outfit. What's more? This amazing helmet, Doughboy, is available in several colors, designs and sizes and there is something great for every child, no matter how edgy his or her taste might me.
Features:
The helmet is a brimmed hat with an impressive helmet design.
Wear it normally or pull the brimmed part towards the back – your choice.
They are made to order in the United States of America.
It is a novelty helmet and does not come with a DOT certification.
The open cell foam in the liner protects the head without adding too much pressure on it.
The liner is removable and washable, thus ensuring it is fresh every time the wearer heads out for a fun ride.
You have to allow up to four weeks of delivery as these helmets are made-to-order.
The Doughboy is available in crazy prints and whacky colours to suit all kinds of tastes and preferences.
What you will love about the Doughboy:
The fact that the Doughboy is different. Superior quality. Custom made. Good fit. The list is endless. And that is what we love about it. Mike has certainly thought like a father and wanted nothing less than the best when it came to his kids' well-being. That is why, being a parent, you don't have to worry about getting a helmet of sub-standard quality. That will just never happen with the Doughboy. Everything about the helmet spells fashion and safety – just the two things that you desperately need for the mischief makers of today.
Customer verdict:
There is obviously a reason why Mikes Prolids has become such a successful name in such a short span of time – the helmets are amazing. Customers who have tried the Doughboy can't stop gushing about how now, they don't have to worry about their kids riding a bicycle without the helmets. The Doughboy is such an awesome helmet that children remember to wear it even when their parents forget.
Some did feel that it was pricey, but when they received the helmet, the superior quality of the materials, the comfortable fit and strong protection that it offered definitely was worth the money that they had paid. Sure, the waiting period of up to 4 weeks is a bummer, but then all good things come to those who wait, right?
Bottom line:
We gave Doughboy a try and boy, we are glad we did. Such helmets are not something that you see regularly in the market. The design is well thought of, materials used are of impeccable quality and it does what it was built to do – taking good care of the wearer's head. The shape is unconventional, but that also makes it unique and in a sea of boring styrofoam bicycle and motorcycle helmets, this one is certainly a welcome change.
Go for this one if your child likes distinctive designs that are hard to spot. Whether you want it in matte black, silver sugar skull print or even a flashy candy red shade, we assure you, you will find something that you child will love!
Flatboy Helmet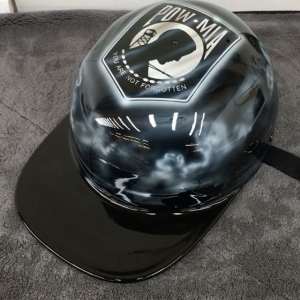 When it comes to children, getting them to wear a helmet is next to impossible. It's not that we blame them; after all, the helmets tend to be boring, heavy and sometimes, really suffocating and the other ones like the styrofoam bicycle helmet is really dull. Today's children need something stylish and colorful and something that complements their rides.
When it comes to innovation, it has effected almost each and every field that you can think of – entertainment, medicine, electronics, fashion and others. When it comes to headgear, you need the right combination of fashion and innovation to get the people, especially kids (yes, big kids included), to wear them regularly without coming up with lame excuses. Adults at least understand the importance of helmets and their role in protecting them in case of a fall. However, its hard to get the children to understand.
Thankfully, there are some makers, like Mikes Prolids, that have decided to step in and take control of the situation.
First Look: The Flatboy is nothing like the old, boring bicycle helmets, we promise you. It is definitely attractive and the first look will remind you of a glossy and superior quality brimmed hat that will complement any outfit that you child might step out in. It is not DOT certified and it is not meant to be a safety equipment. So it is not advisable to allow your kids to wear it and step out when they will be participating in activities where they are likely to hurt themselves.
Buy from a Badass Helmet Partner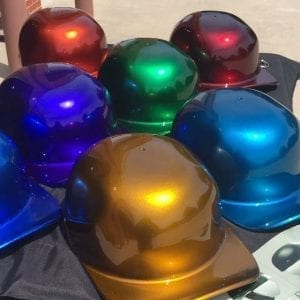 We have worked closely with RevZilla, Amazon and 2Wheel over the years to provide our testers with products to review. They are all great partners and unique in their own ways, so make sure to check out their prices. Please don't forget we may get a commission if you buy from them.
RevZillaBuy
AmazonBuy
2WheelBuy
Features:
The Flatboy is custom made in the United States of America.
It will take some time – up to two weeks – for delivery, so it's better to not place an order last minute and keep some time in hand.
Being a novelty helmet it does not have a DOT certification.
Can be worn anyway you'd like – forward as well as backward.
The liner has open cell foam that creates a soft fit and does not add pressure on the head.
The liner can be removed and washed to make it feel fresh and clean all the time.
It is available in different attractive colours like flashy red, lime green and even matte black. If you want quirky prints, then you can get that as well.
It is a well designed and superior quality novelty hat.
Different sizes – from Small to XL – is available to suit heads of different shapes and sizes.
Can be worn for long hours without causing headaches and other problems.
Customer Verdict:
Many of the parents had been looking out for a creative hat that would win their children's hearts. Kids can be picky and have an eccentric taste. So they knew that finding something according to their preferences was going to be a troublesome task. Mikes Prolids' Flatboy has helped solve this problem. They do agree that the helmet is an expensive one, however, the overall quality and superior fit certainly gives them more than their money's worth. After all, Mikes Prolids wouldn't have enjoyed this enviable success and reputation had the customers not loved their helmets, especially the Flatboy. They don't compromise on the quality, fit and design.
When it comes to the children, for whom the Flatboy is actually designed, they couldn't be happier. In fact, many of them don't take it off, even when they are indoors; this is how much they love this creative twist in the otherwise boring helmets. The fact that it is available in different prints and colors allows them to choose the one that appeals to them the most and the comfortable fit is like the icing on the cake.
Conclusion: For the children, everything has to be colorful and attractive. No matter how important something might be for them, if it is boring and out-of-fashion, it would be the last thing on their minds. Today's children are more fashion conscious than ever and it is all the more imperative to design something that they might like. Mikes Prolids' Flatboy has been nothing less than a breath of fresh air. All of a sudden, a market that had been saturated with unbearably ugly helmets, suddenly had attractive ones that were colourful and comfortable as well. People had been dying for something like this and so, naturally, when something like it came out, it was hard to not enjoy a huge popularity among the adults as well as the children.
Flatboy is enjoying a popularity that it deserves. Everything about it – right from the look to the fit – feels right even when you just look at it. If your child wants a headgear that complements his outfit in the best way possible, Flatboy is the answer that you have been looking for.
Buy from a Badass Helmet Partner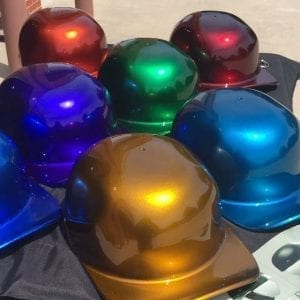 We have worked closely with RevZilla, Amazon and 2Wheel over the years to provide our testers with products to review. They are all great partners and unique in their own ways, so make sure to check out their prices. Please don't forget we may get a commission if you buy from them.
RevZillaBuy
AmazonBuy
2WheelBuy
About Mikes Prolids: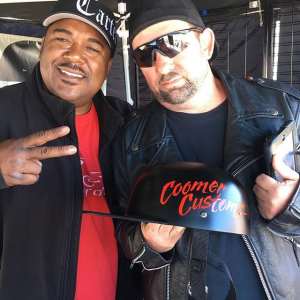 Just like any other parent, Mike was worried that his twins would hurt themselves in case they had a fall from their bikes. His twins, being the mischievous ones, refused to put on the styrofoam helmets as they found it dull and boring. So Mike decided to brainstorm in his garage and came up with a prototype that was a helmet shaped like a brimmed hat and could we worn anyway the wearer wanted.
Soon after, almost every kid in the neighborhood was sporting one or asking for it. On seeing how popular his fashionable headgear for the kids became, they made the decision to jump and and build "MikesProlids", a company that is successfully manufacturing stylish and colorful headgear for cyclists and bikers alike.