The Midland BT-2 is a stylishly designed helmet-mounted intercom with lots of features, along with lots of unrealized potential.
All the features that were evaluated work as advertised, but audio quality and rider to rider intercom limitations detract from what could be an industry-leading system.
The ability to directly connect a radio transceiver via the input port provides a simple and expedient means to allow a PMR/GMRS/FRS radio to be used for extended range communications between multiple riders.
A potential major league player, but for now, relegated to the minors.
Before the Envelope, the Rules!
All communication systems I evaluate get put through a pretty rigorous and (typically) a long term evaluation. During the evaluation period certain steps, tests and user exercises are conducted in order to understand and assess features, capabilities, strengths and weaknesses of each system.
As the motorcycle communications market segment becomes more complex, and better populated, the whole selection process has become more complex as well.
Being sensitive to this situation, and because there has to be a start point, starting with the Midland BT2 system, a more formal set of evaluation criteria will be identified, much like the approach taken by the Editor for helmet submissions.
Trust me when I say it is easy to get somewhat jaded and glossy-eyed with all the offerings out there, especially when considering the considerable hype that goes with the physical product. The need to maintain objectivity and to be consistent is paramount, be it for a single or a multi-product comparison.
The tried and true criteria – form, fit and function will always be considered, assessed and rated.
Although for any evaluation, recognized categories such as packaging, design, execution, features, setup, configuration options, performance, reliability, maintenance and support, cost and value will be used.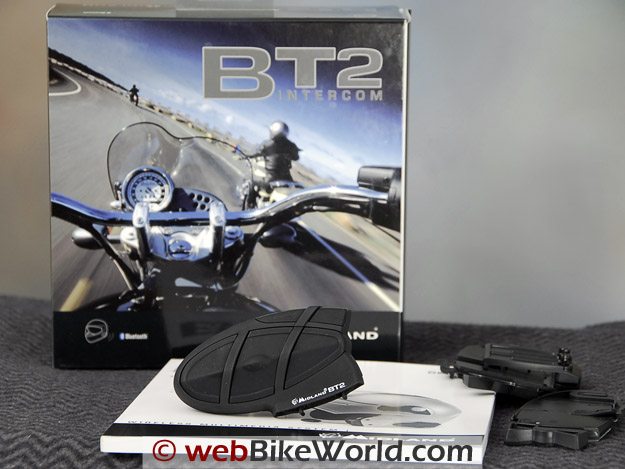 Background
The BT2 Intercom is the latest offering from Midland Consumer Communication, a company seemingly housed under the Alan (UK) Professional Communication banner.
Alan UK dates back to 1972 and both entities are part of CTE International, a diversified radio communication company. And, to clear up some past confusion, Albrecht is also part of CTE International.
The US affiliate is the Midland Radio Corporation. Midland is the oldest manufacturer of CB radios in the US and was also the first to market a 14 channel FRS radio in the US. Midland itself has been producing quality two-way radios for nearly 50 years.
Way back in December 2006 (ancient history, right Rick?) an Alan UK/Cardo wireless review was conducted which helped set the tone for what has followed since then.
As this growing market 'matures', specific brand products have emerged, many of which have been evaluated and posted on webBikeWorld.
Over the last year virtually every major manufacturer, or distributor has come out with new or updated product and from the looks of it, this trend is not going to change soon.
As part of an ongoing effort to bring you the latest product reviews, a series of Bluetooth communication system evaluations culminating in a head to head comparison is being planned.
What follows is the first of the bunch…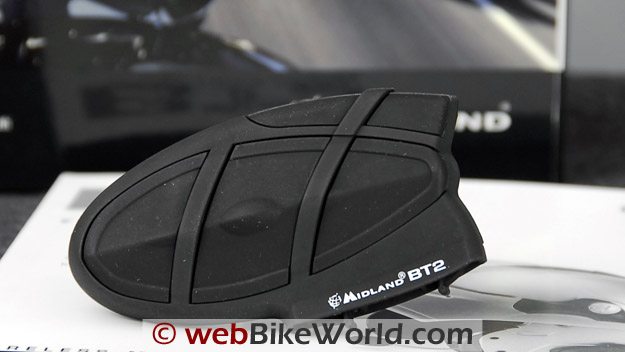 The Package Finally Arrives
Two Midland BT2 kits were acquired for this evaluation and after a longish wait the package was finally received via the Great White North postal system.
Each box contains an intercom module, one stereo headset with dual speakers, thin wire and boom style microphones, a stereo audio cable, two helmet fixing plates (bi-adhesive and screw clamp), a 110-220V wall charger, spare fastener pads and a multi-language instruction guide.
Curiously, the 3mm Allen key identified as part of the kit and needed to install the clamp bracket onto the helmet was missing…maybe the Editor knows where they are? (I'm innocent – Editor).
In any case, the missing piece issue was overcome by reaching into the handy tool kit and finding a replacement, itself probably a leftover from another system.
Reflecting the continued evolutionary trend of such devices, the Midland BT2 Intercom system is feature-rich: Bluetooth version 2.0 stereo with headset/handsfree/A2DP protocol support.
It also has Class 1 power output (100mW); AGC as well as manual volume adjustment; VOX or manual communications call modes; three large function buttons enable telephone, intercom and wired connections.
Also included is a fully waterproof; lithium battery with 8 hours talk time and a recharge time of around 4 hours.
After unpacking each kit, the BT2 modules were given an initial charge, one at a time, using a North American plug adapter to overcome the permanent 220V plug on the kit charger.
While the first unit continued its slow charge, the 'UK' section of the well-written multi-language Instruction Guide was read from start to finish.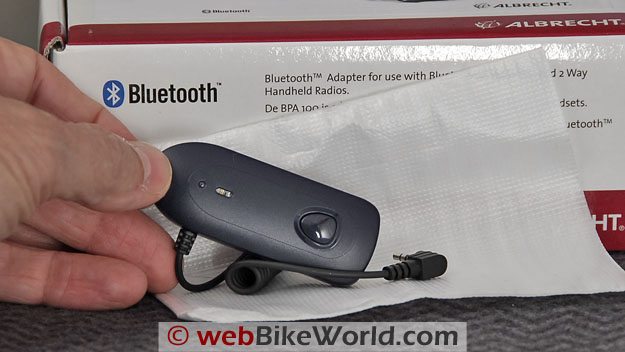 A final component, an Albrecht-branded BPA 100 Bluetooth adapter (review) was also acquired. This device provides a Bluetooth interface for peripheral devices.
Unfortunately, this unit is the "Navi" version, not the full-feature BPA 100 that comes with a PTT switch and a radio specific interface module that allows a two-way radio to be connected to the system via Bluetooth.
At the minimum however, the Navi version will allow some additional connections to be tried out, such as the voice navigation audio from the Garmin 2820 unit when mounted on the F800GS.
Another item not available for this evaluation was a compatible radio, such as the Alan PMR446 radio (also used for earlier AKE system evaluations) or a compatible cable to use a North American approved radio.
Therefore, the direct connection feature of the BT2 could not be tested for this submission, but it will be and soon.
Midland BT-2 Details
Fashioned of plastic with a rubber-like coating the unit measures 16mm x 87mm x 47mm, weighs just a few grams and has an attractive stylized shape, akin to that of a cartoon rocket-ship.
Held so that the lettering and access ports are to the lower right, all input controls are on the large face of the module. At the top on the right hand side is the Volume + (UP) and Volume – (DOWN), left to right respectively.
The surface of the rocket-ship is broken into three sections as delineated by two raised lines that are part of the face moulding. Each section houses one of the three main control buttons.
The Forward section is the Phone button, Midships is the Intercom button and the Aft button is the Auxiliary Control. The Aft section also houses Red and Blue LEDs.
Rather than calling down to Scotty for more power, press the raised part of the Intercom button for three seconds – the small Blue LED in the aft section starts to flash slowly.
Powering down is a bit different – both the Intercom and the Auxiliary buttons must be pressed simultaneously, causing the Red LED to flash three times as the unit power off.
While waiting for the second BT2 module to charge, the first unit is connected to the headset harness and the microphone lead for a quick audio test. Be aware when powering the system up: if the headset is close to the ear, installed or not, the ears bear the brunt of a very loud and obtrusive power-up tone.
Even with earplugs installed it hurt. Lesson learned – there is no volume adjustment possible for the power up/down tones. Plugging the supplied 3.5mm to 2.5mm stereo jack plug accessory cord to an MP3 player and then into the module results in good quality stereo audio being heard from the headset.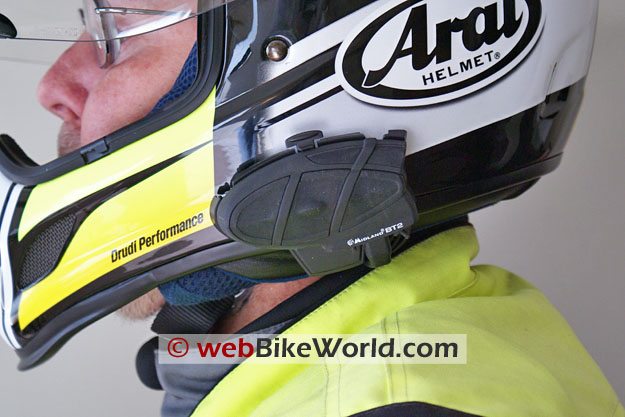 Midland BT-2 Audio Quality
Why only a 'good' rating you ask?
Well, while the stereo headset centres the audio nicely in the helmet, fidelity and tone is not up to the same audio standards (mono or stereo) experienced from other Bluetooth helmet headsets evaluated, expensive or otherwise, or even off-the-shelf consumer headsets that I've tried.
I know that there are always design and engineering concerns, especially regarding power consumption, weight and size, but in this instance, more would definitely be better. This is particularly relevant given that the BT2 supports stereo streaming via Bluetooth using the A2DP protocol.
As example, both the top-of-the-line AKE High Sound and the inexpensive Blue Virtu BSH-01 headsets provide amazing audio. Most systems are now using or implementing quality stereo headsets to take advantage of Bluetooth stereo streaming.
Generally I find the audio situation is not being addressed to the degree it could be. Specifically and especially as a new-to-market system I expected far better audio quality from the BT2.
Some sites identify that the BT2 can be upgraded to Hi-Fi quality speakers, but I have not yet been able to confirm this.
Helmet Installation
The original Arai XD helmets were between wired and wireless device engagements so they became the hosts for the BT2 systems.
The headset assembly consists of three parts: the BT2 module, the main headset harness and the smaller microphone harness. One XD received a boom microphone while the other got a thin wire mike installed.
Input/output connections are via three bottom ports, all with (finicky) rubber plugs to help keep the elements out when the ports are not in use. The front mini-USB port is for charging, the middle mini-USB port is for the headset harness and the back port is a 2.5 mm stereo input socket for connecting an external player or a transceiver (like the Alan PMR446 approved for use in Europe).
The headset harness housing is a flexible L-shaped assembly.
When connected to the main module the short leg points in towards the helmet, ostensibly to keep this connection tucked out of the way when in use. However, the long leg of the connector extends below the bottom of the mounting bracket base and typically, below the bottom edge of most helmets.
Each speaker of the stereo headset is 50mm by 5mm thick (with adhesive) and the lead wires are long enough to facilitate installation in virtually any helmet. The speaker cover is fabric with a hook-n-loop back and this cover has a back access port so that the speaker can be (gently) removed allowing the cover to be washed or replaced.
The speakers were installed in the correct across-from-the-ear position, under the liner material and secured via provided hook-n-loop pads. Given the large air intake vent on the front of the XD chin bar, the microphone is positioned to the left edge of the vent.
This location, although not optimal for audio input, works well.
Each kit comes with two plastic mounting plates – one adhesive and one screw-clamp fitting that requires the 3mm key. Each plate has two unique cut-outs to receive the matching studs on the main module. With everything aligned the module is simply slide down onto the mounting plate.
Mated together the whole assembly is only 20 mm thick, presenting a low-profile appearance on the helmet and offering up minimal frontal area in any airstream. Something immediately evident as a weak point however is the thin plastic fixing clip that is supposed to keep the module secured on the mounting plate.
In actual use the fixing clip arm is too long and thin to provide any strength in keeping the module seated.
If the main module or any of the cables are touched by anything, the fixing clip releases, allowing the module to slide upwards and eventually off the vertical alignment tabs, as can be seen in these photos: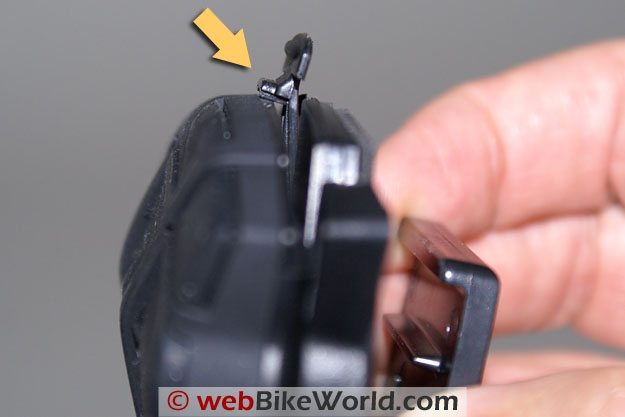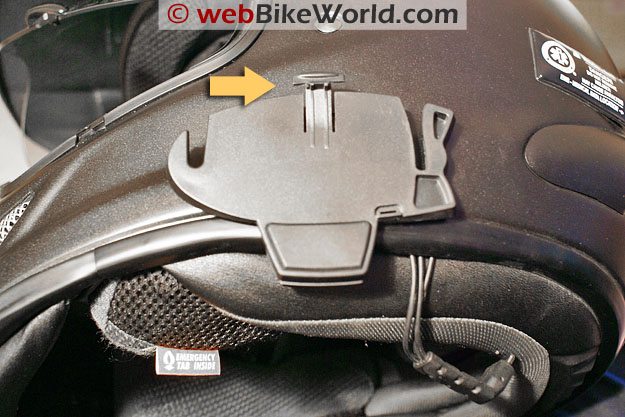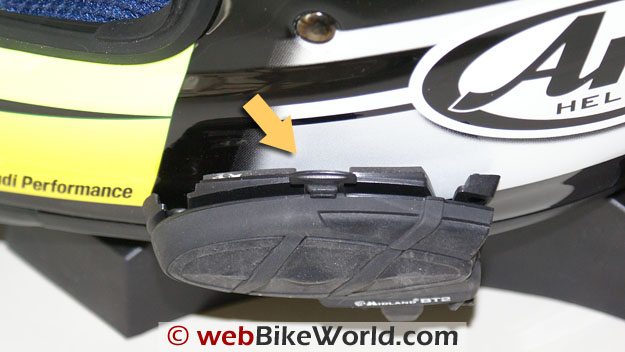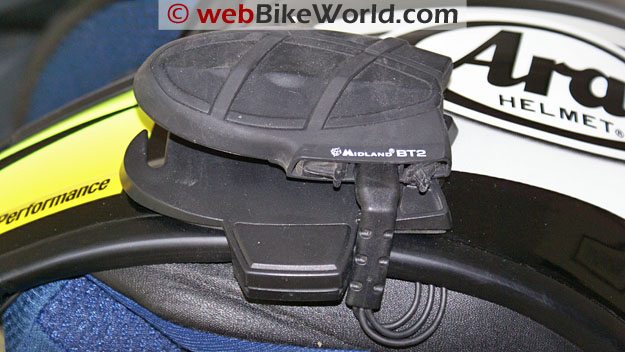 Pairing the Pair
After a full day spent in charging the second unit using a step-up/step-down transformer, the flashing Red LED that indicates charging mode finally went out. Both units were now ready for their initial pairing.
The BT2 system unlike some other Bluetooth products has a two-stage process: setup and pairing.
Stage one or Setup Mode is initiated by holding the Intercom buttons on both units down for seven seconds, which results in a steady Red LED.
With Unit 1 in hand, press the Volume + (Up) button until the Red and Blue LEDs flash rapidly, this indicates stage two or Pairing Mode. On Unit 2, press the Volume – (Down) button to initiate its Pairing Mode.
After five to ten seconds the Blue LED on each unit flashes once and both units go back to Setup mode (steady Red LED).
With this sequence completed, the set will be paired. To take the units out of Setup Mode, press the Intercom button on each unit for three seconds. The Red LED goes out and the Blue LED will flash twice and then settle into a rhythmic pulsing.
The devices are now paired and ready to go.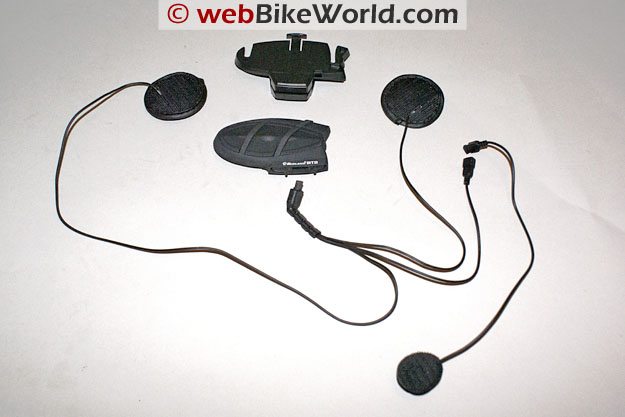 On the Road With the Midland BT-2
Even before hitting the road to conduct the first system test run, a number of observations (see above) were starting to manifest themselves as issues. Some of these issues have workarounds, but some do not.
With the systems powered up and helmets worn, a real user input limitation is felt, or rather not felt. With medium to heavy gloves on, I found it hard, without a lot of practice, to discern the three sections.
Even with a slightly raised centre line shape that helps in finding the Intercom button, tactile perspective is poor and the raised section divider mouldings both help and hinder.
Out on the road another concern became an immediate problem.
This time of year pretty much anything worn has a high full collar. The collars of the FirstGear Jaunt (review), Olympia AST (review) and the Olympia Phantom suit (review) all rub the bottom of the mounting plate and/or the connector.
My riding partner has the same problem, albeit to a lesser degree, with her Rukka Sapphire jacket (review).
With this rubbing and upward pressure, the main harness connector pushes the main module up whereby the fixing clip simply releases, allowing the module to continue its upward movement, off the alignment mounts.
On one occasion, as the module was pushed upwards, the main connector separated from the module.
When a stop was made to ascertain the reason for the connection failure it became apparent that only the accessory stereo cable had prevented the unit from separating completely from the mounting bracket and becoming flotsam in the airstream — not a good thing.
In true road-side fix tradition a less-than-elegant but perfectly functional workaround was implemented.
Two small elastic bands hooked around the top of the fixing clip, down across the module and around the mounting plate base and main connection keeps the fixing clip tab pulled tight to the module, so is does what it was designed to do.
UPDATE: Alan UK recently told us that the original clamp has been updated and existing customers can obtain a replacement; see the comments section below.
Here's a photo illustrating the fix: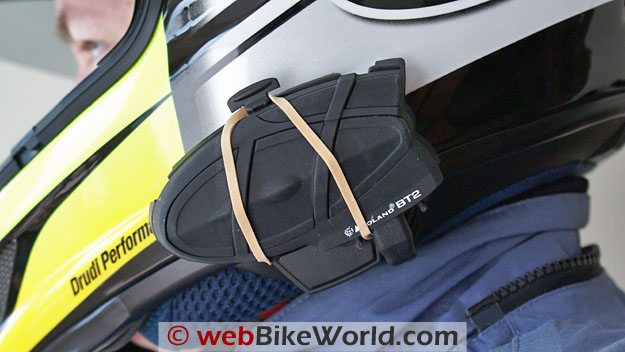 Rubber bands and all, the system works as advertised in providing rider to rider or rider to passenger communications and in supporting a host of Bluetooth and wired devices.
While the reliable operating range of 100 to 150 metres is far less than many other Bluetooth units used, like the Cellular Interphone or Cardo scala-rider Q2, it is consistent with the information provided in the manual.
Over level and open terrain a voice link is sometimes possible up to 250 metres.
The limitation is most evident when riding up and down hills or through forested areas, our favourite place for riding this time of year. In these conditions even 100 metres of separation will result in a noisy and intermittent link.
Close proximity to other vehicles also severely impacts the signal between the two riders.
Although somewhat expected from this type of communications and probably attributable to the limited power output and resultant range limitations, the situation is still irritating and far more severe than with any other system used or evaluated.
Not an issue is volume; the Up and Down buttons provide adjustment for any specific helmet or user requirement and once set.
The Automatic Gain Control (AGC) function does an excellent job in maintaining the selected volume at a constant level in the headset as ambient noise levels in and around the cockpit and helmet areas change.
Another positive is the speed with which the units pair or initiate the intercom or rider to rider link – typically within one to two seconds.
Once the synchronization tones are heard in the helmet, the link is active. Another plus is the speed with which the units will re-establish a lost voice link.
When the maximum range is reached, the noise floor increases and the voice link drops out.
This is not unexpected and is typical for BT (and other) systems. Once the units are within range again the noise levels drop and the link is re-established quickly.
While other Bluetooth rider to rider capable units will also restore a link, it is not always a given and more often than not one of the riders needs to initiate a new session. With the Midland BT2 systems restoration is virtually seamless.
As the battery runs down, link range will decrease and recovery time will increase accordingly.
A system management feature, whereby the battery is powered down to conserve it during inactive periods may also create a situation where a new session has to be manually initiated.
These use and management issues are the realities common to battery powered systems and as such need to be factored in when considering the frequency and type of use.
Battery life itself is very good, due in large part to the lithium battery used. Six to eight hours of use is possible when using the systems for basic rider to rider purposes.
If a constant wired or Bluetooth music connection is maintained power will start to run out after five hours or so.
The pause to refresh takes about three to four hours with the first unit, but the second one takes twice as long to recharge – usually overnight. As this has been an issue since receiving the units a replacement unit or replacement battery is going to be requested, hopefully under warranty.
As the system is totally self-contained, portability is not an issue, and outside of the overly long connection that causes interference with clothing, it mounts up very well on a wide variety of full face helmets.
Depending on the brand, it could be mounted on a flip-style unit, although some ingenuity in use would be required.
With a portable MP3 player connected via the stereo input port, and everything else paired via Bluetooth, including a mobile phone supporting A2DP for stereo streaming of music, navigation output from the Garmin 2820 via the BPA 100 dongle, the user environment is self contained – the user is free to roam.
Peripheral Device Use
It is sufficient to state that anything put in front of the BT2 module was successfully connected, either by the wired stereo input cable or by a wireless BT link, directly to the module or via the Albrecht BPA 100 module.
Part Two of this evaluation provides further detailed information on peripheral use and setup, so only the basics are covered here.
To connect a GPS device or a mobile BT phone, put the module into Setup Mode by pressing the middle button for seven seconds until the Red LED stays on.
With the peripheral device readied via its pairing menu, put the BT module into Pairing Mode by pressing the front (Phone) button for three to four seconds, initiating the alternating Red/Blue LED sequence.
Start the peripheral device pairing sequence. After one or possibly two passes, the peripheral device will recognize the BT2. Typically a pass code will be requested by the peripheral, which for the BT2 is "0000". Once the security protocols are in place, pairing will be completed.
Shutting either or both devices off and then turning them back on and getting them cozy again resulted in the devices pairing up again, usually without any user intervention. One of the two zumo 550 units we tried is reluctant to re-establish a pairing, but the other one works just fine.
This appears to be an isolated issue.
With one of the HTC Touch PDA devices paired to the BT2, full advantage can be made of the A2DP protocols that both devices support.
Appreciating what I perceive are some audio limitations of the headset itself, the stereo music stream from the device to the BT2 was continuous, with very low noise levels observed.
Two options will be provided for on the HTC Bluetooth paired menu: Wireless Stereo and Hands-Free Headset.
Checking both boxes will allow the user to more fully exploit the discrete functions of the HTC (or a similar device) for hands-free phone use, including voice commands if so configured and, streaming of stereo audio from the application player.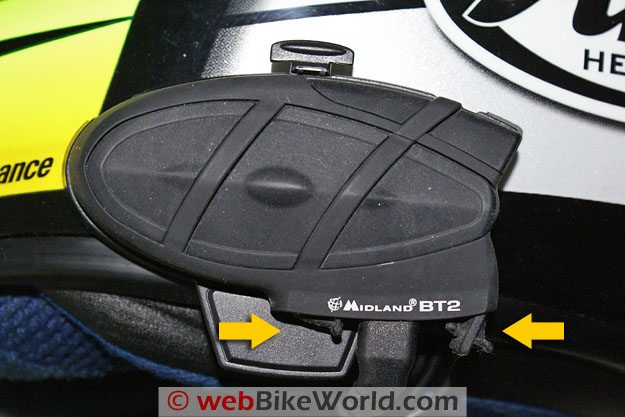 Unique Midland BT-2 Features
Simply described, this feature allows the rider and passenger to use the intercom even while a communication link is open, thus affecting a three-way link.
While not a feature that the two riders in this household would use on a daily basis, given our separate mounts, it was tested and it does work, very well.
As enabled per the Instruction Guide, the intercom link between the rider and passenger is kept open, allowing both parties to listen to an active link, such as music, GPS output or a radio session via a connected transceiver (a feature we have not evaluated).
A clearly identified limitation, due to channel availability, is that only the 'wired' system user will hear incoming audio in stereo, audio to the second party will be mono or single channel.
As well, again due to channel limitations, music from a Bluetooth stereo player (A2DP) cannot be shared.
So, while not a perfect three-way duplex environment, it is a feature that can be enjoyed by those riding two-up and is just further evidence of the enhancements being provided to consumers.
The Bottom Line Ratings
Packaging:  Very Good. Attractively packaged and everything makes sense when mentally fitting it all together. The simple but well written Instruction Guide looks like and is a valuable part of the kit.Even though the kit was shipped directly from the UK, the power adapter issue is still frustrating. Many manufacturers, big and small, provide multi-plug adapters to address local or potential world-wide market requirements and from a consumer viewpoint, to satisfy immediate requirements.
Design: Fair to Good. Attractive shape, slim, lightweight, but some real-life testing of any prototype should have/would have identified the same mounting issues experienced during this evaluation.
Execution: Fair. Look and feel is good and main components are well made, sturdy and fit well together. In actual use, between the weak fitting clip and the obtrusive surface moldings, using the control buttons is difficult with anything but a bare hand or thin glove.
Features: Very Good. The BT2 has a host of configuration and use options that should satisfy a wide range of users, including the provision to enable a three-way link – incoming audio, rider and passenger.Although no longer a unique feature, the wired input port adds a lot of flexibility and choice to users who ride alone, with a passenger, with other riders or any combination of the three.
Fit: Good. The system mounts up very discretely on a wide variety of full-face and could be used on other types of helmets as well, although with some probable input limitations. The components all fit well together, although the fixing clip is the weak link.
Setup and Configuration: Very Good. Understanding, installing and configuring everything involved was extremely simple and it all works. The controls are large and easy to use with bare fingers or when wearing light gloves, but it is best to have the system configured before putting on heavier gloves.
Performance: Very Good. Despite a limited rider to rider range, overall system performance is very good. Switching between connected devices is fast and reliable, while automatic restoral of an interrupted voice link is an appreciated feature.
Ease of Use: Poor to Fair. I would really argue with their 'ease of use with motorcycle gloves' point made in the Flash Player presentation…with thin leather or light textile gloves perhaps, but not with anything related to cold weather use.Correct operation of the system via the large input controls takes practice, some effort and luck. All in all, bad form and a potential safety related issue as well.
Reliability: Good. Once the main module and connections are secured, the systems have proven themselves over a prolonged evaluation period and both systems continue to function well.
Maintenance and Support: Good. Maintenance to this point in time has involved recharging the batteries, cleaning the units and, changing the rubber bands that (totally) secure the system in place.A support rating is not possible yet as submission of the slow battery charging issue is overdue (my fault).
Cost: Good. From a component perspective and with its proven features the Midland BT2 system is worth the extra cost involved in bringing the system in from the UK. US pricing, when known, might make it even more attractive.
Value: Fair. While appreciating that the system performs well in providing rider to rider communications and supports a wide variety of wired or Bluetooth devices, the issues identified that really infringe on user enjoyment bring this category down.
Note: the cost and value categories are somewhat subjective as this point in time. In a head to head, apple to apples comparison, the categories can be more accurately assessed.
Conclusion
The Midland BT2 system is attractively styled, with great features that allow a wide range of user requirements or preferences to be met. But, a few simple design and use shortfalls impact big time on the bottom line.
So, what is needed? Well, some physical fitment and user input changes, improved audio quality and increased rider to rider BT range would all be great.
The latter issue is very glaring in light of de-facto 500 to 1000m range-capable systems available now.
I really, really wanted to like the Midland BT2 system. For now however the systems have been relegated to backup duties, much like hockey players who get benched and not always just for poor on-ice performance.
Without being overly critical of one specific system, as someone involved in the high-tech environment most of my life and as an active and avid motorcyclist, I am very disappointed that shortfalls in design, standards, application of technology and product testing are still so obvious.
Part 2: Midland BT2 Configuration and Specifications
UPDATE 2012: Midland BT Next Review
List Price (2008): £144.99 for BT2. £49.99 for BPA 100.
Review Date: October 2008
NOTE:
 The webBikeWorld evaluators wear properly fitted ear plugs for intercom evaluations. This is reflected in the opinions on sound quality and speaker volume. Your experience may differ. Always protect your hearing when riding a motorcycle (
more
).
Note:
 For informational use only. All material and photographs are Copyright © webWorld International, LLC since 2000. All rights reserved. See the webBikeWorld® 
Site Info page
. Product specifications, features and details may change or differ from our descriptions. Always check before purchasing. Read the
Terms and Conditions
!
Owner Comments and Feedback
---
From "J.S." (December 2012): "First, thank you for the great reviews. They are informative and well written, and I enjoy reading them.
I wanted to give you some feedback on the Midland BT2 system that my wife and I have been using for two years. The system is very close to being a great system, but it missed.
The system works extremely well as a cell phone headset. I can place or receive calls with great clarity, so much so that people don't even know I'm riding when I speak to them, even at high speeds (70 MPH+). I cannot compliment it enough in this mode.
The problem is when used as an intercom. The audio is clear, but the VOX is extremely slow, not turning on for about 2 seconds after one speaks into it. This is excessively slow, and makes for a lot of frustration. Normal use is to say "hey" and wait for a couple of seconds to start talking. I've used VOX systems, and that is not how they are supposed to work.
Another drawback is that the two intercoms often lose the link between them, at random times. There is no warning when this happens, they just stop communicating with each other. The only way to re-link them is to turn one of them off and back on, sometimes more than once. We may go a full day without this happening, or it may happen multiple times in a couple of hours.
Initially we thought there was something wrong with the set, so we returned them under warranty. We (promptly) received a replacements set, which worked exactly the same as the first set. Based on the shortcomings, I would not recommend the system. Again, thank you for your reviews, and for considering my opinion."
UPDATE From "J.S." (May 2013): "I appreciated your acceptance of my previous input in December of 2012; I wanted to provide you with an update.
As of today, our frustration with the set has grown significantly worse. We are ready to discard (throw away, not sell to some poor unsuspecting person — we could not do that with a clear conscience!), and get a better set.
It appears that the 2 year warranty is not a warranty, but an expiration date. The units now will pair with each other less than 50% of the time; ditto for the cell phone. We must turn them on and off several times before they will pair. Then they will turn off frequently, even with nearly fully charged batteries.
I initially felt comfortable with recommending them for cell phone BT usage — no longer. I believe that these are low quality, incompletely developed unit, that should not even be on the market.
Again, thank you for your continued good reviews; I will be looking through them to help us decide what will replace the Midland (intercoms) it will not be another Midland product."
---
From "G.W." (May 2012): "We bought a set of the "2010" model intercoms based on what I read on your site and the user reviews. For just over $120 (plus another $17 for a 3 year warranty) they are great units. They connect fast and last a long time.
Although I find the audio quality for voice quite good, the music quality is only adequate at best. I have an equalizer on my smartphone, so I am able to tweak the sound which helps, but I find I can't get quite enough volume for the music. If I where earplugs in my helmet, then for sure the music is too quiet.
Great find for a bargain intercom system though. I would buy them again and recommend them to anyone who doesn't want to spend $400 or more on a communication system."
Editor's Reply: The BT-2 is becoming outdated; if you don't want to spend much on an intercom set, check out the Sena SMH5 intercoms (review) with the latest Bluetooth 3.0, firmware updating capability and more.
---
From "J.G." (04/11): "We have owned the twin BT2 intercom set for about 18 months now and have a few observations/comments which other people may find useful.
We chose them a bit randomly as they were the only ones available at the time from our local Hein Gericke shop. The setup was a cinch, since the twin set is paired out of the box.
Since having them we have grown to rely on them as an integral part of our riding pleasure, especially since my partner has not been riding long and I can offer advice whilst riding. We have done a mixture of short town rides, longer group rides and extended trips of 7-8 days around the UK and northern France so have a pretty broad perspective on how they perform:
Setup is pretty straightforward, although the manual is not very easy to understand.
Mounting them to the helmets is easy too (they come with a clamp or sticky bracket depending on helmet design). We have used both and they seem fine.
The intercom is pretty good although they sometimes don't connect first time which results in quite a bit of button pushing before they spring into life. They have always worked in the end though.
Like many Bluetooth gadgets the buttons are multi function and I really can't remember what any of the functions do. We operate the units in continuous connection mode .. i.e. you speak and the other person hears!. Apparently you can operate in press button to speak mode but, why would you?
Sound quality is acceptable for general use and background noise only becomes a problem at 75mph plus on unfaired Harleys with loud pipes. We haven't tried the later hi-fi speakers so can't comment on these.
The units are pretty fiddly to use with gloves (even though we only ever use one of the buttons) as you have no idea which bit of the unit to press … just stab and hope for the best.
Don't know if music/phone or GPS works because we can't be bothered to use all that stuff. Battery life is sort of ok, we generally get 4 hrs before they switch to power saving mode (you have to press buttons to talk) followed about 20 mins later by them stopping altogether. This is really not long enough for the sort of riding we do but other people may be fine with that.
We carry a power monkey with USB cables so we can charge whilst riding. This would be great except the USB ports are a poor fit and they keep falling out!
Unfortunately the units have some down sides:
The units are charged using Mini USB ports and a red light flashes to show when they are charging. When they are fully charged the light goes out.
Unfortunately the light also goes out when the USB plug is not seated correctly (we have struggled to find USB cables which fit properly) or someone takes the plug out to use a hair drier! Far too many times one of the units is not actually charged at all and they pack up 10 mins into the ride. A clear 'fully charged' indicator is essential.
The various power/signal ports in the units have waterproof rubber covers but they rarely stay shut for long. Fortunately this has not caused any problems with rain but I fully expect them to fill up with water some day.
The signal cable exits out the bottom of the unit which is vulnerable to damage. Also the cable is only a push fit. If I wear a waterproof jacket and look over my shoulder it regularly knocks the cable out and we have to stop to reconnect it. We did break the first cable socket because of a faulty design but Midland kindly replaced it FOC for us.
We use the wired microphone Velcroed to the chin piece of our full face helmets. Unfortunately it is a pretty flimsy circuit board covered in a bit of foam rubber. These get damaged regularly by carrying the helmet (we do do this!), sticking gloves in helmet (we do this too!), putting them on and taking them off (And this!). I do find it baffling that a motorcycle specific product is just not remotely fit for purpose. Surely a plastic covered microphone would be a cheap and permanent solution.
So far we have broken 3 of these and 4 headphone sets;… we always carry 1 or 2 spare microphone/headset packs when touring. Last week the USB charging socket fell out of one of the units and we sent it back to Midland for repair. We were a little surprised when they asked if we had the broken piece as they don't have any .. or replacement boards! They are kindly trying to locate a spare but we are going away shortly so will probably have to replace them.
To summarize: These were expensive items which we use every time we ride, no matter how short the journey. They have sold us on the benefits of wireless intercoms but the build quality is disappointing.
We really have no faith that they will work any more and the recent issue with the USB port breaking off is the final straw. We have spoken to Midland, and they are trying to fix the problem but I think its probably time for us to part company.
Apparently they do have a replacement product called 'BT Next' which has more features due out at the end of April 2011. Do we trust them to have addressed our issues rather than adding more Bluetooth features which we will never use? Time for an eBay auction I think!"
---
From "A.M." (3/09): "I had the experience to use Midland BT2 Intercom for 16 days during a motorcycle trip to Alps last August (2008). At the same time I also used the Midland PMR 445BT. In these 16 days I crossed 5700km and 6 countries.
About Midland BT2:
The main module, even with the slightest pressure, was slipping out of the holding case. Surprisingly I had not lost the device in the country side. I used rubber bands and even tape to hold it in place.
The main connector was separated from the module in more than 50% of the rides as it is a mini USB-like connector that can not be firmly attached to the device. Furthermore, the connector holds only on the main module and not on the mounting plate; so I could not ride without the main module on.
The cable of the microphone was so long that it was annoyingly touching my chin.
The cable of the left speaker too short for my SCHUBERTH S1.
The battery could not hold a day trip without recharging. My Cardo teamset can easily stand a two-day trip without recharging.
Volume capability is less than Cardo and I could not used it with my earplugs.
Difficult to feel inside gloves what key I was pressing.
Really what is the use of the weather plugs if they do NOT stay seated!
The telephone device I have is a PDA like with mp3/GPS/A2DP capabilities.
Midland says that somehow you can use BT PMR and MP3 etc at the same time. In my situation this was a myth. In case I was trying to give priority one to the phone I could not use PMR because mp3 music from my phone. In case I was trying to give priority one to the BT PMR I could not use the mobile phone at all!!! The PMR used to transmit towards BT2 a very low background noise keeping the channel occupied as it had priority one.
Furthermore, the PMR 445BT was turning ON and OFF accidentally and the antenna suddenly was separated from the device during a ride!!!
Upon my return I have tested five! BT2 devices all with problems mainly in the A2DP functionality. The owner of the shop, where I purchased both devices, took back BT2 and return the money. The local distributor in Greece changed the 445BT with a new one."
---
From Alan UK (11/08): "First of all, many thanks! We always appreciate feedback and honest reviews of products and have always found comments and criticism from your own site to be fair and constructive whilst at the same point being encouraging and also fair on positive points.
Having read the review of the headsets that you tested, I am very pleased to say that many of the issues you have pointed out have now long been remedied.
Clamp Issues
We identified the exact same problems that you did in your test in our first batches of product and have since re-designed both clamps for the BT2 to ensure a firmer and more secure fit. We are happy to issue replacement clamps FOC (free of charge) to any customers who have brought product through our UK dealers.
Audio Quality
The standard BT2 is supplied with the stereo speakers that you tested, however we now can supply high-quality Hi-Fi speakers that simply replace the BT2's existing speakers but produce an extremely high standard and quality of sound. Again we'd be happy to send you some of these to test out, but usually there is an extra charge if consumers wish to get hold of these too. (Editor's Note: These are the C895 Hi-Fi speakers shown on this Midland page. Alan UK says the speakers are just being released to dealers).
Ease of Use
Lets face it… not everyone enjoys reading instruction manuals! 🙂 We're doing our best to make future products more "user friendly" so watch out for future developments. In the interim we have some other new "simplified" Bluetooth products that will be hitting the markets in January.
We've also taken to the issue of people being unsure of how to operate certain function on the BT2 by producing a series of short "how to" video clips that are now hosted on our own info website at www.alan-info.co.uk We are still working more clips to add to the site and welcome any suggestions from customers who would like to see any particular demonstrations."
Editor's Note: We'll be evaluating the revised parts for the BT2 system and will report back with an update.