Bluetooth Primer
Without exhausting any related standards or wiki sites, a few simple facts on Bluetooth are offered up. For communication and connection purposes a typical Bluetooth network or connection set is made up of eight devices: the master device and up to seven other active devices.
This ad-hoc network is also known as a piconet. Although Bluetooth functions in a network-like manner, what is not clearly understood is that Bluetooth, for data transfer purposes, is a one to one relationship. This means that data can only be transferred between the master and one other device at the same time, although switching can be done very rapidly, providing a round-robin environment at times.
For transmission purposes, the Bluetooth standard currently defines three power classes, listed by maximum power and typical operating range: Class 1 is 100mW and up to 100 metres; Class 2 is 2.5mW and up to 10 metres; and, Class 3 is 1mW and up to 1 metre range.
Most rider and passenger intercom systems are Class 2 or 3, while other systems that feature rider to rider capabilities are Class 1. Even with additional power consumption efficiencies provided for under the Bluetooth 2.0 and 2.1 standards, Class 1 devices that provide extended link distances still require that a very good power supply be provided.
While not a perfect medium, Bluetooth continues to mature and evolve. Bandwidth enhancements have and will continue to be implemented so that not only stereo, but other media forms can be streamed via a link between compatible devices. Other improvements continue to provide power efficiencies.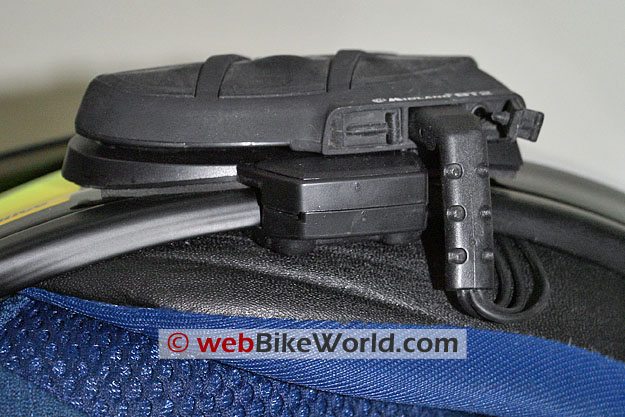 Peripheral Device Use
It is sufficient to state that anything put in front of the MIdland BT2 module was successfully connected, either by the wired stereo input cable or by a wireless BT link, directly to the module or via the Albrecht BPA 100 module.
The list of peripherals utilized includes two Garmin zumo 550 GPS devices, both running version 4.50 software; a BMW Navigator III+ (Garmin 2820 based system); two new HTC Touch devices that support the A2DP and AVRCP protocols; and two well-used MP3 players.
To connect a GPS device or a mobile BT phone, put the module into Setup Mode by pressing the middle button for seven seconds until the Red LED stays on. With the peripheral device readied via its pairing menu, put the BT module into Pairing Mode by pressing the front (Phone) button for three to four seconds, initiating the alternating Red/Blue LED sequence.
Start the peripheral device pairing sequence. After one or possibly two passes, the peripheral device will recognize the BT2. Typically a pass code will be requested by the peripheral, which for the BT2 is "0000". Once the security protocols are in place, pairing will be completed.
Shutting either or both devices off and then turning them back on and getting them cozy again resulted in the devices pairing up again, usually without any user intervention. One of the two zumo 550 units is reluctant to re-establish a pairing, but the other one works just fine. This appears to be an isolated issue.
A three-way pairing between the BT2 and zumo 550, with the zumo hosting the Bluetooth enabled HTC mobile phone worked well, with the GPS phone menu controls used to answer or place calls.
Whether paired directly to the BT2 or via the GPS, use of the control buttons on the BT2 module to perform mobile phone call procedures is made difficult while wearing gloves.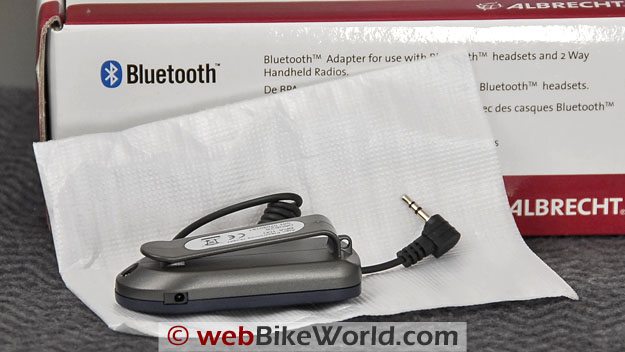 Radio Interface
With a compatible radio interface cable, or if configured to use the full BPA 100 kit that includes the necessary radio cable interface and a PTT switch, an FRS/GMRS radio can be utilized with the BT2.
Another option, currently available in Europe, is to use a Bluetooth enabled radio such as the Midland BT445 Bluetooth PMR446 radio with the BT2. Use of a common radio provides extended communication ranges and facilitates communications in a multi-rider environment, with or without a common control module such as the BT2.
Not having a Bluetooth compatible radio on hand as of yet nor a full BPA 100 kit that provides all the necessary pieces or the proper interface cable, testing of this feature was somewhat limited, but three simple configurations were undertaken in an attempt to validate basic connectivity of various components with the BT2.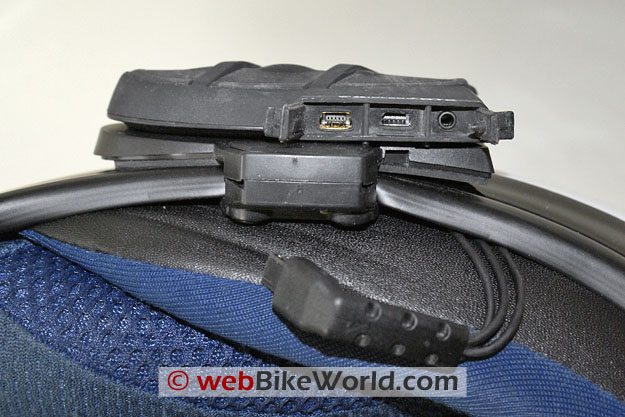 BT2 with BPA 100 and Motorola Talkabout Radio
With the BT2 and the BPA 100 paired, a Motorola FV700 transceiver was connected to the BPA 100 via its integral 2.5mm interface jack. Pushing the Aux button on the BT2 activates the link between the BT2 and the BPA 100 and its connected device.
In this configuration, pushing the CALL button on the radio, or speaking into its microphone would result in the audio being heard in the helmet headset as generated by the radio's sidetone. This at least proved a connection between the radio, the BPA 100 and the BT2. However, without the proper interface cable, transmit and receive functions could not be tested further.
BT2 with Motorola Talkabout Radio
A direct cable connection was made between the radio and the 2.5 stereo input port of the BT2 using a standard 2.5 mm stereo cable. With this direct connection, an electrical circuit was made, but neither the transmit or receive functions worked properly, due to cable incompatibility.
BT2 with Midland Radio
One last connection was made, between the BT2 stereo port and the headset port of the dual-plug Midland radio (the microphone is a 2.5mm plug and the headset is a 3.5mm plug). This connection simply proved that the audio from a radio would be passed to the BT2. A proper dual-jack cable is needed for a full input/output connection.
Supported Configurations
Single Rider with one unit – provides a Bluetooth connection to mobile phone, MP3 player or GPS, with a wired connection to a portable player or GPS.
Rider and Passenger with two units – provides a Bluetooth intercom between rider and passenger, with a wired connection for sharing portable music or GPS audio. Note – with two units, Rider and Passenger can both connect different Bluetooth devices depending on needs.
Bike to Bike with two units – provides a Bluetooth Intercom (150 to 200 metres), with a wired connection on each set for portable music player, GPS audio, etc.
Group, with multiple units and/or common radio devices – individual riders/users can connect different Bluetooth devices depending on needs and communicate within the group using a common approved radio to provide increased range.
Bike to Bike with Passengers, multiple units and common radio devices – individual riders and passengers can both connect different Bluetooth devices depending on needs, utilize the rider to passenger BT intercom feature and, conduct group communications from rider and passenger via a common radio connected to one of the units on each motorcycle.
Note: a common radio device can be connected by wire via the Auxiliary input or by Bluetooth using a Bluetooth enabled radio or a compatible BT adapter such as the BPA100.
Midland BT2 Technical Information
BT2 Module – 87 mm x 47 mm x 16 mm or 3.42 x 1.85 x 0.6 inches.
Bluetooth – 2.0 Stereo Standard, with Headset/Handsfree/A2DP/AVRCP protocol support.
Power – Class 1 (maximum power of 100mW) presumed but not confirmed, with a range of up to and beyond 100 metres depending on conditions.
System supports A2DP (Advanced Audio Distribution Profile) and AVRCP (Audio/Video Remote Control Profile) protocols, allowing Bluetooth streaming of stereo music from and remote control of a compatible A2DP and AVRCP mobile audio player.
Stereo Headset – two speakers, each 50mm x 5mm thick (with adhesive), 16 Ohm impedance and nominal output of 0.5 watts. The left speaker wire is 250mm and the right speaker wire is 510mm in length. The speaker cover is fabric with a hook-n-loop back. The cover has a back access port so that the speaker can be removed, allowing the speaker cover to be washed or replaced.
Microphone – the flex microphone connector lead is 225mm or 8.85 in in length and the microphone is slightly oval shaped and measures 30mm x 26mm. The boom microphone arm is 165mm or 6.50 in length.
Connectivity – BT2 can be connected by Bluetooth to a mobile phone, GPS or MP3 player (stereo or mono). A wired connection allows iPod, MP3 players and FRS/GMRC/PMR transceivers to be added.
UPDATE: Full Review of the Updated Version of the 2009 Midland BT-2!
Next: Albrecht BPA 100 Bluetooth Adapter
See Also: Part 1: Midland BT2 Bluetooth Intercom Review
w

BW

 Review: Midland BT2 Bluetooth Intercom
List Price (2008): £144.99 for BT2 and £49.99 for BPA 100.
Review Date: November 2008.
NOTE:
 The webBikeWorld evaluators wear properly fitted ear plugs for intercom evaluations. This is reflected in the opinions on sound quality and speaker volume. Your experience may differ. Always protect your hearing when riding a motorcycle (
more
).
Note:
 For informational use only. All material and photographs are Copyright © webWorld International, LLC since 2000. All rights reserved. See the webBikeWorld® 
Site Info page
. Product specifications, features and details may change or differ from our descriptions. Always check before purchasing. Read the
Terms and Conditions
!
Owner Comments and Feedback