Midland BT2-D Intercom Image Gallery
This section describes the BT2-D system in use, along with a summary of the features and the conclusion.
Using the Midland BT2-D System
The BT2-D intercom works seamlessly.
Whether in VOX or manual mode, session initiation takes only a second or two.
A session can be initiated by either user, something I am glad to see.
Audio quality within link range and with the power levels good is typically crystal clear.
Some degradation of the RF link is typical once beyond 200 metres and/or when power drops below optimal levels.
With clear terrain and level surfaces link ranges of around 250 metres were viable although understandably, link quality was dropping off.
Just remember that built-up urban areas bring terrain and environmental factors in to play, and especially noticeable this time of year is the impact that high temperatures/high humidity levels can have on the radio frequency (RF) intercom link.
Our typical use cycle is five to six hours over a full day of riding. The systems are in standby the rest of the time or if stopped for a meal, they get shut down. A day of heavy use with pretty constant intercom activity and some music streaming will bring the systems to a low power state after five to five and a half hours.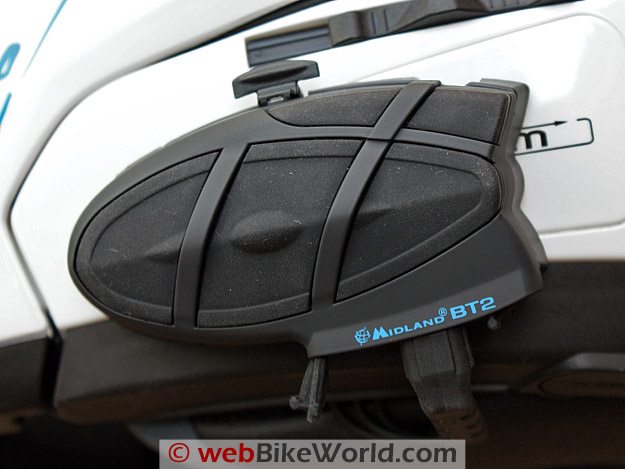 Midland BT2-D Feature Menu
Whether used in rider with passenger or rider to rider configurations, the Midland BT2-D has most of the standard features expected in Bluetooth headset systems and a few that let users exploit the system even further, with or without optional components.
In anticipation of someday assembling a comprehensive feature and comparison table, I have not typically provided a short summary visual or snapshot in single evaluation submission unless system complexity seems to dictate.
However, the Editor suggested that we address this oversight and as usual his logic is bang on. So we now introduce the BT2 System Feature List, in 'table' format of course:
►

 Midland BT2-D Feature List 

◄

Feature
User
Range
Comments
Rider
Pass.
Both*
(Nominal)
Intercom
Y
Y
Y
200 metres
VOX or Manual
Mobile Phone
Y
Y
Y
Own system or if 3-way enabled
Mobile Phone MP3
Y
Y
Y
Own system or if 3-way enabled
GPS Audio
Y
N
Y
Own system or if 3-way enabled
GPS MP3
Y
N
Y
Own system or if 3-way enabled
Group Radio
Y
Y
Y
Per radio specs
Own system or if 3-way enabled
Auxiliary Input
Y
Y
Y
Own system or if 3-way enabled
Other (BTA)
Y
Y
N
Own system
Notes: *Both = Sharing (second user audio, voice or music, will be mono). Music cannot be shared if Bluetooth A2DP (Stereo) is the source. Note: This list is not official and specifications may change at any time.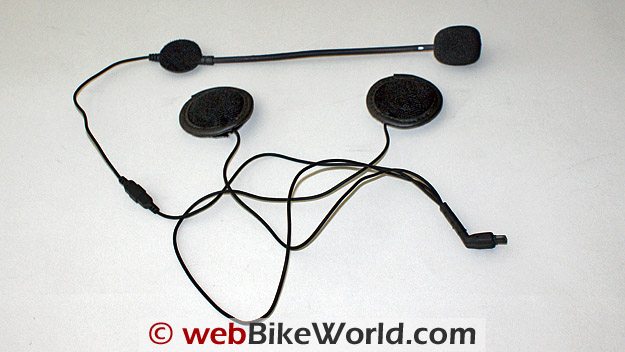 Midland BT2-D – The Bottom Line Ratings

Feature
Rating
Comments
Packaging
Very Good
The dual kit is tightly packaged but everything is easy to access and its all well protected inside the container. Getting a real North American AC power adapter is good.
Design
Very Good
The BT2-D continues to grow on me and after an absence of sorts in using one, its design still looks fresh and controls are quite well located for ease of use, although the raised dividers still cause a bit of tactile confusion.
Execution
Very Good
Heavier duty fixing plates and slightly beefier connection harnesses work well and should stand up to continued use. What needs to be addressed, again, is the fix plate arm and tab which are supposed to really keep the module secured on the bracket. What saves the day here is that the slot fitment is really tight – it takes real pressure to push the module on.
Features
Excellent
The only thing keeping this from being an Outstanding is the lack of higher quality speakers and the ability to use or try North American standard FRS/GMRS radios for group communications. Everything else just plain works.
Fit
Good
Both types of mounts work well on the proper helmets and its overall low profile is appreciated. The fixing clip arm and tab still needs work, but a much stronger fit between the fixing plate and module mitigates the clip issue somewhat.
Setup and Configuration
Excellent
Compared to the original evaluation and others systems reviewed since then, the BT2-D is a step up. Everything is well documented and diagrammed, and easily understood. Virtually everything, appreciating the host device, works the first time around and continues to perform.
Performance
Very Good
I still consider the Intercom feature to be a bit weak, due only to its limited range in comparison to other systems evaluated: its performance is within that claimed in the guide however. The biggest performance hit are the so-so speakers that reproduce audio faithfully, but without much zing, although there is plenty of volume for even noisy environments. We suggest that Midland include a better set of quality speakers with the kit.
Ease of Use
Very Good
While both the main and secondary volume controls can be harder to use with heavy weight gloves, the large pressure areas for the three main controls work well to allow even some clumsy user input. Admittedly, the delineation mouldings actually help orient the fingers. I eventually found that the controls seemed to work better than originally assessed, but practice is still needed.
Power
Good
Overall battery life seems respectable compared to other systems, but intense intercom and continued audio streaming will quickly bring the batteries to their low point before a typical riding day is done. However, if the right accessory plug or adapter is available, mid-day charging can now be done via the DC charger – right on.
On what might see as a nitpick, the DC adapter has the classic cigarette adapter. But more and more manufacturers, including those in North America, are now fitting the SAE (Powerlet or BMW style component), so using this smaller and more efficient adapter would seem to make more sense.
Reliability
Very Good
Even though some wear and tear of the securing assembly is already noticeable, everything else is holding up well and nothing has broken yet, nor even hiccupped. If these systems are as reliable as the original set, they will be around for a long time.
Maintenance and Support
Very Good
It should be minimal. Nothing needed so far less recharging and the occasional wiping off of the modules that seem to attract the dirt with that svelte finish. Support by the Midland contacts has been quite good this time around and request for information have been answered promptly.
Cost
Good
Unless my pricing information is way off, which the Editor will correct, the BT2 systems are still higher priced than most of their direct competitors, even though some of the differential is offset by features and long term reliability.
Value
Good
This rating could be higher if: better speakers were fitted or readily available as an option; group radio interface harnesses were provided or a compatible radio listing was provided; and the smooth functioning intercom had slightly better range. Then a whole lot more potential would be realized. Even if the cost had to be increased slightly, the value factor would be far, far better.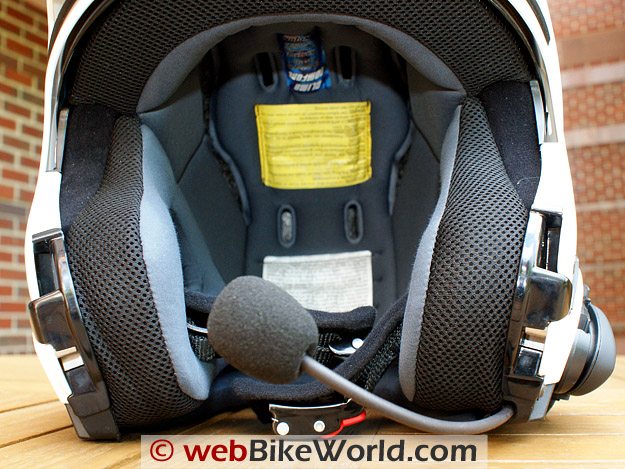 Midland BT2 Feature Summary (per Midland)
The BT2 works as a rider-to-passenger or a motorcycle-to-motorcycle intercom for up to 220 yards.
The system is compatible with all types of helmets.
Allows for a wired connection to an iPod or MP3 player and GMRS or FRS transceivers.
The BT2 is fitted with an automatic gain control (AGC) function that automatically controls the volume in relation to background noise.
The Midland BT2 rider and passenger units are identical devices and independent from each other.
Midland BT2 rider and passenger units can be associated to each cell phones, GPS devices and audio players (e.g., iPod or MP3) without compromising the intercom mode.
Both the rider and passenger units can be connected to the MP3 player on a cell phone. The BT2 can "remote control" the features FORWARD/REPLAY and PLAY/STOP from the headsets.
The Midland BT2-S Kit Includes:
One BT2 Device
Two Types of Mounting Hardware for Helmets (base with screw and base with adhesive)
Two Types of Microphones (Boom mic and wired mic)
AC Single Charger
DC Charger
Stereo Cable
The Midland BT2-D Kit Includes:
Two BT2 Devices
Two Types of Mounting Hardware for Helmets (base with screw and base with adhesive)
Two Types of Microphones (Boom mic and wired mic)
AC Double Charger
DC Charger
Stereo Cable
More Features:
Stereo Speakers
Full Feature Units – Pair via Bluetooth with Cell Phone, GPS, MP3 Player and other BT2 Units
Full Duplex Capability – Simultaneously Communicate with other BT2 unit.
Noise Canceling Microphones
AGC – Automatic Gain Control on Speaker
Non Bluetooth connectivity via Auxiliary/GMRS Cable – Auxiliary Cable Included in Pack – GMRS Cable (BTA302) Accessory MSRP $39.99
Two Mics Per Device —1 Wired Mic (for closed face Helmets 1 Boom Mic (for open face Helmets)
2 Year Warranty
A full Line of Bluetooth Product – See attachment of BT2 Product Description as well as the Tri Fold Spec Sheet.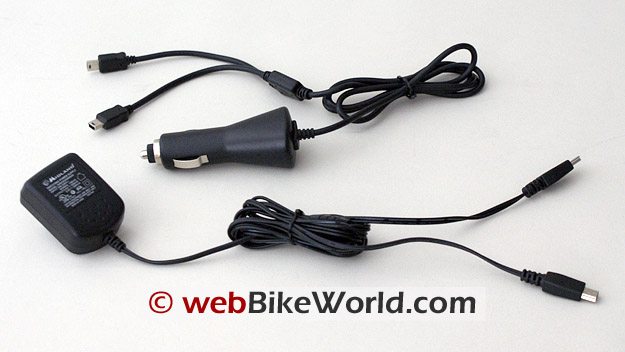 Conclusion
Attractive styling, lots of great features including audio sharing from most sources, everything is easy to use, and the system provides the performance indicated.
But to sound like a broken record, outside of the much improved mounting bracketry and heavier harnesses, operational parameters need to be broadened so that some of the touted features can actually be used, or more fully used by owners.
The updated system shows progress, but it still needs some work. Unlike the original set however, these two are going to remain mounted on a pair of helmets and get used. In my arena, the BT2 system can come off the bench and start playing again.
But the competition is tough and they have lots of tricks up their sleeves. If Midland intends to keep the BT2 in the game as a premier system, it needs to ramp up the offering.
More: Part 1 of the Midland BT2-D Review  |  Midland BT2 (EU) – Part 1  |  Midland BT2 (EU) – Part 2 – Features
Also: Motorcycle Bluetooth Intercom Page  |  Motorcycle Intercom Page  |  wBW Reviews Home
Note:
 For informational use only. All material and photographs are Copyright © webWorld International, LLC since 2000. All rights reserved. See the webBikeWorld® 
Site Info page
. Product specifications, features and details may change or differ from our descriptions. Always check before purchasing. Read the
Terms and Conditions
!
Owner Comments and Feedback
---
Owner Comments in Part 1 of the Midland BT2-D Review