At the MidAmerica Auction-Las Vegas 2011, the bidding action is hot & heavy for this drop-dead gorgeous, 100-point restored 1970 BSA A65 Lightning.
---
THE BIGGEST
I'm a big fan of MidAmerica Auctions. They're a great place to buy or sell some amazing Classic British Motorcycles, or classic motorcycles of any kind, for that matter. Because MidAmerica is the biggest Classic Motorcycle Auctions company around & this Las Vegas auction, held every January, is their biggest by far!

With nearly 500 motorcycles on the floor, the MidAmerica Auctions-Las Vegas 2011 was one heck of a Motorcycle Show as well.
---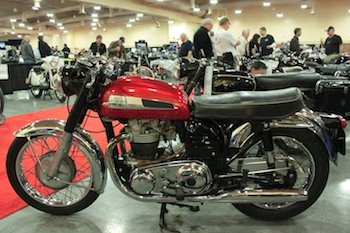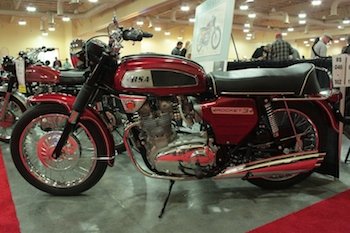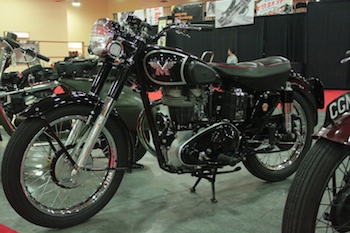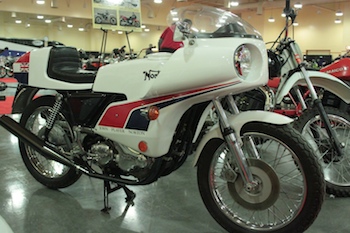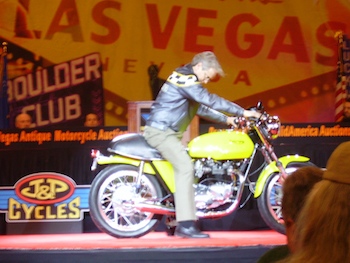 MIDAMERICA AUCTION-LAS VEGAS 2011 – 20th ANNIVERSARY
This MidAmerica Auctions-Las Vegas 2011 is the 20th year for the legendary event. And despite the troubled economy, there were some 500 motorcycles & literally hundreds of interested classic motorcycle buyers, sellers, bidders, restorers, collectors & certified nut-cases, like myself. And why not? It's like the greatest Classic Motorcycle Show you've ever been to. Hundreds of gorgeous machines from every era, every marque, every corner of the globe. Of course, I turned a blind eye (well…almost) to anything that wasn't a Classic British Motorcycle.
MIDAMERICA AUCTION-LAS VEGAS 2011 – A 3-DAY EVENT
This MidAmerica Auctions-Las Vegas 2011 is more than just an auction, it's an event! It all kicks off with a Dinner Auction on Thursday night with 75 premium bikes auctioned off to benefit Childrens Hospital, including a live band (with a former member of Janis Joplin's band that played with her at Woodstock…I kid you not!). Then, bright & early Friday morning, the auction kicked off in earnest, with bikes rolling across the blocks at a furious pace & the don't stop until Saturday night.
MIDAMERICA AUCTION-LAS VEGAS 2011 – HARD AT WORK
That's not to say that they don't take as much time as is needed to extract the last, highest & best bid for the sellers they represent. But of course that's the beauty of the auction: It will only sell for as much as the highest bidder is willing to pay. But sometimes that takes some effort on the part of the auctioneer, the ringmen & the staff. But, the folks at MidAmerica Auctions really go the extra mile. They're not afraid to stop the bidding to talk about some high point of the machine or even apply some light theatrics to get the bidding going again.
MIDAMERICA AUCTION-LAS VEGAS 2011 – IT WORKED FOR ME
I can vouch for this firsthand, having been the beneficiary of their bulldog-determination. At the MidAmerica-Las Vegas Auction in 2009, I was there as a seller. I was selling the legendary (in my own mind, at least) Yellow Bike (my handbuilt '73 T140 custom cafe racer). I was trying to hit the $6,500-mark, but bidding had stalled at around $5,000. Just then, Ron Christenson, the founder & president of MidAmerica Auctions, who is always in the middle of everything, grabbed the matching leather jacket I was including with the sale, put it on, zipped it up, jumped on the bike & proceeded to 'ham it up' a bit, pitching the bike & the jacket the whole way. Whatever he did, it sparked the bidding up again & it ran all the way to $6,750 before it sold. I was very pleased & impressed with this level of commitment that they showed to selling a lowly, non-collectible (modified) $6,000 bike. This turns out to be one of the hallmarks of MidAmerica Auctions approach.
MidAmerica Auctions founder & president, Ron Christenson & yours truly, Andy Tallone, alongside a perfect 1974 John Player Norton, at the MidAmerica Auction-Las Vegas 2011.
---
MIDAMERICA AUCTION-LAS VEGAS 2011 – RON CHRISTENSON
I sat down with Ron for a few minutes prior to the auction for an interview. I'm very grateful to Ron for taking his time like this, considering the hectic pace & the demands put on him running up to a major auction event like the MidAmerica Auctions-Las Vegas 2011 event.
Ron started MidAmerica Auctions over 25 years ago, specializing in Classic Cars, (another wild passion of mine) & expanded into Classic Motorcycles 21 years ago. "Along the way I acquired a wife & a partner, and the business grew from there."
MIDAMERICA AUCTION-LAS VEGAS 2011 – SANDY DOLL
He refers to Sandy Doll, who fills both roles & very ably runs the business side of MidAmerica Auctions, overseeing seller & bidder registration, sales, title paperwork & payment. Big job. Not easy. Expertly done & again, I can vouch for this firsthand, because I sold a bike through MidAmerica. I got paid exactly what & when expected with no drama, no surprises & no questions unanswered.
MIDAMERICA AUCTION-LAS VEGAS 2011 – A REAL PRO
I was impressed with how Ron was ready, willing & able to give his full attention to whoever he was talking to, regardless of the demands being placed on him at that time. He had promised me an interview, but was always very busy. At one point, he spotted me, set what he was doing aside & have me his full attention for this interview. As we concluded, a seller walked up in need of some assistance with the sale of his bike & Ron gave him 100% until the problem was resolved & the seller was comfortable. When I was a seller here myself, 2 years ago, I got the same consideration.
MIDAMERICA AUCTION-LAS VEGAS 2011 – BIKES TURNED AWAY
Ron said that the entries this year were so good & so numerous that they reached their 500-bike limit by November 1st & had to cut it off at that. They turned away over 200 bikes. They expect to sell between $5-6Million in sales at this auction.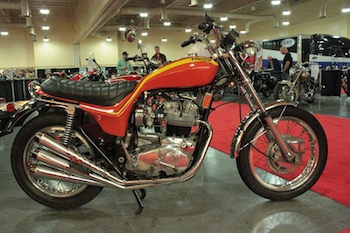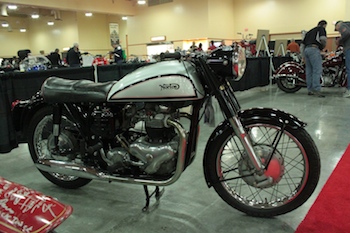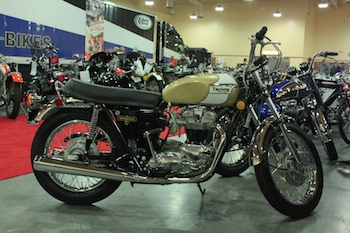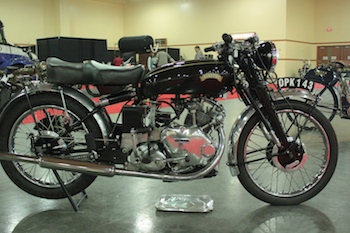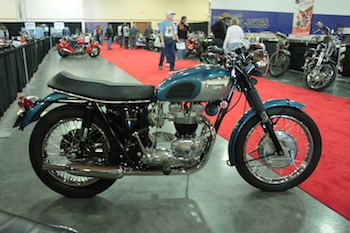 MIDAMERICA AUCTION-LAS VEGAS 2011 – THE MARKET
When asked to describe the market for Classic British Motorcycles (what else is there, right?), Ron said that, as always, the top 10%, the best-of-the-best are still going up in value. The more normal, more abundant bikes like Triumph Bonnevilles, TR6's or Norton Commandos are struggling in the market like everything else, but the nicer ones are holding their own. Baby boomers continue to drive the market for Brit bikes, because we grew up with them & now we're at that point in our lives where we are grown up enough to finally afford them, & still childish enough to want to reacquire them. Of course, the biggest growth in the market is for the classic Japanese bikes, which are driven by the next wave of riders to follow the Baby Boomers (Gen-X, maybe?).
MIDAMERICA AUCTION-LAS VEGAS 2011 – TARGET MARKET
Ron has observed one interesting wrinkle that came out of the recession. High-end collectors who used to trade in classic cars are now moving into Classic Motorcycles. First off, the cost of entry is far lower. Any sort of truly collectible car today probably starts at $30,000 & can easily top $150,000 or more. Add in the costs of a proper full restoration today & one could easily have enough money tied up in a classic car to afford a nice home somewhere. Not so with motorcycles. One can still find great deals on truly classic motorcycles for well under $10,000, far less in some cases (I just bought a running 1979 Triumph T140D Bonneville Special for $3,000!) & a full restoration is more on the order of $5,000-$20,000 instead of $50,000 to $100,000. And, they take up much less space.
MIDAMERICA AUCTION-LAS VEGAS 2011 – ROOM FOR THE LITTLE GUY
But, this is not just a rich man's sport. Thank goodness! In fact, that's one of my favorite aspects of Classic British Motorcycle culture. Most guys who ride 'em, know how to work on 'em. You don't just plop down money, push a button & go. You've got to finesse & coax & pamper it. No amount of money can do that. And the market is flooded with underpriced & undervalued (read that: cheap) Classic British Motorcycles. There has never been a better time for someone who just wants a cool old bike to ride to pick up a great one for a good price.
MIDAMERICA AUCTION LAS VEGAS 2011 – ON THE HORIZON
MidAmerica Auctions is now the largest motorcycle auction house in the world, conducting 4 to 5 major Classic Motorcycle Auctions per year around the U.S., in Las Vegas: Twin Cities MN in Sept.; Pebble Beach CA in August; Rhinebeck NY in June; St.Paul MN in May; and of course Las Vegas NV kicking the whole year off in January. None are as big as the Las Vegas Auction & some are combined with classic cars. But rest assured, its an event worth attending. And if you're either a buyer or a seller of a Classic British Motorcycle (or any special-interest motorcycle of any type), then this is THE place to be. And on top of it all, you'll have a blast!
MIDAMERICA AUCTION LAS VEGAS 2011 – MOTORCYCLE MARKETPLACE
The big news at MidAmerica is not Auctions however. It's an entirely new program for them & a whole new way to sell Classic Motorcycles. This year MidAmerica launches its new Motorcycle Marketplace. Basically, they will display classic bikes in a sales corral at finer automobile Councours d'Elegance events. Two such upcoming shows are the Boca Raton Concours d'Elegance on February 25-27, 2011; & the Amelia Island Concours d'Elegance on March 11-13, both in Florida. These will be fixed-price sales, not auctions & will feature fine Classic & special-interest Motorcycles that would appeal to this well-healed clientele. We wish Ron, Sandy & the entire MidAmerica Auctions crew all the best in this exciting new venture.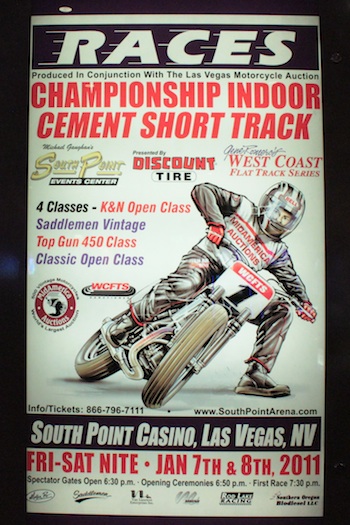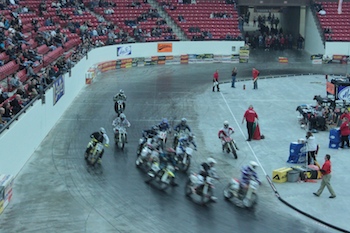 MIDAMERICA AUCTION LAS VEGAS 2011 – GENE ROMERO FLAT TRACK SERIES
To top off all the festivities was the Gene Romero Flat Track Racing Series, Friday & Saturday nights, in the indoor arena at the South Point Casino & Resort. The facility is huge & perhaps the only one big enough to accommodate a 500-bike auction AND 2 nights of flat track racing. This is the 5th year that Gene Romero has brought his racing series to the MidAmerica Auction in Las Vegas.
MIDAMERICA AUCTION LAS VEGAS 2011 – COKE SYRUP?
In the past, they brought dirt into the indoor arena, which is also used for rodeos. But spectators complained of getting dirty & having to dodge flying dirt clods. So last year they eliminated the dirt altogether & they race on the concrete floor. That's right, on the concrete! Ouch!! The floor's finish is very slick, so to improve traction, they pour Coke Syrup all over the floor & let it get tacky. Crazy, huh?
MIDAMERICA AUCTION LAS VEGAS 2011 – IT WORKS
Well, it must work because the racing was stupendous, with graceful (and some not-so-graceful) full slides, & lots of action. While the concrete surface may have been good for the performance of the bikes, I don't think it was so good on the flesh & bones of the riders who fell on it. When I was in high school, I worked nights flagging corners at the Hanford Scrambles Track & saw lots of guys fall & even got run over a few times. But no one ever seemed to get hurt, because it was soft dirt. These guys were not falling hard, but still limping badly when they got up. Ah, progress…
MIDAMERICA AUCTIONS
If you ever get the opportunity to attend a MidAmerica Auction, do so. You won't regret it. You can go to their website & check for future auction dates at MidAmericaAuctions.com.