Michelin T63 Tire Image Gallery
I found the Michelin T63 tires to be reliable both off-road and on the pavement.
They have excellent tire wear for a knobby off/on road type tire.
The T63's handled whatever surface we encountered on the western half of the Trans-America Trail with aplomb.
They provided good grip on the dry, steep "slick rock" in Utah to the rain-soaked trails and rocks in Utah and Colorado.
The Michelin T63 tires seemed to be less successful with deep sand, but I'm sure that was more my skill level than tire performance.
Once they are scuffed in, traction was predictable on the pavement in both wet and dry conditions.
I experienced no "chunking" of the knobbies and after the initial scuffing-in, the tire wear was even. As with any knobby type tire, the Michelin T63's are a bit noisy.
When Glen I decided to return this past summer and finish the Trans America Trail from where we left off last summer in Silverton, Colorado (report), we knew we'd be using much smaller bikes.
This time, we planned on finishing the ride west to the Trans-America Trail termination at Port Orford, Oregon.
As I reported in my Suzuki DR-Z400S blog, I found a nice 2003 Suzuki DRZ-400S and made some upgrades in order to prepare it for the challenges we would be encountering on the trail.
One of the items I had to think about was what type and brand of tire I should use. I'd bet if you ask five riders what tire to use for trail riding, you'll get five different answers.
It's kind of like asking about motor oil.
Read through an oil or tire topic on a web forum and you'll quickly learn that some riders are very opinionated about their choice — and they're not shy about telling you why yours is flat out wrong…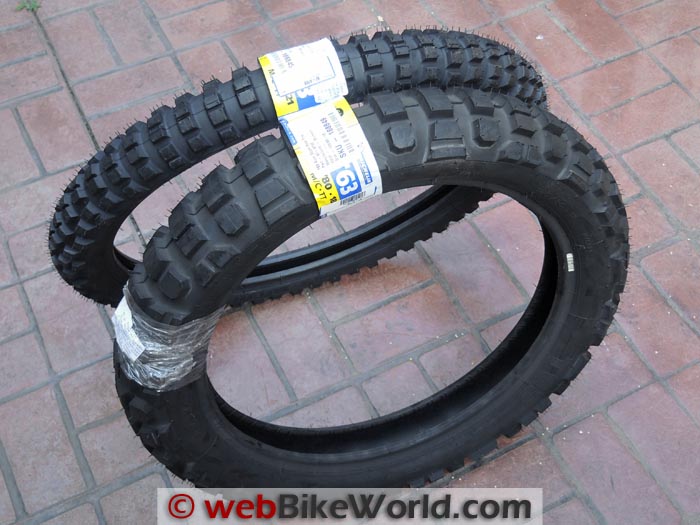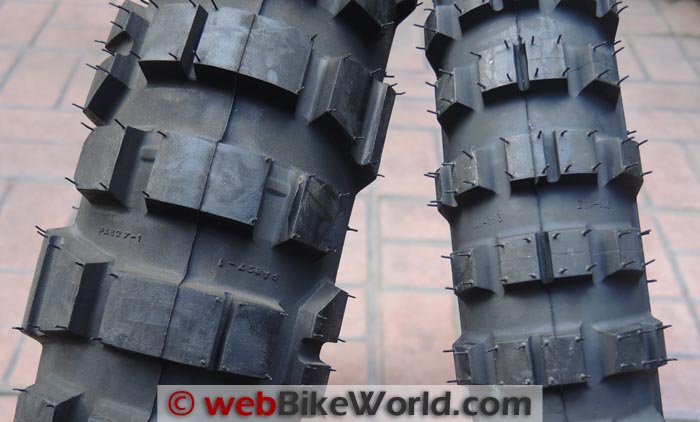 What Tires?
I don't claim to be a tire expert — even after working for over 40 years as an Automotive Technician. What I did see was what worked and what didn't work/wear well on different models.
I knew that I would need to use a more off-road biased tire but I need tires that were still DOT approved for the street.
But they'd only have to last until we completed the Trans-America Trail, after which we had plans to switch them out for more street-oriented tires for the 1,600 mile return ride to Denver, Colorado.
So the big question was, which tire to use? I needed a tire that would hold up to some occasional high speed pavement, yet hook up well in the sand, rocks and mud along with whatever else we would encounter.
Some of the feedback about tires in various ride reports for ex-Trans-America Trail rides and similar types of routes contained a wealth of information. Add that to the customer feedback on the tire retailer websites and I was able to narrow down my choices.
We had used Continental TKC-80 tires (review) on our Trans-Labrador Highway trip a couple of years ago and again last year for the first half of the Trans-America Trail. But we were riding much bigger and heavier bikes then (see my BMW R1150GS review).
This time, we felt we should go with a slightly more aggressive tire for the second half of the ride, which covers the mountainous western U.S.
In the end, I chose to use the Michelin T63, which is rated by Michelin as a 50/50 off road/pavement tire because of the consistent praise it received from other users for both its off- and on-road performance.
Michelin says that they used their Dakar-winning "Desert" tire as a guide for the knob pattern on the T63.
OK, so we're nowhere near the level of Cyril Despres and his five victories in the grueling Dakar race, but Michelin-shod bikes have scored 30 victories since 1982, so they must know a thing or two about off road tire design.
Too bad mounting fancy tires on your bike doesn't magically transform you into a top class rider because I could sure use the help!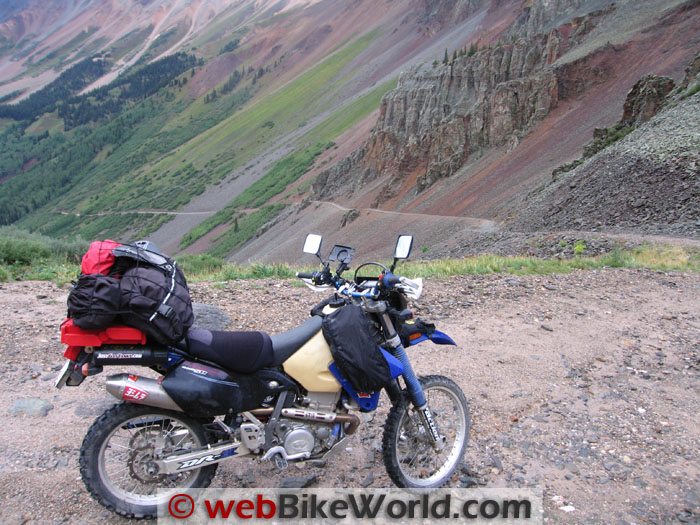 Michelin T63 Tires on the Suzuki DR-Z400S
As noted in the owner's manual, the DR-Z400S is supposed to wear an 80/100-21 on the front and a 120/90-18 on the rear.
But Michelin doesn't make the T63 in exactly those sizes, so I had to go with the 120/80-18 on the rear and mistakenly ordered the 80/80×21 instead of their recommended 90/90-21 for the front.
Time was getting short before the bikes would be shipped west to start the ride and I needed to break in the tires beforehand, so I resigned myself to using the smaller front.
New, heavy-duty inner tubes were installed with the new T63 tires to help prevent pinch flats. I'm happy to say that so far — knock on wood — after probably 10,000 miles of "Adventure riding" we have not experienced a single tire failure.
Of course, I  have always carried the necessary tools, such as a pair of Stubby Tire Tools (review), to help remove, repair and re-mount a tire on the roadside just in case.
Now the matter of the smaller tire was going to affect my speedometer — and more importantly the odometer reading.
It would be my responsibility to accurately record the distances, some as little as 0.2 miles (0.3 km) to as much as 18+ miles (29 km) between directional changes on the roll charts.
Otherwise, we could end up lost in the wilds of Utah, Nevada, Oregon and out of gas, water and food.
Often there was nothing more that intersecting tracks leading off in different directions in the middle of absolutely nowhere, so good directions are very important.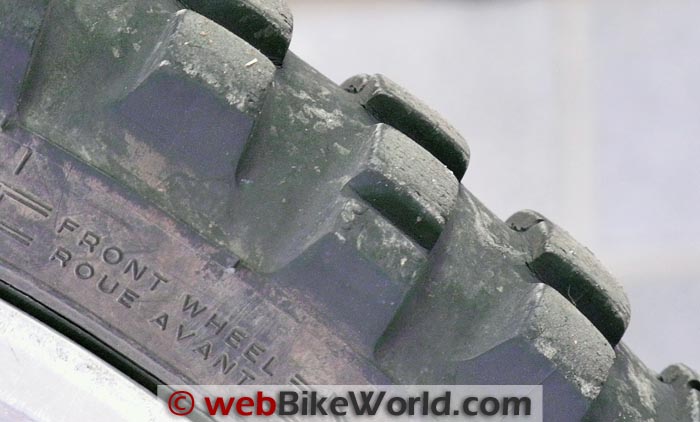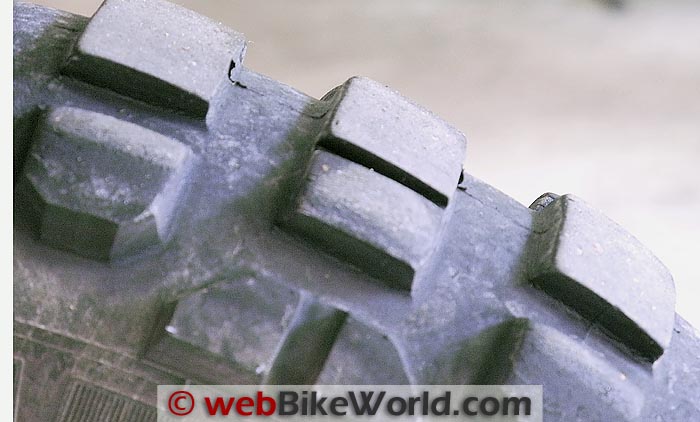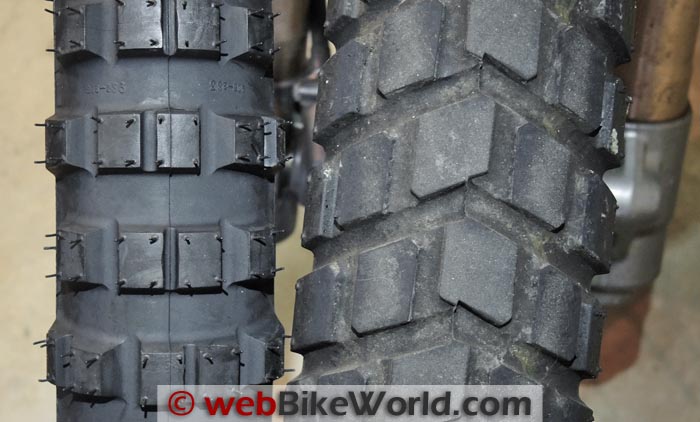 Off-Road on the Trans-America Trail With the Michelin T63 Tires
Luckily, the DR-Z400S has an electronic speedometer assembly with two trip meters which can be adjusted for tire wear or size.
This was a simple, but time consuming, process of riding back and forth along a 10 mile (16 km) stretch of road with 1/10th mile markers, noting the difference between the actual and the indicated mileage, and entering the correction value. It didn't affect the speedometer calibration, but made for a darn accurate trip meter.
I was able to put about 200 miles (322 km) on the tires, mostly on pavement, before the bikes were shipped west. As with other knobby tires, when new they were really "squirrely" or squirmy on dry pavement until the edges of the knobs wore down; not something I'd want to do on wet roads for sure…
Once on the trail, we encountered (just to name a few) deep sand — some of which was like talcum powder; round rocks; sharp rocks (from the very small to the size of basketballs); lots of gravel; dirt; something called "slick rock" in Utah; water crossings with all sorts of surfaces underneath and, of course, mud.
Now most of the mud we got into was your typical slippery, mushy stuff, but once we hit a patch of that deep, thick, sticky stuff that caught us by surprise just before entering Nevada.
It grabbed and sucked us in like an octopus and it was a real fight getting out of that mess. This was the only surface the Michelin T63's couldn't handle.
The mud instantly adhered to the tires, filling the knobbies until the outer surface of the tire was smooth, which made controlling the bike with either wheel impossible, at least for my skill level. This was the only place we had to retreat and choose another path.
Glen was running a different brand of tire on his DR-Z400S and they were no better in that mess.
Otherwise, the Michelin T63 tires performed splendidly throughout the broad range of surfaces we encountered. I would have to say the real limitation would be my off-road riding skill level measuring up to the tire's abilities.
On-Road Adventures With the T63's
I was by no means dragging foot pegs, but on one of the last sections of the Trans-America Trail in Oregon, the road was a wonderful, twisty piece of pavement paralleling a river.
We rode this stretch at a brisk pace, grinning ear to ear, and the T63s provided excellent grip the entire way. Of course, they were thoroughly broken in at this point.
Because of time constraints and this summer's wildfires, we re-routed and rode the 220 miles (354 km) of pavement up to Portland, Oregon, where we caught a flight and the bikes were shipped home.
As it turned out, that was good idea because we would have otherwise run smack into the floods that devastated the Boulder-Lyons-Estes Park, Colorado area if we had stayed with our original plans.
I have to admit that I was worried that the T63 tires would wear down too much before we had actually completed the Trans-America Trail ride, but my worries were for naught.
As it turned out, after approximately 2,600 miles (4,184 km) there was still 7/32″ (6 mm) of tread remaining on the front tire and 8/32″ (6.5 mm) remaining on the rear. I'd have to guess that about 600 miles (965 km) of that wear came from riding on pavement.
In the end, the T63 tires probably would have lasted the trip back to Denver had we gone that way, but they'd most likely be unusable for off-road riding at that point.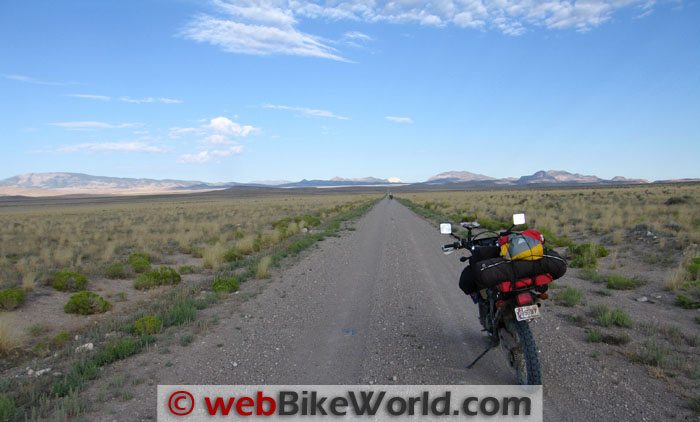 Conclusion
I found the Michelin T63 tires to be reliable for everything from serious off-road trail riding to pavement carving. They have excellent wear for a knobby type tire.
The T63's handled whatever surface we encountered on the western half of the Trans-America Trail with aplomb, providing good grip on the dry, steep "slick rock" in Utah to the rain-soaked trails and rocks of Utah and Colorado. I did struggle through the deep sand, but I'm sure that was more my skill level than tire performance.
Once the tires were broken in (scuffed in), the traction was predictable on pavement whether wet or dry. I experienced no "chunking" of the knobbies and after the initial scuffing-in, the tire wear was evenly distributed.
As with any knobby type tire there was some noise, but I always wear/wore ear protection unless we were off road and the speeds were slow enough to not need it.
I would highly recommend the Michelin T63 tires if you're planning to ride a majority of the time off-road but you still need to be DOT street legal.
See Also: Michelin Anakee III Review  |  More wBW Motorcycle Tire Reviews
Master Listing of All wBW Motorcycle Product Reviews
BUY TIRES

 From These 

web

BikeWorld

 Affiliates
w

BW

 Review: Michelin T63 Motorcycle Tires
Made In: Thailand
Colors: Black
Sizes: Front: 80/80×21 or 90/90×21. Rear: 110/80×18, 120/80×18 or 130/80×18.
Review Date: November 2013
Note:
 For informational use only. All material and photographs are Copyright © webWorld International, LLC since 2000. All rights reserved. See the webBikeWorld® 
Site Info page
. Product specifications, features and details may change or differ from our descriptions. Always check before purchasing. Read the
Terms and Conditions
!
Owner Comments and Feedback
---
From "N" (October 2013): "Looking at the tire sizes you ordered, you probably made a good decision going with the 80/80 instead of the 90/90.
This comes mostly from street riders, but I've always heard that you should try to match the profile height for your front and rear tires so that the turn-in rate is the same.
I've never personally run mismatched tires, but the working theory is that having a different profile height for your front and rear means that you're hitting different lean rates on both tires.
I have a feeling this doesn't matter much on dirt/dual sport tires because the knobs are going to limit your cornering on the street, but it's something to think about.
About the tires themselves, I've known a couple people who ran those tires, and they rocked. You guys made a good choice for that trip."