Tires Hands Review Summary
Review Summary
The new Michelin Road 5 tires grip the wet or dry road better than its predecessor the Pilot Road 4 did. It does better on wet asphalt thanks mainly to larger openings in the tread and improved siping design. These new tires wear slower on the center section than the PR4 as well, meaning longer life and better value for the money than ever. Some riders may feel they're too "cushy", but they're my new favorite all around tire hands down.
Pros
Terrific grip on wet or dry terrain
Reasonably priced based on longevity
Absorbs undesirable road vibration without removing desirable feedback
Available in 9 different sizes
2CT and 2CT+ technology/design built in creates a stable tire that performs at any speed
Cons
Larger tread openings throw small stones frequently
Road 5 GT tires for heavier bikes not available until 2019
In hard cornering, there is a "wiggle" sensation
Tires Hands Image Gallery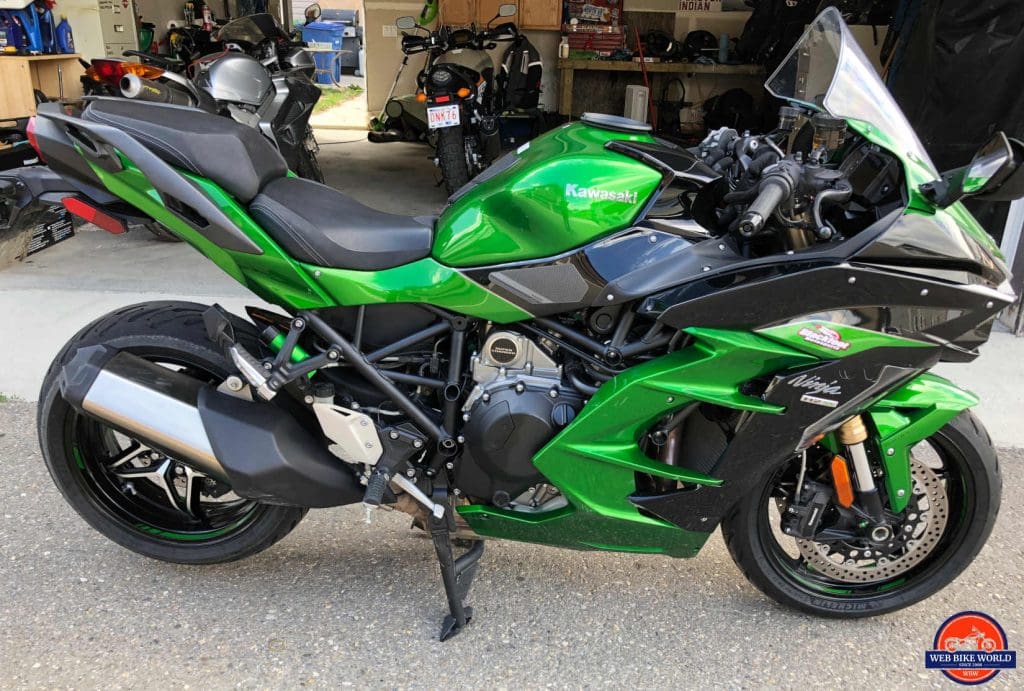 My 2018 Kawasaki Ninja H2SX SE eats its own feet, so to speak.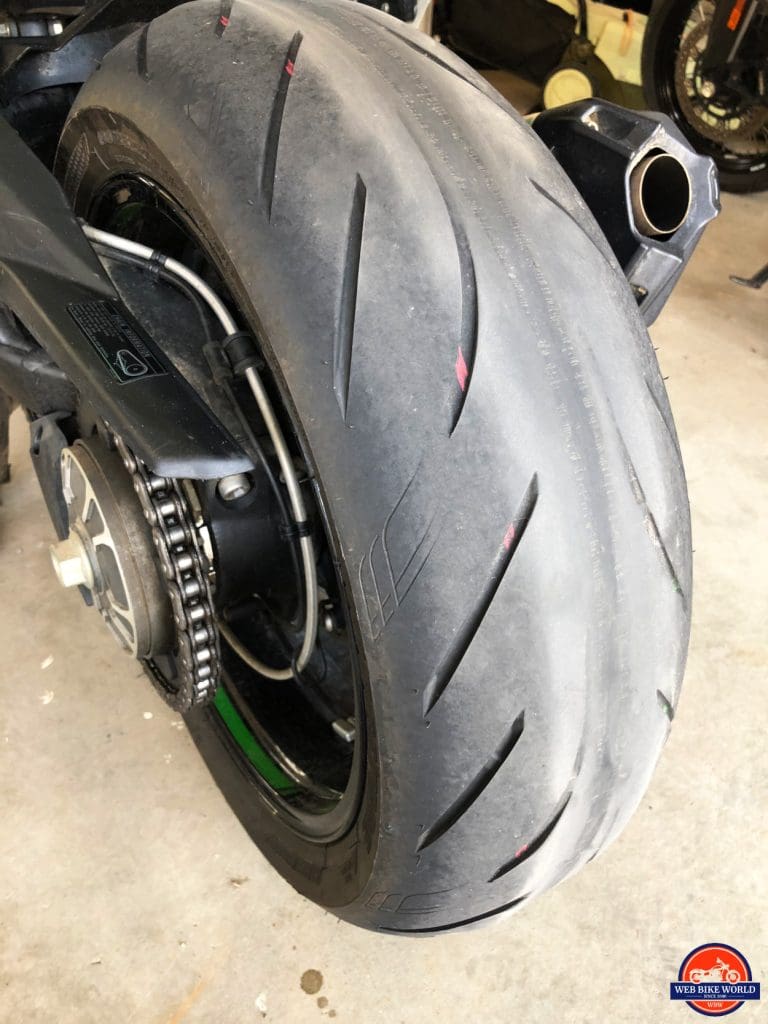 Worn out Bridgestone Battlax rear tire
These 200 horsepower, supercharged Ninjas are renowned for wearing out rear tires in less than 2500 miles regularly. By keeping my bike in medium power mode I was able to get 5600 miles out of the stock Bridgestone Battlax tires, but now it's time for something better when switching to full power.
Michelin Pilot Road 4?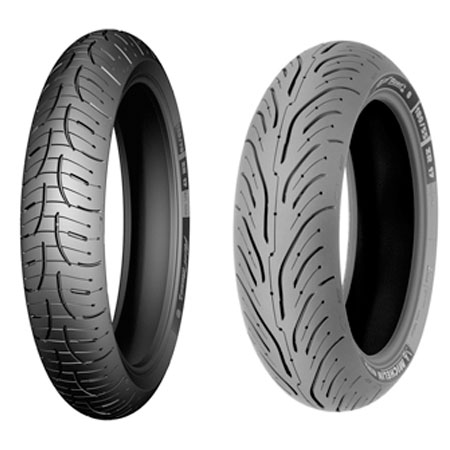 Michelin Pilot Road 4
My friend Steve has forgotten more about motorcycles than I know and is the first person I talk to when looking for good advice. He's been running Michelin Pilot Road 4 tires on his Kawasaki Ninja ZX-14 for years and highly recommended them. He regularly gets over 6000 miles out of a rear even on that behemoth bike of his so I was leaning that way for sure.
Michelin Road 5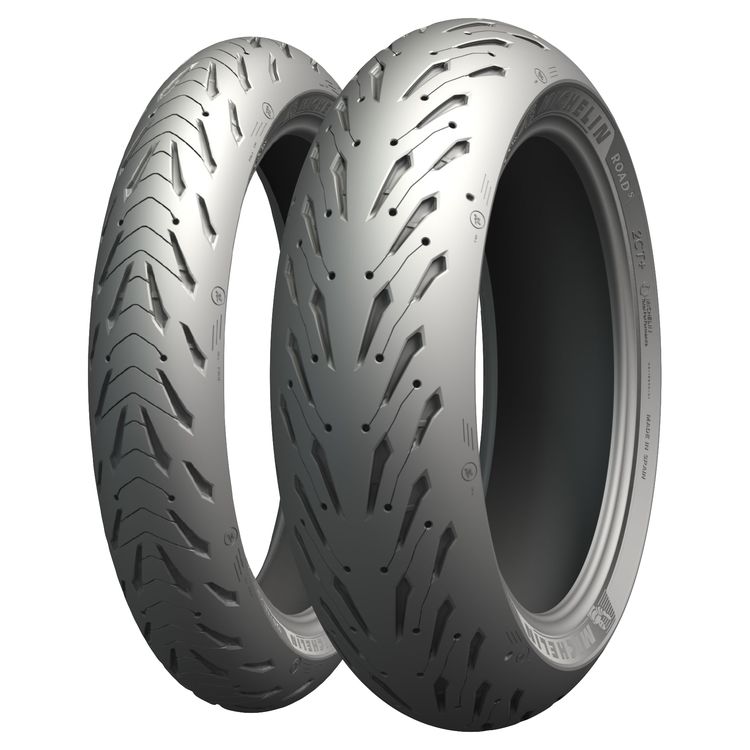 Michelin Road 5
Then I heard about the newest improvement on the PR4 tires and decided that was the way to go instead because these tires are supposed to be longer lasting AND get better traction than the PR4 especially on wet roads.
You can see from the photos above the tread grooves in the center are fewer in number, shorter in length and project outward in straight lines. They're also about twice as large across giving the tire almost a dual sport tread like on an 80/20 adventure offering.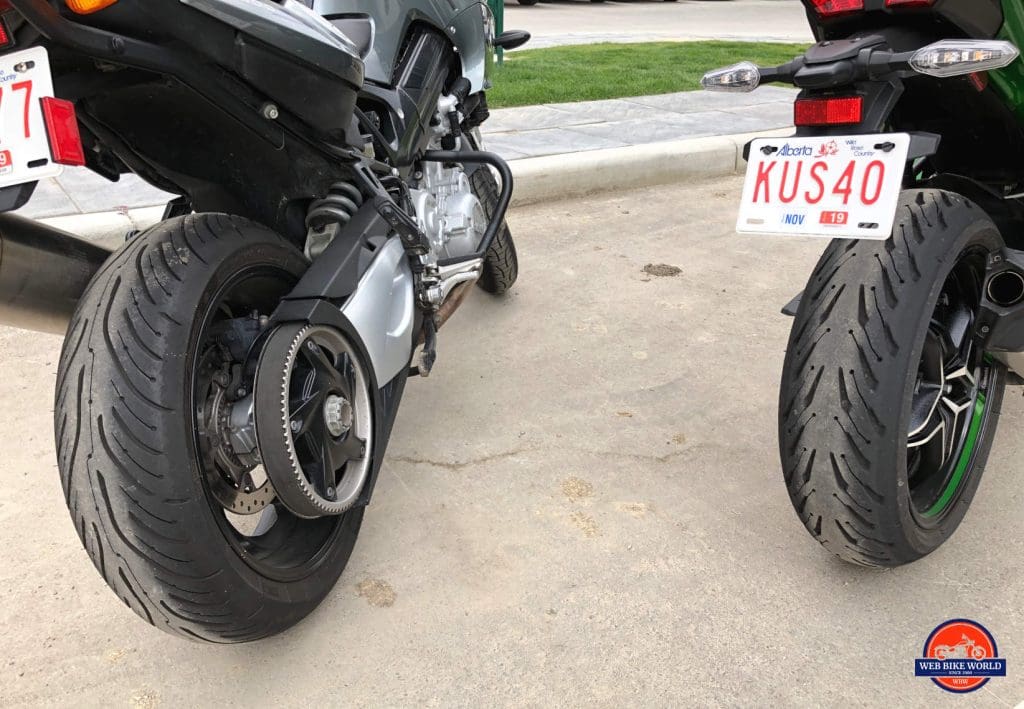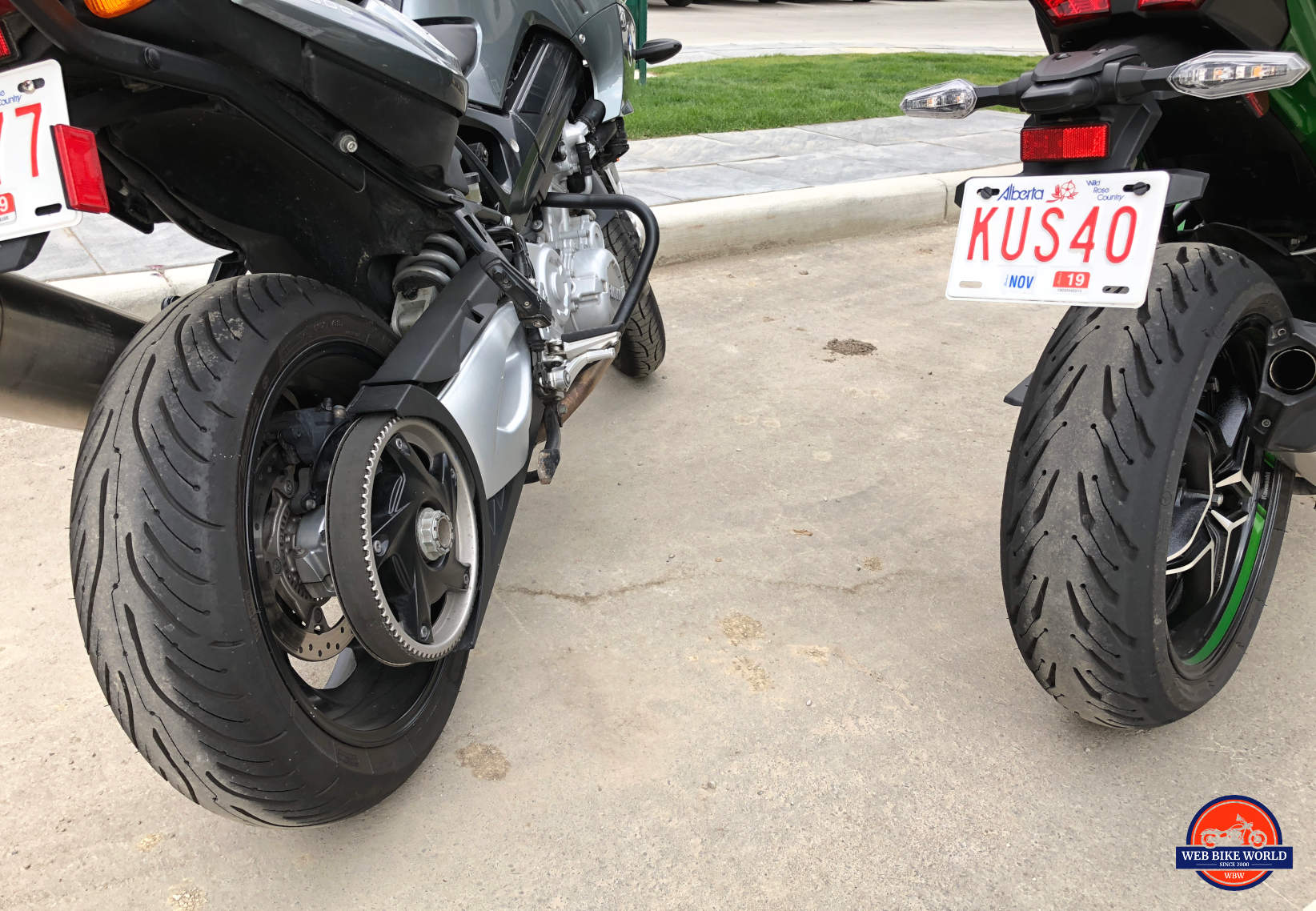 Michelin PR4 on the left and Road 5 on the right.
Sipes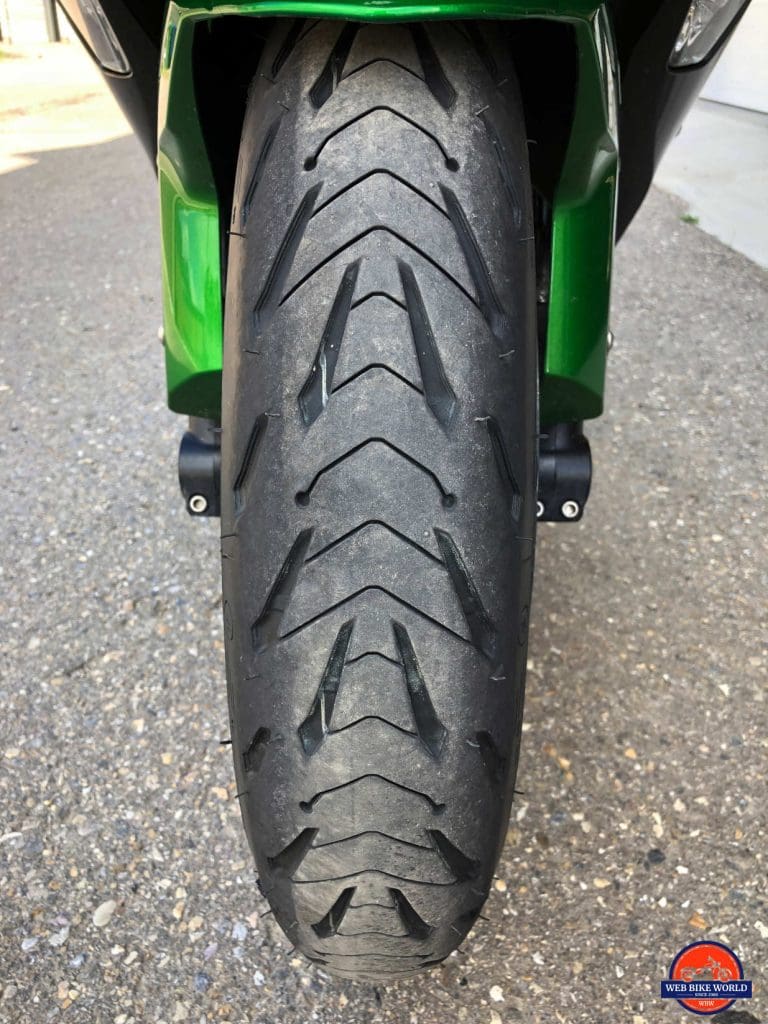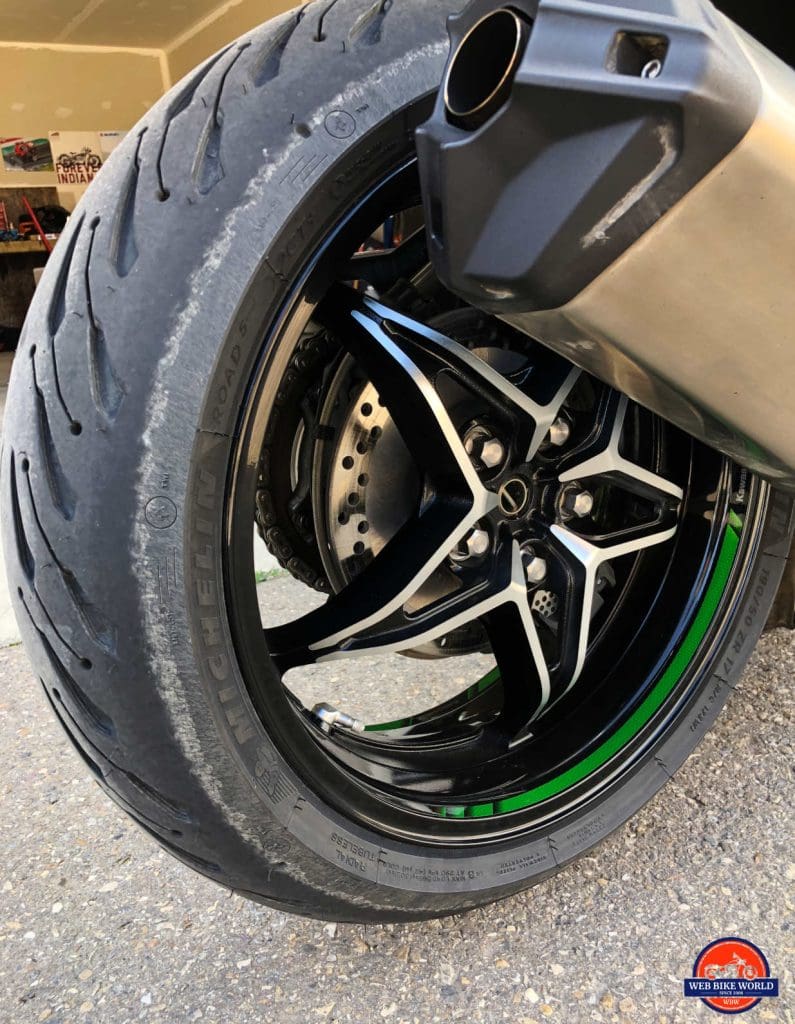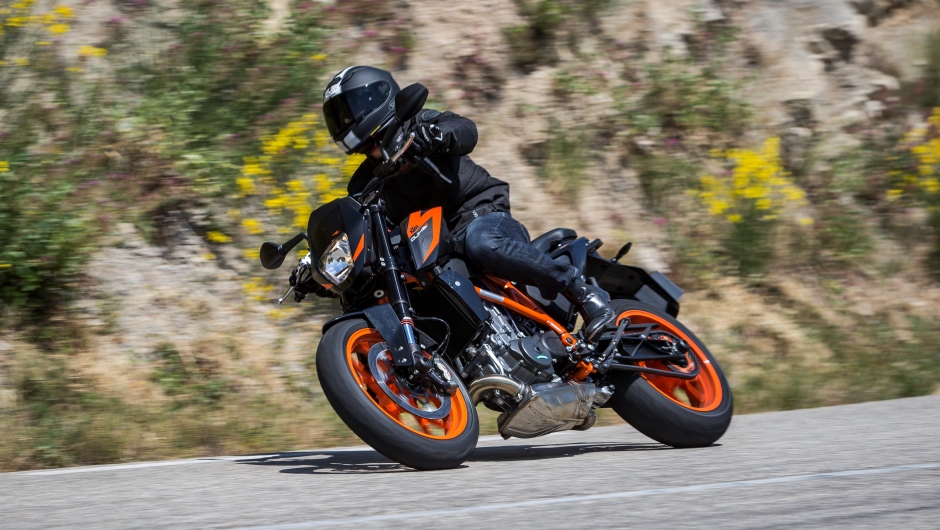 Photo Michelin
The extra large gaps allow these tires to retain good traction in wet conditions longer as it wears down while the smaller treads won't. It all comes down to the tapered sipes coming off the large openings wearing away more quickly on narrow openings compared to these larger ones.
Michelin might be onto something here.
Michelin claims even after 3000 miles a new Road 5 tire will perform just like a brand new PR4.
That's saying a lot and the kind of bragging that demands a WBW hands-on review.
More Bragging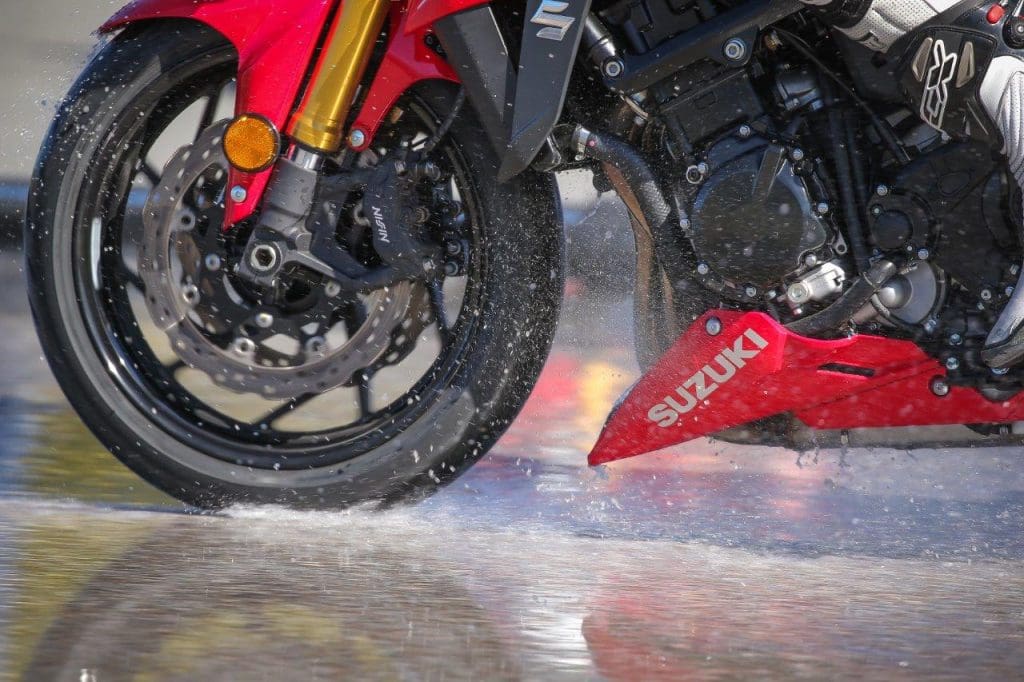 Photo Michelin
Michelin produced this test video at their track on wet pavement to showcase just how good the new tires are compared to other big competitor ones. It creamed the others in this video from YouTube.
The Continental Contiroad Attack 3, Pirelli Angel GT and Metzeler RoadTec 01 were distant seconds behind the Road 5 tires. These are all very good tires that plenty of people will argue are the best, so my gut tells me they're not mistaken and it will come down to each individual's personal preference in choosing one tire over another.
I haven't personally tested all those tires and so I can only speak to what I've found with the Road 5 in this review.
First Impressions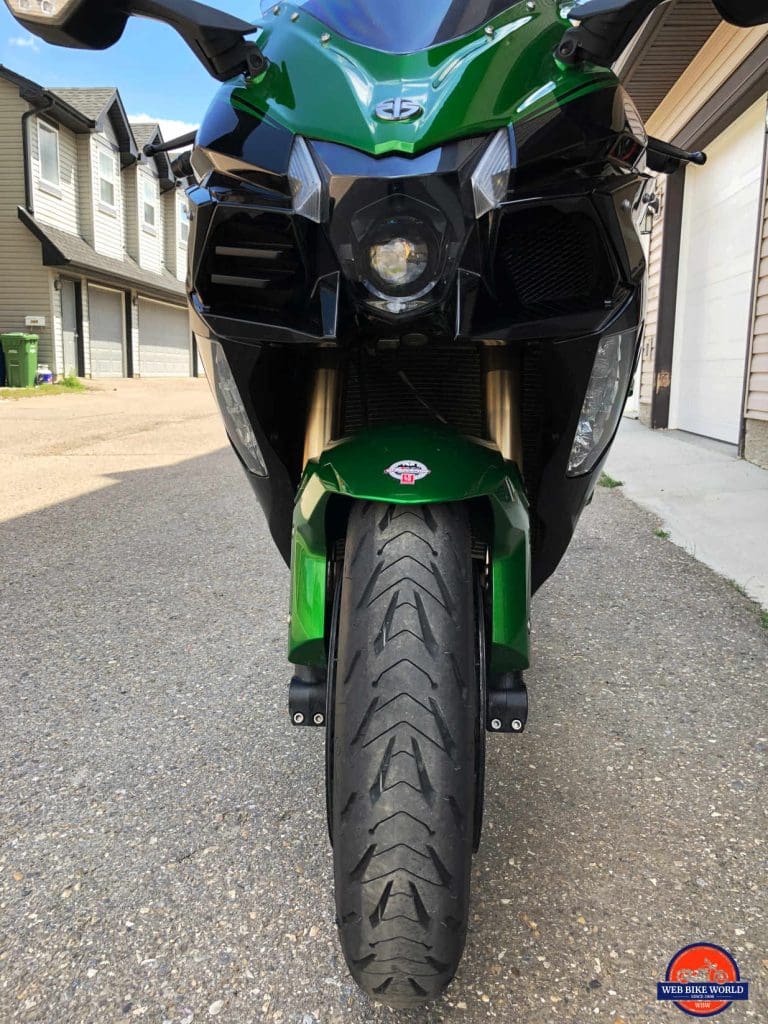 Riding away from the shop after having the new rubber installed back and front I immediately noted how much more insulated I felt from the road compared to the Bridgestone Battlax tires I had spent 5600 miles on.
It was downright lovely! The harsh rigidity of the Battlax was glaringly different compared to how these Michelins smoothed out all the cracks and bumps in the road. It really added to the bike's suspension noticeably.
Unlike sections of the Dempster Highway, I rode back in June which was so soft I had no feedback from the road I could still feel connected solidly to the blacktop despite the Michelin cushions I was now on.
I'm smiling already and I'm not even home yet. A good sign.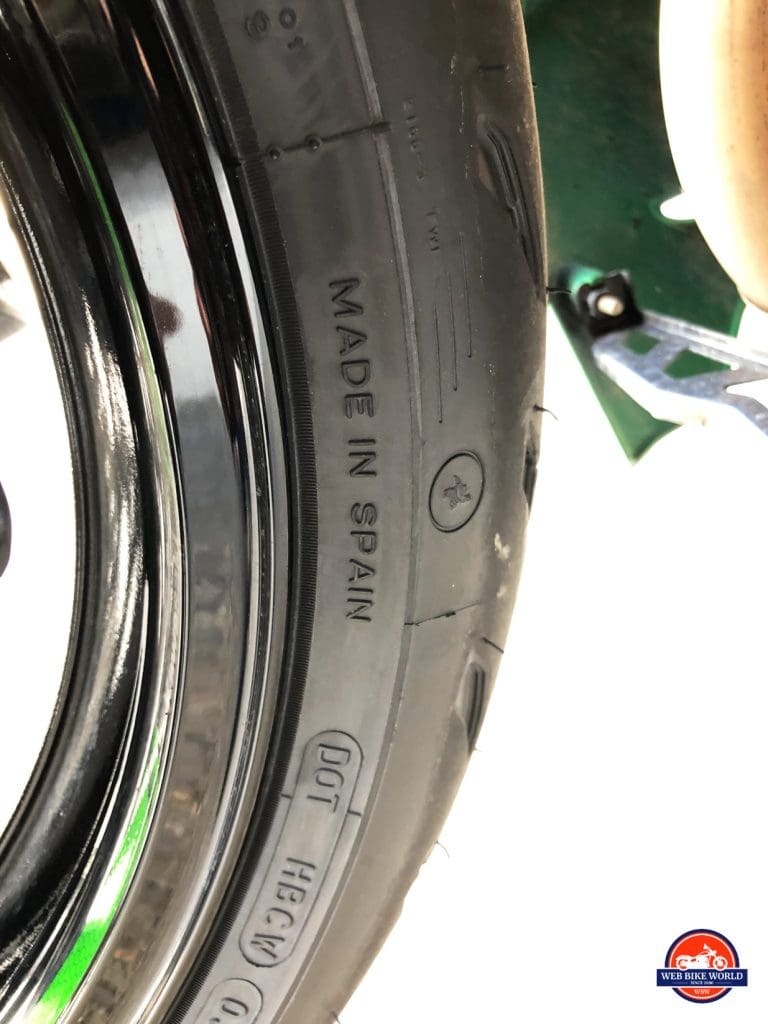 My Experience On Wet Road
After putting the Ninja in full power mode and taking some photos I headed for the mountains with their twisty roads and unpredictable weather. The secondary highway leading to Canmore, Alberta called the 1A is my favorite local road to ride because of the view and the variety of road surface. Great for testing out new tires!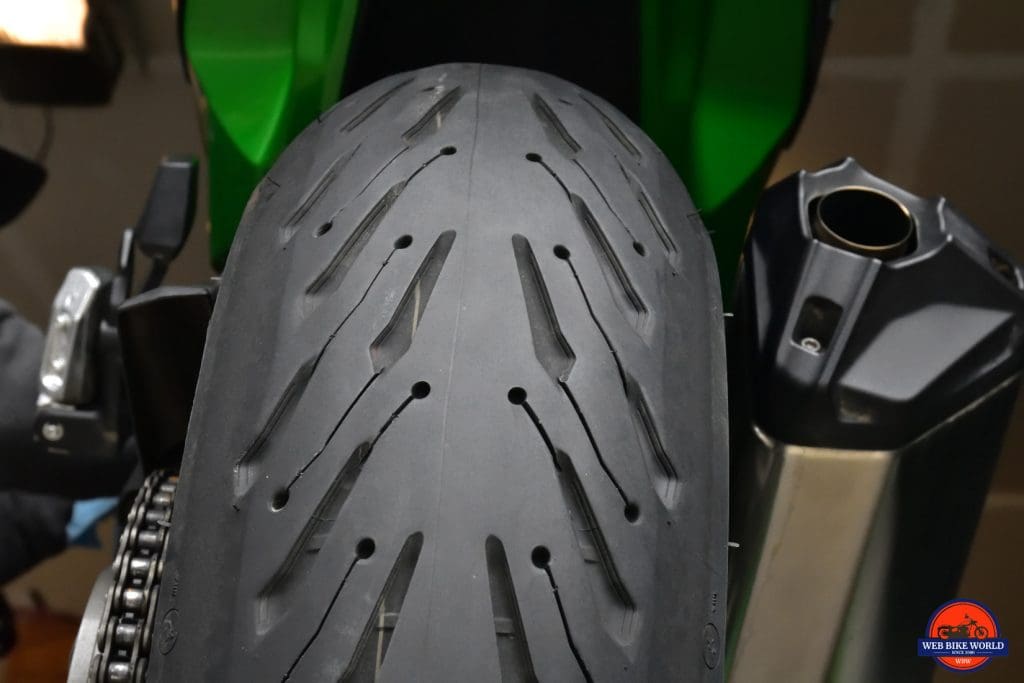 Mother Nature certainly obliged by dumping rain on me most of the way there.
I was very impressed with the wet road and dry road grip. As advertised the Ninja held beautifully in corners or straightaways. I even got to try it on some gravel which had been pulled out from side roads onto the 1A. A typical and expected hazard out in the mountains.
Zero grip issues to report. These Road 5 tires made the Ninja feel like it was on rails.
Let's See What She Can Do…
What about high-speed performance you may ask? No problem.
Without divulging exactly what speeds I attained on the bike I can tell you these tires are perfectly stable right up to the last 20% of this Ninja's top speed when a slight vibration starts to show up but is never scary.
My rims took a pounding riding up to Dawson City through numerous construction zones and may have taken some damage so that may be part of the vibration problem. Bear in mind that the vibration doesn't show up until the bike reaches… how shall I put this? Supersonic speeds?
Even what is universally considered high speeds feel very ordinary on these tires and motorcycle. Again, I'm smiling and congratulating myself on making a wise purchase.
The Downside?
Do I have any complaints about the Michelin Road 5 tires? A couple.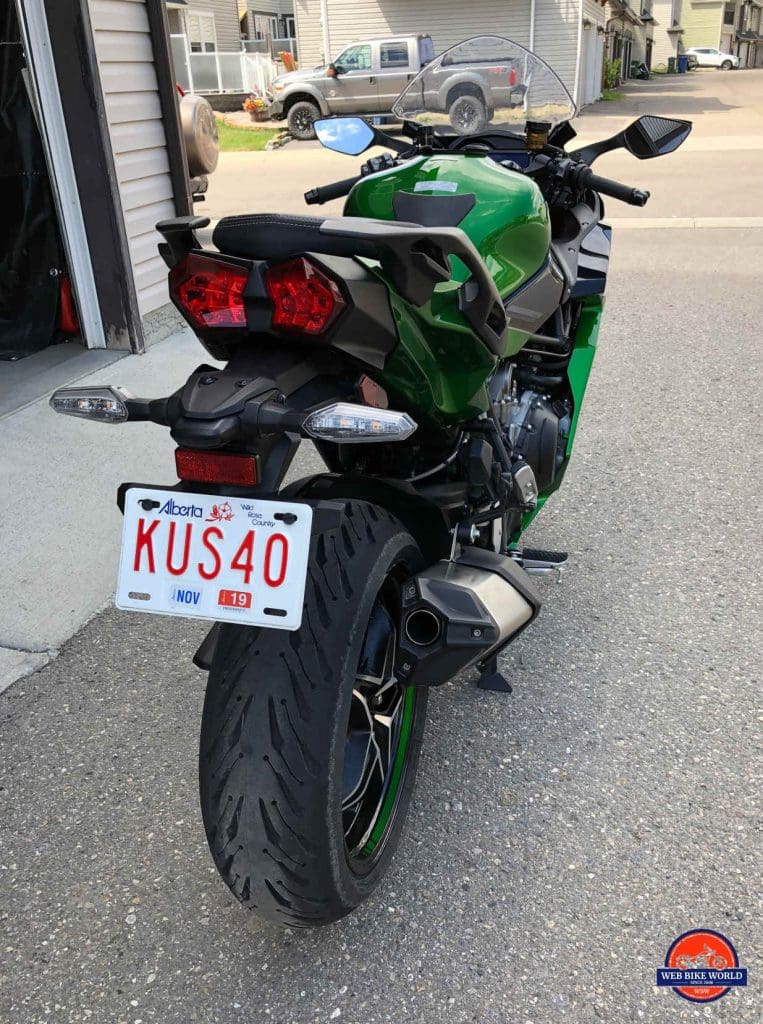 I took them on a 2000 mile ride through the Rockies with a riding club I belong to in order to see whether Michelin's claims were justified about longevity. That's when I found two things I'm not crazy about in these tires.
Rock Chucker
I encountered a lot of construction as expected during the short Canadian summer on the trip, and so I was riding through patches of pea gravel and dirt often. There weren't any traction issues through that mess, just the opposite in fact.
That grippiness is part of the problem. The larger openings in the tread are adept at picking up gravel and tossing it indiscriminately at my friends behind me.
The boys didn't enjoy being pelted with hundreds of paint-pounding projectiles, and so, gave me lots of room anytime we encountered a road crew.
Cornering Wiggle
We rode some amazing routes in Southern/Central British Columbia. The roads near Kaslo and Ainsworth are nearly the Canadian equivalent to the Tail of the Dragon in the US for all the sharp twists, switchbacks and turns found thereabouts. Man, was it fun on a performance oriented machine like the H2SX is when wearing grippy tires like these.
In a few extremely sharp corners I noticed that when I really leaned hard the friction patch shifted from the harder center section of these tires fully onto the much softer sides and gave me a noticeable "wiggle". It's only natural I suppose that would happen when shifting the weight around, but it's unnerving the first few times.
The stock Battlax tires didn't do this until they were already worn out, and at that point, it wasn't so much a wiggle as it was a wild transfer from the flat center portion over some tall ridges built in then down onto the worn edges.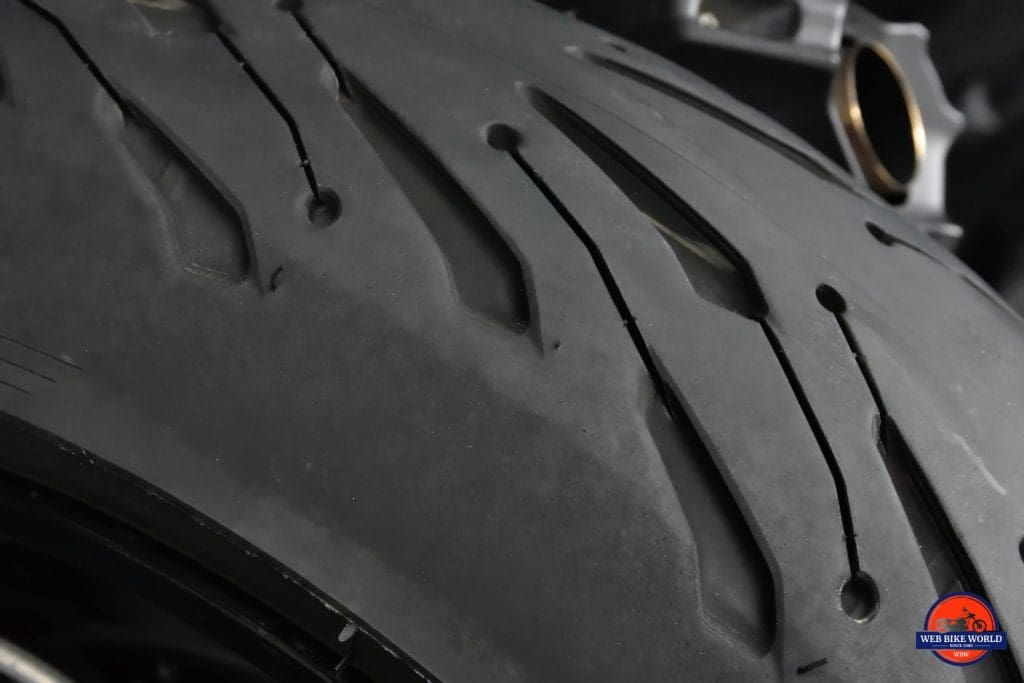 In the photo above you can see the softer side rubber contrasted with the harder center layer rubber.
Smooth Edge
You'll also notice the edge of these Michelin tires distinctly lack any grooves and tread. This is the softer rubber layer that sits in a cradle of harder rubber extending from the middle section down underneath the soft layer right to the bead. It keeps everything stiff underneath, but race tire sticky on the edges when you lean further than 35 degrees.
Michelin feels most riders won't lean further than that when the road is wet, so there's no need to tread out on the edges. That's accurate about me for sure. Smart design! You can spot the change in compounds in the photos I took of the tires quite easily. It's layered like a cake.
Longevity
So how are the tires wearing now that I'm rapidly approaching the 3000-mile mark? Absolutely as advertised even with a savage, tire-hating H2SX working them over.
There's very little wear on them on the whole. Even some of the rubber hairs are still hanging around at this point most surprisingly.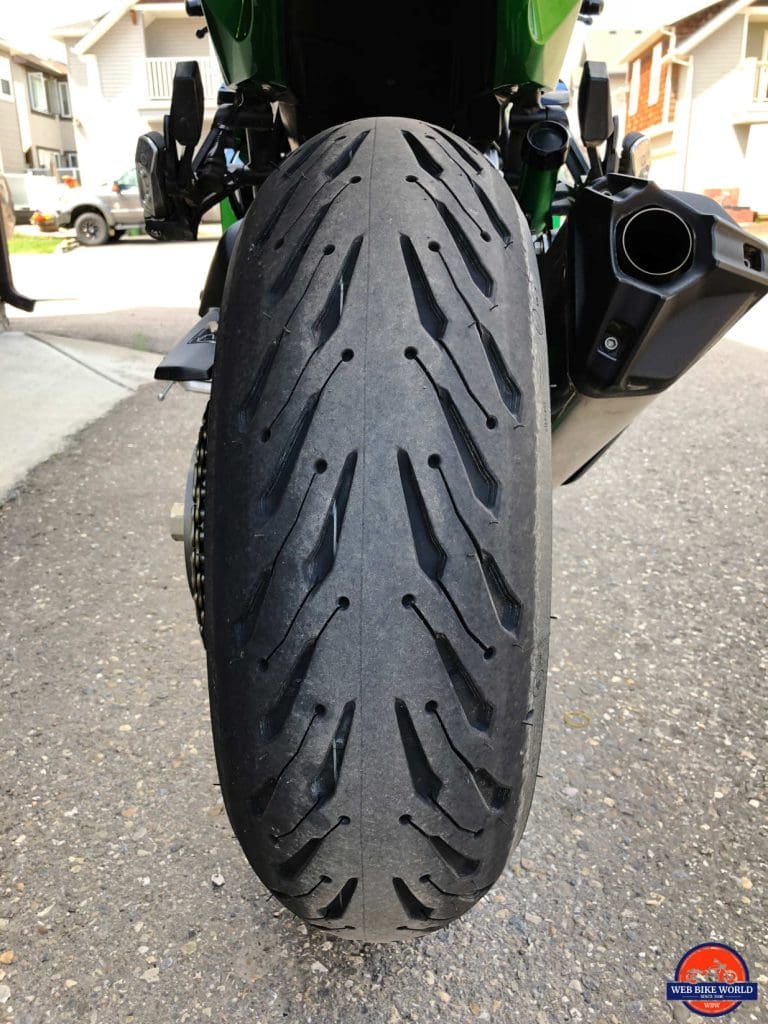 Photo above is of the brand new Road 5 tire after installation on the Ninja.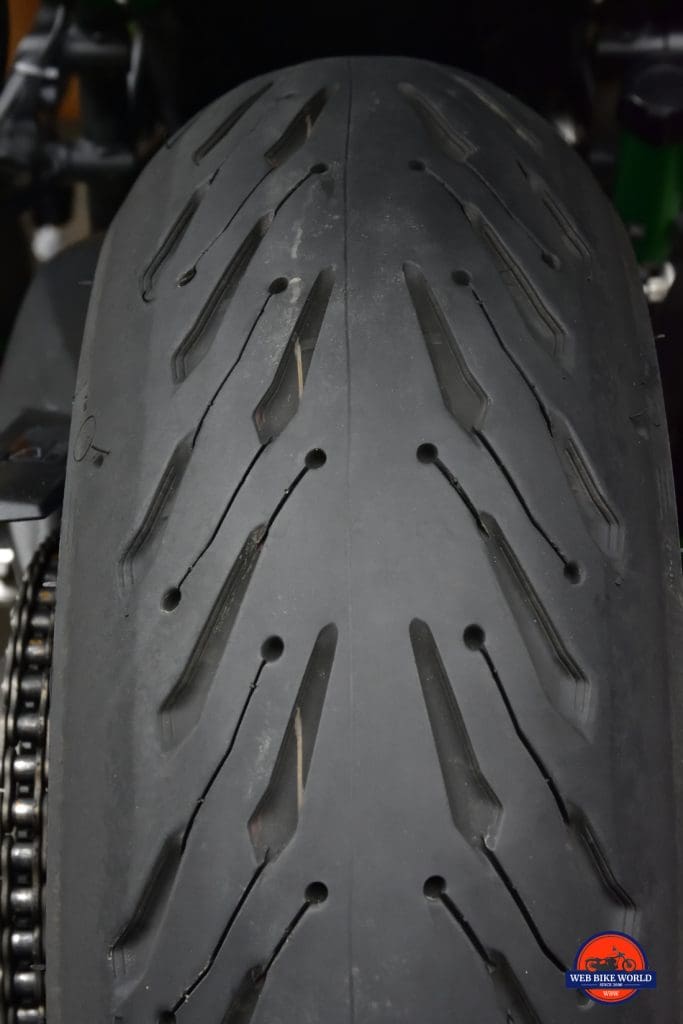 Close up photo above of the rear tire after nearly 3000 miles.
Only the very center of the tire is beginning to flatten out very slightly, but it can't be any more than maybe a few millimeters total that's rubbed off. This is a stark contrast to the Battlax ones that came with the bike from the factory which were easily twice as worn at only the 600-mile mark!
The Final Verdict?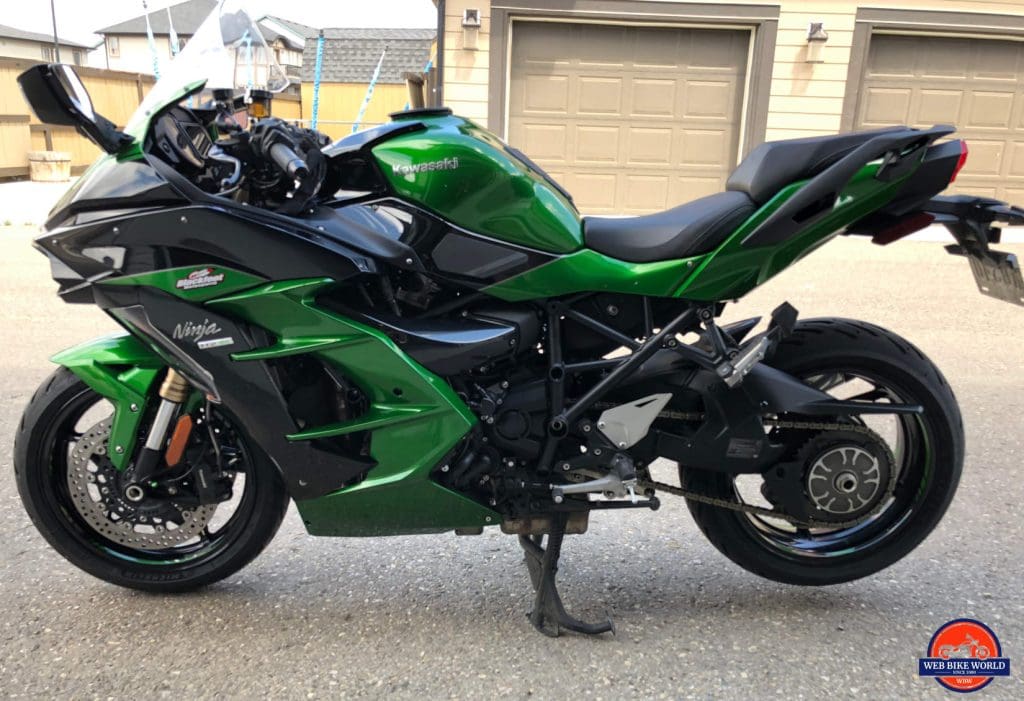 I'm sold on these Michelin Road 5 tires and grin about them like a cat who ate the canary. I'm not sure there's much more to say about them. I wish I had 5000 miles on them to really know the whole story, but I can't see anything changing much from here on out.
Michelin has done it again! I fully recommend these Road 5 tires.
Unfortunately, if you ride a really heavy touring bike like a Gold Wing or Harley you'll need the Road 5 GT tires which aren't going to be on the market until 2019. Until then, Michelin suggests buying the Pilot Road 4 GT tires which are awesome in their own right and don't give up too much to the Road 5 tires in reality.
Plus you won't be winging any stones at your buddies with the PR4s.
Don't Take Just My Word For It
Revzilla's Lemmy does a great video presentation about the Road 5 and talks about all the important features here.

*June 2019 Update: At ~5000 miles (8,000 kms)
I was asked to provide an update on the tire wear, so here are the photos and measurements this time to consider.
Rear Tire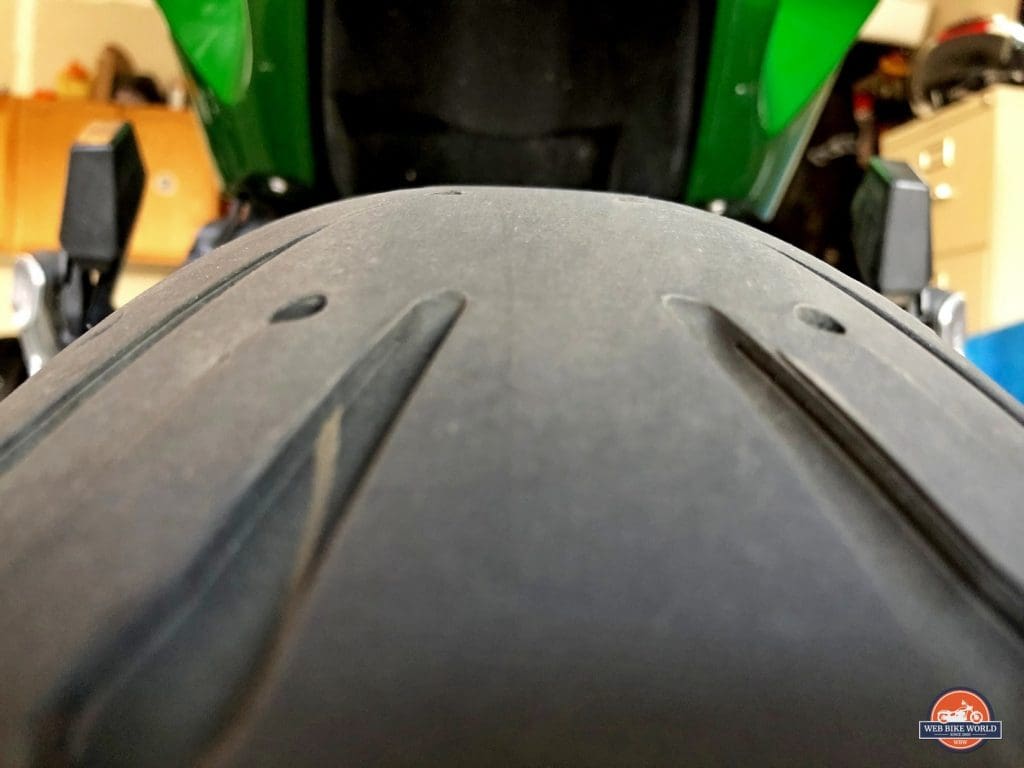 This photo above is the rear tire. You can now definitely see that the middle section is flattening out noticeably and slightly more pronounced on the right side than on the left. This is due to road crown working on it because of my typical riding position in the left tire track of my lane. My measurements back this up.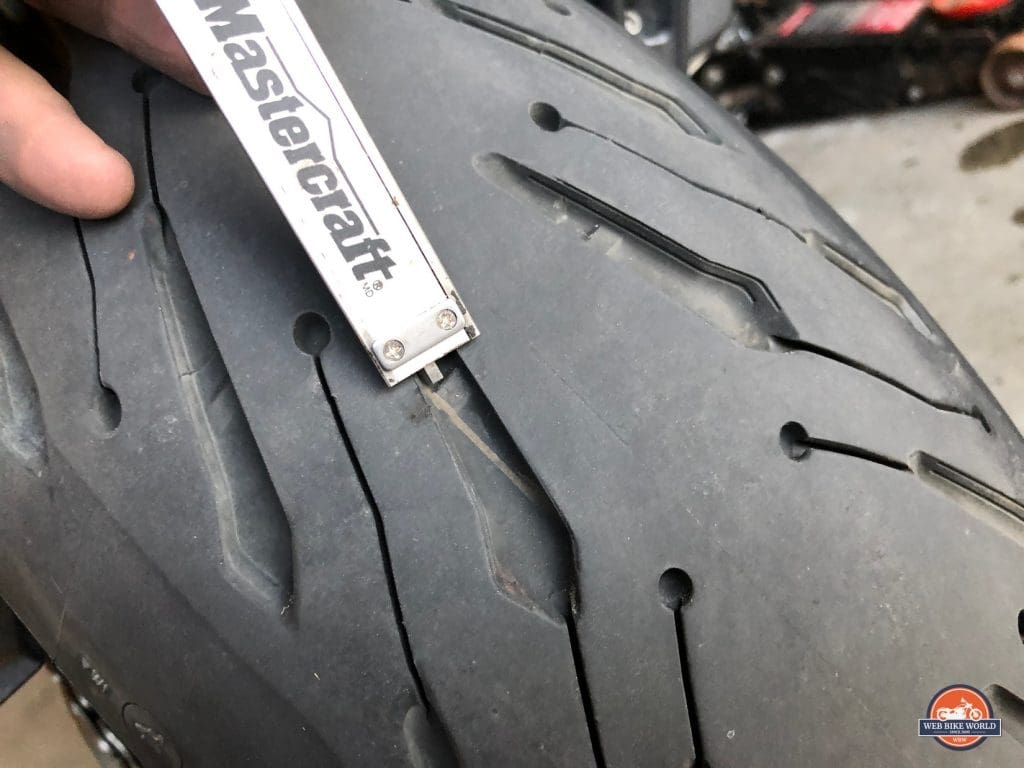 In the center sipes, I measured down to the wear bars to get 3.59mm remaining.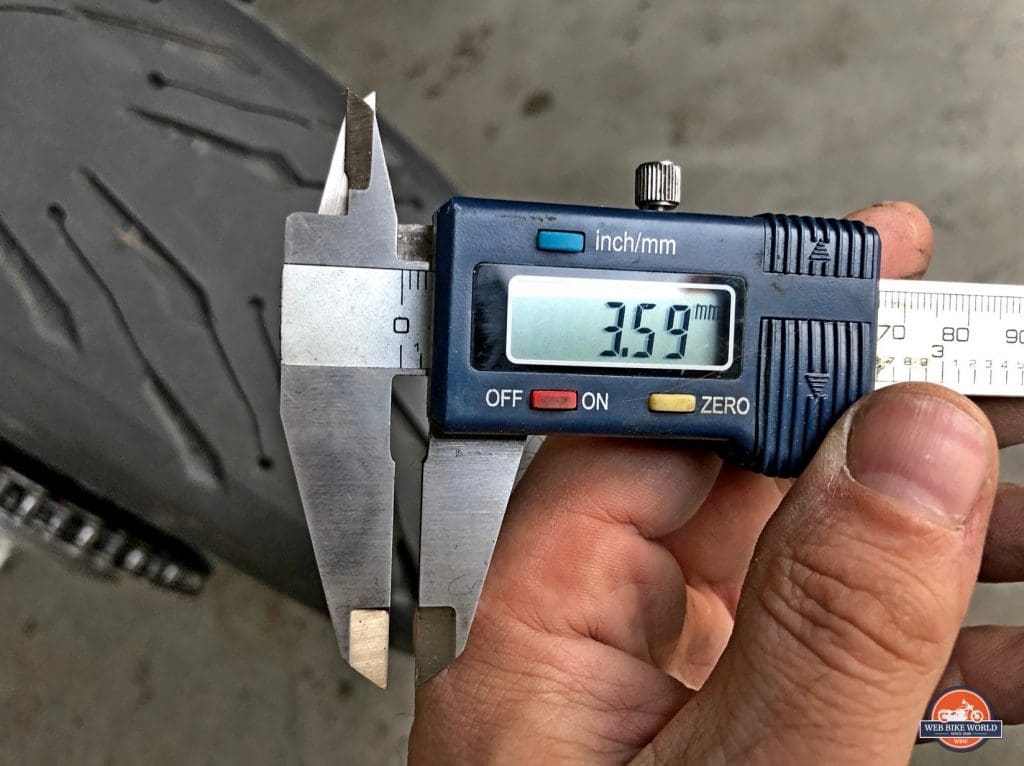 Measurement from the center sipes
On the outside edge sipes, I got a lot more at 5.61mm remaining. Clearly, I'm not spending enough time cornering, eh? Still, this is encouraging to me after so many miles on the rear of a 200 hp motorcycle.
I'm guessing I might get 8000 miles on the rear when it's all said and done. Not too shabby.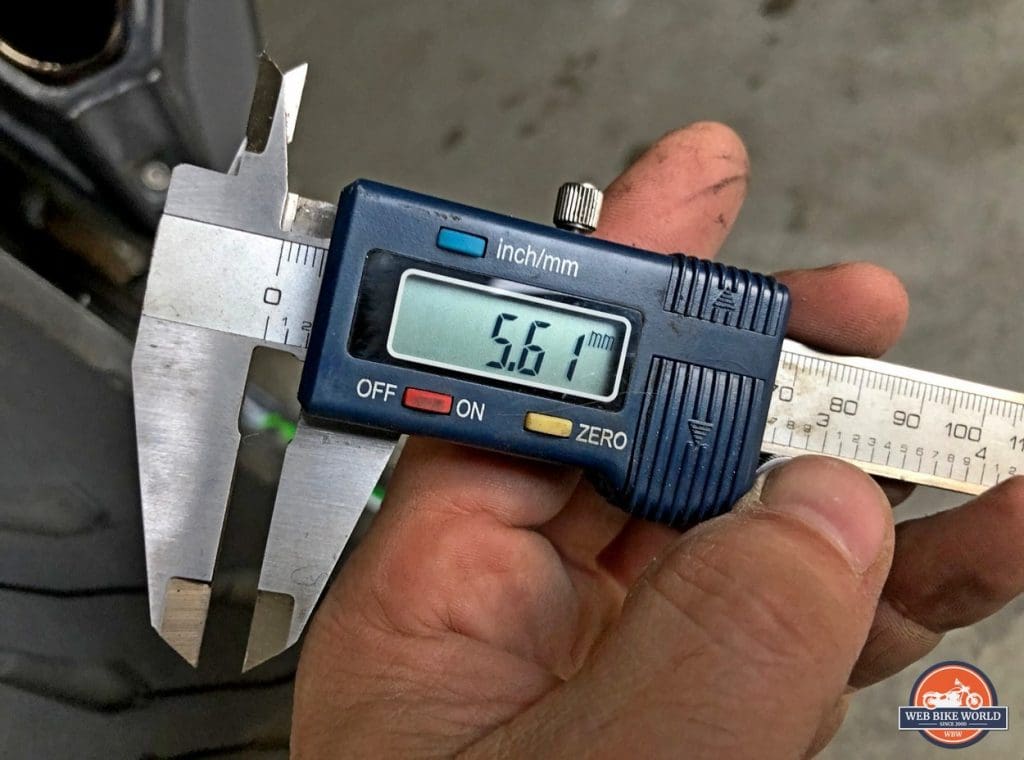 Measurement from the outside edge sipes of the rear tire
Front Tire
I was paying so much attention to the rear tire… that the front caught me by surprise! 
It's nearly finished thanks to some pronounced cupping wear going on in the middle area as you can see in the photos below.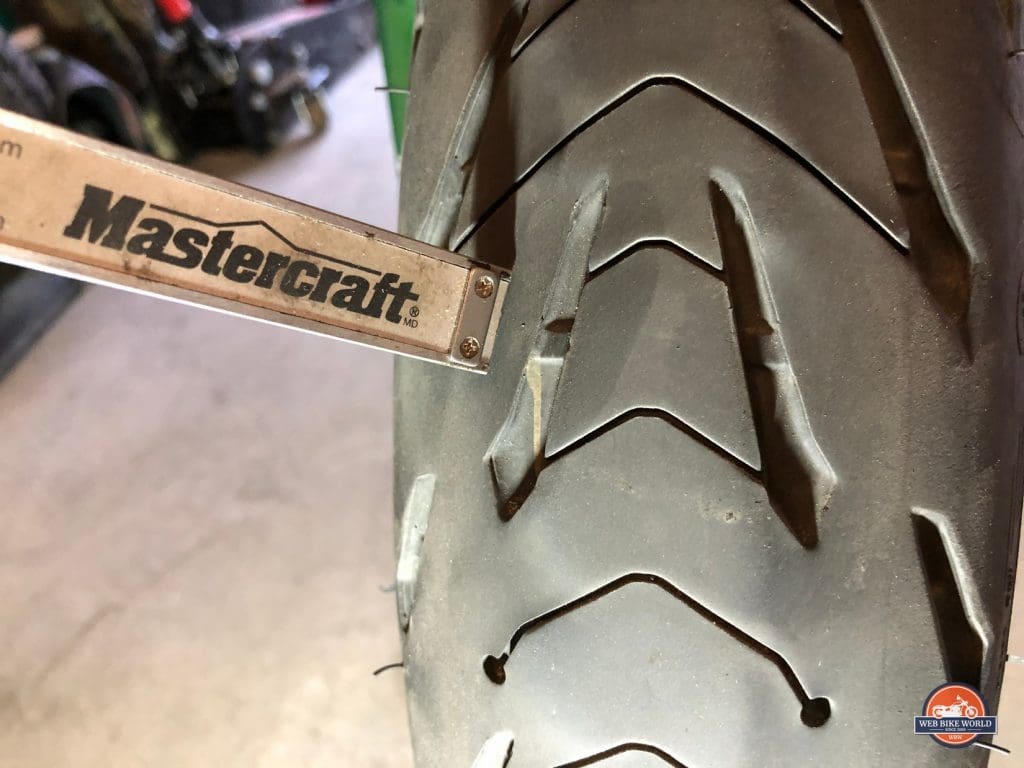 The inner sipes only have 1.68mm left before I'm at the wear bars. I inquired with my local dealership about this as I've NEVER worn out a front tire before a rear in my entire riding career.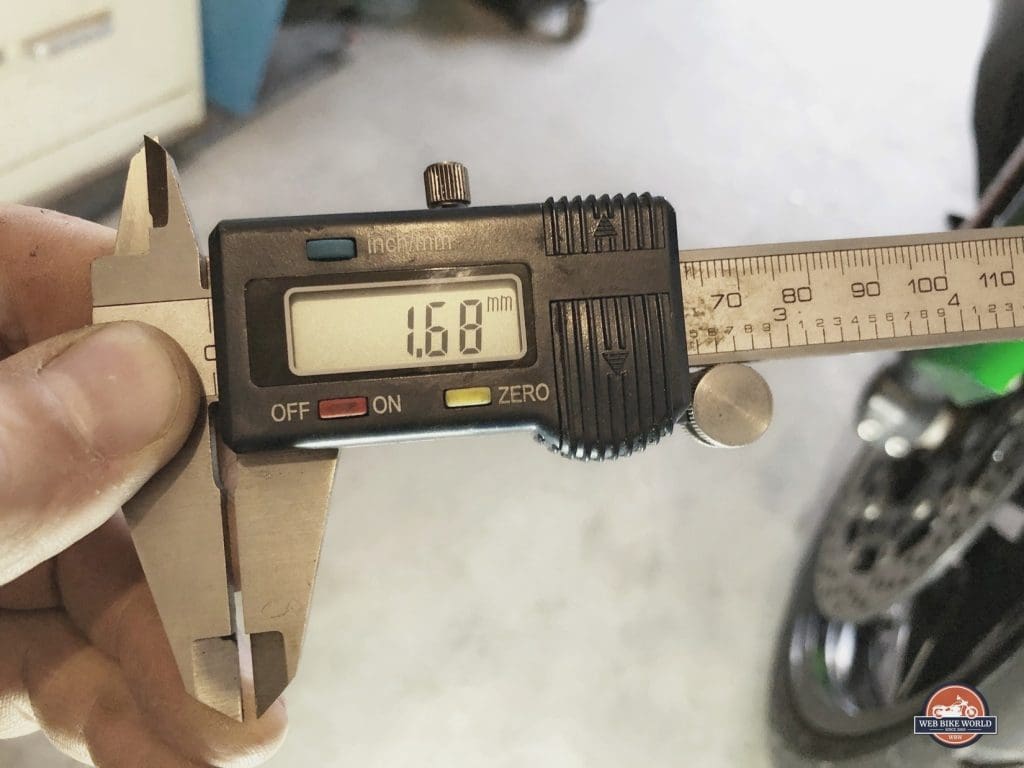 Measurement from the inner sipes of the front tire
They tell me it's not uncommon in heavy sport touring bikes to have this happen because of road crown working on it, unfortunately. I guess this Ninja isn't quite as dainty as I thought.
The outer sipes are doing a lot better showing over 3mm remaining which is more what I was expecting to be the case at this juncture. 
Perhaps I need to reconsider my rating of the front tire, but overall I think these are still excellent tires.
**September 2019 Update: I discovered that my front tire pressure was at 36psi instead of the factory recommended 42psi. This could have contributed to the unusual wear. Since pumping it back up to the recommended pressure I haven't noticed more wear on the front over another 2000 kms.**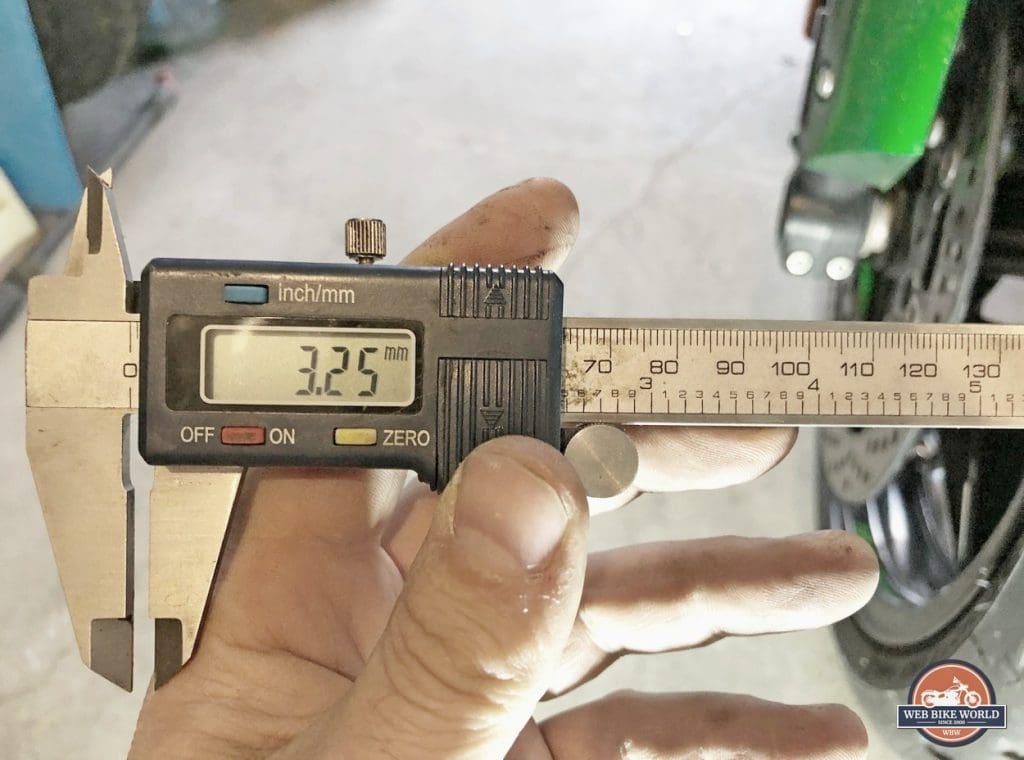 Measurement from the outside edge of the front tire
Pros
Terrific grip on wet or dry terrain
Reasonably priced based on longevity
Absorbs undesirable road vibration without removing desirable feedback
Available in 9 different sizes
2CT and 2CT+ technology/design built in creates a stable tire that performs at any speed
Cons
Larger tread openings throw small stones frequently
Road 5 GT tires for heavier bikes not available until 2019
In hard cornering, there is a "wiggle" sensation
Specs
Price (When Tested): Front $151.50 to $234 Rear $148 to $326
Alternative models: Road 5 GT (coming in 2019)
Sizes: 190/50 ZR17 (73W)
180/55 ZR17 (73W)
190/55 ZR17 (75W)
120/60 ZR17 (55W)
160/60 ZR17 (69W)
120/70 ZR17 (58W)
150/70 ZR17 (69W)
150/70 R17 69V (Trail)
110/80 R19 59V (Trail)
Review Date: August 7, 2018