Michelin Pilot Road Image Gallery
Outstanding grip in wet and dry conditions.
Very neutral handling, fast warm-up times.
Noticeable difference from the Michelin Pilot Road 2 tires on the Ducati Multistrada 620.
"Motorcycle tires are so good today that 99.9% of motorcycle owners wouldn't notice the difference from one brand or type to another".
About 5 seconds after that sentence left my lips, I regretted saying it.
It was during a jawboning session with the service manager at a local motorcycle shop. We were talking tires when the sentence slipped out.
But now that I think about it, maybe it's not untrue after all. Or half true anyway…
Motorcycle tires are much, much better than they were even 10 years ago.
And they're light years ahead of anything available back when I started riding.
In fact, back then there were so few choices for motorcycle tires and sizes that you'd walk into a shop and simply state "Gimme a new set of tires".
The ash on the cigarette hanging out of the greasy mechanic's lips wouldn't even quiver as he grabbed the first set of rubber that came under his hands.
Small bikes used 3.00×19″ fronts and 3.5×19″ rears, while "big" bikes like the Bonneville 650 took a massive 3.25×19″ front and 4.00×18″ rear. Wow. When you asked for tires, that's what they pulled off the shelf.
Just for the record a 3 inch front is 76 millimeters in today's money, while that 4 inch rear was 102 millimeters. Can you imagine? No wonder why the bikes handled like a nervous broom in those days…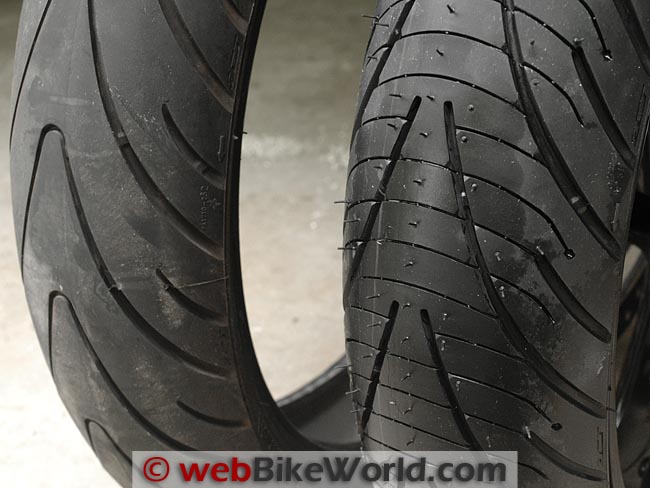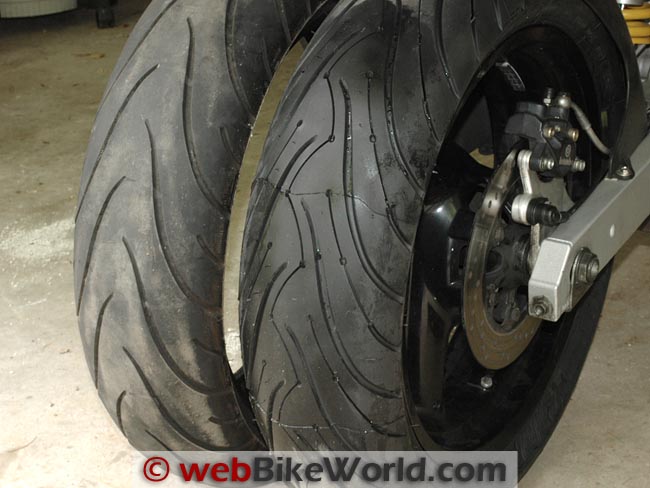 Michelin Pilot Road 3 Motorcycle Tires
Which brings me back to my half-true statement. Let me modify it: Motorcycle tires are generally outstanding today; it would be very difficult to buy a "bad" tire.
And on some bikes and/or with some riders, any handling differences would be minimal.
Which also means that on some motorcycles, piloted by some riders, there will be a noticeable difference. In fact, that's the case with these new Michelin Pilot Road 3 tires on the Multistrada 620, under my, ahem, "expert" control.
Before I had them mounted, I was trying to think of how I'd ever notice enough of a difference from the excellent Pilot Road 2 tires to actually write a review.
But honest, literally 50 feet from the motorcycle dealer, as soon as I pulled out into traffic, I noticed a dramatic difference.
In fact, I noticed a difference even before I had the tires mounted — when the UPS driver handed me the pair, I could literally feel a difference as soon as my fingers touched the rubber.
I don't know if Michelin is using a different type of mold release or what, but the surface of the tires felt "sticky" right away.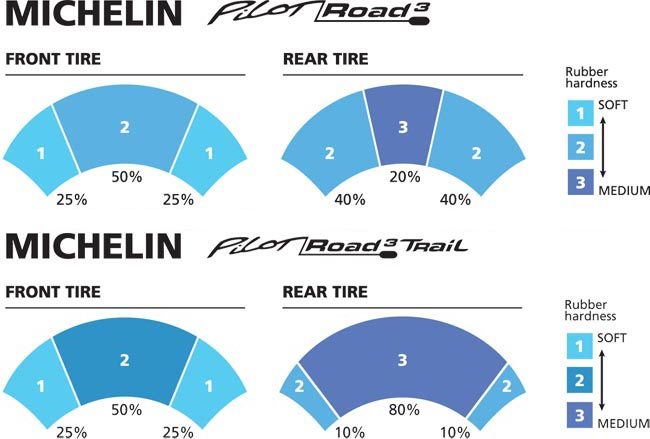 Michelin Pilot Road 3 Details
But first, before I discuss those differences, let's take a look at the new Michelin Pilot Road 3 tires.
Michelin classifies the Pilot Road 3 as a "Sport Touring" tire. But, in a surprise move, the Pilot Road 3 is also available in a Pilot Road 3 Trail version for adventure-touring bikes "ridden primarily on the road", according to Michelin literature.
While the standard Pilot Road 3 tires are available in typical sportbike sizes, the Pilot Road 3 Trail are currently available only in 110/80R19 59 V Trail front and 150/70ZR17 69 V Trail rear.
These fit motorcycles such as the BMW GS, the Triumph Tiger 800 and the Suzuki V-Strom (although I haven't confirmed this).
The profile and tread pattern of the standard and Trail versions appear to be identical, but the Pilot Road series is a dual-compound tire, and Michelin rates the center compound and percentages differently between the two, as you can see in the following graphic:
The most noticeable difference in the Pilot Road 3 tires is the "X-Sipe" siping technology, which is both completely different from the Pilot Road 2 tires and also different from most of the other motorcycle tires available today.
Michelin goes on quite a bit about the new technology; in fact, wet-weather performance is one of the main features of the new tires.
The edges of the sipes are designed to break through the water film on the road and there are small "pockets" strategically placed along the grooves to act as reservoirs for water, which is supposed to help prevent aquaplaning.
Michelin says its wet-weather tests show marked improvement in stopping distances and cornering ability with the Pilot Road 3 tires.
But they also said that the tires have improved wear resistance and, in fact, I have heard from owners who claim extraordinary miles with these tires compared to other brands.
It's still way too early for me to say anything about that, and the continuing dry weather around here lately has prevented any serious wet-weather evaluation, so I will follow up on that later.
But in the meantime, the addition of all those sipes and grooves doesn't seem to have hurt dry road performance at all and, in fact, it may have helped.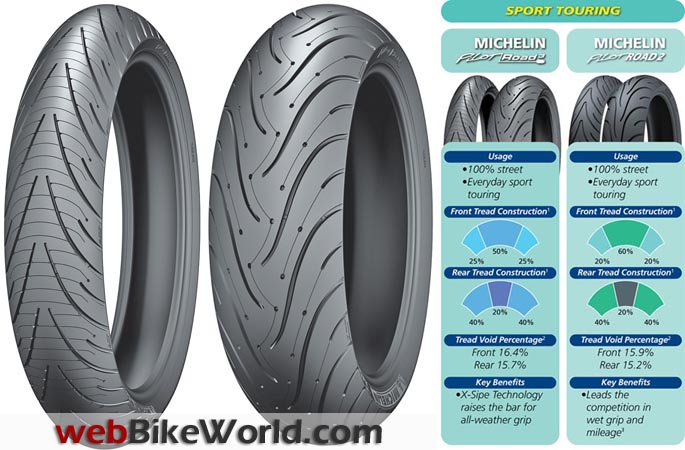 New (No) Mold Release Compound?
This was in marked difference to the other pairs of Michelin Pilot Road 2 tires (review) that have been on the Multistrada 620 (blog) since I replaced the original equipment Pirelli Diablo tires after only about 1,500 miles.
Previously, I had to spend time removing the sprue nubs and roughing up the surface on a new pair of tires.
I would even search out gravel roads to put on a few dozen miles, hoping to grind away the slippery mold release compounds typically used on motorcycle tires.
I went on about this in some detail in the Pilot Road 2 review.
In fact, it took about 300 miles, a roughing-up with Scotchbrite and a tour through the same gravel roads before previous sets of the Pilot Road 2 tires felt broken in. This has been my experience with other motorcycle street tires as well.
Not so with this set of Pilot Road 3 tires, which felt "stickier" when new than any other motorcycle tire I've ever tried. Normally, I have to tip-toe around on the bike(s), being careful to wear in the surface of the new tires.
Every motorcyclist has probably heard the story of the rider who drops his or her bike as they're turning out of the dealer's lot with a new set of tires.
Not so here — in fact, I had to keep reminding myself that these were new tires and I shouldn't be doing the types of things I was.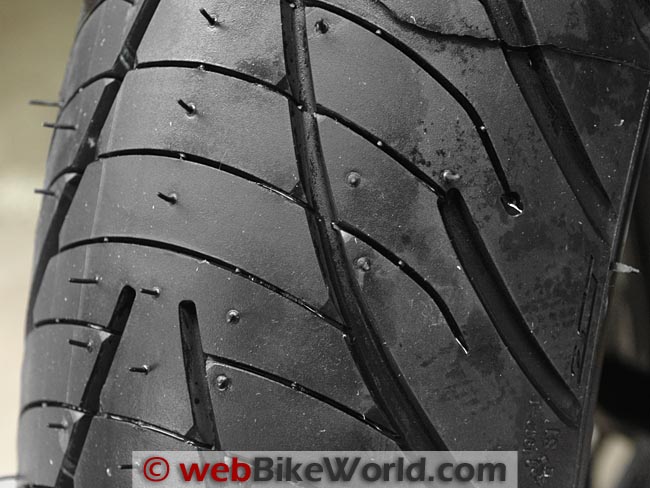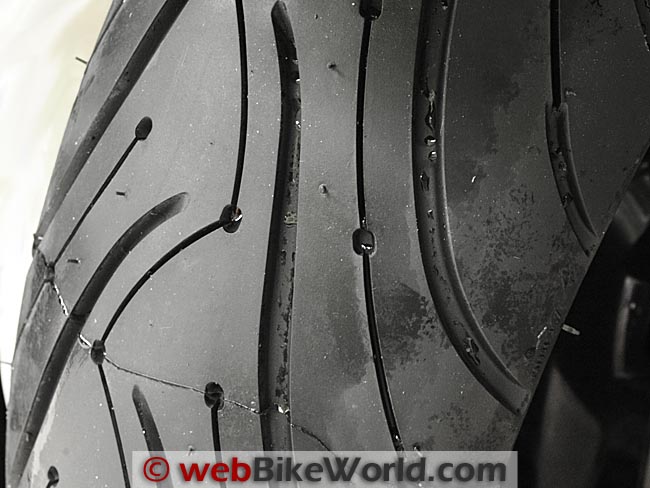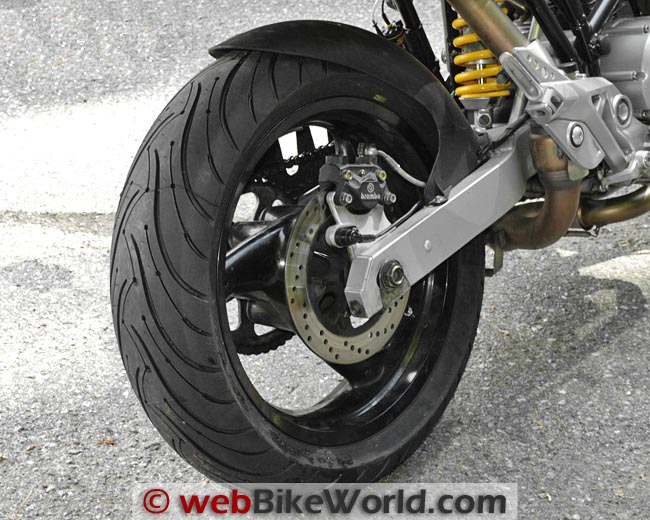 On the Road With the Pilot Road 3 Tires
When I first switched out the Pirellis for the Michelin Pilot Road 2 tires, I wrote that the differences felt minimal.
Not so with the switch from Pilot Road 2 to Pilot Road 3; in fact, between this and the dramatically different look of the Pilot Road 3 tires, I wonder why Michelin didn't change the name to something new.
The Ducati Multistrada 620 has always felt a bit "nervous" to me.
This was a combination, no doubt, of the low-rent suspension on this model, combined with a more upright riding position, a higher center of gravity than the Ducati sportbikes and perhaps wider handlebars.
The original Pirellis were awful in that regard and while the feel was tamed somewhat by the Pilot Road 2 tires, the Pilot Road 3 set has given the bike an altogether much more planted feel.
And this isn't just the "new tires always feel better" syndrome, because the set of Pilot Road 2 tires that these replaced only had about 1,500 miles on them, so it isn't like they were so worn out that any tire would feel like an improvement.
The steering is noticeably different — more neutral-feeling — and much of the nervousness has been banished. The bike now carves confidently through the corners in a single, sweeping line, whereas before it always seemed to need some minor corrections for an oversteer condition.
Also, the Pilot Road 3 tires seem to warm up very quickly, probably due to the dual compound. There is virtually no warm-up time needed; the tires seem to stick as soon as I leave the driveway.
Other webBikeWorld readers have mentioned this feature also, noted in some correspondence I had regarding the tires. Fast warm-up times are always a good thing, especially in cooler temperatures.
This is another marked difference between these tires and the original Pirelli Diablo tires on the Multistrada.
Conclusion
I have been extremely impressed with the Pilot Road 3 tires on the Multistrada 620. I'll add some updates as I pack on the miles (and if it ever rains again).
But in the meantime, I can say that the differences have been dramatic, noticeable and definitely for the better.
The bike has gained a more solid feel; the tires have a glue-like stickiness that is also noticeably different from the Pilot Road 2 tires (and a huge difference from the original Pirelli Diablo tires).
And much of the "nervous" feel transmitted through the Multistrada 620 is gone, while the precise handling and quick steering remains.
All I can say is if this is progress, bring it on!
w

BW

 Review: Michelin Pilot Road 3 Motorcycle Tires
List Price (2012): Front: $207.95-$215.27 (Discounted to ~$126.00). Rear: $256.95-$320.63 (Discounted to ~$156.00).
Made In: Spain
Colors: Black
Sizes: Sportbike and Adventure-Touring standard.
Review Date: May 2012
Note:
 For informational use only. All material and photographs are Copyright © webWorld International, LLC since 2000. All rights reserved. See the webBikeWorld® 
Site Info page
. Product specifications, features and details may change or differ from our descriptions. Always check before purchasing. Read the
Terms and Conditions
!
Owner Comments and Feedback
---
From "S.Z." (August 2015): "Funny you should mention that your stock Pirelli tires sucked, but failed to recognize that Michelin's Pilot Road 3's front tire pattern is a direct rip-off of the Pirelli Angel ST/GT.
I've been using them for years on first my 2006 Honda Interceptor, then my 2011 Honda Ninja 1000.
I get 10,000-12,000 miles on them depending on how often I rip around on them. Still, very impressive mileage and no loss of feel to the end."
Editor's Reply: Not sure who copied who on the tread pattern. But the surprise is that there are so many different tread patterns. You'd think if a tread pattern meant anything, they'd all look pretty much the same.
The fact that they're all different hints that a pattern is more about marketing than function.
---
From "I." (July 2013): "Now on my 3rd set of PR3s (after 2 or 3 sets of PR2s) on a GSX1400. Very happy with the performance wet and dry (daily ride, all weather) and wear — got 25,000 km out of the last set!!
Quick warm up and high grip levels inspire confidence, particularly in the front end.
Cannot agree though on the comments re. the mould release compound — I've found the PR3s to be as bad (if not worse than the PR2s) in this respect when brand new, doesn't last more than around 100 kms though.
Also find I need to keep the pressure up around 40 psi to prevent scalloping of the front tyre; running around 38psi on the rear."
---
From "C.K." (October 2012): "My 2009 BMW R1200RT came with Metzeler tires on it, and from the beginning these tires seemed to ride rougher, and be a little "squirrelly" (in the) twisties.
I replaced the Metzelers with Pilot Road 3s, and what a difference! The ride is much smoother, and the handling much more precise.
The tires just turned over 9,000 miles and still have some miles left on the tread. No question that another I'll get another set of PR 3s."
---
From "T.S." (May 2012): "I just started riding 3 years ago after a 35 year hiatus. And am enjoying much more. Anyway, I bought a BMW R850R (18k miles) that had Metzeler tires.
I put about 7k on the bike before I noticed the treads had some cracks in them. So for safety sake i decided to purchase a new set which were the Pilot Road 3s. Just pure luck for me.
From the very start there was a noticeable difference.
The bike just wanted to eat up twisties. I felt glued to the road. This was the story on all road conditions, especially in the rain, I felt like I was on dry road. Very nice indeed…
The story goes on. I came across a 2001 R1100R (12k), while looking for a touring bike. It was beautiful, with low miles and short money, so i bought it with the idea to sell the 850, which I did…but not for 5 months.
rode both bikes and found that the 850 rode/handled better. The 1100 had Metzeler tires with about the same mileage as the Pilot Road 3s on the 850. There are some differences in the bikes but there are more similarities — basically the same naked bike.
The shocks were/are stock and original on both bikes and I know there are more variables. But having said that, the 850 felt more confident/sure footed and quicker to respond in turns.
I am ready to purchase a set of Pilot Road 3s for the 1100 as I write this, even though lots of miles left on the Metzelers. It was/is that different for me. Thank you webBikeWorld guy(s) for all your news/articles/info."
---
From "T.R." (May 2012): "I switched to PR3s on my FJR1300 recently after having used several sets of Avon Storms (which I loved) and I'm sold! They outperform the Storms in every way and that's saying something.
I'm most impressed with how little wear is showing after 3k miles which included a very warm 800 mile day on the super slab. The FJR is a heavy bike and it's hot where I live so I'm used to blowing through a rear tire in 5k miles.
I think I'm going to break that record and much more with the PR3s."
---
From "N.S." (May 2012): "I'm on my first set of Pilot Road 3's and admittedly my first set of Michelins ever (just so pricey), but must say this is the best set of sport-touring tires I've ever used.
I've gone through several sets of Dunlop Roadsmarts, plus sport tires and the stock hoops on my FZ1 and a load of other sport-touring tires on different bikes in the past.
The Roadsmarts had good traction (especially rain) during early use, but got very hard and vague as they wore and never felt confidence inspiring on serious lean.
The Pilot Road 3's feel like real sport tires, but with great all-weather (especially wet) performance and excellent wear.
And for imperfect roads with ruts and gravel I "think" the siping helps them absorb (rollover) better than most road-biased tires, because I don't get a bounce or the slide on those road conditions.
I only have about 6k on them so far and they appear to be wearing better than the Roadsmarts during the winter, but we'll have to see during the hot months. Regardless, I've very pleased and will be buying the Michelins from now on."
Rick's Reply: I noticed that also, I get the feeling either the sipes or the rubber compound in the Pilot Road 3 tires are somehow softening the imperfections in the road or attenuating the harmonics or something, making for a more compliant ride but without affecting the steering precision.
It's a very noticeable difference compared to other sport-touring tires I have tried.
Follow-up from "N.S." (October 2013): "I wrote you about a 6K review on the Pilot Road 3's (my very first set of Michelin's ever) and I'm just about to get them changed after 14k+ miles.
I do some commuter miles, but also some very serious leaned over canyon carving on an FZ1, and despite not being at all sedate on the tires, they only just started giving out (thread line showing in the rear).
I spooned them on at 48k miles; now at 62k miles it's time for a new set, as the rear is shot and the front nearly.
Until the last few hundred they've been 100% confidence inspiring on dry, wet and even somewhat on gravel.
Suffice it to say I'm getting another set for the FZ1, as they're perfect for the bike (and presumably for other bikes I own in the future)."
---
From "J.L.W." (May 2012): "While I agree that there may not be a noticeable difference in handling, I have noticed a huge difference in wear between the Dunlop OEMs on the Harley and the Metzler ME880s with which I replaced them.
I got 4000 miles on the rear Dunlop and 12,000 on the rear Metzler. Also, about 5000 on the from Dunlop and 15,000 on the from Metzler and still going strong.
I also got significantly better mileage on the Dunlop Roadsmarts with which I replaced the original Bridgestones on my old FZ-1.
Most of us every-day and long distance riders can't afford to replace motorcycle every 3 or 4,000 miles. Also, what do you do when you are planning a 3,000 mile trip and you only have 1 or 2,000 miles left on your tires?
Bottom line is that since I can't tell much difference between tires, I'll go with the mileage every time."