French tyre company Michelin has made a new Anakee Adventure tyre specifically for those riders who don't like as much adventure as they do touring.
The new Michelin Anakee Adventure will be unveiled at the EICMA Motorcycle Show in Milan this week (November 6-11). It will be available in Australia from January.
It has been approved for the new BMW R 1250 GS as well as many other big-capacity adventure bikes. Michelin's partnership with BMW Motorrad started in 2005.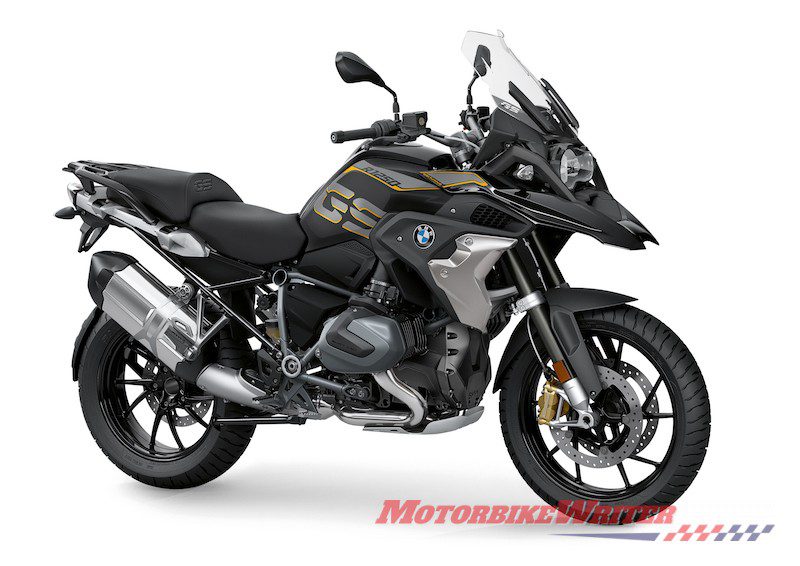 Anakee Adventure
This latest addition to their range is designed for 80% road use and 20% track/trail use.
It joins their adventure range consisting of the Road 5 Trail for 100% road use and Anakee Wild for 50% road and 50% off-road.
Michelin claims the Anakee Adventure has exceptional grip on wet roads due to its new-generation silica-enhanced compound.
It is also claimed to have dry weather stability and long wear thanks to two Michelin-patented technologies: Dual Compound 2CT and Dual Compound 2CT+.
Anakee Adventure also has a new, open tread pattern for traction on unsealed tracks and trails.
They will be available in the following sizes:
100/90 – 19 M/C 57V
170/60 R 17 M/C 72V
140/80 R 17 M/C 69H
90/90 – 21 M/C 54V
150/70 R 17 M/C 69V
110/80 R 19 M/C 59V
130/80 R 17 M/C 65H
150/70 R 18 M/C 70V
120/70 R 19 M/C 60V
Survey ratings
The French tyre company recently scored second in the Canstar Blue customer satisfaction survey behind Pirelli.
Michelin won in the first year in 2015 and again 2017.
The 2018 Canstar Blue customer satisfaction survey of more than 350 riders reveals some startling findings about rider attitudes to their motorcycle tyres.
Almost half of Aussie motorcycle riders have not checked their tyre pressures in the past three months.
Click here to find out about the correct tyre pressures.
Some 13% ride on tyres they suspect have illegal tread and almost one in five riders delays buying new tyres.
When they do buy, one in 10 buys the cheapest tyres available and 7% admit they bought the wrong tyres for their bike and style of riding.
Canstar Blue says these statistics reveal that some riders are flirting with danger when it comes to riding on potentially unsafe tyres.