Men's Vented Leather Motorcycle Jacket
Note:  This article was first published in 2004.  The Vortech jacket has since been discontinued, although a few can still be found at various retailers.
Leather is back!  Leather motorcycle jackets have been around forever, but they've been collecting a bit of dust on the racks over the last few years with the rise of textiles as the most popular motorcycle jacket material. Manufacturers discovered that DuPont's Cordura and other high-strength nylon based materials could do wonderful things for motorcycle clothing.
The material is cheaper to source, it's easier to cut and sew and it can be made to order in an infinite array of colors, shapes and sizes. It's also easier for the designers to fashion textile fabrics into stylish designs.  For the rider, the use of textiles means that owning a windproof jacket that paradoxically offers better air flow is now possible.
Textiles also require less maintenance, and the material can be made waterproof.  Mix in a dollop of fashion to add a coolness factor and we now have more riders than ever wearing good protective gear.  All thanks to our eternally exploited friend, the hydrocarbon molecule!
But what about leather?  Leather has endured, and it has an allure of its own.  Leather is also one of the most protective materials available for motorcycle riders. Thanks to Bos taurus, it works great as a second skin for humans.  The lessons learned in the design and manufacture of textile motorcycle clothing is now being applied to leather, generating a new interest in this classic material.
The Olympia Moto Sports Vortech men's leather motorcycle jacket is a good example.  It has it all — the style, function and features of textiles but with the protection that only leather can offer.
Does the Olympia name sound familiar?  Walk into any motorcycle shop and you're likely to see an Olympia glove display rack.  Olympia has been protecting the digits of motorcyclists for many years with a vast array of gloves of every shape and size.  It's a natural for them to capitalize on their brand equity with a line of clothing, and they did it in a unique way.
Olympia entered into a licensing agreement with RPM Gear, Inc., to form Olympia Moto Sports, which resulted in the introduction of this new collection of motorcycle apparel.
Olympia Moto Sports is the vision of veteran apparel designer Kevin Rhea, who is a life-long motorcyclist and who has also spent the last couple of decades designing technical apparel.  Kevin has experienced the same frustrations with motorcycle gear as the rest of us, but the difference is that he has the knowledge and skills to do something about it.
"Over the course of 30 years as an avid motorcyclist and 20 years designing fashion and technical apparel, I was acutely aware of the many improvements that could be made in protective motorcycle gear.  Based on my own rigorous standards, I set about creating smart, new designs for myself and fellow riders that offer the perfect balance of comfort, function and form."
Kevin has some strong ideas about what works and what doesn't, and he's focused his talents on doing this right.  The entire line of both leather and textile apparel offers a unique set of features, style and utility that makes it worth a look.  I met Kevin at the recent Dealer Expo in Indianapolis and I checked out several examples of his work.  The Vortech jacket caught my eye and Kevin sent us a sample for this article.
Leather's popularity had waned with motorcyclists for a couple of reasons.  When it's not done right, leather is too stiff, too confining and too hot.  Racers don't have a choice, but for the rest of us, this is bad news, since most motorcycle riding is done in the summer.
The good news is that the Vortech Airflow Sport Jacket proves that leather can be the equal of textiles in terms of fashion and function, while still providing the protection only leather can offer.  The difference is in the quality of the materials, the structural design and the hardest part, the attention to all the little details.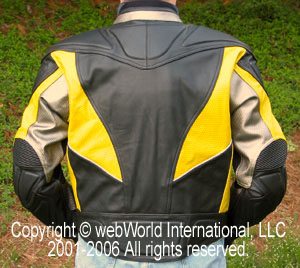 The Vortech has a sophisticated look that doesn't scream "boy racer" with the use of overdone graphics and logos.
My amateur photos don't do it justice, but the jacket looks sleek and professional and it won't go out of fashion by next season.  But style is nothing without comfort, and satisfying the two sometimes conflicting goals isn't easy.
A leather motorcycle jacket must be uniquely flexible in all the right places, thus it isn't made from a single piece of leather like its street jacket cousin.
Comfort takes careful design in the way the leather panels are cut and sewn together.  Even the type of stitching can make a difference.  Joining the panels together to create both style andfunction is a black art, but the Vortech is successful on both counts.
---
Where to Buy Men's Vented Leather Motorcycle Jacket
Check Reviews & Prices on Amazon
Check Reviews & Prices On RevZilla
Also: Motorcycle Jackets, Motorcycle Gloves, Motorcycle Boots, Motorcycle Pants
---
It doesn't seem to bind in any direction, the shoulders don't bunch up, and there's ample room in the arms and waist.  I've noticed that the jacket seems to disappear into the background of my consciousness when riding.  This is as it should be; when hammering about on a motorcycle, the fewer the distractions the better.
The Vortech uses 1.2mm thick leather, lined with an attached open-weave mesh fabric that allows full ventilation when the liner is not in use.  The outer arms, sides, portions of the back and the upper chest (yellow areas in photos) of the Vortech are perforated to allow cooling.
The perforations definitely work; I found that the Vortech provides almost as much air flow as a summer mesh textile jacket, but I feel safer with the leather between me and the asphalt.  The leather panels are sewn together using a mixture of double and single row stitching, and the stitches are perfectly aligned with no extra loose threads anywhere.  The silver areas of the jacket have a cool-looking carbon fiber appearance that also add to the style.
The jacket comes with a zip-out full sleeve Thermolite liner that's a quality notch above the normal fare.  It has an interesting shiny mesh interior replacing the typical black quilted look that's the norm with motorcycle jacket interiors.
The Vortech shown here is a size XL; my guess is that it's the equivalent of about a U.S.A. men's size 44-46.  It fits slightly tight with the liner inserted and slightly loose with the liner removed, which is just about perfect for its intended use.
Above 65 degrees Fahrenheit or so, the jacket flows lots of air when riding a naked bike, and it's also comfortable when riding behind a fairing.  Unfortunately, the liner isn't windproof, so once it cools off, you'll need some extra protection from chilly breezes.
On a 58 degree (Fahrenheit) day there was a bit too much air flow for comfort, at least on my naked Triumph.  But vented jackets are meant for warm weather use, so the simple addition of a thin windproof sweater or the Biker's Comfort in Action windproof underwear to the wardrobe is all that's needed when the weather turns nippy.
The liner attaches to the inside of the jacket using buttons at the cuff.  The liner's sleeves stop about 40mm short of the end of the jacket's sleeve to prevent bunching.  The sleeves have a 170mm (6-5/8″) zipper and a leather tab to tighten the cuff.  The tab is wider than normal, which may add some flair but is hard to fit under certain types of gloves with narrow gauntlets.
The liner also attaches to the inside of the jacket with a single button under each of the armpits.  Buttoning the sleeves  to the inside of the cuffs isn't too difficult (tip: button 'em up before zipping in the liner) but the armpit button holes are too tiny for my fingers to grab, so I leave them be and it doesn't seem to affect the security of the liner one way or another.
The Vortech has two outside slash pockets.  Each pocket uses heavy nylon zipper teeth and kudos go to Olympia for providing nice, sturdy plastic zipper pulls make the zippers easy to use with gloved hands.
The pockets open to 180mm wide (7″, all conversions approximate), with a roughly triangular internal shape.
They're each about 150mm (6″) deep.  There are no upper chest or underarm vents, and none are needed, due to the efficiency of the perforated leather.
| | |
| --- | --- |
| | |
| Liner | Side view |
| | |
| Shoulder and arm | Liner removed |
---
Where to Buy Men's Vented Leather Motorcycle Jacket
Check Reviews & Prices on Amazon  Check Reviews & Prices On RevZilla
Also: Motorcycle Jackets, Motorcycle Gloves, Motorcycle Boots, Motorcycle Pants  
---
Two internal chest pockets are located just inside the flaps of the jacket.  Both pockets close with a zipper and open to a nice, wide 160mm (6-1/4″) and are a useful 140mm (5-1/2″) deep.
There's also a bonus mobile phone pocket in the right upper chest area of the liner, which closes with a "hook and loop" flap.  This pocket is 125mm deep by 80mm wide and has expansion panels on each side which allow the pocket to fit approximately a 30mm thick cell phone.
One of the unique features of Olympia Moto Sports' leather garments are the use of "Action Flex" panels in the places where it counts.
This is a stretchy material that's used under the armpits stretching down to the inner elbow, and there are also small panels of the material in both sides of the jacket at the waist.  These provide extra flexibility, which helps make the jacket feel more comfortable.
The Vortech also has a concealed leather belt that acts as a waist cinch.  It's permanently attached to the back of the jacket, but enters through a slit at the sides and is secured by "hook and loop" fastener inside the jacket.  This is a nice design touch, giving the Vortech a sleeker look.
The jacket also has a narrow (30mm or 1-1/8″) fabric inner flap under the zipper that helps to keep out the breeze.  A metal snap that closes the jacket at the waist and a small piece of "hook and loop" fastener is used to close the top.
The Vortech also has an 8″ YKK zipper that can attach to Olympia Moto Sports' Nitro pants.  The zipper works backward from some other brands of pants, so you'll have to either purchase a pair of the Nitro pants or find a good tailor.
Another nice feature is the Vortech's rolled neck collar.  It's covered with Neoprene and has a small amount of internal padding, making this one of the most comfortable necks I've experienced on any motorcycle jacket.  It passes the two-day-old beard growth test without a pull or pinch.
Nice-sized sections of removable CE-approved "Retro Flex" injection molded armor are used in the elbows and shoulders of the Vortech.  The Retro Flex armor feels substantial and it's form-fitting, but it isn't obtrusive.
The back of the jacket uses removable CE-approved "Motion Flex" armor, and it covers the spine from below the jacket's collar all the way down almost to the tailbone.
Motion Flex armor has an interesting and unique construction that sets it apart from the normal piece of wimpy foam that's usually offered in this market segment.
It's composed of horizontally and vertically articulated segments, designed so that each individual segment can flex independently of its neighbor.  This provides lots of freedom of movement and is very comfortable and virtually unnoticeable.
There's also some extra padding under the external leather on the shoulders and upper back and also covering the tailbone.
The Vortech is finished off with touches of 3M Scotchlite reflective piping that add a nighttime safety factor.
Olympia Moto Sports currently has three lines of clothing.  Their Cruise and Tour Leather, Sportech, and All-Weather Cordura product lines all have a unique set of features and a style that make them stand out from the crowd.
These are distinctive, high-quality leather and textile motorcycle riding jackets and pants with great styling and utility, and they are a step above the ordinary and definitely worth a look.  The products are sold through many retailers; visit the Olympia Moto Sports website for more information and for a list of local retailers.
wBW Product Review:  Olympia Vortech Airflow Sportech Jacket

Available From:  RevZilla  (Olympia Moto Sports)
Suggested Retail Price:  $299.00
Colors:  Yellow/Black/Silver; Black; Blue/Black/Silver
Made in:  China
Note:  For informational use only.  All material and photographs are Copyright © webWorld International, LLC – 2000-2011.  All rights reserved.  See the webBikeWorld® Site Info page.  NOTE:  Product specifications, features and details may change or differ from our descriptions.  Always check before purchasing.  Read the Terms and Conditions!
---
Where to Buy Men's Vented Leather Motorcycle Jacket
Check Reviews & Prices on Amazon
Check Reviews & Prices On RevZilla
Also: Motorcycle Jackets, Motorcycle Gloves, Motorcycle Boots, Motorcycle Pants
---
Owner Comments and Feedback
Comments are ordered from most recent to oldest.
Not all comments will be published (
details
).  Comments may be edited for clarity prior to publication.
Other WebBikeWorld Jacket Posts