Troy Bayliss was "stoked" at the end of the Brisbane Moto Expo today, despite missing out on the final of the Saturday night dirt scrambles.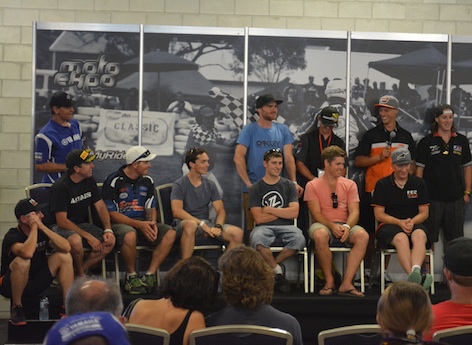 The racing event was the highlight of the motorcycle show held at the Brisbane RNA Showgrounds this weekend. The Expo attracted thousands of motorcycle riders from around the eastern seaboard, some coming from as far south as Melbourne and and as far north as Cairns.
Troy says he was happy with the crowds, particularly on the Saturday evening when they stayed on after the Expo had finished to watch the scrambles events. It featured a stellar line-up of 18 world and national champions including three-time World Speedway champ Jason Crump and World Supersport champion Chris Vermeulen.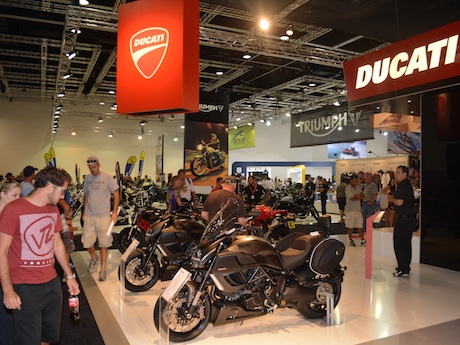 Troy Bayliss Events spokesman Mark Peterson says they had learned a lot from their first Brisbane Showgrounds event and promised the Melbourne Moto Expo in November would have even more surprises.
The Brisbane Moto Expo featured 14 Australian debut bikes including three new Harleys, a Victory Gunner rushed out from the States one week after release, four new BMWs, three Yamahas and many more. They were backed by a full feet of current model bikes from more than 16 motorcycle and scooter manufacturers. Some also offered customer demo rides, while Yamaha had a come-and-try sector for children.
There was also a stacked accessories hall and entertainment throughout the day including stunt shows with Lukey Luke, Matt Mingay and Dave McKenna.
A show and shine, race bike display and historic bike display rounded out a packed event schedule.
"Melbourne will have a few more surprises," Mark says. "That is what we are all about. It's about value for money and being innovative. We have a few things up our sleeves yet for Melbourne. We are toying with a few ideas."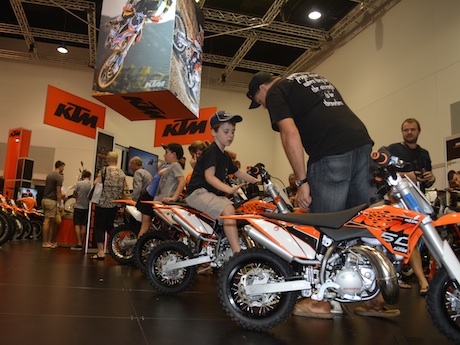 He didn't rule out another racing event and says the recently refurbished Melbourne showgrounds would have more room and a more cohesive flow than the Brisbane event. He says the Melbourne showgrounds has a 10,000sq m hall, a 3000sq m secondary hall and 10,000 sq m of space outdoors, plus a main arena with 4500 seats. "People won't see the same show as in Brisbane," he says. "We are not a carney show, we are a good quality show."
Mark says he was disappointed Honda and John Sample Group (Moto Guzzi and Aprilia) were not present at the Brisbane Moto Expo, but hopes to have them on board for Melbourne. "We want to be able to showcase the whole industry."