With his goatee, tinted rectangular glasses and wavy grey hair, Ray Drea certainly looks the part as Harley-Davidson's chief stylist replacing Willie G Davidson.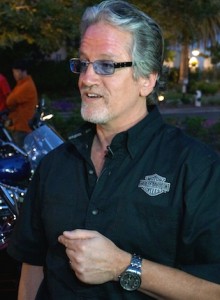 But he's still a long way short of the the Willie G's personal affectations and Ray agrees he's never going to fill the legendary designer's shoes. 
Ray has replaced Willie G who retired in 2012 as chief stylist, but still consults and has an office at Harley HQ in Milwaukee and designs various logos, but isn't involved in bike design. 
"I have some big shoes to fill. He was one of a kind," Ray says.
"I believe he built a strong design team and is confident he has left it in good hands. Half the design staff have been there more than 10 years."
Ray has known Willie G since he went to high school with his son.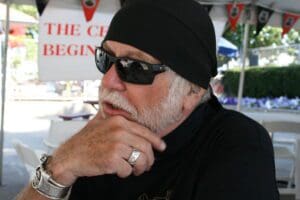 "I entered a Sportster tank I'd painted in a school art show and Willie saw it and gave his card to his son and asked him to pass it on to me and get me to get in touch," he says.
The rest, as they say, is history.
Ray says he is currently working on 2017/18 bikes and credits his greatest accomplishment as "always the next bike". 
He points to the Project LiveWire electric bike as "considerations in style" for the future. "We're trying different things. It's just a learning experience at the moment." 
Speaking at the launch of the 2015 models at the world press launch in Northern California, Ray says he was tempted by the current custom bagger trend to put a bigger front wheel on the reintroduced Road Glide model, but thought better of it. Meanwhile, Victory has jumped on the bandwagon with their Magnum, sporting a reasonably sensible 21-inch front wheel.
Ray believes the trend for ridiculous sizes, such as 24 and 30 inches, will pass and custom baggers will become more ridable. 
"When something first comes out, it can be a bit extreme and it takes a bit of time for people to settle down," he says.
"It's important to not just follow a trend without also making sure the bike handles well."
He says the custom bagger trend will continue to be popular and become refined, attracting a younger demographic who want a styling statement, but also something that is practical with its luggage capacity. 
Ray also believes the custom bagger trend of fitting powerful sound systems will continue and he notes that the new models have the new Boom! Box 6.5 system and the CVO models come with 12 speakers, including pannier-lid speakers.
"Look around and everyone has wires in their ears. They want music wherever they go. Bike audio systems will become more advanced with intelligent infotainment systems."