There's the actual Mad Max motorbike from the famous movie to one side, a Rolls-Royce Silver Shadow in the middle of the floor, magnificent Ashley Jones art on the walls and 20 or so collectible cars, custom motorcycles – even belts, hats and travel bags – at Mean Machines.
But it's just the start of a multi-million dollar project in Perth by two unlikely partners: a prominent lawyer and a motorcycle customising whiz nearly 40 years his junior.
Neville Friedman and Wenley Andrews are the men behind Mean Machines, which will, later this year, move from its current premises in Rudloc Road, Morley, to a much more spacious site diagonally across the road, where the Mean Machines Emporium will be housed.
"Look it up. It really will be an emporium," the hyper-enthusiastic Neville Friedman says.
"Apart from exotic motorcycles and cars, we will have entertainment – a 112-seat cinema – plus weekend cabaret, a coffee shop, a restaurant and a retro furniture store.
"There will also be a motocentric – I think that's a good way to describe it – art gallery, with works from the celebrated Ashley Jones and others.'
More than a place for local enthusiasts, it has the potential to be an international drawcard.
There's a big and growing worldwide swing to things retro, with collectors snapping up potential investments at a phenomenal rate.
Cars and motorcycles feature strongly, but so does art, apparel and furniture.
Neville Friedman, a South African-born lawyer, now semi-retired, sourced several of the cars on the floor from his home country.
They include a spotless VW Karmann Ghia, a Renault Caravelle, a VW Kombi, Bertone X1-9s and several others, plus many more acquired in Australia and the US.
Then there are the custom motorcycles, all unique creations by  the gifted Wenley Andrews (27), who arrived from Mauritius with his parents when he was 8.
He blames his father, Lindsay, for his addiction to café racers and customs.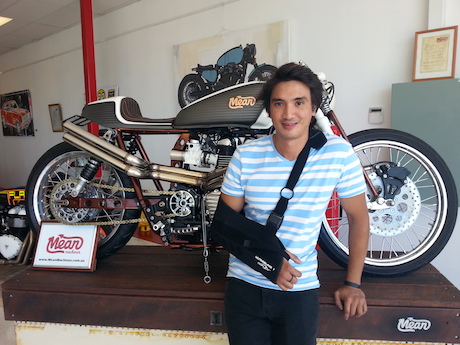 "It all started when he had a Laverda, which he customized and raced,' he said. 'That was followed by numerous other machines, so I've been tinkering with custom cars and bikes since the age of three.
'I was a very shy person,' he says. 'I became a motorcycle mechanic and then started creating variations on motorcycles which attracted a lot of people. Pretty soon I had a following and many friends.'
His Mad Max machine figured among the world's top five custom motorcycles, which immediately made him an international celebrity in the two-wheel world.
Like most of the others he built, the Mad Max runs on Triumph 900cc power.
Some have a lot of modified Harley-Davidson bits in their make-up and, like the cars, are all for sale.
"With a few more mods they can all be roadworthied and registered, although the (current straight-through) exhausts will have to be changed,' he said.
The spectacular bikes with their stunning paint and engineering excellence each take about 300 hours to build and command prices in the vicinity of $50,000.
"No two are the same," Wenley said.
"I take a lot of time figuring what I want to do – and if it's possible – on every project.'
There are three machines in his workshop at present, with another dozen or so waiting their turn to be touched by Wenley's wizardry.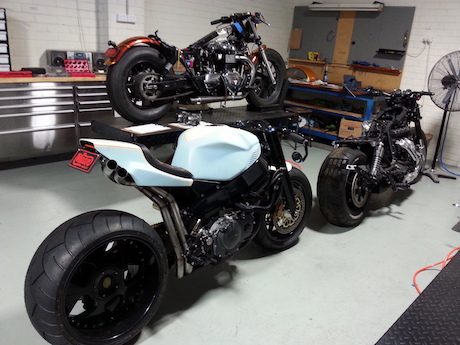 Mean Machines' car inventory stands at 50, and will be ever-changing as some of the rarities are sold, others located and prepared.
Those on the floor at present are all in pristine condition, and some seem to be bargain-priced.
There's a chocolate 1976 Rover P6B, with just 40,000km on its odo, nearby a Bertone-styled '69 Mazda 1800 with even fewer km: 24,000. Both have $5990 price tags.
Italian heartstealers include a 1975 Lancia Fulvia 1.3S coupe at $22,000 and an '82 XI-9 with 85,000km at $16,900.
The 1988 Citroen 2CV Dolly is a rare find and another French soft-top is the neat Peugeot 205 CTI.
There's also a superb Lotus Elan on display. And the Rolls-Royce.
Muscle car fans will love the Chevy Camaro, which has more chrome under its bonnet than Justin Bieber's Fisker and a scarce Studebaker Daytona is among the many cars getting prepped for the floor. Likewise a Dino Ferrari.
"Mean Machines will be unique," Neville enthuses.
"It will be a haven, not only for classic car and motorcycle enthusiasts, but also for people who appreciate fine art, good food, entertainment and retro furniture.
"It will be a venture Perth will be proud of."
Mean Machines is operating now, but its official opening and development to 'emporium' status will be later this year.