Rocket Pocket Tank Bag Review Summary
Pocket Tank Bag Image Gallery
The Marsee Rocket Pocket is a well made, smaller sized tank bag is just right for carrying a few items.
But the zipper can be balky at times.
Long-distance riders will probably laugh at the size of this tank bag.
After all, it's not uncommon to see 20, 25 and even 30 liter tank bags piled high on some touring bikes.
But, let's face it — when you only need to carry enough for an afternoon ride, an oversized and understuffed tank bag is going to look like a deflated balloon sitting between your legs.
I've also had more trouble trying to keep big but empty tank bags in place on the tank than I have with bags that are nice and tight and full.
The wind seems to make the empty ones flap around more than they should.
So the search was on for a reasonably-sized tank bag that would hold maybe a sunglass case, a pair of gloves, a bottle of water and a few other goodies like an air pressure gauge and a cell phone.
Maybe a sweater, too. And while I'm wishing, how about a nice clear map pocket on top?
Background
Off I went to a couple of motorcycle shops, but I came away disappointed.
It seemed like the only choices were either some really tiny bags that are big enough to hold a wallet or glasses case and would maybe look good on a cruiser-style peanut tank, or the monster bags that can hold two weeks' worth of laundry.
I was about to give up when I found this Marsee "Rocket Pocket" 10-liter bag.
This tank bag is just the right size for a day-long adventure. It's small enough to pretty much stay out of the way on just about any bike, yet it has a large enough capacity to carry all the essentials.
Its petite dimensions (5" high, 8" wide and 11" long) are in part due to the absence of any outside pockets, which usually end up flopping around if they're not full anyway.
Pockets and Features
If you really need them, Marsee does offer two optional attachment pockets; one attaches to the handle, and would be perfect for a pair of sunglasses. The other optional pocket attaches to the two snaps on the front of the bag.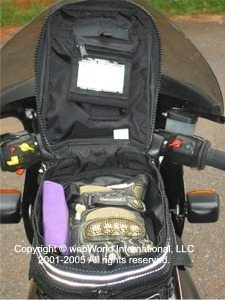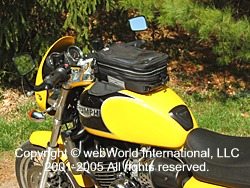 The Rocket Pocket tank bag is made from 1050 denier ballistics nylon with a waterproof coating.
Marsee claims that ballistic nylon is more water resistant, abrasion resistant and fade resistant than DuPont's Cordura material, which is often seen in motorcycle apparel.
The Rocket Pocket also has a nice map pocket on top that's accessible from inside the lid.
Inside the bag, there are 3 pen or pencil holders; a small clear window to put a business or address card for identification, and a small zippered change pocket.
The bag is well-made, and uses the same robust zippers that are found on other Marsee tank bags.
The zippers have nice, big pull tabs, but I found that the oversized zipper teeth seem to be pretty reluctant about opening or closing. I'm hoping that over time they'll loosen up a bit. Perhaps a shot of silicone spray would help?
There's a bit of highly reflective, 3M-brand piping around the sides of the bag, and the Marsee logos are also reflective, which is a nice touch.
Other features include a 2″ wide adjustable shoulder strap, which allows you to easily carry the bag when you're not riding. The small size of this bag makes it ideal for that task.
Besides the optional pockets, Marsee offers a rain cover (why isn't it included in the price?) some webbed strapping that turns the Rocket Pocket into a backpack (ditto), a cell phone case, CD player case, toiletry bag, or a 1 or 3 liter Hydration System.
Note that some of these items will take up room inside the bag.
There's a strap in front of the bag with two snaps used for attaching the optional external pocket. But if you don't buy the pocket, the straps just flap in the breeze.
There should be a bit of "hook and loop" fastener or some way to secure the flaps to the bag if you're not using any attachments. The Rocket Pocket can also be purchased as a strap-on version with bases for various tank shapes.
The Rocket Pocket is expandable by 3 more inches high, and it features a built-in network of reflective compression cording that allows you to snug everything down nice and tight.
Pull the ends of the cord through some spring-loaded barrels, much like a stuff sack that is used for stowing camping gear.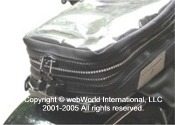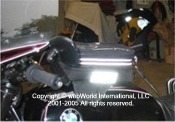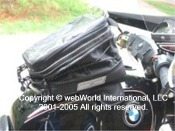 Photos Above: (L) The zippers are nice and big and have large sized pulls, but I've been disappointed so far that they don't work as smooth as I'd like. (Center) The piping, tabs and logos are highly reflective 3M material. (R) The Rocket Pocket fully expanded.
Magnetic or Not?
I was kind of hesitant about buying the magnetic version of the Rocket Pocket, even though both of my bikes have steel fuel tanks. I've owned tank bags before, but not the magnetic versions.
When magnetic tank bags first became available (back in the "old days"!), the rumors were that the magnets didn't work well and that the bags would scratch the paint on the fuel tank.
The older style magnetic bags also used huge magnets and sometimes had big, bulky flaps that went down over the sides of the fuel tank and looked pretty dorky.
In fact, I had originally settled on the non-magnetic Rocket Pocket, but the guy I know behind the parts counter convinced me to spend the extra 10 bucks on the magnetic version, with the promise that I could exchange it if I didn't like it.
I'm really glad I didn't buy the strap-on version, because the magnets on this bag are plenty strong, yet they make it very easy to put the bag on and off the bike.
Marsee claims that the 6 magnets used on the bag are "polarized", and offer 40% more strength than normal magnets.
There's a safety strap that comes with the bag, and you're supposed to clip it to the front of the bag and then wrap it around your handlebar or headstock, but I haven't found it to be necessary.
At the gas station, it's easy to simply remove the bag and place it on the seat of the bike, rather than have to mess with the straps each time.
Also, the side flaps are small enough not to affect the look of the bike, and they fold under and secure themselves to the magnets on the bottom of the bag when you do use the shoulder carrying strap.
The bottom of the bag isn't as soft as you'd think it should be, but Marsee claims it's some type of specially developed material called "Tough Tek" that's designed to protect your paint.
Be careful that you don't get any dirt or metal chips or filings that might be attracted to the magnets!
Conclusion
The bottom line is that I'm pleased with the Marsee Rocket Pocket. But to be honest, I think the price is very high for what you get. I'm glad I didn't pay the list price, because for an extra few bucks you can get a lot more bag.
I wish the zippers worked a little more smoothly; they should have at least included a rain cover; and the lack of an attachment for the accessory strap in the front is annoying.
I guess that means I'll have to spring for the optional front pocket, which can also be used as a belt pocket when it's not attached to the bag.
Marsee Mighty Mini Tank Bag Review
Marsee Teardrop Tank Bag Review
w

BW

 Review: Marsee Rocket Pocket Tank Bag
Manufacturer: Marsee Products
List Price (2005): $116.00 (Street Price ~ $80.00)
Colors: Black
Made In: U.S.A.
Review Date: August 2005
Note:
 For informational use only. All material and photographs are Copyright © webWorld International, LLC since 2000. All rights reserved. See the webBikeWorld® 
Site Info page
. Product specifications, features and details may change or differ from our descriptions. Always check before purchasing. Read the
Terms and Conditions
!
Owner Comments and Feedback