TomTom has finally released their new Rider 550 satnav with new routes, wifi, personalised trips, smartphone connectivity, group sharing and voice activation.
It costs $599 and we wondered whether it is worth the money when smartphones these days seem to do so much of the tasks of a satnav.
So we handed over the unit to regular riding partner and map expert Peter "Worldmapman" Davis.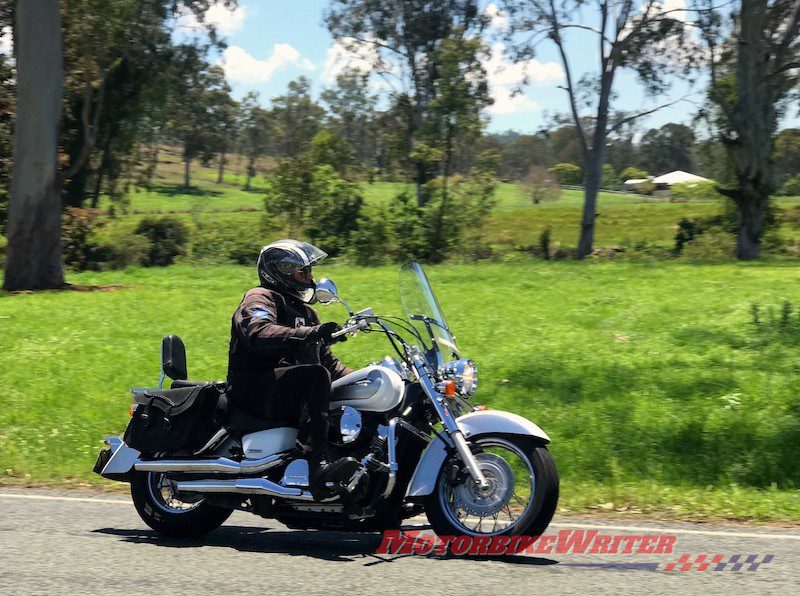 The qualified cartographer has spent 20 years as Sales and Marketing Manager of HEMA Maps and five years running his own geographic information consultancy, so he knows what he is talking about. TomTom GPS is also one of the most popular navigation system for cars. Just visit GeoSettr on their reviews on TomTom Go 520 and TomTom VIA 1625M
Here is his review:
Tom Tom Rider 550
Out of the box the first thing that impresses is the handlebar mount.
It is RAM brand which I believe to be the best, most secure and robust range of vehicle electronic mounts in the world.
When I attached the mount to the handle bars and went for a run, it did not disappoint; solid with virtually no vibration.
It also allows you to quickly swivel the unit from landscape to portrait mode depending on what you prefer.
The Rider 550 came fully charged and ready to go. And with faster processing, it fires up very quickly. No more waiting for it to load.
It includes a short cable with a proprietary plug on the end to connect to a cable with bare wire ends to route it straight to your battery terminal. There is also a cable with a USB plug to go to a USB charging port. Handy.
However, on my first test I didn't bother plugging it into power. I ran it on full nav operation for more than four hours and it still had 3/4 battery left. (It is claimed to have six hours' battery charge.)
I haven't yet got around to plugging in the power cable and might never feel the need with that much battery power storage!
Speaking of storage, I downloaded the complete set of free world maps. Not many satnavs have that much storage capacity. 
The instruction manual is concise but tells you everything you needed to know.
Wifi connection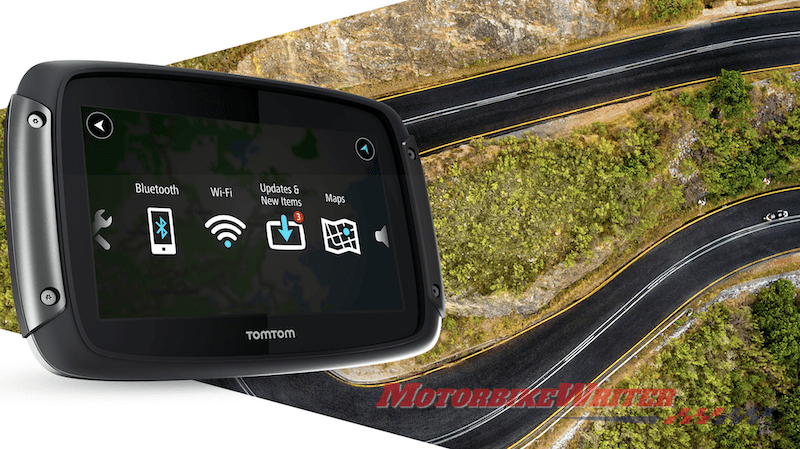 Since it has wifi, you don't have to connect to it to a computer for updates.
Once connected to home wifi, the TomTom Rider 550 tells you if there are any updates required and you do this while you are connected.
Operationally it is typical of any modern satnav devices. It is easy to use and quite intuitive. When you take a wrong turn it is lightning fast at recalculating. So much faster than any other GPS unit or smartphone navigation app.
Its stored POIs (points of interest) are also extensive.
On the bike, the screen visibility is very acceptable even in full sun. I could read the screen in all light conditions with minor head adjustments. It automatically reverts to night mode when it is dark.
Its touchscreen works with most gloves, so long as they are not too thick. So if using winter gloves, get a pair with touchscreen-sensitive fingertips like these from Macna.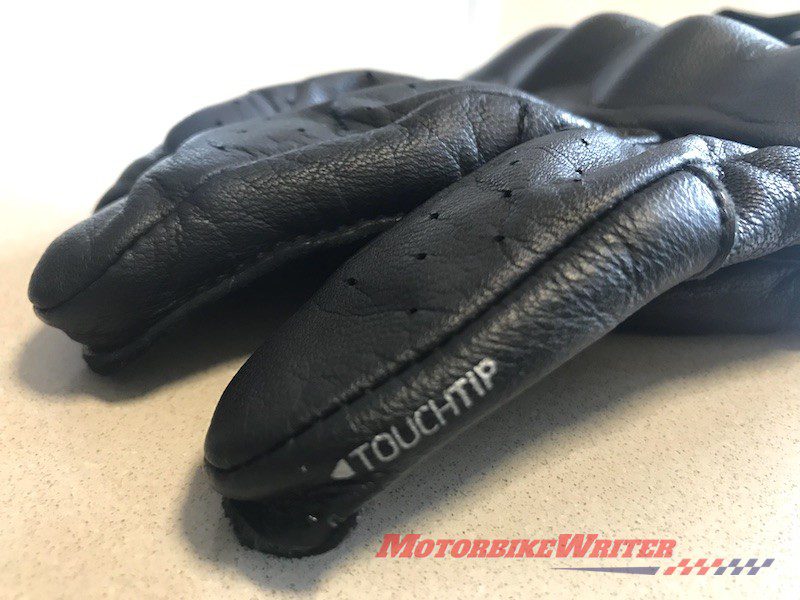 Mapping data
The mapping data is very up-to-date which is underlined by the accuracy of the speed zone, speed camera and red light cameras.
Another thing that impresses me is that during school hours the speed in school zones automatically change.
Here's another impressive feature: the strip map window down the side shows distance to speed cameras, fuel, etc. Very handy!
As you would expect, the device can connect to Bluetooth intercom units. However, if you turn up the volume, it's easy to hear without Bluetooth connection at all but highway speeds.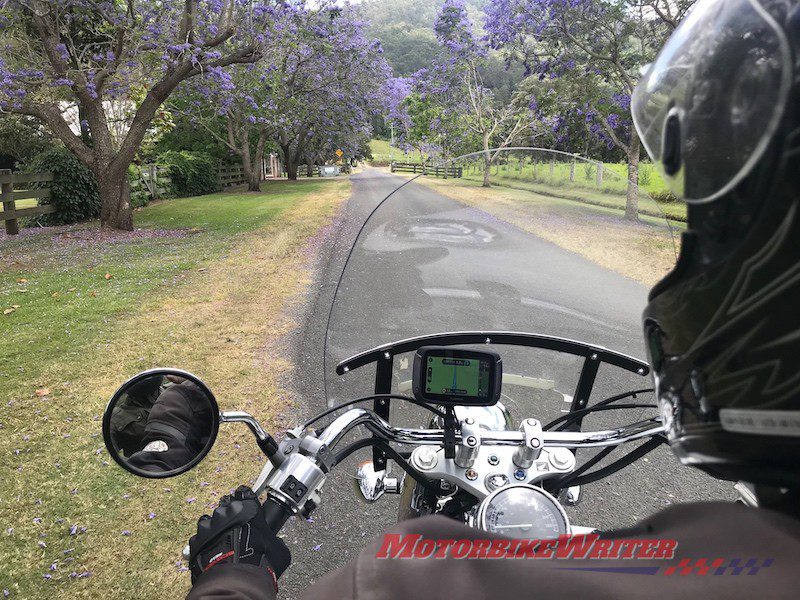 Given that I don't use Bluetooth much, I wasn't able to test the voice activation or the new feature that reads smartphone messages aloud in your headset.
However, that sort of technology works well elsewhere so Im sure it's fine, if you like that sort of thing.
My only concern was that the view randomly swapped orientation between horizontal to vertical, but it did correct quickly. (We noticed this with the previous model if you set it too close to horizontal. It needs to be positioned closer to vertical – MBW).
Conclusion
TomTom Rider 550 is a useful navigation tool and much more suitable to the rugged conditions on your bike than a delicate smartphone.
Given that traffic warnings, speed camera locations and worldwide mapping are included free for the lifetime of the unit, it could be used anywhere in the world.
TomTom Rider 550 tech specs
| | |
| --- | --- |
| Price | $599 |
| Battery | Rechargeable Lithium Ion |
| Battery charge | Up to 6 hours autonomous operation |
| Screen type | 11 cm (4.3″) touchscreen. Capacitive, glove-friendly, sunlight readable screen |
| Screen Resolution | 480 x 272 WQVGA |
| Processor | Quad-Core |
| Memory | 16 GB |
| | |
| RAM Size | 512 Mb |
| SD slot | Micro SD slot |
| Waterproof | IPX7 – Protects again any wet weather conditions |
| Connectivity | Smartphone Connected, Bluetooth audio |
| Wi-Fi | Update and download without plugging into a computer |
| Features | Hands-free calling. Smartphone messages. Siri & Google Now |
| Services | TomTom Traffic, TomTom Speed Cameras, QuickGPSfix via Bluetooth® on your smartphone |
| Maps | Pre-installed Australia, New Zealand, North America, Canada, Mexico. Worldwide maps available to download. Lifetime map updates. |
| Services | Lifetime Traffic and Speed Cameras Updates |
| USB | Micro USB port and 2.0 USB cable |
| Dimensions: | 136.8 x 88.4 x 30.5 |
| Weight  | 280g |
| Mount | RAM universal mounting kit – fits nearly all bikes |
| Bluetooth® | Yes |
| Bring Your Own Connectivity | Yes |
| Automatic Speech Recognition(ASR) | No |
| Tilt Sensor | Yes |
| Light Sensor | No |
| Wi-Fi | Yes |