The man who animated the toxic storm scene in the new "Mad Max 4: Fury Road" movie has invented a revolutionary motorcycle hub-centre steering and suspension system claimed to make riding safer.
Film animator and self-taught engineer Ray Van Steenwyk, 53, has been riding "on and off" since he was 16 and lives near the famed motorcycling haven of Mt Glorious behind Brisbane, so it's no wonder he's a bike nut.
Ray says he has always been into bikes and began restoring antique bikes in the mid '90s where he noticed the varied types of steering systems. This sparked the idea to develop and finesse a totally new design.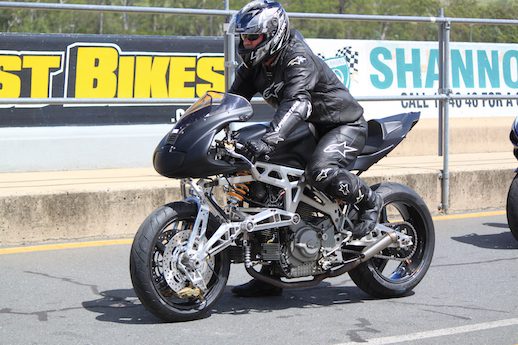 "Previous centre steering systems have had inherent problems," he admits.
"There is a lack of corner ground clearance, they look awful and their many associated steering linkages make their steering input vulnerable to inconsistent and sloppy front-end feel."
However, he says conventional fork steering creates more problems than benefits, predominantly oscillation harmonics which can cause weaving when you back off the throttle.
"A major cause of low-speed crashes is getting off the throttle going into a corner," says Ray.
In 1995, Ray says he had time to devote to studying engineering and trying to finesse a new centre-hub steering mechanism. He has been working on this project since 1997, in between movie jobs such as the Mad Max film.
The result is his company's recently patented prototype which uses an air-cooled Ducati 900 SS.
The bike is called the Motoinno TS3. Motoinno stands for their branding company (Motorcycle Innovation) and TS3 for Triangulated Steering and Suspension System.
It looks a little like a motorcycle that could fit perfectly into the dystopian world of Mad Max 4, yet it isn't as confronting as some unconventional front suspension systems such as girder forks and previous hub-centre designs.
The major difference is in the triangulated design which creates greater strength while cancelling oscillation harmonics by eliminating the high stress load on the hub-centre king-pin.
His design also has a tighter turning circle than any sports bikes with 54 degrees left to right instead of about 38 degrees for a conventional bike. Corner lean issues have also been overcome.
It doesn't have any horizontal or lateral flex like standard forks and the steering geometry doesn't change when the front dives under heavy braking. It is also possible to totally dial out brake dive, or even dial in front lift under braking!
You can also dial in any steering rake you want (from 15-24 degrees) and Ray says the effect is opposite to conventional forks as the steeper the rake, the slower the steering and vice versa. He says the "sweet spot" is around 19 degrees.
Ray says that in track testing at Norwell and Mt Cotton facilities by numerous riders, the bike was considered more stable, turned in quicker and could not be upset by braking, sudden acceleration or change of direction, even in the middle of a corner.
The centre-hub steering is also lighter than conventional or upside-down forks and can be mass produced for about the same amount of money.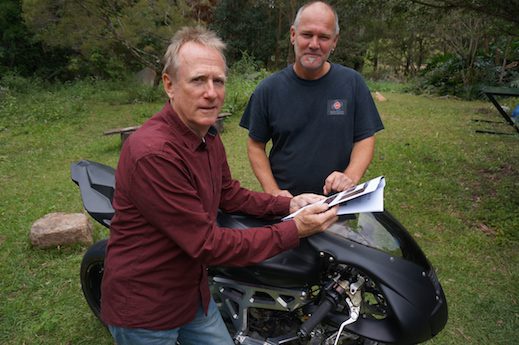 Ray and his business partner Colin Oddy, 63, who also has a film history background, established Motorcycle Innovation Pty Ltd in 2008 and have spent more than $300,000 developing the TS3 system over the past seven years with the aid of a $50,000 Federal Government innovation grant.
They are now looking for an "ethical", motorcycle-savvy investor and a further government grants to licence the product to manufacturers and produce a limited edition of about 10 "boutique bikes" a year for up to $200,000 each.
They are in the process of building a display and testing model for international motoring expos around the world to help market their product.
Ray and Colin emphasise that they want to produce their bikes in Australia using local engineers, technicians and component manufacturers, without resorting to having parts made cheaply overseas.
The prototype bike uses Afco car drag racing shocks set up by veteran racer Warren Willing, but they will probably use other shocks like Ohlins or WP.
Their next model for display and sales will use a water-cooled Ducati 2014 Monster 1200 Testastretta engine. They say their design can be used with almost any engine configuration, for sport, street, cruisers or electric bikes.
They also hope to develop their steering system for Moto2 to prove its abilities. They say Moto2 doesn't restrict chassis and suspension modifications like MotoGP and other racing classes.
"From our initial data acquisition tests, it appears we can be up to a second faster through each corner," Ray says. "It would probably be banned after the first season, but that's ok; it will have proved a point."
Ray says that if his design is taken up by motorcyclists and manufacturers, it would mean riders would have to un-learn old skill sets needed to ride around the inherent flaws of telescopics. We would "rewrite the rider training manual".
"You don't have to flick the bike into a corner any more, it just turns in. It doesn't understeer, is less likely to high side or low side, and you can hold a tighter line at a higher speed into, through and out of a corner.
"You also get a higher rate of turn with less lean, which leaves more contact patch on the road for safer cornering. You don't have to get your knee down for a tighter turn," he says.