If you love riding a bike, you know that not all helmets are the same. You need to find the right helmet depending on the purpose of your ride. Adventure helmets are designed to provide maximum crash protection while allowing you optimal customization features. If you love to go camping, explore the mountains or just ride around with your bike whenever you can, you would want one of them.
They are not bulky, and they are often open faced. This makes it easy for you to wear them for long hours without feeling any discomfort. In the LS2 MX453 solid off road helmet review, you can find more about the features that make it a beloved helmet for most bikers.  Check price here.
Benefits
The helmets from LS2 are often so much better than the competitors. When you invest more than $700 in a helmet, you want to be snazzier. If your budget is lower, you, however, you have to compromise on your expectations. The LS2 helmets help you to bridge the gap between your budget and expectations.
You can enjoy all standard and a few advanced features in the budget friendly LS2 helmets. Just find the right model for your needs, and you will enjoy your ride.
During your adventure trips, you don't want the helmet to come in your way, but at the same time, you want to ensure maximum safety. This budget friendly helmet has an unusual aerodynamic construction that proves why it can be the right choice for you.
Features
The LS2 MX453 solid off road helmet is an open faced helmet ideal for those who prefer skinny helmets, weighing just 3.5 pounds.
The tricomposite fiberglass construction results in a lightweight helmet that comes with a quick release chinstrap. The long oval fit fits most of the head shapes comfortably. The peak provides improved airflow without affecting the sunshade effect.
Unlike other peaked helmets, this helmet doesn't catch air or tug your head up when you ride at high speeds. The amazing V-shaped design minimizes drag and improves stability.
Custom Fit
One of the most enjoyed features of the LS2 helmets is the custom fit.
The cheek pads are made from 3D laser cut foam that fits snugly. However, some bikers are annoyed by the tight fit of the cheek pads. After wearing it a few times, it conforms to the shape of your face, making it more comfortable.
The moisture wicking liner is also made using comfort fit technology, and it adjusts according to the shape of your head.  The D-ring straps keep the visor in place without unwanted movement.
Design
There is a significant difference between on-road and off-road helmets. You have to find a helmet that balances both the requirements so that you don't have to change your helmet frequently. The LS2 MX453 is a solid dual sports helmet that meets all your basic requirements.
The contoured cheek pads prove to be useful when you wear the helmet for a longer time. The tricomposite fiberglass build can withstand major impact and keep you safe. If you have worn high-end helmets, you may, however, feel that the design looks a bit outdated. The built of the helmet allows you to wear it with goggles if you want. They won't press on your temple even though it is a super skinny helmet.
Ventilation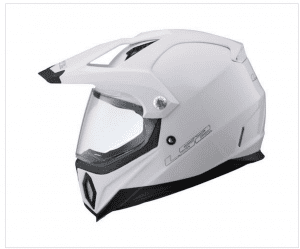 When you are an adventure rider, you may not realize how stuffy it can get inside the helmet. The peak is designed to keep the sunlight out of your eyes without affecting the airflow. The front design helps you to avoid branches when you ride. Maximum ventilation is provided by top, side and chin vents with exhaust ports on the back.
You can adjust the chin and top vents so that you get the exact amount of air you need for a comfortable ride. However, improved ventilation can result in a slightly noisier helmet. It can be troublesome when you ride on the road.
You can manage it with the use of earplugs. If you are used to wearing quieter helmets, this can soon turn out be annoying.
Visor
The optically correct visor is ideal for use with goggles. It is scratch resistant and provides an excellent field of vision. Fogging is usually not an issue, but if you use it in cold weather, you have to be careful.
The visor can be held up or down, and there is no way to keep it partially open. Some bikers feel that the curved shape creates some visual distortion. Sometimes, the visor may allow moisture from the top. You need to get a hang on changing the visor if you want to opt for a visor with sun protection.
Safety
Like all the LS2 helmets, this sports helmet also comes with DOT approval. The multi-density EPS can protect your head even under major impact. This helmet is also ECE 22.05 certified enhancing the safety protocols. It is even more crucial in selecting dirt helmets because you won't know what you will encounter when you take up off-road adventure.
Other Factors for Consideration
The LS2 MX453 solid off-road helmet is good for a sporty ride. However, if you frequently take up adventure trips, you know the importance of communication. This helmet lacks the feature of Bluetooth connectivity which makes it not so adventurous. It is an excellent dirt bike helmet nonetheless. With it, you can get more clearance surrounding the chin area so that you can breathe comfortably off-road.
The MX453 is a great open faced helmet for less than $200. Even if your adventure is brutal, this helmet will always stay as your best pal. With manufacturer warranty, there are significant reasons to consider this helmet, especially if you like the outdoors a lot.