One group proving that love and motorcycles go together is the Single Lovers of Motorcycles Australia Wide (SLOMAW).
The closed Facebook group started in February 2014 with the profile of "Revlove Yew Shone" which is a variation of "revolution" and a reaction to the Queensland anti-bikie laws.
It was created by Queenslander Susan Henderson to allow single people who love motorcycles to meet, go for rides and attend social functions.
"I created the group because I believe motorcycle lovers have a much better chance of having happy, successful relationships together due to their mutual understanding of that common passion for motorcycles," she says.
"Other singles groups to me were more like pick-up chat rooms; the sort of place you don't usually find genuine motorcyclists loitering because they are out riding."
Sue is typical of many women who are coming to motorcycles.
"More and more women are starting to enjoy the passion that is motorcycles too," says the novice rider who joined the motorcycle community "after 40 years of admiration of riders, their code, most motorcycle makes and a deep desire to ride".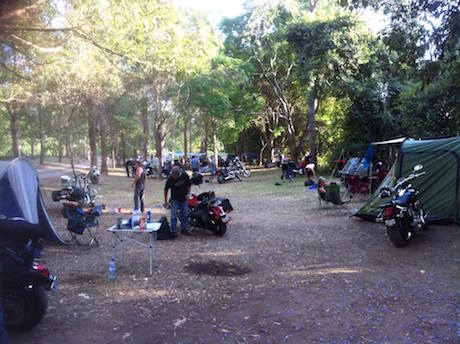 Sue says the Facebook site allows people to post about motorcycles, arrange rides and organise social events. They have also held a maintenance day to share experiences and pass on information about general maintenance.
There are now more than 230 members and Sue says the group has helped many people meet new friends and a number of people have even become couples in the past 18 months.
Sue says there are a few members outside Queensland and she hopes to extend the group nationwide.
The group has a set of objectives, aims and membership requirements that Sue says are self-governing guidelines, not rules, but obviously you have to be single.
"We are not a sleazy, single, hook-up group, but more about making friends and connections for those of us happily single and travelling," she says.