Eight long-lost Brough Superior motorcycles, believed to have been destroyed, have been found in a Cornish village and will be sold at a Bonhams auction in April, 2016.
The bikes were stored in Bodmin Moor barns for more than 50 years and were discovered whole and in parts, under decades of dust, old machinery parts and household clutter.
The bikes were owned by the late Frank Vague, an avid member of the Brough Superior Club.
He acquired the majority of the collection in the early 1960s and they have remained unused for the past half decade.
They will now be offered at Bonhams Sale of Important Collectors' Motorcycles at Stafford on April 24, 2016, at estimated prices of up to £120,000 ($A250,000).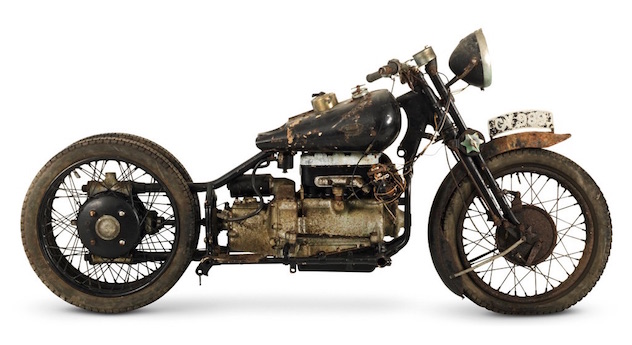 "This is one of the greatest motorcycle discoveries of recent times," says Ben Walker, International Director for Bonhams Collectors' Motorcycle Department.
"A lot of mystery surrounds these motorcycles, as very few people knew that they still existed, many believing them to be an urban myth. There was a theory that they still existed somewhere in the West Country, but few knew where, until now.
"This is the last known collection of unrestored Brough Superiors; there will not be another opportunity like this. Only eight four-cylinder machines were built, and the example in this collection is the final one to be re-discovered."
Brough Superior motorcycles are rare and expensive.
The third-most expensive motorcycle yet sold at auction was a 1929 Brough Superior 986cc SS100 Alpine Grand Sports which fetched £315,100 ($A583,000/$US492,000) at the Bonhams Bond Street Sale in 2014.
They are dubbed the Rolls-Royce of motorcycles and have been owned by famous people such as as playwright George Bernard Shaw and T.E. Lawrence, aka Lawrence of Arabia, who owned eight models.
The Broughs of Bodmin Moor Collection consists of:
The ex-Hubert Chantrey, 1938 Brough Superior 750cc BS4 – £80,000-120,000
1938 Brough Superior 982cc SS100 Project – £60,000-80,000
1926 Brough Superior SS100 – £30,000-40,000
1938 Brough Superior 982cc SS80 Project with Petrol Tube Sidecar – £22,000-32,000
1939 Brough Superior 982cc SS80 Project – £20,000-30,000
1938 Brough Superior 1,096cc 11-50HP Project – £16,000-22,000
1937 Brough Superior 982cc SS80 Project – £6,000-8,000
1936 Brough Superior 982cc SS80 Project – £6,000-8,000