The Bikebuilders workshop can do just about everything from race preparation to custom builds, restorations and even customising wheelchairs for off-road duties.
Leif Martinsen is the talented young mechanic at the head of Bikebuilders, a little garage literally out the back of a house in Albion, Brisbane. This is where the former Yamaha factory race mechanic performs his magic.
On the hoist is a frame for a 1956 Ducati 98 with the engine sitting on the bench. It is testament to the trust that his customers place in him that he has been thrown the resto job for such a rare motorcycle.
But Leif has not been daunted by the prospect; in fact, he reckons it's a breeze and will be finished very soon.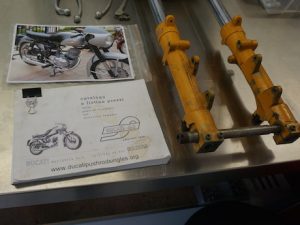 "Early Ducatis are actually quite simple and mechanical and they can be really reliable," he says.
Leif opened the shop in November 2013 with his semi-retired father, Aksel who once had a Ducati, BMW and Triumph dealership in Queanbeyan, ACT.
Leif moved to Queensland about 12 years ago and worked in the Yamaha factory race team during the Kevin Curtain years. He branched out last year with the intention of giving privateers the same level of professional attention as a factory team.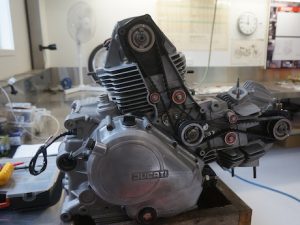 However, it is the custom and restoration side of the business which has outgrown his race preparation work. But that suits Leif just fine as he's a former dirt track and road racer who now loves nothing more than to get out occasionally on his Honda RC250 at historic race meets.
Leif says he can tailor a custom build or resto to any customer's budget. "I give them a business case and stick to it," he says.
His most unusual request was to restore a rare Scott two-stroke triple, but he says the easiest jobs are the 1970s and '80s Japanese bikes which have good electrics and plenty of spares.
Leif does all the fabrication and engine work himself and only outsources chroming and paintwork.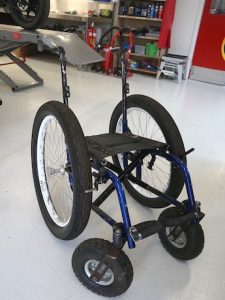 His business has recently taken another unexpected turn with Leif branching out into wheelchair servicing and customising. His partner is in a wheelchair and Leif designed a chair so that she could use it in the sand of Stradbroke Island.
With his early background in the bicycle industry he was soon making custom off-road wheelchairs and even has the contract to service wheelchairs for a hospital and has made a special off-road chair for an Australian paralympic coach. His next project is to put a moped motor in a wheelchair.
Address: 35 Crosby Road, Albion, Brisbane

Phone: 0413 699 203