If you're into towing a trailer behind your motorcycle, this blow-up tent trailer may be just right.
American travellers Mike and Mary Setzer have developed the ScarabRV which weighs just 136kg (300lb) and has a 12-volt inflation system that pitches the tent, providing a queen-sized sleeping area for two.
UPDATE: They launched an Indiegogo crowd-finding campaign in 2015, but in 2017, it still appears they have raised only $210 which is well short of their $350,000 target.
If they ever become available to the public they would cost $US6995. we have no word yet on whether they will go into production, though.
The ScarabRV features a rear door, large front window, sealed fabric floor with storage compartments, LED lighting, 15-watt solar charger and multiple 12V accessory and USB outlets.
But the party trick is the time-saving auto-inflation system that opens in less than a minute and deflates and closes in about a minute.
Mike says the ScarabRV has a low centre of gravity, independent suspension, 12-inch wheels and can easily be towed behind a large touring motorcycle.
While towing a trailer is not everyone's cup of tea, you see a lot more of them on the road these days, especially at Ulysses and HOG rallies.
There are many lightweight trailers on the market and many backyard DIY inventions.
We have no experience in towing behind a motorcycle, but be aware that only one motorcycle manufacturer – BRP who make the three-wheeler Can-Am Spyder – recommends it and towing may void your warranty.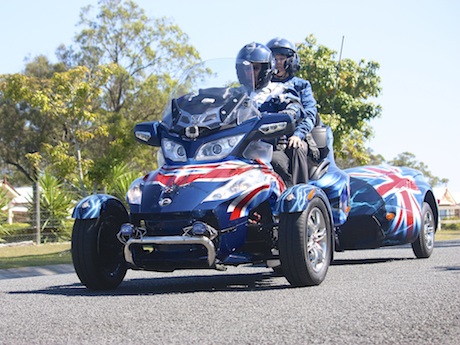 For example, Harley-Davidson say: "Do not pull a trailer with a motorcycle. Pulling a trailer can cause tyre overload, damage and failure, reduced braking performance, and adversely affect stability and handling, which could result in death or serious injury."
The tyre issue is of particular concern as the extra weight and different forces on a motorcycle tyre can cause them to wear quickly or even explode.
We also don't now of any motorcycle tyre manufacturer that issues a warranty for towing.
That is why many riders swap their back tyre for a car tyre; also not recommended.
You should also check whether you are covered by your insurance.