A Lego fan has built a life-size Ducati Panigale V4 R to celebrate the European launch of the scale model version.
While the scale model is 32cm long, 16cm high and 8cm wide, this Lego model is the same size and almost the same weight at 180kg compared with 192kg for the V4 R.
The model is available for €59.99 (about $A102) but you can't buy the life-size version.
It was built by "Lego certified professional" Riccardo Zangelmi in 400 hours using 15,000 bricks and no glue!
Life-size model
Riccardo says the life-size model build was "the most exciting professional challenge I'd ever faced".
"It pushed me well beyond any limit and I succeeded by crossing the finishing line as part of a team," he says.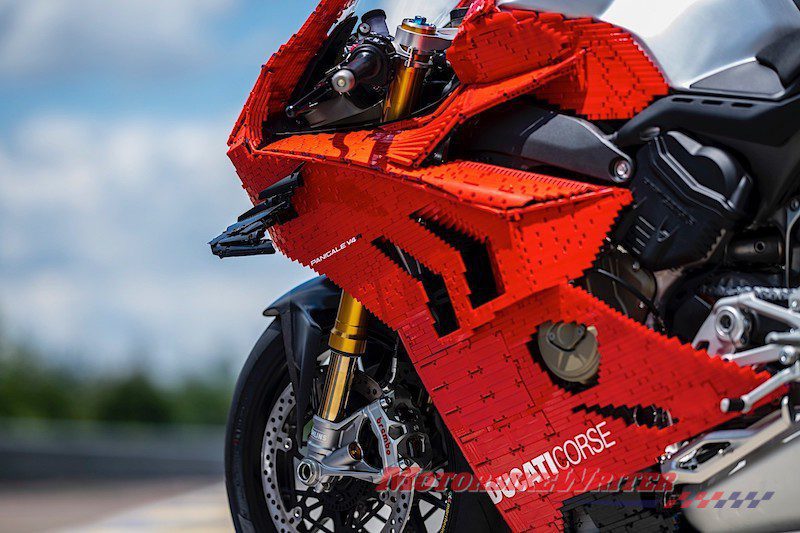 "I approached the project as an official pilot of the Borgo Panigale Company, giving it my all on the track, looking for and overcoming new challenges.
"I was the first to look at the two motorbikes side by side, and I am happy to have captured the DNA that characterises both Lego Technic and Ducati, recreating with bricks the motorbike that is symbolic of Italian excellence."
Lego bike models
Ducati joins Harley-Davidson and BMW as the only motorcycle companies with Lego models.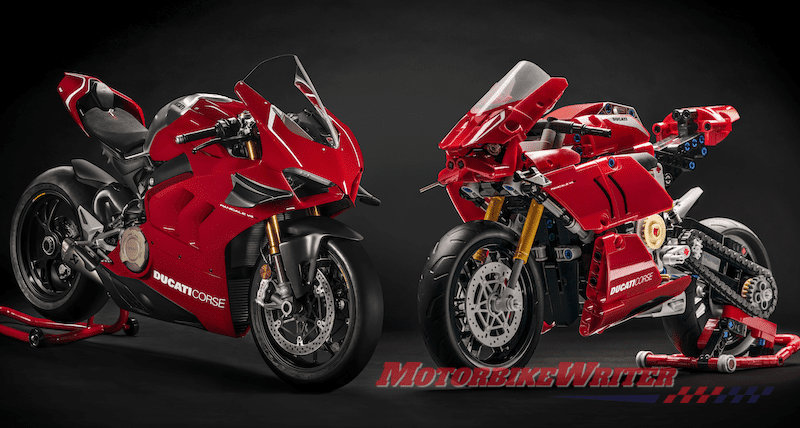 The Lego Ducati Panigale V4 R is the first Lego motorcycle model to include a gearbox.
It joins the Harley Fat Boy ($A159.99) and BMW R 1200 GS ($A104) in the Lego world.
The Lego Duc is made up of 646 pieces which should take some time to put together.
It will be available in Ducati dealerships and the Ducati Online Shop, as well as in Lego stores, retailers and online.
Toy maker Meccano has also joined the action with its licensed and generic motorcycle kits featuring the Ducati Monster 1200S and GP Desmo.