w

BW

 Special Report: Leather With Lycra

Consider this — In the 130-odd years of motorcycling history, we've seen only three types of motorcycle clothing: natural fabrics (mostly cotton), leather and manufactured fabrics (nylon, acrylic, lastex, rayon, spandex, etc.).

Cotton was found mostly in waxed waterproof variants, like the classic Barbour International and the equally famous Belstaff Trialmaster. Although this type of jacket is still worn in the field, it long ago ceased being the jacket of choice for motorcycle owners, with the possible exception of modern-day resto-riders.

Leather in all its variants (cow, goat, 'roo) has been around since the beginning, and there still isn't a manufactured fabric that can beat it for abrasion resistance and all-around motorcycle protection, in my opinion.

When Casey Stoner stops starts wearing spandex instead of leather, I'll change my mind. But in the meantime, "if it's too hot for leather, it's too hot for riding", as the saying goes.

And yes — manufactured fabrics definitely have their place, don't get me wrong. What would modern motorcycling be without mesh, Cordura, Kevlar and jackets like the awesome Rev'it Cayenne (review), the everlasting Joe Rocket Ballistic jacket (review) (now in Version 7.0) and so many more?

In fact, I'd guess that modern textiles make up the vast majority of motorcycle clothing in the 21st Century.

But let's take another look at leather. Think about it: there must be a reason that every MotoGP and World Superbike racer — and many more — wear leather. These racers demand the ultimate in protection, and leather is it.

But there are a few dirty little not-so-secrets about leather that sort of turn people off. It's heavy. It's hot. And maybe the biggest problem is that it's stiff.

In an age where passengers dress in PJ's for an overseas flight (well, sweatsuits anyway) and jeans are acid washed and beat up with stones to make 'em soft, who wants to wear a stiff old cowhide with a 5 year break-in period?

Not me, and not many.

That's where Leather With Lycra comes in. Leather With Lycra (LWL) is an interesting new product that could bring us "back to the future" by making leather comfortable — and perhaps even more abrasion-resistant.

Leather with Lycra is "leather with stretch". It's a new and interesting technology that somehow combines leather with stretchy Lycra with pretty amazing results.

The technology was developed by Invista, a company spun off from DuPont that owns the Lycra brand, along with familiar manufactured fabrics that should definitely sound familiar to motorcyclists: Coolmax, Cordura, Polarguard, Supplex, Tactel, Thermolite and a few others.

The Lycra is combined with the leather (that's the secret process) and it allows the leather to stretch and to retain its shape.

We haven't yet tried any motorcycle clothing made with LWL, but it sure seems like a motorcycle jacket or pants would be a lot more comfortable with LWL than plain old stiff leather by itself — especially if it was used in the shoulders, elbows and knees.

Leather with Lycra is currently used in performance bicycle clothing for comfort and for the abrasion protection that it offers.

Domino Incorporated of Boulder Colorado owns the exclusive license for this technology and they sent us some samples to show you because they think there are many applications for the product in the motorcycling industry.

[UPDATE:  As of April 19, 2010, the company is apparently no longer in business. If anyone can provide information on this, please contact the Editor at the address below.]

So we put together a short video that demonstrates how stretchy the Leather With Lycra material really is. As you'll see in the video, the stretch can be in one direction or in a four-way stretch, which makes it feel more like Lycra or Spandex than any leather I know of.

But comfort isn't the only benefit of Leather With Lycra — it has a few other advantages over plain leather for motorcycle riders. Since plain leather has no memory, it tends to lose its shape over time.

But the Leather with Lycra is supposed to keep its shape almost indefinitely. It's also supposed to be breathable, washable, dryable, crack resistant and water resistant.

Domino also included an interesting graph (below) that shows that Leather with Lycra is something like 16 times more abrasion resistant than Cordura when run through a Wyzenbeek test, which is a standard test used to measure abrasion in fabrics (the other test is the Martindale).

These tests basically use a standard abrasive material that is rubbed back and forth on the fabric with a standard amount of force, and the number of cycles are counted.

Now don't forget that leather will sometimes score up to 100,000 cycles or so on the Wyzenbeek test, but testing to destruction (over 50k cycles) doesn't always prove much.

The Leather With Lycra was kept on the testing machine until a "slight discoloration of material" was noticed at 50,000 cycles. That's pretty good in my book.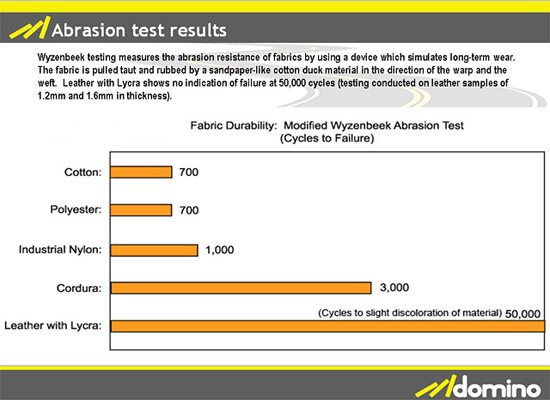 The Leather with Lycra process can be used on any thickness of leather.
There are several thicknesses shown in the video, from the standard 1.2 mm leather used in many motorcycle jackets down to some paper-thin suede used in the seats of bicycle shorts and horseback riding breeches.
LWL can be backed with many different fabrics, such as cotton, nylon, Coolmax or others.
Domino is interested in partnering with motorcycle clothing manufacturers, so one of the goals of this article and the video is to spread the word about the product because we think it would be a useful material for motorcycle gloves, jackets, pants and even boots.
Hopefully we'll see Leather With Lycra in some motorcycle products very soon — and, of course, we'll try to be the first to bring you a review!
[UPDATE:  As of April 19, 2010, Domino is apparently no longer in business. If anyone can provide information on this, please contact the Editor at the address below.]
w

BW

 Video: Leather With Lycra
Note:
 For informational use only. All material and photographs are Copyright © webWorld International, LLC since 2000. All rights reserved. See the webBikeWorld® 
Site Info page
. Product specifications, features and details may change or differ from our descriptions. Always check before purchasing. Read the
Terms and Conditions
!
Owner Comments and Feedback
Other WebBikeWorld Articles Posts