The challenge is to ride more than 650 miles (1046km) around Lake Erie, the 10th biggest lake in the world, on any motorcycle less than 250cc in the shortest amount of time, all in the name of charity.
The annual Lake Erie Loop raises money for the Aluminum Cans for Burned Children Foundation and is held in June.
This year Australian adventure rider Bill Van Kesteren took up the challenge on a Vespa GTV scooter.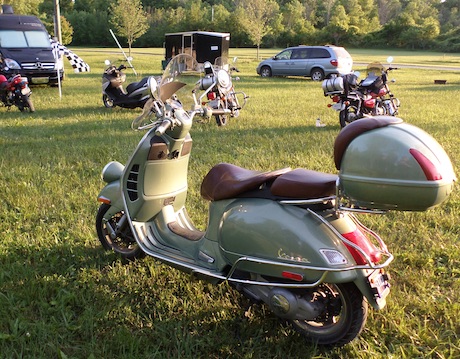 "The primary aim is to raise money for burned kids whose lives are a daily challenge, but the LakeErieLoop also seeks to give the rider a challenge," he says.
"There is no official route or guides on whether you should go clockwise or counter clockwise, use toll roads, or not, all that is asked is that every rider leave and go through Detroit, across Canada into Buffalo, then come back to the camping ground.
"There are a few checkpoints along the way, the location of these checkpoints were revealed the night before in the rider briefing for receipts to be included in your envelope on completion to help ensure fair play amongst the riders."
The event prescribes motorcycles and scooters that are not capable of much higher than speed limits and many use vintage machines to add to the challenge.
Many riders augment their bikes with GPS, auxiliary fuel tanks, highway pegs, comfy seats and much more to make their bike more suitable for the long ride.
The epic ride starts and finishes in scenic Ohio at the Claire Mar camping grounds.
There are five classes in the event, four for "race" competitors and an untimed tourist class for those who just want to contribute to the fundraising.
The bikes are divided into:
Unlimited 50s – if it started life as a 50cc, it's eligible, and vintage bikes 30 years or older up to 110cc.
125s – up to 125cc and vintage bikes up to 160cc.
200s – up to 200cc, any Cushman style scooter with a stock-based motor (no Cushman hybrids) and vintage bikes up to 225cc.
250s – Up to 250cc scooter, and vintage bikes with one carburettor – must be street bike models only, and American-spec bikes.
Tourist class – any size, any bike.
Bill says the event is designed to be tough and give participants a small taste of being uncomfortable, but nowhere near as uncomfortable as recovering burns victims.
"The challenge gives a taste of being uncomfortable and the class you compete in also in some ways dictates how long you endure that discomfort, though you can minimise that through the use of seat pads, windscreens, sunscreen, layered clothing, a good helmet, bottled water, snacks, GPS, etc.
"Others are challenged by mechanical issues that they need to solve to get back to the finish."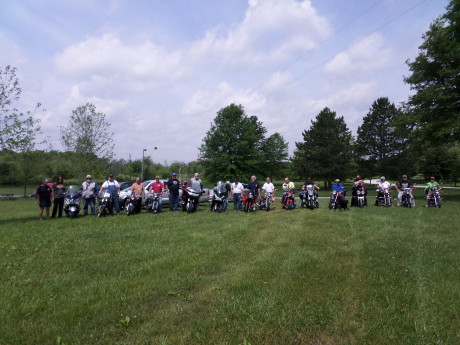 The first rider over the line and eventual overall winner had driven from Phoenix, Arizona, to take part in the event and completed it in 10 hours 30 minutes on a Honda CBR125.
Bill rode his Vespa around the course to second place in his class in 13 hours and 55 minutes, about three hours behind the class winner.
"If I were to take part in the event again I think I would arrive earlier as was still feeling the effects of the flights over during the race and had to stop and get off the bike for a bit as was getting to drowsy," he says.
If you're up for a bit of a challenge, all in the name of raising funds for a worthy cause, this is one for the bucket list.
2015 LakeErieLoop results
Grand Champion: Brian Schrader, Honda CBR125, 10:31
Class I: 1st Bruce Gordon, Yamaha Twin Jet 100cc, 13:20
Class II: 1st Vern Ebert, Honda CB125, DNF
Class III: 1st Tim Gron, Suzuki Burgman 200, 10:51; 2nd Deb Canter, Honda Twinstar 200, 11:46; 3rd Terrie Leighliter, Honda Twinstar 200, 11:46
Class IV: 1st Ray Meyers, Honda Rebel, 10:38; 2nd Bill Van Kesteren, Vespa GTV250, 13:55; 3rd Stan Scott, Suzuki Burgman