Austrian manufacturer KTM has added a slipper clutch to its learner-legal 390 Duke motorcycle … but forgot to tell us about it!
The addition of the safety device that prevents rear wheel lock-ups on downshifts follows the recent announcement by Kawasaki that their new naked LAMS bike, the Z300, will have a slipper clutch.
It seems MotorbikeWriter actually alerted KTM Australia to the addition of the slipper clutch on their 390 models after we read about it being added to the bikes on sale in India.
Initially, KTM Australia said it wouldn't be included on the 2015 bikes on sale here and that's what we reported.
Marketing and Communications Manager Greg Chambers says all the pre-order information, media kit and verbal communication at the recent launch gave no indication of this upgrade.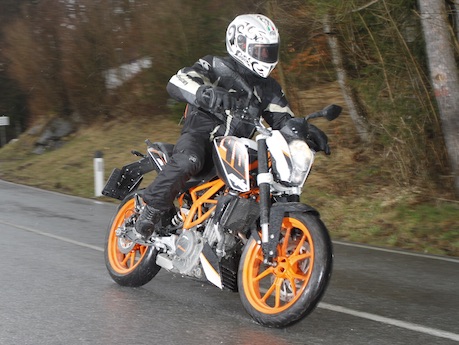 "I even checked the parts fiche on our dealer intranet and there was no change in between 2014 and 2015," he says.
"Unfortunately it looks like there was a communication breakdown between R&D and the sales/marketing department so it was never listed.
"On a positive note it's a key selling feature and a great inclusion as a safety feature for a learner rider."
We're happy to have brought this to the attention of KTM Australia and their legion of fans. It's also great news that manufacturers are adding these vital safety devices for free on learner and novice bikes.
Rear-wheel lock-up is difficult to avoid if you haven't yet learnt how to finesse engine speed with road speed by blipping the throttle as you change down the gears.
A slipper clutch makes downshifts foolproof and prevents dangerous skids.