Protective Mesh for Summer
The first thing that caught my eye was the $54.95 list price for these Komodo mesh motorcycle gloves. I tried them on and then did a double- and triple-take at the price tag, which seemed about 30% lower than I expected. "Must be an End-of-Summer sale", I thought. But it's not — $54.95 is the current list price. If there's a catch, I haven't found it yet. Along with their bargain-basement price, the Komodo gloves seem to be made better with higher quality and they have more features than most or all of the competition.
Known simply as the "Komodo Mesh Glove", they have a very nice appearance and they feel more comfortable than most of the other hot-weather riding gloves I've tried recently. The combination of soft leather and a full-length microfiber-type lining give them a nice cushioned feel. They also have plenty of room for thick fingers. The fingers are a modified box construction with blind stitching used along the outside edges. My feeling is that the gloves run slightly large by maybe 1/3 of a size or so. This means that they may feel a bit loose on a those with narrow fingers.
I normally take a men's size large and my hands are about as average a pair of mitts as you'll likely find, and the bit of extra wiggle room is a welcome feature when riding in the hot weather for which these gloves were designed.
Although the gloves appear to be well made, it's impossible to tell how they might actually hold up when it counts. But unlike most of the other mesh gloves I've tried, which sacrifice protection for air flow, the Komodos at least have plenty of leather on the back of the hands, the fingers and the palm.
Sure, the extra leather means that they flow a little less air than a full-on mesh glove, but I think the tradeoff of a few more drops of sweat is worth if they do a better job at protecting my digits.
The Komodo brand is apparently new, but the relatively vague "About Us" description on their website doesn't tell us much about the company, which sells a variety of leather and textile gloves, jackets, pants, suits and boots.
I'm sure they'll take umbrage to my characterization, but the brand has all the markings of yet another virtual sales and marketing effort that distributes motorcycle gear produced under contract by offshore manufacturers.
This isn't necessarily a bad thing, and although you may argue with the social and economic implications of the business model, if the products are properly designed and manufactured with high-quality materials, the consumer usually benefits.
I can't seem to find a lot of details on the Komodo mesh gloves; for example, it would be nice to know what type of leather is used or what material is used for the thread in the stitches or why this design is better than any other.
The Komodos are double-stitched on the palm, which is rare for a lightweight summer glove, and a mix of single, double and blind stitches are used on the remaining leather. The product literature states that the carbon-fiber-look knuckle protectors are made from "carbon tech", but I'm not sure what that really means.
All they say about the palms is that they are made from "reinforced leather … with overlay".  What this apparently means is that the palms have an extra layer of very soft and nappy leather between the thumb and forefingers and running up under the top of the palm for the first four fingers. Another piece of this soft leather is double-stitched over the heel of the palm, with a tiny section of Kevlar-look padding added at the heel for good luck.
The gauntlets on the gloves are slightly larger than the smallish variety that seems to be in fashion lately, but I still wish they were wider and longer, which would help them fit over a wider variety of motorcycle jacket cuffs.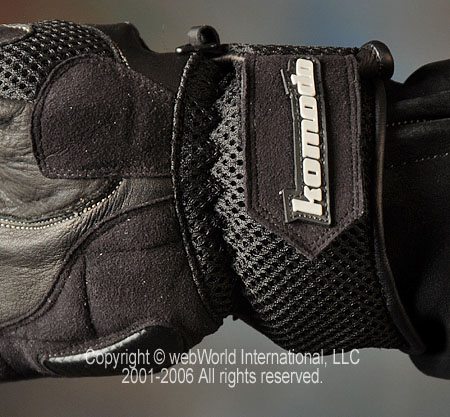 ---
Where to Buy Komodo Mesh Motorcycle Gloves
Check Reviews & Prices on Amazon
Also: Motorcycle Jackets, Motorcycle Gloves, Motorcycle Boots, Motorcycle Pants
---
The only feature I really don't care for is the small Velcro closure used to secure the gloves, which is located on the palm side of the wrist. I'm not aware of any studies that have been conducted on how motorcycle gloves protect a rider during a crash, but it would seem to me that motorcycle gloves should always close on top of the wrist.
Since it's natural to use one's hands and arms to protect against a fall, I would think that the inside of the wrist might bear the brunt of any abrasion and a small Velcro flap would immediately tear open and the gloves could come off the rider's hand.
One of the main gripes I have with many of the summer lightweight motorcycle gloves that I've tried is the use of these small Velcro wrist closures and the absence of a secondary wrist strap. If you can pull a secured glove off your hand by the fingertips, it's not safe. The small wrist closure doesn't do much to keep the Komodo gloves secure, unfortunately.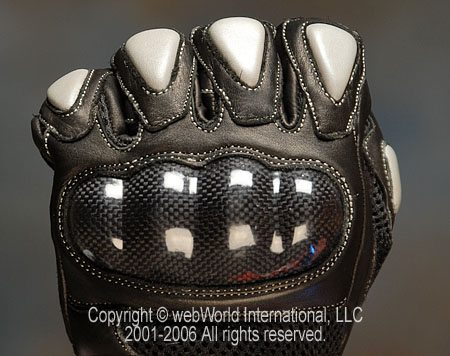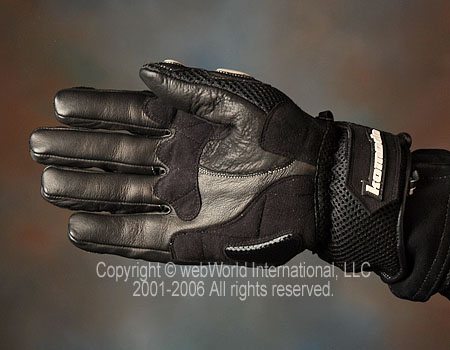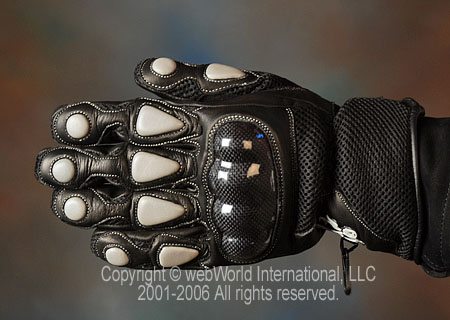 Conclusion
None of the summer gloves that we've tried offer the protective features of a good pair of leather race-quality gloves. But these Komodos do at least have extra leather in the areas where it should count. The extra leather means that they don't quite flow as much air as other brands, but they're comfortable and the price makes them an excellent bargain.
w

BW

 Review: Komodo Mesh Gloves
Manufacturer: Komodo Gear
List Price (2006): $54.95
Made In: Unknown
Colors: Black, Yellow, Red, Blue, Silver.
Sizes: S-XXL
Review Date: September 2006
Note:
 For informational use only. All material and photographs are Copyright © webWorld International, LLC since 2000. All rights reserved. See the webBikeWorld® 
Site Info page
. Product specifications, features and details may change or differ from our descriptions. Always check before purchasing. Read the
Terms and Conditions
!
---
Where to Buy Komodo Mesh Motorcycle Gloves
Check Reviews & Prices on Amazon
Also: Motorcycle Jackets, Motorcycle Gloves, Motorcycle Boots, Motorcycle Pants
---
Owner Comments and Feedback
Other WebBikeWorld Gloves Posts