In its 20th anniversary year, Kobbers Kruiser Klub is inviting riders from all types of cruiser – except Harleys – to join their social motorcycle club.
It started as a social club for riders of metric cruisers from Japan and Europe, says national president Alison "Alleycat" Johnson.
"At a time when the cruiser market was starting to explode, it gave riders of these metric cruisers a forum to share information and enjoy riding similar style of bikes," she says.
"There was the HOG club for Harleys and Ulysses club for over 50s, but there was nothing around for riders who were proud enthusiasts for their Shadows, DragStars, Intruders and the like."
However, the introduction of Korean Hyosung cruisers to the market as well as American Indian and Victory motorcycles has caused the club to expand its membership criteria.
Alleycat says they voted at their 2015 AGM to make some changes to their constitution.
"We've now moved forward from this and pleased to stay that we have broadened our cruisers from Japanese and European only, to all metric cruisers," she says.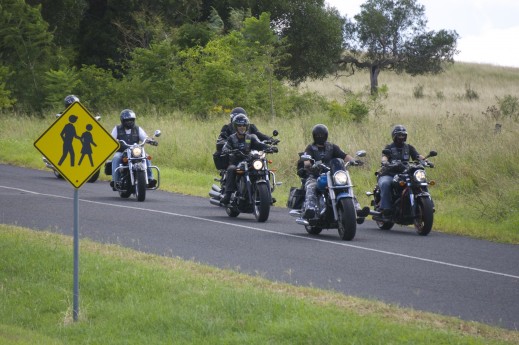 ("Metric cruisers" can mean they quote the engine capacity in CCs rather than cubic inches, or that they use metric fasteners like the Victory and Indian instead of SAE, or simply anything non-American.)
"By opening the club up to a broader range of metric cruisers, we are hoping to attract new riders to enjoy what our club has to offer – riding and enjoying a few laughs," Alleycat says.
"I've been riding for about 25 years (there weren't as many female riders around then either) and I can remember a time when the non-Harley cruisers were fobbed off as "Yama-harleys" and really I feel that clubs like ours have helped these Jap, Euro and other cruisers gain more respect in the riding community."
The Kawasaki Mean Streak rider says the club is "fantastic" at embracing newer riders and helping them gain experience and knowledge about bikes and riding techniques.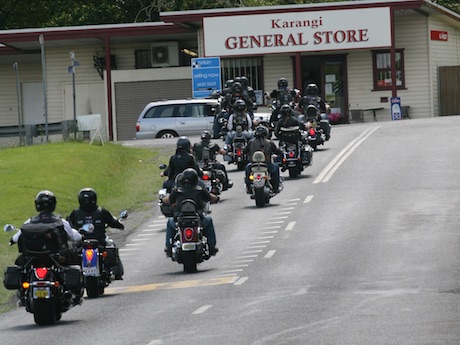 "I was still a novice rider when I joined Kobbers 15 years ago and used to have 'Tail End Charlie' babysit me at the back of the group helping me to improve my cornering.  I was hopeless.  Now I'm national president of the club, lead rides and ride like a demon."
The club was established in 1996 in Sydney by founder "Glove" and a Brisbane Division followed shortly after. In 2013, a third Coffs Coast Division was formed when "Spokes" and Alleycat relocated to the region and established the biker-friendly Idle In café in Nana Glen.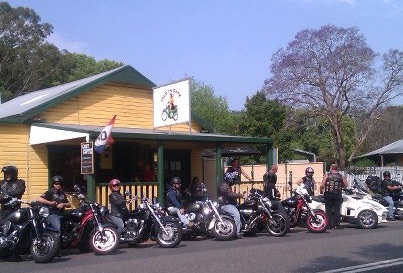 Kobbers now has about 90 members in the three divisions.
When I caught up with the Brisbane division on a social ride, there was already one Victory among the pack, but they expect more brands to join now the club has opened up.
Brisbane Division president "H-Bomb"welcomes the new club constitution – or should that be Klub Konstitution? – saying it will help to keep the club alive.
She used to ride a Triumph Speed Triple, but has moved to a metric cruiser "for the lifestyle".
"Cruisers are more comfortable and it hurts your wrists riding around on a sports bike all day," she says.
Divisions hold rides once a week, attend many charity rides, organise weekends away and attend the three-day AGM in Sawmill on the NSW central coast in October.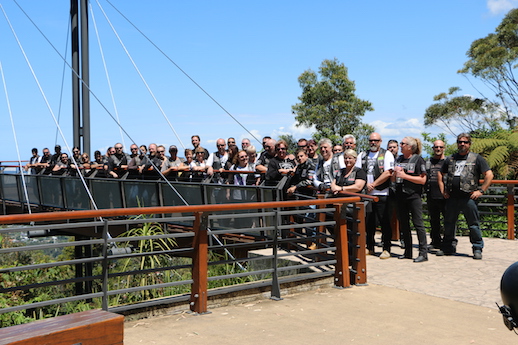 Alleycat says Kobbers is a very active charity fundraiser and participates in events such as the Black Dog Ride, Pink and Blue Ribbon Rides, etc.
In October 2013 Kobbers Kruiser Klub was awarded Bronze Partnership at a "Champions for Children" event held by the Randwick Children's Hospital for raising more than $25,000 through their annual Easter Charity Ride which attracts about 200 bikes. This year the ride will be held on March 13.
If you would like your motorcycle club or charity event to be featured on Motorbike Writer for FREE, please contact us via email.