A spectacular 1941 Harley-Davidson FL Knucklehead V-twin and a 1983 Ducati MHR900 Mike Hailwood race replica head an eclectic range in the annual Shannons Sydney Winter Classic Auction on Monday, August 10, 2015.
The fully restored Knucklehead is unusual as it has the larger 74-cid FL engine which was not officially available until the following year.
Otherwise, the Harley is all period, from its frame up, laden with chrome and sitting on fat 5.00-16-inch tyres.
Among the many rare features that set this Harley apart are its Flanders handlebars, saddlebags with matching and very rare chrome 'spats', front fender bird ornament, mirror visor, high-beam headlight visor, period shift knob and an original saddle, making it a piece of mechanical art.
The bike has covered just over 400 miles (643km) in the past three years. Shannons expects it to sell in the $55,000-$60,000 range.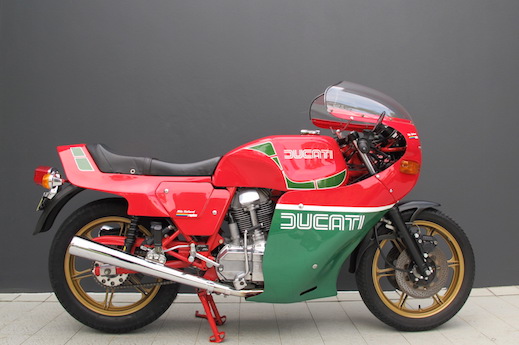 The 1983 Ducati MHR900 864cc Mike Hailwood Replica was one of the last Ducati 900s produced and remains in original condition, with Shannons believing it to be one of the best examples existing.
Coming from a larger private collection of rare cars and bikes, the 'Duke' was acquired following a long search by its vendor for a 'last of series' original bike in pristine condition and arrived in Australia in February 2011.
The bike has been regularly ridden by its owner and serviced by Ducati specialists Gowanloch's in Sydney.
The MHR has just 17,500km on its odometer and Shannons expect it to fetch up to $28,000.
Other highlights include:
2001 Ducati 996S Desmoquattro with just 17,720km in original condition ($8000-$10,000)

Ducati 996SH at Shannons auction

1974 Gus Kuhn Replica Norton Commando 920cc 'Café Racer' based on a 1974 Norton 850 MkII Commando, but with an RGM big bore 920cc kit ($16,000-$20,000)
1960 Matchless G3L 350cc 'Race Replica' offered in totally restored condition ($8000-$10,000)
1986 Benelli 'Montgomery Wards' 250cc from a private collection showing just 3021 miles (4861km) but requiring some recommissioning before use ($6000-$8000)
1956 Lambretta Model D 150cc Scooter in restored and running condition ($6000-$9000)

Lambretta

1951 Velocette Le MkII 200cc that runs, but needs restorations ($3000-$5000)
1959 Harley-Davidson 'Hummer' 165cc in original condition and needs restoration ($2000-$4000)

Harley Hummer