Zero 2 Gloves Review Summary
Zero 2 Gloves Image Gallery
No Liner Needed for Cold and Wet Weather
If you're looking for high-quality, full-featured motorcycle gloves for cold and wet weather, I have a pair for your consideration. The Knox Zero 2 gloves — revised and renamed from an earlier version — are windproof, waterproof, insulated and protective. And they still provide a good amount of dexterity in a reasonable form-factor.
Perhaps best of all, there is no waterproof liner to impede ingress and egress. Waterproofing is achieved via an external bonding process, which has the additional benefit of reducing the amount of rain that is absorbed, not just keeping your hands dry. On the downside, the Zero 2 gloves are pricey. They're not the most expensive gloves in the world by a long shot, but they're not cheap, either.
Also, there is room for improvement in the retention system; some aspects of the gauntlets; and the soak-resistant feature of the gloves is subject to interpretation. I'll detail these issues in a bit. Still, I feel that this is a case of "you get what you pay for." Let's see if you agree. Reading the webBikeWorld Richa Arctic Gloves review, I was struck by the following:
There is nothing quite as frustrating as being in a rush to get somewhere only to discover, as you put your gloves on, that the liner has come out, making it difficult to stuff your fingers in. Richa seem to have stitched the liner to the glove so there's little risk of this happening, a thoughtful design consideration that isn't trumpeted
This has happened to me, particularly when my hands had already been wet from, say, walking out to the bike, before attempting to put on a pair of gloves. It annoyed me enough that I went shopping for a pair of the Richa Arctic gloves.
While browsing the motorcycle glove purveyors — mostly in the U.K. (as Richa is based in Europe) — I happened to come across the Knox Zero 2 gloves. This is not surprising, as Knox is a U.K.-based company.
In any case, I thought: "If a waterproof liner that's attached to the glove is better than one that's not attached, wouldn't it be even better if there were no liner at all?"
As author Nevin Power went on to point out in the Richa review:
However, the outer layers of the gloves, the fabric and leather sections, did soak up quite a lot of water from the extreme downpour. This meant that the gloves became very heavy and this waterlogging reduced the temperature in my hands considerably.
So wouldn't it be a better idea if the gloves eliminated waterlogging, too? Enter the Knox Zero 2 gloves.
Thinking Outside the Box, er, Glove
For the Zero 2 gloves, Knox employs something called "OutDry" technology. According to the Outdry website, the product uses a "one-piece patented construction process that creates a waterproof breathable barrier. This impenetrable layer is heat-bonded directly to the outer fabric, leaving no seams, no gaps, and no way for water to get in."
Put another way on the Knox website, "This patented Technology replaces standard waterproof inserts that are used in all other motorcycle gloves and is a huge step forward in winter glove technology."
Knox also states that the OutDry membrane is "Highly Breathable — The OutDry System prevents moisture build up between shell and membrane which allows body vapour to easily push through the glove, keeping hands dry on the inside."
If there really is "no way for water to get in", that means no waterlogged gloves. I'll be putting this claim to the test in a few minutes, so read on.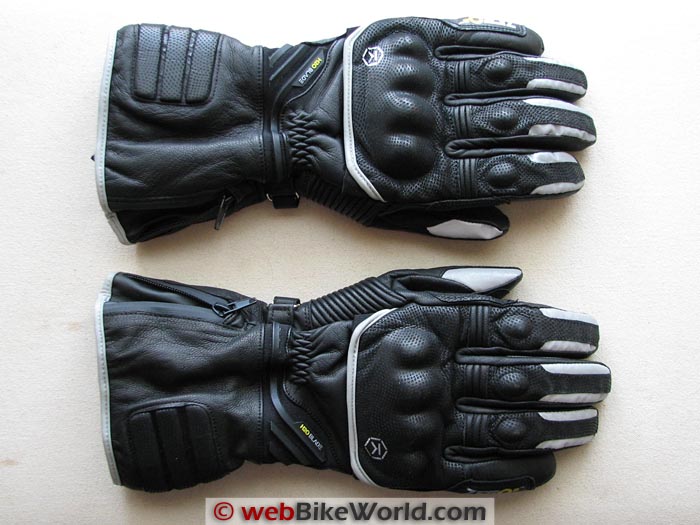 Construction
The Zero 2 gloves are made mostly of smooth goat leather, with kangaroo leather used in some of the palm area.
Over much of the gloves, there is an additional overlay of "Pittards digital goat leather." From what I can discern from the Pittards website, this is a manipulation of bundles of the leather fibers to increase abrasion resistance, and are the areas that look like (but aren't) perforated leather in the pictures. "Digital leather" is found on many of the motorcycle gloves reviewed on webBikeWorld.
For freedom of movement, the Zero 2 gloves have stretch panels on the backs of the fingers, below the thumb, and about a third of the way around the wrist.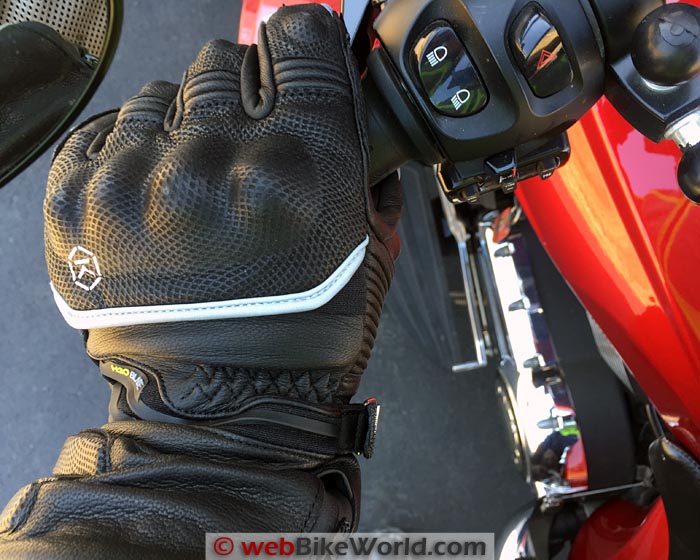 The gauntlet has what's touted as a waterproof zipper, but I'm not sure that's necessary, as there is full (waterproof) leather behind the zipper. As this is a wet-weather glove, the gauntlet is designed to fit inside a jacket cuff. The zipper doesn't change the diameter of the gauntlet very much, and this may present a slight problem, as we'll see in a moment.
Inside, the Zero 2 gloves have a "Bemberg polyester micro fleece liner," i.e., soft and smooth.
Of course, hidden away somewhere between the lining and the leather is the insulation (discussed more later on).
An expected nicety at this price point is the inclusion of special material on the left thumb for visor wiping. This is a soft, rubber-like, ridge, about 1.5″ (3.8 cm) long. There is also reflective piping across the backs and gauntlet ends, and reflective patches on the backs of the fingers and both sides of the thumb.
Last, there are "Silicon prints on Clarino panels on the ends of the first two fingers for increased grip on the brake/clutch levers." I don't know about the technical jargon, but these are the yellow areas that look like fingerprints shown in the photos below. They feel like rubber, and are slightly raised; in any case, they do feel "grippier" than the smooth area below them.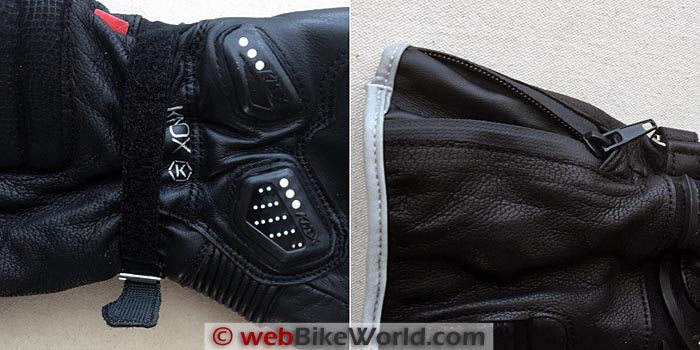 Protection
As Knox has been making motorcycle body armor for decades, it's not surprising that the Zero 2 gloves offer a fair amount of protection, even if you won't find these gloves on the MotoGP circuit.
The tougher "Pittards digital goat leather" explained above is found on the backs of the fingers, the bottom of the palm, and also covers about half of the gauntlet.
Underneath this is a single piece of unyielding material, possibly TPU, across the lower knuckles. Smaller bits of hard protectors are also present for the upper knuckles (except the pinky) and in the thumb-pad area.
Last, in terms of protectors, is the "Knox Scaphoid Protection System", comprising two hard pads at the bottom of the palm. Says Knox: "The SPS allows the hand to slide forward at the same speed as the wearer, reducing the risk of breaks and fractures." I hope not to put this to a real-world test, but sliding a gloved hand across a workbench, with the fingers straight, results in a very low-friction experience.
Glove Retention
For retention, the Zero 2 gloves have a hook-and-loop strap below the palm, i.e., the inside of the wrist area. There's also a an elastic band, sewn inside that area, which I assume is just for keeping in warmth; the band is snug, but not circulation-cutting, so it's all right.
But getting back to the wrist retention strap, it has several questionable aspects.
First, it's almost too short. The Zero 2 gloves fit as intended (see below), but I have to close the strap very near its maximum extension. If you have the same size hands as me, but very thick wrists, this might be a problem.
Next, the strap is just a little bit higher up on the glove than it should be. That is, it comes across the base of my hand, which puts it a touch higher up than the narrowest part of my wrist.
Also, cinching the strap is easy, but undoing it with gloved hands is a little bit of a problem. I'm not sure how you would construct a tab that is easier to grab in order to release it, but then I don't design gloves for a living.
Last, I wonder whether the strap should be thicker. I have no empirical reason for asserting this, but I do have half-a-dozen other gloves that use a similar retention system; in all of those other gloves, the strap and its concomitant hook-and-loop fasteners are wider.
In all fairness, however, the Zero 2 gloves are the only pair in my collection that employs a roller sleeve as part of the loop holder, so I'll give them credit for attention to detail. On top of that, according to email I received from the home office, "All Knox products come with a 12 month warranty against faulty workmanship or materials." Perhaps they really do know what they're doing.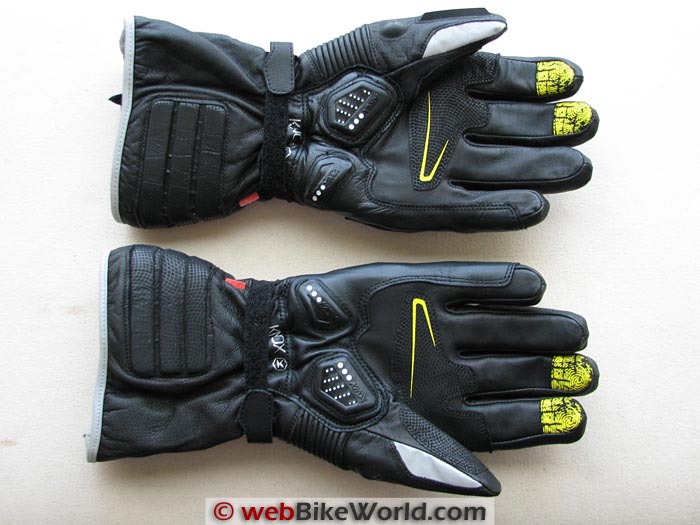 Fit and Sizing
Using the Knox glove sizing diagram (.png image) and a paper ruler, I came away with a measurement of about 22 cm for my hands. Clicking the sizing tab on the Knox Zero 2 gloves home page, that put me between the size medium at 205 mm and the large at 230 mm.
I normally wear a size large glove and — sure enough — the large Zero 2 gloves fit, um, like a glove. I have just a tiny bit of room, on the inside, at the top of all fingers and thumbs.
The bottom line: sizing, it seems to me, runs normal, and the gloves are well-proportioned.
Weight
The Zero 2 gloves information states that it has 115 grams (4.1 oz.) of Primaloft insulation (although I don't know whether that's per glove or per pair). Primaloft is a synthetic down-like material.
An individual Zero 2 glove in size large weighs in at 172 grams (6.1 oz.). That compares to 194 grams (6.8 oz.) per glove for the heaviest gloves I own: the Tourmaster Synergy electric gloves (review) but without the controller installed. (I purchased these from the webBikeWorld Garage Sale at a steep discount almost seven years ago).
My current non-winter-but-chilly-weather riding gloves (which I think will be replaced in my saddlebag with the Zero 2 gloves) are Qwi Nerve Protection gloves (the full-fingered insulated version). These are unarmored but insulated, and weight 82 grams (2.9 oz.) each.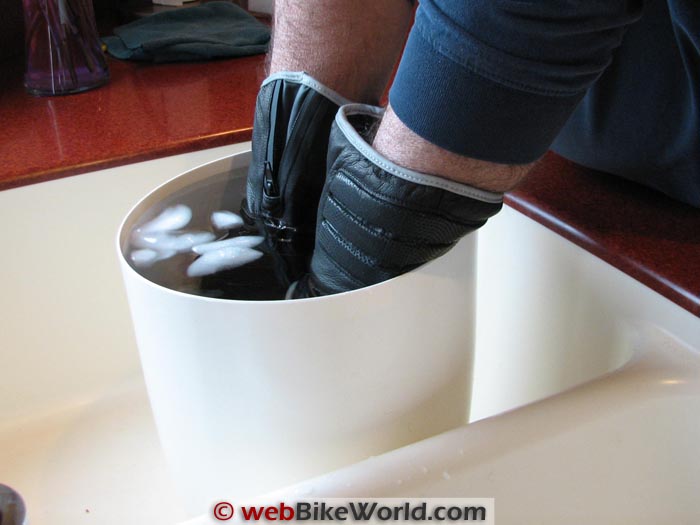 The Bucket Test: Good News and Bad News
According to my research, back in 2004 webBikeWorld introduced a "bucket test" for theRoadgear "Boss" Gloves (review) among its reviews of motorcycle gloves. In that test, motorcycle gloves were submerged for 30 seconds; that duration has grown over the years to either four or five minutes.
In any case, I filled a wastebasket full of ice and cold water, donned the gloves, and submerged my hands in it for more than four minutes.
The result: no problem. My hands were a little cooler than room temperature, but not chilly. And my hands stayed completely dry.
Remember, all of this is taking place in gloves that don't have an inner waterproof liner that you have to fight or in any other way deal with. Instead, you have a nice felt-like soft liner, the sort of liner you might expect in any non-weatherproof lined gloves.
But there was one unanticipated consequence: the gloves do take in some water. Not your hands, mind you, but the glove body.
After removing my hands and the Zero 2 gloves, I shook off the excess and then used a dish towel to lightly wipe off the surface water; no wringing out, just a light wipe down. Each glove now weighed about 270 grams (9.5 oz.), which is about 100 grams (3.5 oz.) more than before the test.
I wouldn't call the gloves soggy or waterlogged to the point where they're overly heavy, but water does get in the seams and under the protectors. I put the gloves back on after that post-test weigh-in, clenched my fists, and I could see bubbles forming and some water coming back to the surface, at various points, while I did this. Enough that I had to use the towel again to dry them.
Remember that quote from Outdry? "This impenetrable layer is heat-bonded directly to the outer fabric, leaving no seams, no gaps, and no way for water to get in."
I guess it depends on how you define "outer fabric" in terms of evaluating that assertion from Outdry. If you discount the protectors, for instance — under which much of the water seems to have been trapped — that statement might be true. Taken as a whole, however, the Zero 2 gloves do absorb some water and thus get a little heavier, so it's appropriate that Outdry makes that claim, rather than Knox.
The good news is that the system works — the Zero 2 gloves are obviously waterproof where it counts, at your hands. And immersing your hands fully in ice water for four minutes is a pretty severe test. Here's hoping you never have to ride in that kind of weather…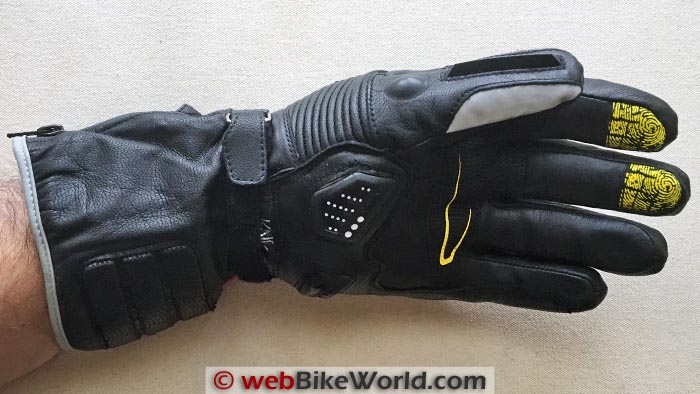 On the Road With the Knox Zero 2 Gloves
Let's get this out of the way first: in actual use, yes, the Zero 2 gloves are windproof and pretty warm.
It's been a crazy winter and spring here, with a lot of snow and salt on the ground, ice patches, and temperatures continuing to dip well below freezing at night. It wasn't until just recently — the beginning of April — that I managed to get some serious riding in.
With the temperature hovering at or slightly above 50°F (10°C), it took about an hour-and-a-half of non-stop riding for my hands to start to get chilly. That is, there was some point while riding that the cold, versus blood flow to these extremities, established an unsatisfactory equilibrium.
I'd rate that a pretty good duration. This was on a faired bike. On an unfaired bike, your mileage may vary; if you plan on staying longer in the saddle in between stops, you need to have better circulation… or heated grips.
The Zero 2 gloves are reasonably dexterous. The fingers are pre-curved for use on the controls. And the "silicon prints" on the first two fingers are a slight improvement over the non-grippy remaining fingers; those fingerprint-looking areas could stand to have those yellow ridges a bit higher, if that's possible.
I did have some minor difficulty when simultaneously using the front brake and throttle. Having the first finger (or first and second) almost straight out and the remaining fingers around the throttle is not as easy to manage as with summer-weight gloves, certainly; on the other, ahem, hand, this position would be much more difficult with bulkier gloves.
In terms of less desirable properties are the gauntlets. First, the zipper pulls are too small. There's not much problem with the first one, but try to grip the second one, with a gloved hand? Forget it. Maybe some aftermarket zipper pulls are in order.
Second, I think the gauntlets should have more width adjustability, and perhaps be a tad longer. With cold weather, I wear a lot of layers, and getting the gauntlets to fit over these layers but under jacket cuffs was difficult.
Conversely, if you want to wear the gauntlet on the outside of your cuff, it may not be quite wide enough if there is a lot of material underneath. Perhaps Knox should enlarge the gauntlets, dispense with their zippers, and incorporate some strap mechanism at the very end for closure.
Another inconvenience of the Zero 2 gloves is the palm area. A modest bunching up of the material there occurred when holding the bars. The throttle side seemed more immune to this problem, probably because of the way that side is placed on the grip, for roll-ons; if I placed my left hand on the grip in a sort of "roll-back" fashion, the bunched material was out of the way, at the very base of the fingers.
What I think Knox should do about this is to have the palm area pre-curved (or more so, anyway), like the fingers. My bike has 1″ bars, and for those with 7/8″ bars (and commensurately smaller grips) this bunching might be bothersome.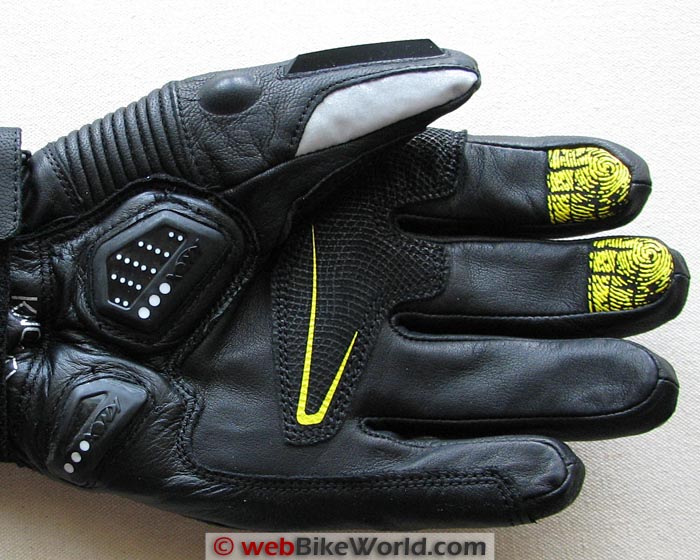 Conclusion
Generally speaking, as a cold weather glove, what you're trading is some huge amount of insulation — say, as found in snowmobile gloves — against dexterity, for use of your bike's controls. I think the Zero 2 gloves pick a nice balance here.
If, however, you do a lengthy commute in near-freezing temperatures, I'd say you need heated grips, in which case the windproof nature of the Zero 2 will help you out. The other alternative, of course, is wearing heated gloves, in which case you may give up the dexterity of the Zero 2 gloves.
As a defense against wet weather, I think the Zero 2 gloves really shine. I'll grant you that in a sustained downpour the gloves will encapsulate some water, given that the outer layer (the waterproofed layer) does not include the added protectors.
However, most importantly, no water gets inside. Also, there is no liner to snag your fingers on, or pull out.
And wet weather generally means a drop in temperature. Here, too, the Zero 2 gloves are up to the challenge, given their significant amount of insulation.
Finally, these gloves afford serious protection. The Zero 2 are the most protective gloves I now own, whether summer or winter gloves. Hard to argue with safety.
Bottom line? The Zero 2 gloves definitely have some areas in which they could be improved, which at this price point may be hard to swallow. (By the way, as a result of signing up for the Knox newsletter — alas, after my purchase — I received a 10% discount code. I don't know whether this works vis-a-vis the U.S. distributor, but you may want to look into it.)
On the other hand, for protection, functionality, and ease of use, as a cold- and wet-riding glove I think they Zero 2 gloves are pretty hard to beat.
w

BW

 Review: Knox Zero 2 Gloves
List Price (2015): £129.99 ($189.95 USD)
Note:
 For informational use only. All material and photographs are Copyright © webWorld International, LLC since 2000. All rights reserved. See the webBikeWorld® 
Site Info page
. Product specifications, features and details may change or differ from our descriptions. Always check before purchasing. Read the
Terms and Conditions
!
Owner Comments and Feedback