All Kleer Plastic Cleaner & Polish Image Gallery
There are few secrets left in motorcycledom, with the Internet and chat groups spreading tips about hot new products nanoseconds after they're discovered.
Unlike the old days, when the Anointed Ones kept the secret scrolls of motorcycling tips for themselves, it's now loads of fun to discover a new product that works.  And that goes double for a product that wasn't originally designed for motorcycling.
Oh, and a bronze oak leaf cluster with gold filigree if the company is a small, privately held firm like Black Lab Corporation, the makers of All Kleer, who have somehow managed to beat the big guys at their own game.
So here's the latest: All Kleer is the hot tip of the week from the webBikeWorld garage.
We thought we were pretty clever when we came upon a dusty bottle of this stuff in, of all places, a tiny private airport in the middle of nowhere.  It's apparently the favored solution for small plane pilots who fly at low altitudes and land on semi-agricultural runways shared with cows.
Cows mean cowpies, cowpies mean bugs and bugs mess up windshields.  Not fun when you're trying to locate the runway from 3,000 feet!
But the joke's on us, because All Kleer isn't such a big motorcycling secret after all.  After talking it up to some friends, I discovered that the product is often found on the shelves of better motorcycle dealers.  So the secret's not a secret, but that doesn't take anything away from the product itself.
I'm not sure if All Kleer was originally designed for use on airplanes, boats (another big market for the stuff) or motorcycles.  It doesn't really matter — perhaps there's a lot of customer crossover between these segments, which have one thing in common — plastic (or polycarbonate) windshields.
All Kleer is claimed to clean and polish, repel dust and inhibit fogging.  The manufacturer says that it works on all smooth plastic surfaces and it "dissolves everything from grease to bugs almost instantly".   We've been using it on motorcycle windscreens and it does work as claimed (a rare feat nowadays) except for the "dissolving bugs instantly" part, to which I'll take exception.
Our experience with about eighty bajillion bug cleaning products has indicated that we should never believe a claim like that, because cleaning squashed bugs from motorcycle parts is about as tough a job as any cleaner will get.  It would indeed be very nice to some day have a cleaner that would instantly remove dried-up bug residue, but it would probably have to be so strong that it would melt the plastic.  In the meantime, we're stuck with soap, water and elbow grease.
All Kleer has a vaguely familiar aroma; it's a sort of sweet smell with a hint of Isopropyl alcohol (the only ingredient listed on the bottle).  I think that somewhere in the database of webBikeWorld motorcycle cleaning and polish reviews, I've smelled this before.  Possibly a co-branded product?
The white liquid must be shaken thoroughly before use.  The directions call for "pouring" it on the surface, generously no less.  I usually spread it on a soft cloth and then apply a thick layer on the windscreen or plastic.  It's supposed to dry but it seems to congeal into a clear, thick coating instead, visible in the "during" photo below.
UPDATE:  See note from Black Lab Corp. in the Comments section below; the directions now call for a thin layer to be applied instead.
It takes slightly more effort to buff out the All Kleer polish than some others we've used, but one of the features of the product is the "super slick surface" that left behind when the polish is removed.  Windscreens really do feel like they have a new slick coating after the polish is removed, and this does seem to help keep the 'screen clean and makes bug removal much easier the next time around.
I've also been using All Kleer to polish motorcycle helmets and visors recently, because I figured that if it works on all sorts of plastic airplane windshields, it must be OK for visors.  But I'm not 100% certain if the Isopropyl is safe for visors?  The label says that it can be used on "car, boat and motorcycle windshields, eyeglass lenses, scuba and ski masks and more".  I'm assuming motorcycle helmet visors are in the "and more" part somewhere.
All Kleer is claimed to repel dust and to have some anti-fogging qualities also.  It does seem to inhibit fogging on a visor and what fogging does occur seems to evaporate more quickly than it would otherwise. I'm not sure about repelling dust; that's a pretty hard claim to prove.
I have been using it quite frequently on motorcycle windscreens, and here are some example photos.  The first photo shows the untreated fly screen I recently installed on the Ducati GT1000.  The plastic actually looks dirtier in the photo than it did when I was standing there — I really didn't notice any dirt on the windscreen, but when this photo is compared to the "after" photo below, there's a dramatic difference.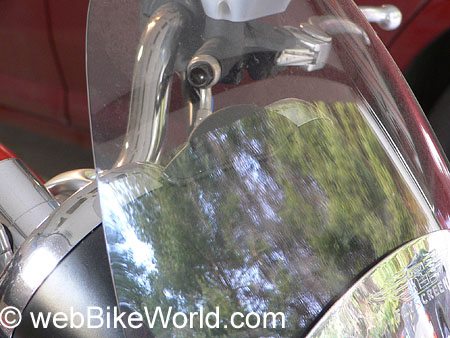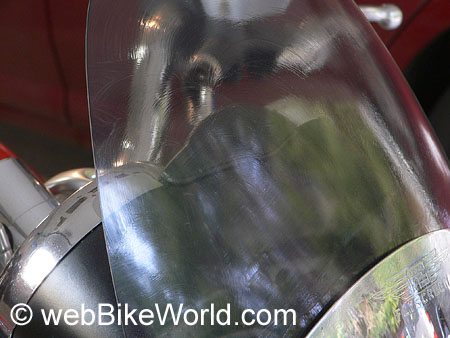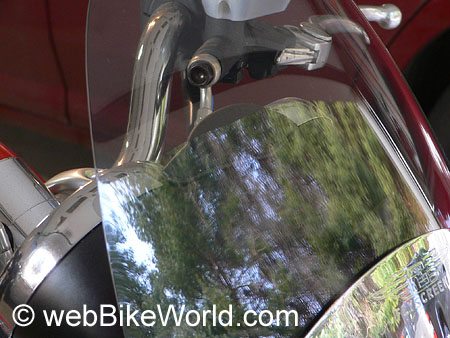 Conclusion
I'd have to say that All Kleer is one of the most effective plastic cleaners we've used around the shop.  Although it doesn't "instantly" dissolve bugs, it does a great job at cleaning plastics, visors and windscreens and its signature feature is the very slick surface it leaves behind, which reduces the effort needed to clean the parts next time around.
All Kleer can be found for as little as $6.95, and an 8 oz. bottle will last a long time, so it's well worth it.
wBW Product Review:  All Kleer Plastic Cleaner and Polish

Available From:  Black Lab Corporation
Made in:  U.S.A.
Suggested Retail Price:  $8.95 (can be found for $6.95)
Review Date:  January 2006
Note:  For informational use only.  All material and photographs are Copyright © webWorld International, LLC – 2000-2011.  All rights reserved.  See the webBikeWorld® Site Info page.  NOTE:  Product specifications, features and details may change or differ from our descriptions.  Always check before purchasing.  Read the Terms and Conditions!
Reader Comments
From Peter Hoyt, CEO Black Lab Corporation:  "Wow – What a great article you wrote about our product All Kleer.  We sure appreciate it.  We have already had someone call up and order some (which is how we found out about being on your website).
We bought this product about a year ago from the inventor (who is a pilot and lives near my home) who originally made it in his garage and sold it to his flying buddies and airports in and around the Ohio, PA area. I ended up with a bottle used it on my boat loved it, tried it on my cycles and loved it even more… (W)e have been marketing it much more aggressively over the last year.  It is still made by hand in about a 200 square foot section of our Chardon Ohio Plant.
One thing I would like to point out that you should try next time you use All Kleer is use it more sparingly than you did with your review.  The directions, saying to use generously, was a carryover from the original bottles from years ago.  Our new bottles (just starting to be distributed) no longer say generously, just apply.
It should be applied with enough to clean windshield, then spread out very thin.  It should dry in approximately 30 seconds to one minute and then rub off almost like a powder.  It should come off very easily and quickly with a dry cloth towel.  If it is hard to get off you are using too much.
It works fine on visors or anything else plastic with the exception of a mirrored or colored film coating (Cheap sunglasses – for example).  Anything tinted is also fine unless it is just a film on the surface…"
---
From "T.B.":  "I love this stuff, but I believe you may not have given the anti-fog capability enough credit.  I have tried a few different rain repellant and anti-fog combinations.  Before All Kleer, the best combo I could come up with was Cat Crap for anti-fog and Plexus for rain repellant.  Both seemed to last an acceptable time before reapplication.  Both of these products were extremely simple to apply, although Plexus has a nasty stench.  Overspray had to be kept out of the chin vent to prevent a choking smell that would linger.
With All Kleer, I am able to ride down the highway on 33 degree F mornings with all the vents shut and no fogging.  Nothing from the time my X-11 was new could do that.  Even at stoplights, I do not need to lift my visor.
The Cat Crap worked pretty well, but would degrade after the first after the first day.  It would require reapplication after a weekend of sitting around (a little too hydrophilic?).
All Kleer seems to be the slickest by touch, but very fine droplets will move from the front of my visor at highway speed with Plexus and not with All Kleer.  Though, with All Kleer, any light swipe with a glove will cause all the droplets to combine and move away via the wind.  This does not leave any smear or smug on the visor, which is truly incredible.
The big benefit with All Kleer is staying power.  It lasts several commutes without degradation.  I find myself reapplying it more to clean off dirt or water spots than because the repellant properties have failed.
The fact that the same product can work on both surfaces of a visor is just icing on the cake.  BTW, I purchased this from mypilotstore.com for $9 shipped."