Motorcycle Seat Cover Image Gallery
Most stock motorcycle seats are perfectly fine for shorter rides in sunny weather.
But if you spend a fair amount of time in the saddle — and not just the "Iron Butt" types — then chances are you do a bit squirming around on that seat.
This can cause the well-known ailment "Rumpus Irritableus" and causes riders to seek solutions.
The solution to the problem can range in expense and complexity, from a seat that's custom-made for just your particular backside to lower-cost alternatives, such as a sheepskin, gel or beaded seat cover.
Or, maybe you've had that custom seat built simply to jazz up the looks of your ride…
Regular visitors to webBikeWorld may remember my review of the KonTour custom seat (review) I had commissioned for my 1999 BMW K 1200 LTC.
That seat is still in service, but one of the few disappointments I have with it is that although it is technically waterproof, the outer covering is above the waterproof barrier and thus it gets wet and remains wet for some time.
With a wet top layer, you can imagine what happens when I place my dry backside on the saddle without spending some time soaking up the water with a towel first — instant wet butt.
Not the ideal situation for comfort in any climate, other than maybe a geography with high heat with low humidity (aka the desert). Under those conditions, a little water combined with some airflow might be rather "refreshing".
Anyway, my solution for preventing Wet Butt Syndrome (WBS) on the LT is slipping a plastic bag over the rider's seat during its bath or when the bike is parked in the rain.
This is a simple, inexpensive solution (of the type that is right up my alley), but an ugly one for sure.
Now, any motorcycle owner with a sheepskin seat pad or the like is more than familiar with WBS and probably has come up with some type of solution like a rain cover, whether improvised or "made to fit".
The alternative is to simply (or not so simply) removing the sheepskin cover each time it rains.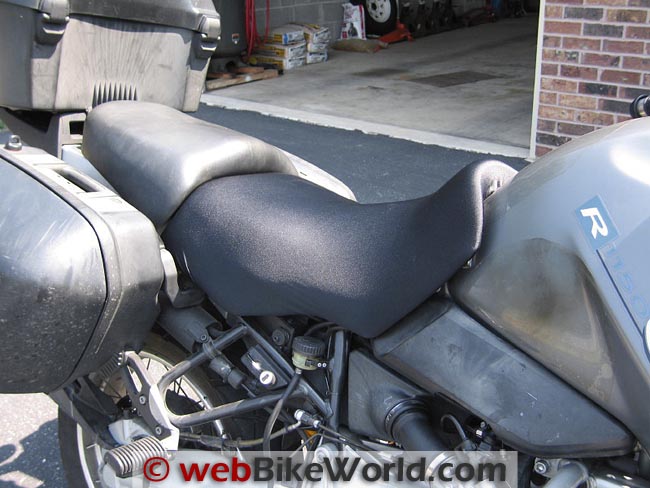 The King of Fleece Waterproof Motorcycle Seat Cover
In addition to preventing Wet Butt Syndrome, a rain cover is often required for a custom saddle because of the holes created by the needles during the stitching process.
These tiny punctures can allow water to reach the padding under the covering which, depending on the type of support material used, can absorb this moisture and retain it for an extended time.
Hmmm…combine moisture, a little bit of heat and a dark place and you've got a great environment for mold and rot.
And another function of a seat cover is to protect the seat material, be it leather, vinyl or something else, from exposure to the elements.
UV rays from the sun can wreck havoc with a high-dollar custom seat.
But no matter which product you've been using to keep your saddle covered, from a plastic bag to a poorly fitting cover, I'm here to tell you that there's an alternative: the King of Fleece waterproof motorcycle seat cover.
Jim Morabito, the owner of King of Fleece, started out with some friends designing and developing winter sportswear, specifically for skiing and snowmobiling, because they were tired of products simply not living up to their claims.
During the design stage, they happened to come across a fabric they refer to as "SplitWeight" which is what they ended up using for their seat covers and sportswear winter garments.
It seems that when the snow is finally gone in northwest upper New York state (that's for what, like 2 months?!) these guys ride motorcycles.
Some of the bikes have custom seats, while others have sheepskin seat covers, and they got sick and tired of their saddles getting wet and staying wet for days on end, whether it be from rain or simply a heavy morning dew.
Ever up for the challenge to find a solution to a problem when it involves his "motor toys", the idea to manufacture a tight-fitting, waterproof motorcycle seat cover was born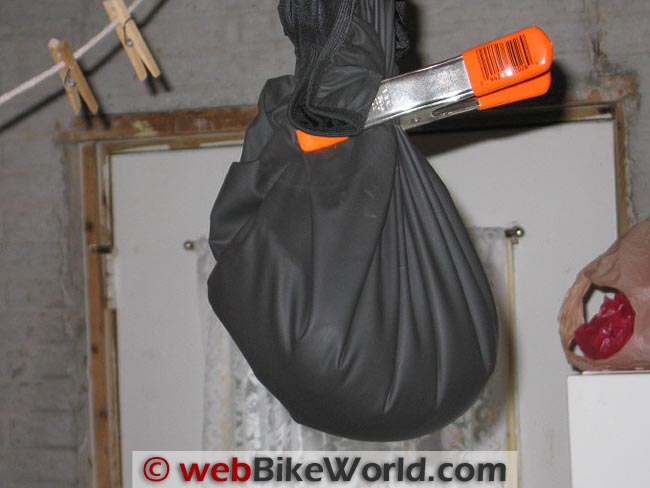 Is It Really Waterproof?
According to Morabito, extensive testing has been done to ensure the fabric will stand up to the task and the claims made by King of Fleece.
To further validate its waterproof capabilities, Jim told me he has a water- and weight-filled cover that has been hanging in his shop for over 2 years without any leaks.
I had to try this one: Using my own "scientific" testing methods, I took the King of Fleece waterproof seat cover, turned it inside out, bunched up the edges, filled it with water and a weight and left it to hang from the ceiling in the basement (photo above).
A few days later, nothing has leaked through, not even moisture.
Morabito also said that also over the last two years, as a test of the strength and durability of the King of Fleece seat cover, he has one tied to his snowplow (I assume on the blade) with no signs of failure.
Remember now, he's in upstate New York where they get a LOT of snow!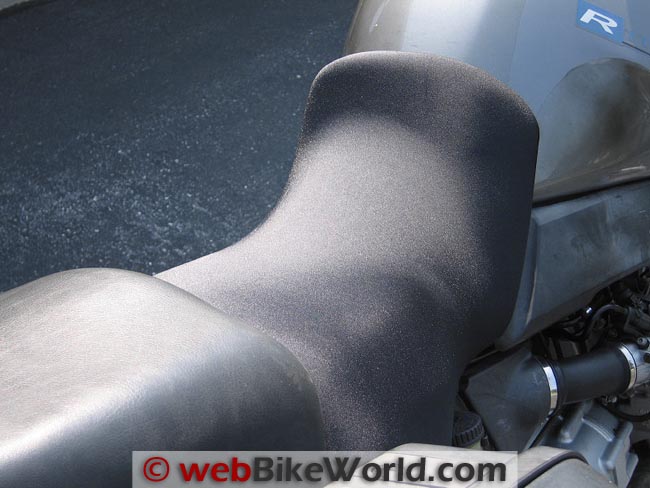 Choosing a King of Fleece Seat Cover
King of Fleece started out with only two or three different sizes and shapes for their seat covers, and although just about any seat could be covered with the selection, they weren't always pleased with the fit.
This lead to the development of a wider range of sizes and shapes that are now available.
The seat cover shown here is the "Type A", but there are dozens of different sizes and types available to fit many different motorcycles, and KoF will also make custom seat covers on request.
Now while the image of a shower cap always comes to mind when thinking about a motorcycle seat cover — puffy, bunched up and frumpy looking — that image couldn't be farther from the truth with the King of Fleece seat cover.
The special SplitWeight fabric has an unusual texture to it — it's kind of rubbery on the underside, yet the top has a silky but coarse feel and the entire cover is also very stretchy.
My wife (the seamstress) described it as feeling something like "rubberized Spandex".
King of Fleece says that the SplitWeight fabric is 100% waterproof and "remains waterproof as it stretches up to its 400% capability" and the material is also "sun/UV resistant".
It's also worth mentioning that there are no seams in the King of Fleece seat covers that can become compromised and which might leak.
I asked Morabito if the fabric used in their seat covers is breathable and the answer is no — but then again my stock vinyl BMW R 1150 GS seat cover material isn't breathable either (nor are most motorcycle seats).
The only seam is along the outer edge of the King of Fleece waterproof seat cover, which is finished with an elastic binding.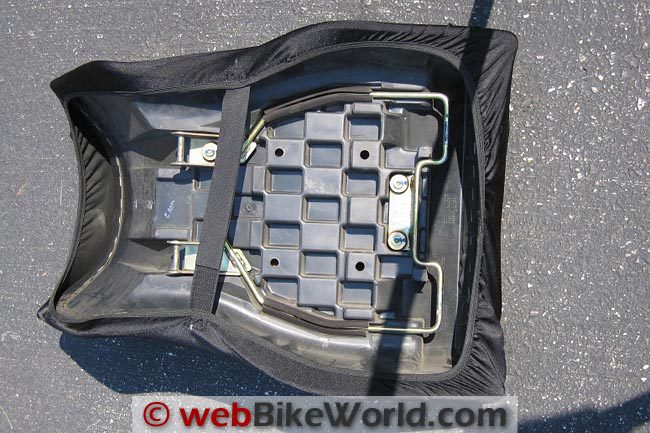 Installing the King of Fleece Seat Cover
The King of Fleece seat cover is attached to the motorcycle seat with a generous strip of 26 mm wide (1″) Velcro that is sewn onto each side of the cover underneath. This is passed under the motorcycle seat, which then holds the cover in place.
That's all there is to it! Installation was a breeze.
I simply removed the seat, flipped it over and starting with the label on the seat cover, which is positioned at the front of the seat, I slowly stretched the cover over the seat and around the edges.
The cover is secured in place with the Velcro strap, which is pulled under the seat frame; the strap can be easily trimmed with scissors if it's too long.
I found that once the cover was in place and the strap secured, I could gently continue stretching the cover over the top of the motorcycle seat for a cleaner fit.
Because the GS seat has such a sharp rise at the front of the seat, the King of Fleece cover doesn't make full contact with the surface of the seat.
But when I'm riding, it stretches and conforms to the shape of the seat without any bunching.
Depending on the make, model, shape and style seat on your ride, you may not even need the strap/straps that come with the cover — you may be able to pull the cover on without removing the seat and secure it with the elastic only.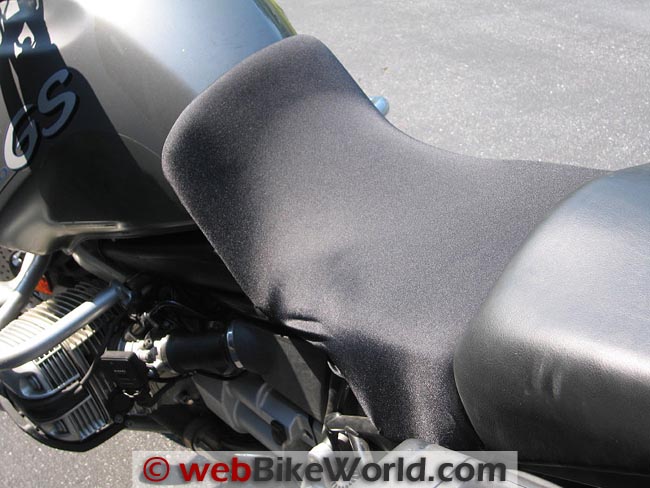 The King of Fleece Surprise!
Now for a surprise — something that's not even mentioned on the KoF website, yet is probably the best part of the seat cover in my mind: I don't slide around on the cover!
The fabric has just enough "grip" — between my pants and the outer layer and between the seat and the underside of the seat cover — to keep my backside from sliding forward, especially when braking, which has always been a gripe of mine with the stock seat.
I have two pairs of the Motoport Kevlar riding pants (review) that are downright slippery when I'm sitting on the stock GS seat, but with the King of Fleece seat cover, the amount of movement is minimal.
By the way, on a lark I tried the King of Fleece seat cover on the BMW LT and it fit like a charm, despite the narrow front on that seat and its "mini backrest" (photo below)!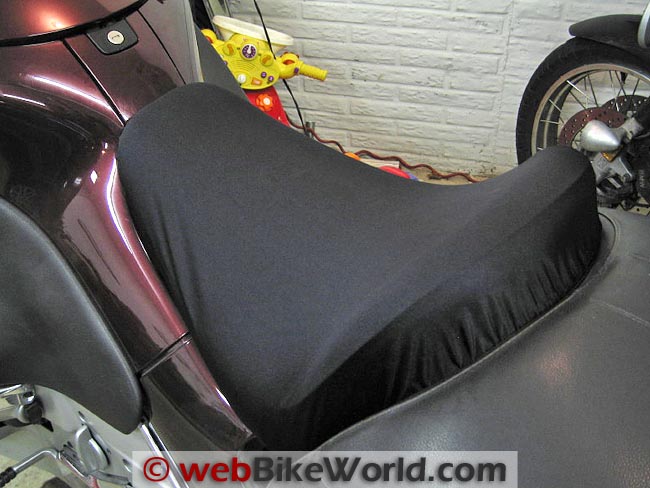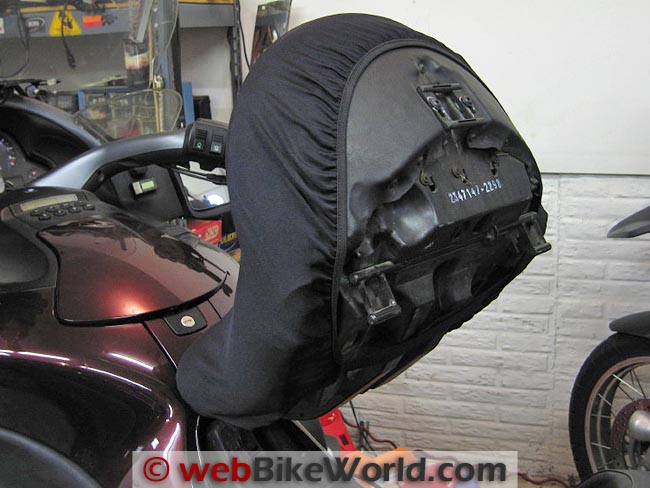 Conclusion
Whether you have a stock motorcycle seat, a sheepskin or other type of seat cover, or if your bike has a custom seat that needs to be protected from the elements, then I'm willing to bet a cover from King of Fleece will do the trick and look good at the same time.
If you've read any of my other reviews you'll probably notice that I'm more of a "form-follows-function" kind of guy, but when you can combine function with good looks at a reasonable price then it's a no-brainer in my book.
Well made with a variety of shapes and sizes available, you're bound to find a King of Fleece seat cover that will fit your bike.
You'll probably find that the cover will be tough enough to leave it on indefinitely, regardless of the weather, but it's easy to remove and it packs small, so it will fit in any luggage or tank bag.
King of Fleece even has waterproof clothing like socks, pants, tops and even boots, all made with the SplitWeight fabric and we'll have to check those out soon too.
Master Listing of All wBW Motorcycle Product Reviews
w

BW

 Review: King of Fleece Waterproof Motorcycle Seat Cover
Manufacturer: King of Fleece
List Price: $89.95
Colors: Black.
Made In: U.S.A. (Imported Fabric)
Review Date: December 2011
Note:
 For informational use only. All material and photographs are Copyright © webWorld International, LLC since 2000. All rights reserved. See the webBikeWorld® 
Site Info page
. Product specifications, features and details may change or differ from our descriptions. Always check before purchasing. Read the
Terms and Conditions
!
Owner Comments and Feedback
---
From "F.R." (January 2012):  "Impressive service and a quality product. I am an owner of a Yamaha Roadliner (Star Series) motorcycle.
The city I live in (Seattle) is known for it's wet climate. For years, I tolerated water in my seat until the day when the water froze and I was riding on a block of ice to work.
That's where the King of Fleece came in. I did some research online and found the King of Fleece website. I could not find a seat cover that specifically matched my bike so I emailed the maker himself. He could not have been more helpful and accommodating.
We established that my seat could fit one of two covers so the KoF mailed me a prototype so I could fit it on my seat accurately. Once I did that, and emailed him the results he shipped me the actual finished product.
He was even cool enough to deduct the price I spent to return mail his prototype for my convenience. It was that easy. The seat is waterproof and the service is down to earth. I can not praise the King of Fleece enough. Well done."
---
From "B.B." (December 2011):  "I've been using this cover for nearly two years and 15,000 miles. It works just like you describe. I have a Russell Day Long seat that will leak through the stitching.
It's a great seat, but I don't want to have one more thing to worry about when touring in the rain.
I leave this King of Fleece cover on all the time. No leaks, and from what I can tell no evidence of wear. I also wear Motoport Kevlar pants so maybe that adds to the comfort factor, but this SplitWeight material has a great feel."