The inaugural Goondiwindi Planes Trains Automobiles and Bikes Festival this weekend (June 6-8, 2015) will feature a 1912 Abingdon King Dick and a world record.
The bike with the strange name is one of only five in Australia, yet in an even rarer coincidence there will be two in Goondiwindi this weekend.
One is owned by Brisbane collector Ian Foote and the other is owned by a Queensland Historic Motorcycle Club member who lives at Goondiwindi.
Ian says the bike with the strange name is named after a bulldog owned by the Abingdon tool factory owner.
The veteran motorcycle will be one of many on show at the festival this weekend.
Another highlight for motorcyclists will be the world record for riding through a museum.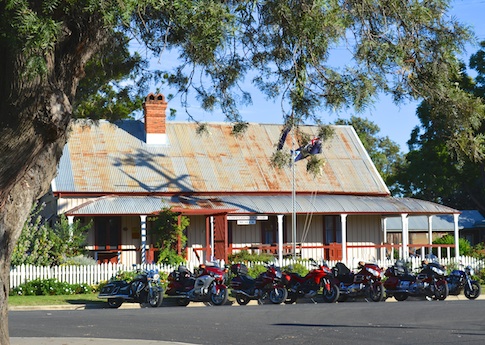 Cr David McMahon says there is currently no such record, so a world record will be set no matter how many bikes roll through the Customs House museum on Sunday at 2pm.
"I'd be happy with a hundred but would be over the moon with a couple of hundred," he says.
Cost is $5 per rider and includes free entry to Customs House. Proceeds go to the upkeep of the historic facility.
The festival is in for some cold, but very clear weather and David says there are still plenty of hotel and motel rooms available "but they are filling up".
"If people decide to come on out at the last minute there is quite a lot of accommodation as we have 736 beds in the town."
Motorcycles will be an important part of the festival with a show and shine judged by MotorBikeWriter, historic bike displays and several motorcycle clubs making the pilgrimage to the Queensland border town, home of the famous Gunsynd race horse.
Riders will also be invited to take part in the Saturday parade, forming up at noon in Mill St near the Jolly Swagman Hotel. There is no need to register first.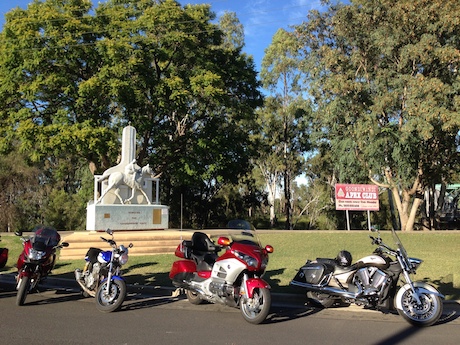 Planes Trains Automobiles & Bikes Festival
Saturday, June 6, 2015
Noon: Street Parade of all cars and motorcycles
12.30pm: McIntyre St closed for vehicle display
1pm: Food, bar, markets stalls
1.30pm: Band performs until 7.30pm
2pm: Registrations open for Motorcycle Show N Shine
2.30pm: MGs arrive
3pm: Steam Train arrives from Warwick
3.30pm: Announcement of winners of show and shine
7.30pm: Festival

 

continues in hotels; Where's Wally party at Royal Hotel
Sunday, June 7, 2015
7.30am: Steam train departs for Toobeah accompanied by Model T and MG cars. Morning tea by local schools. Tickets available at Customs House or through SDSR web site.
Noon: Second steam train trip to Toobeah with lunch provided by local schools.
2pm: World Record for motorcycles through a museum, at Customs House. $5 per rider includes free entry.
Monday, June 8, 2015
Steam Train returns, Model Ts on regional tour.