Keis X4 Bodywarmer Heated Vest Image Gallery
A new arrival at the budget end of the heated clothing market, the Keis X4 Bodywarmer is easy to connect, comfortable to wear, and really takes the chill off.
A heated vest review in June? Why not?
A cozy heated vest can be a motorcycle rider's best friend any time of the year.
And that's especially so in the UK (or the Northwest U.S. or on the south side of the globe, where winter is just setting in…).
In 2006, I bought a heated waistcoat which kept me wonderfully warm…when it was working.
I suffered an endless saga of broken connectors and faulty wires, and eventually decided to throw it out and start again with a different brand.
Technology would have moved on in the intervening three years, I decided, and I'd be able to get something cheaper and better.
Despite the frustrations, I was a convert to heated clothing, which kept me far warmer than bundling up in layer upon layer and as a bonus left me still able to move my arms.
I decided that I would once again go for a sleeveless design; it's cheaper than a full jacket while still heating the all-important body core, and it will fit under a motorcycle jacket without a struggle, allowing you to forget you're wearing it.
Internet research led me to Keis, a new brand distributed by Motohaus Powersports Limited. I bought their Heated Bodywarmer and eagerly tried it out.
Materials and Construction
The outside of the Keis Bodywarmer vest is constructed from 'Dintex', a smooth, breathable fabric. According to the label, this is 93% polyester and 7% elastane.
It's black over the shoulders and dark grey (not 'mauve', whatever my mum says) elsewhere.
This stretchy outer fabric keeps the vest, and the heat, close to your body, and ensures that it will fit under a motorcycle jacket even if you're wearing lots of other layers.
The 100% polyester interior is of soft, velvety microfleece in lighter grey, making a snug layer even with the heat turned off.
The vest is sized from XX Small (36″ chest) to XX Large (48″ chest). It's cut slightly lower at the back than the front, and won't ride up.
The zip is metal and quite small, making it a bit of a fiddle to do up (and the sound it makes when I do sets my teeth on edge), but there's a fabric tab on the pull for ease of grabbing.
The bottom of the zip on my particular waistcoat, it turned out, had a tiny, sharp protrusion which I didn't notice until I drew blood on my thumb with it. I'm going to be charitable and conclude that 1.) this was an abnormal manufacturing error and 2.) I'm clumsy.
The vest has one internal pocket from which the lead emerges. This is where the battery pack would be kept if I were running the vest from that instead of the bike battery, and there are Velcro straps to keep it in place.
There are also two small pockets on the outside.
Personally, I could live without these; I'm unlikely to keep anything in there, since I'll be wearing a jacket over the top, and even if I wanted to they're a little too small to be practical. To my mind they just add unnecessary bulk and fuss.
The vest can be machine-washed at 30 degrees C, though I haven't tried this yet.
As well as removing the battery, the label warns you to 'cover the plug with the cover' before washing, but I couldn't find a cover attached to the vest nor did I recall receiving one in the box. I probably threw it away thinking it was a piece of waste plastic. Oops.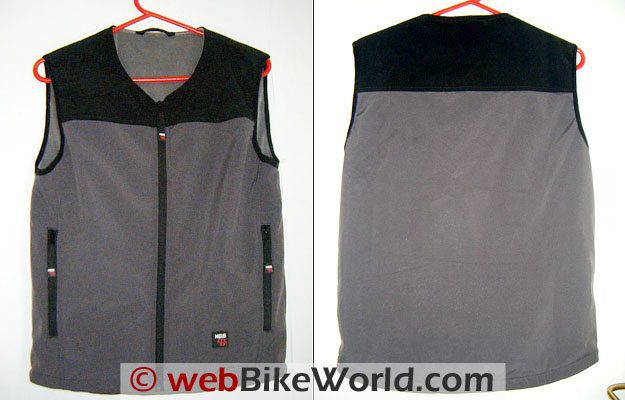 Connecting It Up
Your motorcycle battery can be used to power the Bodywarmer, either from the terminals or from a 12-Volt socket (a cigarette lighter or BMW type plug is available at £9.20).
Alternatively, a Lithium-ion battery pack can be purchased, which fits in the left-hand pocket of the Bodywarmer. It costs £44.99 including a charger.
Personally, I would rather use my bike as the power source; no heavy battery pack to carry, no remembering to pack the charger, and a power supply that will last as long as my ride.
The battery might be a good investment if you have a lower-powered bike, however, or if you want to use the Bodywarmer for other activities (horse-riding and skydiving are suggested on the Keis website).
I'd powered my previous jacket from my scooter's lighter socket, but the plug tended to fall out mid-ride and leave me getting chilly. So this time I attached the connectors directly to the bike's battery.
Connection was simple enough, with clearly labelled positive and negative wires to attach, but I hit a snag positioning the lead. It seemed to me that the cable would go nicely through the gap under the handlebars without interfering with the steering.
The cable fitted, but the diameter of the socket on the end was too wide. Half-way along the lead, a fuse in a bulky rubber cover prevented me from passing the other end through.
I ended up shaving a nick into the plastic panel over the battery and poking the lead out from under the panel edge – a rather ugly solution. I feel Keis could have positioned the fuse better.
The Bodywarmer has a lead with a matching plug. If you have a switch or controller, this fits between the lead from the Bodywarmer and the one from the battery.
It requires a little more force than I'd expected to mate the controller and battery leads, and once it clicks into place it's very securely fastened.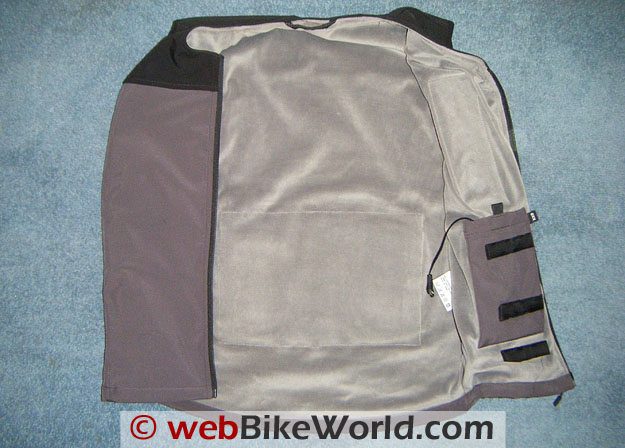 Controls
The incentive I needed to place my order was the limited-time offer of a free controller, which normally retails at £29.99.
This controller doesn't look like thirty quids' worth of kit, it has to be said.
It measures just three inches long by one across — about the size of a remote for a mini hi-fi or iPod — with small, round membrane keys of the type often used for microwave ovens (Using this kind of integral button keeps damp out of the controller).
The four buttons are arranged vertically in a traffic light configuration. From the top: High, Medium, Low and On/Off. There's an LED next to each one so you can tell at a glance which heat level is selected.
With a controller fitted, the power will be off when the plug is connected, regardless of the position in which it was left the last time the vest was used. When it's switched on, the heat kicks in at Medium level.
The keys are easy to press, even with gloves on, but it's difficult to hit the right one without looking.
A sliding switch or a dial would be easier to operate on the move.
(Initially I was going to write that it was 'impossible' to work the controls while riding, but it's amazing what you can do when you leave a motorway service station in sub-zero temperatures only to discover you forgot to turn the heat back on).
Once or twice I've found myself growing cold and discovered that I had somehow managed to press the Off button, perhaps by getting the controller trapped under the hem of my jacket.
Despite these minor drawbacks, I would strongly suggest investing in the controller, or at least a switch (£8.97); otherwise heat can only be regulated by disconnecting and reconnecting the plug, something of a giant pain on a moving motorcycle.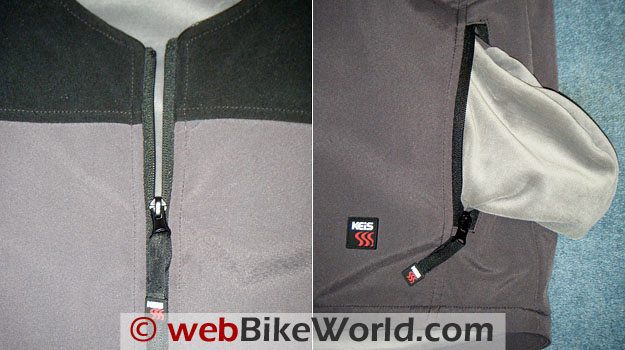 The Heating
My previous heated vest had all-over heat delivered by wires. The Keis uses something called 'Encapsulated Element Technology', where the heated areas are flat patches.
There is one large patch over the lower back and two smaller ones on either side of the chest.
These not only provide a surprising amount of heat, but it feels evenly distributed, so my entire torso is warm rather than just the parts under the panels.
The old Klan vest I previously owned had a heated collar, which I do miss, although I deliberately picked the low-necked Keis because I found the high collar a tight squeeze under my jacket.
At first I also noticed the lack of heat on the tops of my shoulders, but chances are I wouldn't have missed it if I hadn't enjoyed that luxury with my previous vest.
I miss out on some of the heating power due to the high waist of my motorcycle overtrousers excluding part of the heated area. If I tuck the Bodywarmer inside the trousers, it becomes very awkward to extract and connect the lead.
A friend once said of heated gear: "After a while you stop noticing the heat, but you don't get cold". This is true of the Medium heat setting, which most of the time is just right, like Baby Bear's porridge.
In exceptionally cold conditions, I'll switch to High. This produces a fiery glow that's palpable even at motorway speeds.
I don't use the Low setting very often, but it can come in useful for slow, urban riding if you don't want to switch the heat off altogether.
Around Christmas and New Year the UK experienced what for us is very harsh winter weather. I found myself travelling to visit family in freezing temperatures, and going out for a ride on New Year's Day along roads white with thick frost.
To say I was toasty warm during all this would be an exaggeration, but I was comfortable.
I still noticed the cold, especially in my arms (perhaps I should have gone for a sleeved jacket after all?). But the heated vest means the difference between 'a bit nippy' and 'abject misery'.
I've experienced abject-misery cold on my bike many times. It's physically painful and exhausting, it stops you enjoying the ride and impedes your ability to ride safely. With heated clothing, I need never be that cold again.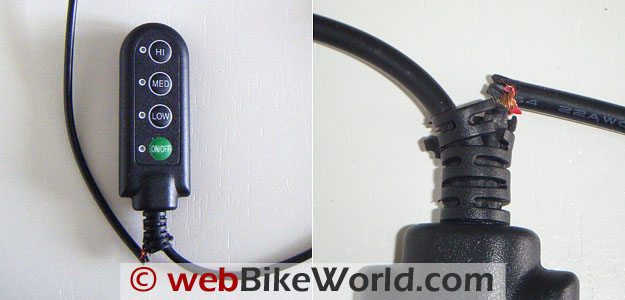 Problems
There's often a price to be paid for being an early adopter, and I had a couple of problems with the Keis. After a couple of months' use, I noticed that the outer casing of the wire leading from the controller had cracked, exposing bare wire.
A sudden lack of heat just as I was about to embark on a hundred-mile journey to visit family was traced to a blown 5 Amp blade fuse in the cable from the battery – triggered, no doubt, by the faulty wire.
Fortunately it's easy to access and change the fuse. I connected the vest directly to the wire from the battery, reflecting as I roasted in my jacket like a potato how useful that controller was.
The lead from the vest itself is also very short, so it was awkward to pull it out from under my motorcycle jacket and connect it to the lead from the battery, and eventually it unplugged itself on the move.
I rang Motohaus Powersports without much hope. Gerbings may offer a lifetime guarantee, but this is reflected in their prices.
I was fully expecting to be told that I must have been handling the controller roughly (I may, possibly, have left the jacket plugged in while rolling the bike off the centre stand, jerking the wire).
Instead, the woman I spoke to could not have been more helpful.
The controllers were out of stock, but she promised to comb the warehouse, speak to her boss and phone around dealers to try and track one down, and to phone me back the next day.
And she did! She hadn't managed to obtain a controller for me, but one would be on the way free of charge as soon as new stock arrived. It took a little longer than promised, but a few weeks later the controller dropped through my letterbox.
Pricing
Motohaus, the official UK distributor for Keis, sells the vest at £99.99. It is, however, available for less from on and offline retailers; at the time of writing you can snaffle a new model for £89.99, and the offer of a free controller is still open.
When I made my purchase, the price just undercut the equivalent at £94.99 for the Exo2 StormWalker 2 heated vest (review).
I'm not ashamed to admit that this, plus the carrot of the free controller, influenced my decision to go with a lesser-known brand. It is certainly by far the cheapest heated item to offer the option of a controller.
Now I've owned my Keis for six months, which included some of the bitterest winter weather in recent British history, I'm satisfied that it's worth every penny of the asking price.
Conclusion
Spring has finally deigned to arrive, and I hear rumours that summer might eventually follow, but I can see my heated jacket will continue to be a take-along companion for most of the year.
Once you've experienced heated clothing on a motorcycle, you're truly spoiled and you can never go back.
Rain and wind lower your body temperature, and I find I get chilled by long journeys on all but the warmest days. For situations like these, the Keis Bodywarmer is as easy to fold up and pack as a sweater — and keeps you much warmer.
My Keis Bodywarmer has come through its first winter with flying colours, despite a few teething troubles, and I hope it will see me through many more seasons.
I don't believe there is a perfect heated jacket that will keep me completely warm and remain trouble-free; there will always be wires to snap and plugs to come loose.
More expensive models might come closer to that ideal than what I've got, but I am more than satisfied with the warmth, styling and sheer convenience of the Keis version.
More wBW Heated Clothing Reviews  |  Motorcycle Glove Reviews
w

BW

 Review: Keis X4 Bodywarmer Heated Vest
Manufacturer: Keis Apparel (UK)
List Price (2010): £89.00 – £99.99
Colors: Grey/Black
Made In: China
Sizes: XXS (36″), XS (38″), S (40″), M (42″), L (44″), XL (46″), XXL (48″)
Review Date: June 2010
Note:
 For informational use only. All material and photographs are Copyright © webWorld International, LLC since 2000. All rights reserved. See the webBikeWorld® 
Site Info page
. Product specifications, features and details may change or differ from our descriptions. Always check before purchasing. Read the
Terms and Conditions
!
Owner Comments and Feedback