KBC Tarmac Helmet Image Gallery
The KBC Tarmac is the most basic helmet offered by KBC.
But it's comfortable and it includes some interesting features. It also feels solid with good build quality.
It meets both DOT and Snell safety standards, rare at this price.
It's New Year's Eve and this will be our last helmet review of the 2008.
We've really been pumping 'em out this year, and I can easily say that webBikeWorld.com features more detailed motorcycle helmet (and other motorcycle product) reviews than any other website, print magazine or other source of information in the world.
Thanks to all the hard work by our evaluators for their contributions during the year, and thanks also to our loyal visitors!
Without your support (and your support of our sponsors!), none of this would be possible. Best wishes for a healthy and prosperous 2009 to all!
KBC is a curious company. We first reviewed a KBC VR-1 way back in…2001?
And, believe it or not, that helmet is still available. Sure, it has a different paint scheme and probably a few tweaks here and there, but the profile is unmistakable.
I guess there's nothing wrong with that, but it sure seems to me that KBC has taken one or two basic helmet shell designs and, well, milked the heck out of 'em.
KBC did release a flip-up helmet a couple of years ago, the FFR. But other than that, the KBC strategy appears to be based on modifying existing designs with new colors and graphics.
For example look at the chin vent on this KBC Tarmac. The same basic design has been used for years and appears on just about every KBC helmet we've tried.
I'm sure the KBC folks would disagree, but I'll leave it up to our readers to decide. And one more thing, while we're on the subject: our opinion remains that KBC quality leaves something to be desired.
We've reviewed several KBC helmets, and every one of them has one or more minor quality issues that are frustrating because they could easily be fixed by paying more attention to the small details that separate the good from the great.
So the bottom line — and I guess I'm getting way ahead of myself here — is that I think KBC needs to step it up a couple of notches.
Sure, new paint and graphics is cool, but we'd like to see some innovation and the flawless quality that motorcycle consumers expect in 2008. Or make that 2009…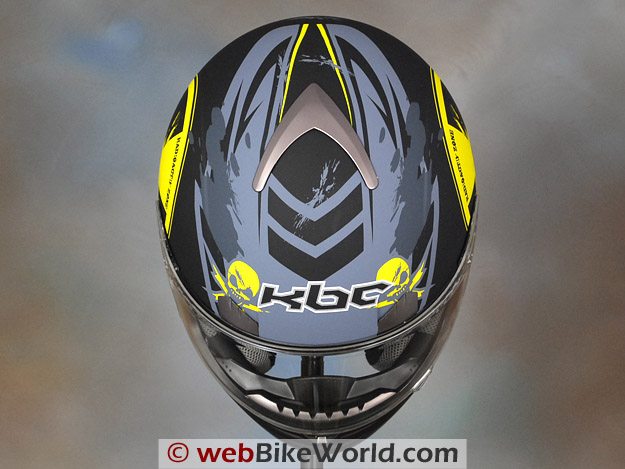 The KBC Tarmac
With that said, you're probably thinking the KBC Tarmac is a bust, right? Wrong.
We've said it before: Price definitely has an effect on a helmet review. It's just natural — surely you're going to hold a $700.00 SCHUBERTH to different standards than a $109.95 KBC Tarmac, correct?
Actually, I have a confession to make. When this KBC Tarmac arrived about 5 weeks ago, RevZilla was running a special sale, and the helmet was priced at $79.99.
The price is what caught my attention, since webBikeWorld visitors are always interested in learning about good helmets at reasonable prices.
So I ordered one in the wild "Radiation" graphics, but I've been having too much fun wearing it and I never did seem to have the time to write about it. Which brings us to New Year's Eve, and here I am at 5:30 am trying to crank this one out to end the year.
The Tarmac is an interesting helmet, and still a good bargain at the current sale price of $109.99, or even at the list price of $149.95. But it has one very curious feature, as you'll discover…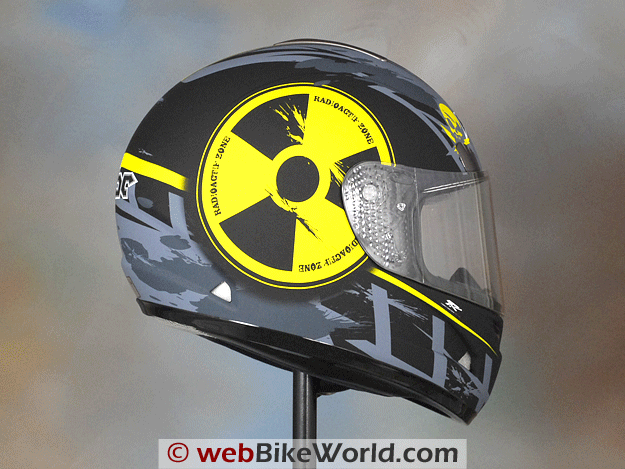 Paint, Graphics and Overall Quality
Let's agree on one thing — the "Radiation" graphics may not be for everyone. webBikeWorld visitors are AC/DC on this issue, either hating or loving wild colors and patterns on their helmets.
I tend towards the wild stuff. I dress pretty conservatively in "real" life, so the anonymity of a helmet and a motorcycle outfit allows me to express my inner self (Did I just say that??).
If you don't like the Radiation graphics, the Tarmac is also available in a white and black "Hammer Head" graphic design with a nice, big skull and crossbones on the back and with your choice of a red, green or yellow stripe down the middle!
Somehow, I have a feeling that the people who don't like the Radiation treatment (get it?) won't be very fond of the Hammer Head either. I love 'em both…
In any case, the Radiation graphics are very nicely applied, with no obvious flaws as far as I can tell. The surface of the helmet has a semi-rubberized feel that's maybe not quite as rubbery as anUrban N20 Astro (review).
The Tarmac finish feels slightly harder and it also is relatively easy to clean, unlike some of the other rubberized helmet finishes in our experience.
The surface also has a matte finish, which helps make the yellow Radiation warning labels really stand out, which I figured was an excuse to buy the helmet because the yellow would be more visible. It certainly is more visible against the rest of the gray/black design elements.
The Tarmac helmet shell is a simple and straightforward design, and the fittings and bits and gaskets all appear to be of very good quality and it all fits together very nicely, with the exception of the clear visor.
The only quality issue on this helmet is a slight gap where the visor does not meet the eye port gasket on either side, and in fact the visor seems slightly loose. I can push on the visor and it moves around more than I'd like.
Fortunately, this hasn't affected the performance of the helmet and it doesn't seem to have made a difference in the noise levels.
The liner is very comfortable, especially for a helmet in this price range, and KBC claims that it's removable, washable and that they even have different sized cheek pads available, a surprise in this price range.
Score: I'll give the KBC Tarmac an "Excellent" rating for overall quality, with the exception of the visor. See the Summary Table at the end of this page for a description of our rating system.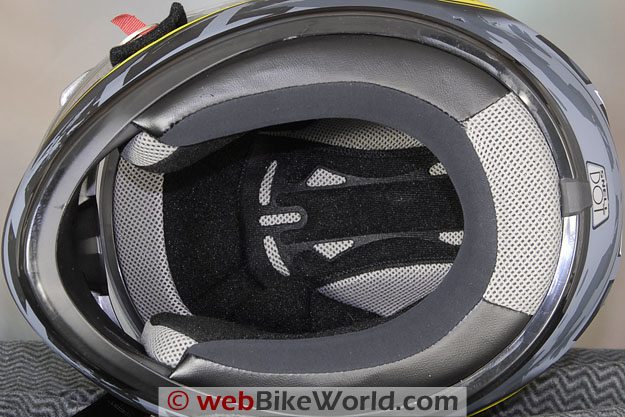 Helmet Fit, Internal Shape, Liner and Comfort
This Tarmac is a size XL and it fits very close to actual expected size. It has a neutral to long oval internal shape, and the XL will probably fit a size 60-61 cm head circumference.
KBC lists their size XL as a 61-62, and while it's possible that a 62 cm head that tends towards a long oval shape may fit, I'm pretty certain that a 62 cm round head will find the XL a tight fit.
The liner is comfortable and feels relatively substantial, which helps blend the fit to a wide variety of head shapes. I'm not sure what I can compare it to. The Tarmac is slightly more round than theFulmer D4 we just reviewed, but like the Fulmer, the Tarmac fits something like the Shark RSX (review), the a Scorpion EXO-700 (review) or EXO-400 (review) or maybe even the Shoei X-11 (review)
To learn more about head shapes and choosing and fitting a motorcycle helmet, please see thewBW Motorcycle Helmet FAQ page, which also includes a discussion on head shapes.
The Tarmac liner looks to be very nicely constructed and although the fabric isn't as plush as the liners used by Shark or Arai, it definitely does not feel like a typical $100 helmet liner material, so kudos to KBC for that.
Now that I think about it, KBC has always offered comfortable liners; if I recall, the original VR-1 had a unique and comfortable liner with a material that felt like soft suede or chamois.
The helmet fits my round head very nicely all the way around, and the bottom of the helmet shell ends just under my chin. The breath guard that KBC installed on the Tarmac is nice, but the top of it just touches my nose. I haven't removed it yet (the breath guard, that is!) but might do so.
The Tarmac does not have a chin curtain underneath the front, so like many other helmets, a lot of air comes up from underneath. In fact, this is the main source of ventilation on this helmet, because, as you'll learn in a minute, the Tarmac as a…let's call it a unique venting system.
As always, remember that helmet fit is crucial to safety and comfort, so make sure you try the helmet on before buying, and try a variety of sizes. The smallest size that fits comfortably is usually the safest.
Score: I'll give the Tarmac an "Outstanding" for a comfortable fit, a nicely constructed and comfortable liner with comfortable liner material.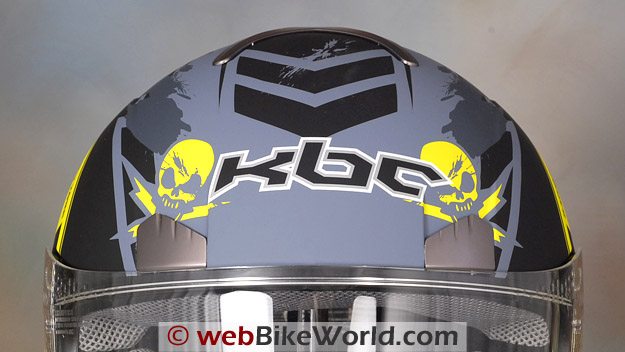 KBC Tarmac:  Note the metal inserts at the top of the shell and above the visor.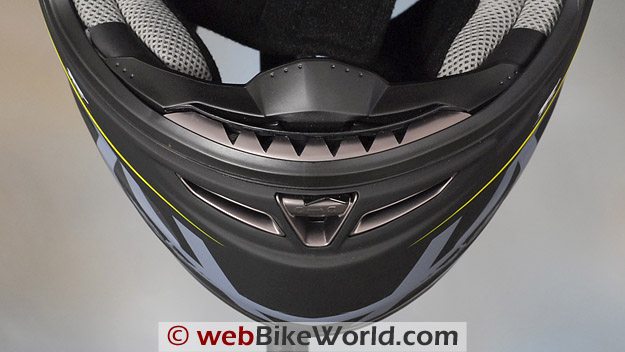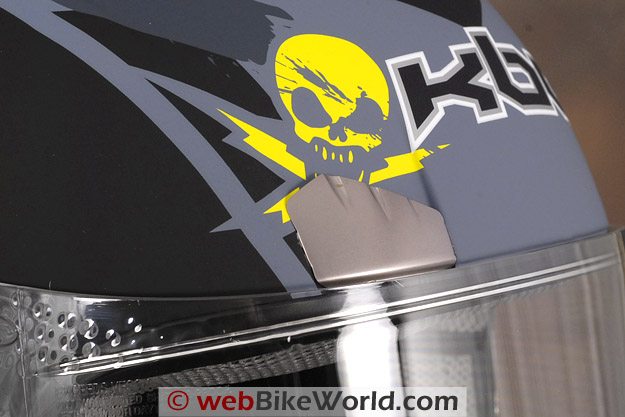 Ventilation
Look at the photos included with this review and you may notice something that I didn't when I bought the helmet: there are no top vents on the Tarmac.
I'm not sure if KBC is guilty of some obfuscation regarding the venting system on the helmet, because instead of stating it outright, their promotional material for the Tarmac states only that the helmet has "Twin open/close air intake vents in the front with rear air exhausts".
By "the front", they mean the chin vent. If you didn't know any better, and haven't actually handled the helmet, and just glanced at the photos — like I did — you wouldn't realize this translates to "No top vents".
But aside from the ethics of the advertising materials, the absence of an upper venting system doesn't seem to make much of a difference. So far anyway — it's winter, and I may be singing a different tune come summer.
Let's face it — the vast majority of helmet venting systems are nearly worthless anyway, so in a sense, KBC is admitting the obvious.
Peel away the line and you'll see that the Tarmac does have a couple of small holes punched in the EPS foam liner, but they don't appear to connect to any type of helmet shell venting channels.
But the top of the helmet shell has a brownish-colored metal plate instead of a vent assembly, and where you'd expect to perhaps find a pair of vent holes in the brow, just above the visor, you'll see that KBC incorporated metal plates instead.
The metal actually works fairly well and adds a different styling touch to the helmet. I suppose the helmet would look strange if those areas were just left blank instead.
The chin vent on the KBC has been seen before — many times. It should look familiar, as it appears to be the same vent used on just about every KBC helmet and other brands that possibly are manufactured under license.
The biggest problem with this vent is the on/off switch, which is a little lever or tab that moves horizontally to open or close a sawtooth opening just in front of the breath guard.
You'll have to memorize which way is open and which way is closed, because a horizontal switch will never be as intuitive as an up/down arrangement.
Not that it makes much difference anyway. With all the air coming in from under the helmet and the tiny openings in back of the visor at the top of the chin bar, it's nearly impossible to tell whether the vent is open or closed.
The helmet has small screen-covered permanently open intakes on either side of the chin bar, and these direct air through the chin bar to the lower portion of the rider's face, and seem to be more effective than the lever-operated chin vent.
Score: This one's tough, because we haven't been able to evaluate the Tarmac in hot weather. I'll give it a "Good", which, for all practical purposes, equates to "Neutral" or "No Opinion" in our rating scale.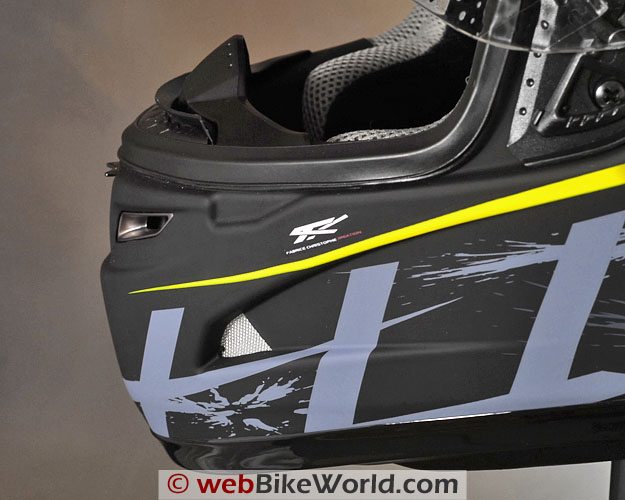 Helmet Weight
The absence of a top venting system doesn't seem to help (or hurt) the Tarmac. This size XL weighs in at 1643 grams (3 lbs., 10.0 oz.), which is just about the average helmet weight for the 106 helmets we've reviewed to date (1639 grams).
For the sake of comparison, the XL Tarmac at 1643 grams is very close to the Shoei X-Eleven at 1635 grams; the HJC FS-10 at 1641; the KBC VR-2 and the KBC VR-3 Stealth (natch) at 1652 grams; and the Icon Airframe at 1657 grams.
Be sure to visit the wBW Motorcycle Helmet Weights page for charts comparing the weights of all of the open-face, full-face and flip-up helmets we've reviewed.
KBC claims that the Tarmac's shell is "constructed using an advanced alloy resin, resulting in a high energy absorption helmet".
Score: The KBC Tarmac gets an "Excellent" rating from me for its relatively light weight and good balance.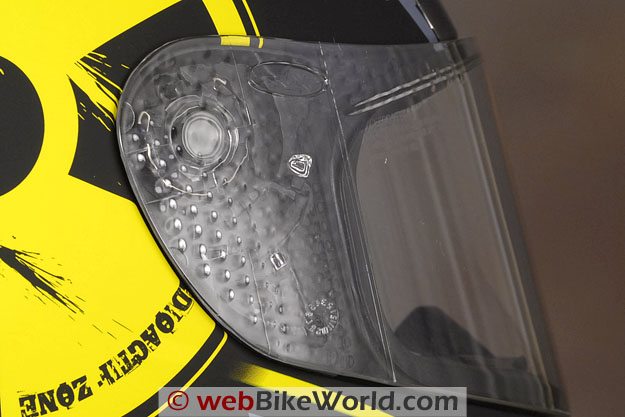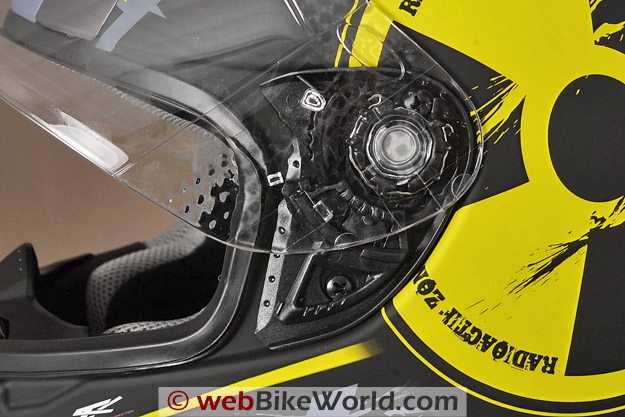 Face Shield
Other than the slight gap problem noted above, the visor on the Tarmac works very well.
It snaps open and closed with authority and moves tightly through four detents from closed to open. It has a nice-sized visor lifting tab on the lower left that can be easily found when wearing gloves.
The visor has a 5 mm molded section that runs across the very bottom that is at a different angle than the rest of the visor.
As this section passes through your vision when the visor is raised or lowered, or if the visor is raised for ventilation, some distortion may be visible. But it remains out of sight when the visor is closed.
The top of the visor has a molded section that acts as a lip that fits over a narrow ridge in the eye port gasket; KBC's "RIB" system.
I believe this is designed to prevent water from running down through the top of the visor. In fact, just for kicks, we poured water down the front of the helmet, dripping it down above the brow, and this visor lip does prevent the water from entering the top of the visor.
So the combination of no top vents and this visor lip system may actually be of great value to motorcyclists who ride in the rain — many of whom have written asking about "waterproof" helmets. I can't say that the Tarmac is waterproof, but it does have all the makings of a helmet that will resist water from above better than many/most other helmets.
The visor also has a unique styling element on either side, with golf ball type dimples molded around the area that covers the visor removal mechanism. These add a nice styling touch and who knows — they may even help with aerodynamics.
The visor is very easy to remove; open it up, pull down on the lever and the visor pops right off. The visor also has very good to excellent anti-fog capabilities and optical clarity.
By the way, the eye port seems average in side-to-side visibility and slightly narrow in the vertical plane. The top of the chin bar seems to intrude into the rider's line of sight. It's not bothersome, just noted.
Score:  I'll give the visor system an "Excellent", including operation, removal and visibility, anti-fog capabilities and clarity. If it fit tight on either side, I'd have given it an Outstanding rating.
Noise Levels
Now you'd think that the absence of top vents, which can sometimes generate noise, would help to make the Tarmac a very quiet helmet.
But its about average — not too loud, not too noisy under a variety of conditions, bikes and clothing options. There's no much more I can say about the Tarmac's noise levels — "average" is the only word that comes to me.
Note that our helmet evaluations are a combined effort of several riders over time on different types of motorcycles with and without windscreens.
Evaluators wear correctly fitted, high quality ear plugs (even when evaluating motorcycle intercom systems).
Always protect your hearing when riding a motorcycle. See the wBW Earplug Reviews for more information on choosing and wearing earplugs.
Note also that perceived noise levels will vary, depending on the individual.
Noise can be caused by many factors, including helmet fit, the type of motorcycle and windscreen, wind speed and direction and even the rider's clothing.
For more information on helmet noise, visit the wBW Motorcycle Helmet Noise page.
Score: The Tarmac gets a "Good" rating for average noise control.
w

BW

 Video: KBC Tarmac Helmet
Miscellaneous
The Tarmac has a comfortable padded chin strap with a double D-ring attachment system that includes a snap for securing the loose end. The chin bar is padded, with EPS, according to KBC. The Tarmac is available in size XXS, which may fit young riders.
The helmet meets both DOT and Snell safety standards and KBC says that it's also available in versions that meet ECE and Australian standards.
Conclusion
The Tarmac is an interesting helmet with a different style, good quality and it meets both DOT and Snell safety standards, all at a very reasonable price.
We reviewed several very good and inexpensive helmets in 2008k, and Tarmac may be near the top of the list, although we don't think it edges out the SparX S-07, which has a nearly identical list price and near flawless quality.
Manufacturer: KBC Helmets (defunct)
List Price (2008): $149.95
Made In: China
Colors: Solids and graphics.
Sizes: 2XS-2XL Shell Sizes: Unknown
Review Date: March 2007
Note:
 For informational use only. All material and photographs are Copyright © webWorld International, LLC since 2000. All rights reserved. See the webBikeWorld® 
Site Info page
. Product specifications, features and details may change or differ from our descriptions. Always check before purchasing. Read the
Terms and Conditions
!
Owner Comments and Feedback
---
From "D.S." (1/10):  "I would have to agree with your review of this helmet. I found a medium for $29.99 at Motorcycle Superstore and had to buy it as it was only $7 more than a new shield for my KBC FFR!
My FFR is a medium so I figured the Tarmac would be about the right fit in medium size.
The fit is definitely snug but not unpleasant due to the comfortable inner liner, however I have noticed just a twinge of pressure on my forehead after about an hour of riding, I'm thinking this will improve as the helmet breaks in.
I'm an eyeglass wearer and find I am able to get my glasses on properly with this helmet, compared to my Arai where I find it quite difficult to seat the eyeglass properly due to the liner.
On the Tarmac this probably has something to do with a fairly open fit around the ears despite the overall snug fit which you would expect create a pretty quiet environment, but again I have to agree with your review, helmet noise is just average.
My Tarmac has a nice finish with no flaws detected. I definitely fall into the category of loving the bolder graphics. Lastly, I was scratching my head at the lack of top vents and I suspect this will not be my go to helmet in the hot months out here.
On the other hand, the combination of the close fitting breath guard and claimed anti fog shield work perfectly and I have not needed to raise the shield for venting on chilly night rides.
This is now my second KBC helmet and I have to say I'm becoming a fan. KBC offers a good product with great graphics, light weight and quality that belies it's reasonable price. To me that makes the Tarmac a solid choice for a street rider."