KBC FFR Helmet Review Summary
KBC FFR Helmet Image Gallery
Flip-up motorcycle helmets seem to evolve at about the same rate as the motorcycle foot peg.
We keep thinking that the market for flip-up (aka modular) helmets will take off any day now, and we'll see light weight, quiet flip-up helmets that meet DOT, ECE 22.05 and the Holy Grail for U.S. riders, Snell approval.
Don't hold your breath. We'll probably see the water-cooled Moto Guzzi first.
This is puzzling, because flip-up helmets seem to have so much to offer. Sort of the best of both worlds; a combination of the full-face and 3/4 length helmet.
But most of the designs that are currently available have been around for three or four cycles more than their full-face counterparts made by the same manufacturer.
For example, the Shoei Syncrotec was released back in the days of the RF-800 if I recall?  Since then, we've had the RF-900, the RF-1000 and the X-11 yet the Syncrotec is still soldiering on. The helmet manufacturers probably know something we don't, I'm sure, and I guess they don't see a lot of sales for flip-up helmets.
So it's always good when a new flip-up helmet is released. KBC has been touting their new FFR in print magazine articles for several months, long before it was actually available. We finally got to see one at the recent Powersports Dealer Expo in Indianapolis (see our show report), the place for U.S. motorcycle dealers to go once a year to see what's new in motorcycle accessories.
We tried to get a pre-production model sent from KBC, and they kept promising to send us one, but they never came through, so we ended up having to wait until the FFR was released for sale. This FFR "Freeze" model is claimed to be a limited edition. The FFR is also available in a modest "Infinity" pattern and in five solid colors.

Design and Styling
On first glance, the FFR holds much promise. It has an appealing design and immediately looks like a modern flip-up helmet, compared to the competition.
The Freeze graphics are interesting in one regard; the helmet has a matte, or flat, finish. This seems to be a popular type of finish on many European motorcycles, but I'm not sure that it will really catch on here in the Land of Bling.
KBC has added a few very nice details on the FFR. The KBC logo on the brow of the helmet isn't just a plain old decal – it's a 3D appliqué that looks like a porcelain cloisonné, even though it's made from vinyl. It gives a rich look to the helmet, especially with the metal-look top vent and chin vent. The vent openings are actually a type of plastic, but look like aluminum all the same.
The rear of the FFR has two nicely integrated exhaust sections, covered in brass-colored real metal screen. These touches of metal also give the helmet a rich look, especially with the Freeze graphic's  matte finish.
All of this would be nice, but let's face it – looks don't contribute to the evolution of the breed. Where the FFR is very different is in the flip-up mechanism, which uses real, live metal, and lots of it. As we shall see, this has its pros and cons, because metal weighs more than plastic, all things considered.
Open the FFR's flip-up visor and you'll immediately feel the difference. The single chin latch underneath the visor has a very positive feel. It can easily be pulled forward to unlatch the visor.
Flipping the visor into the up position reveals a very smooth action with a positive "click" when the visor reaches its uppermost limit.
KBC calls it their "MagCam" visor system, and it also includes metal latches inside the visor that mate to two metal receivers in the lower part of the helmet.
The MagCam system apparently is KBC's answer to the concerns voiced by many potential flip-up helmet wearers regarding the strength of the more commonly used plastic latch systems found in just about every other flip-up (or modular) helmet.
But the MagCam system doesn't mean that the FFR has any special protective qualities. It meets the U.S. Department of Transportation (DOT) requirements and carries the DOT label but does not have a Snell approval.
The FFR is sold in Europe, and although there is no information on the KBC website regarding ECE 22-05 approval, it must meet those requirements when sold there, so we can assume that it does meet the stringent ECE 22-05 requirements.
It's interesting to note that KBC's website states that the FFR "Meets or Exceeds All major worldwide safety standards and tests."
So the American helmet owner is left once again to try and determine if a flip-up helmet will provide any more or less protection than a full-face style.
Someday, maybe, Snell or someone else will develop a thorough and meaningful standard for flip-up (and other) motorcycle helmets that will help consumers make intelligent decisions…
Helmet Weight
As we mentioned above, there is a drawback to the metal-based MagCam visor system, and that's weight.
The FFR in size XL weighs a massive 4 lbs., 1-3/4 oz., or 1865 grams, which is far more than even the next heaviest helmet we've reviewed, the full-face SCHUBERTH S1.
See the wBW Motorcycle Helmet FAQ page for much more information on choosing motorcycle helmets, including a weight comparison chart for every helmet we've reviewed.
On the flip side (pun intended!), I must say that although the FFR did feel slightly heavy when I first lifted it out of the box, and before I put it on the scales, I wouldn't have guessed that it weighed over 4 pounds. However, once underway, the FFR feels all of its weight and then some.
On the Road
It's one of the few helmets I've tried that suffers from lift, which results in a feeling that the helmet is trying to pull back and off my head as I ride. This is surprising, because KBC claims that the FFR "no noticeable drag or lift, this due to the low center of gravity provided due to the MagCam system which allows the face guard to move into a lower position when opened and to click into a firm open position".
The FFR seems to be more affected by turbulence and buffeting than most, and this is especially noticeable when I turn my head from side-to-side during a ride. The internal shape doesn't help matters – the FFR feels like it sits very high on my head; I keep trying to push the top down and pull the chin bar forward to keep the helmet in place.
Helmet Fit
The chin seems like it's right up under my nose, while the top of the visor opening seems way up in back of my eyebrows. The shape, combined with the lift problem, means that I can never get comfortable in the FFR and I feel like I constantly have to adjust it, but I never seem to be able to find a comfortable position.
The internal shape will probably fit round heads best. It seems to be flatter on top, round along the sides by the temple area, and slightly narrow at the bottom. The two magnesium metal receivers on either side of the lower front portion of the helmet dig in to my neck, just below the back of my lower jaw. So far, it hasn't resulted in any pain, but it is noticeable, especially after several hours of riding and combined with the excessive lift.
Unlike many other flip-up helmets, there is a decent amount of chin room in the FFR. It's about equal to a full-face helmet, so just about everyone except Jay Leno should have no problems with front-to-back fit.
Helmet Liner
The FFR's liner is unexceptional. The liner material is rather basic and not very soft; nowhere near the ultra-comfortable liner of the 
Shark RSR
, for example.
Just for the record, when we review helmets, we usually always use a "naked" bike, sans fairing.
Your experience will most probably differ, because every motorcycle and rider will have a unique combination of air flow and each individual's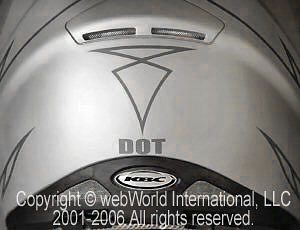 helmet fit is different.
We also always wear correctly fitted earplugs and an accessory helmet liner when reviewing a motorcycle helmet. See the wBWEarplugs and Hearing Protection page for more information on choosing and fitting earplugs.
And earplugs will probably be a necessity for the FFR – my opinion is that this is one noisy helmet. When sitting upright, the FFR seems to generate a higher frequency "rushing" noise that emanates from the top of the helmet.
This is apparently caused by the rotating "ears" of the flip-up visor, which have a small gap that catches the air as it flows over the helmet
Ventilation
The top vent also generates lots of noise when open; it's a big scoop that pops open by pressing a button, and the scoop sticks right out in the air stream. The upside is that it lets in lots of air — the FFR probably has better air flow than any other flip-up we've tried.
The chin vent also lets in lots of air, directing it up on to the back of the visor, which also helps for demisting.
Overall, the FFR gets a thumbs-up for cooling and air flow, and other than the big pop-up grain scoop on top, it does this without all the extraneous doodads and geegaws that most helmet designers seem to prefer nowadays.
The FFR uses the tried-and-true D-ring attachment system, and the straps include a plastic snap to secure the loose end. The D-ring system is the best helmet attachment system available — it's simple, it has no moving parts, it's infinitely adjustable and it works.
Conclusion
I really wanted to like the FFR. From its interesting "Freeze" finish to the metal latch system, it holds lots of promise. I could probably even get past the weight issue if the weight was evenly distributed.
But the fit just doesn't work for me. The helmet feels top heavy, and when combined with the lift problem, it feels like it's being pulled off the back of my head. It's also relatively noisy.
To be honest, I think the Vega Summit XPV is still the flip-up to beat. Although it also is relatively heavy (a common problem in flip-up design, apparently), it has a comfortable liner and its weight is more evenly distributed. Our goal is to provide our visitors with information to help them make informed purchasing decisions, and that's the way I see it.
w

BW

 Review: KBC FFR Helmet
Manufacturer: KBC Helmets
List Price (2005): Freeze – $259.95;  Infinity – $249.95; Solid – $239.95; Matte Black – $245.95.
Colors: Freeze (limited edition). Infinity graphics in Blue, Silver, Red. Solids in Black, White, Burgundy, Silver, Matte Black.
Made In: Korea
Review Date: March 2005
Note:
 For informational use only. All material and photographs are Copyright © webWorld International, LLC since 2000. All rights reserved. See the webBikeWorld® 
Site Info page
. Product specifications, features and details may change or differ from our descriptions. Always check before purchasing. Read the
Terms and Conditions
!
Owner Comments and Feedback
---
From "S.R." (7/09):  "I was in an accident on July 6, 2009 @ 520 AM riding to work with my KBC FF-R sport modular helmet. I have to say thank you for saving my face, I will never ride again without a full face helmet on.
I left for work, 2 miles down the road a dog came out of no were @ 35-40 miles per hour I hit this dog square on. I was knocked out on impact until I started rolling around in the middle of the road. I suffered a shattered collar bone, broken ribs and both hands. My helmet saved my face for sure. I was riding a Honda ST1300, 2006 model and just got a call that it is to be totaled. Bad luck for me. Thank you again."
---
From "G.T." (7/09):  "My helmet search is over thanks to you and your excellent reports. Having most recently had a Nolan N100E which incidentally cracked in two places after four years of use (I am still waiting for Nolan's response on that issue). The newer Nolan and HJC both seem to have additional padding stuffed in a small shell and simply will not fit my head.
Having read some of your reports on the modular helmets I decided to check out the Vemar Jiano. The closest dealer was several miles away but I needed a ride anyway, so I traveled 60 miles to see this helmet. It turns out that their stock was limited to mostly full face type helmets and the only Jiano they had was too small for me. The clerk offered to order one my size and quoted a good price, which was discounted so I said OK.
The helmet arrived within five days and I again went 60 miles to pick it up, it seemed a little small but I figured it would get better with use. I boxed my old helmet and wore the new Jiano home, by the time I arrived I had a headache and had quickly decided the internal sun shield just plain sucked.
It only covers the top half of your line of vision and the glare from the pavement still bounces up under this half shield. Plus the line struck across half of my mirrors and speedometer when holding my head in an up right position. I returned this helmet and suffered a 20% return fee.
So back to reading your articles on helmets, this time I was attracted to the KBC FFR. One reason was because it did not have that stupid half internal sun shield. A local dealer was listed so off I went, I had purchased items from this place before but was hesitant to buy a helmet there due to higher prices, however the new owner seems to be less greedy than the previous owner.
The KBC FFR XL fit like a glove, no distortion in the clear visor, but you were right about the side lift of the visor, it is definitely awkward as the visor wants to twist. To my disappointment they did not have a dark smoked visor in stock, but promised one within a week. I decided I could live with that and brought the helmet home.
You are definitely right about the helmet feeling like it sits high on your head, but this feeling quickly diminishes as I close the front of the helmet. I believe the chin bar seems too high not because it is, but because it extends forward further than some others. You mention ventilation, yes the top vent does in fact allow a lot of air flow. But this little guy seems to get closed all by itself, I have yet to master working this vent with my gloves on.
I man not effected too much by noise as I wear hearing aids and I turn them down when riding and the KBC FFR has lots of internal room to accommodate such instruments.
However a week came and went and no dark smoked visor so I jumped on line and ordered one, it came quickly and I put it on immediately and went for a ride. Great disappointment again, this visor seems dusty, everything looks foggy and looking into the sun it gets worse.
I wrote to the good people at KBC and complained about this condition, eight days later a new dark shield arrived in a box, there was no explanation, just a new shield. This visor seems to not twist near as much when lifting it as the other one did, I checked and they are both the same thickness, perhaps a different material. This one seems more green than smoke but it is clear, it is also clear that KBC is a good company to deal with.
Thank you for your helpful articles."
---
From "H.H.":  "I've owned three bikes and three helmets, a Shoei full-face, an HJC modular, and now a KBC modular. Before I bought the KBC, I shopped around via the Internet since I could find prices substantially less than I could find in a retail outlet. However, purchasing a helmet sight unseen is risky at best.
For instance, I ordered a Caberg Justissimo and was thrilled when it arrived. I had fallen in love with the internal sun shield feature and thought it much better conceived than the Nolan external sun shield (fyi, I never entertained getting a Schubert due to price).
But, even though I'd followed the head measurement instructions to the letter, ordered the correct size accordingly, and thoroughly expected a perfect fit, it was terrible. The helmet flopped side to side (although it was fine front to back), and I quickly became convinced that even though I loved the sun shield, my head would probably not change shape, the helmet would probably come off in an accident – or, I'd end up trying to extract my head from a helmet that had turned sideways.
I thought briefly about getting another HJC, and looked at the Nolan, and Vega, as well, but had found the HJC to be heavy, very noisy, and usually got a pressure point headache after a long ride. Comparing features of the Nolan and Vega with the KBC, I was convinced the KBC offered a tremendous value – IF it fit. I discovered the Harley Davidson dealer had two models of modular helmets – the HJC and the KBC FFR; so I was no longer dependent on buying blind from the Internet.
I tried both on and found the KBC fit like a glove. I was then able to buy off the Internet for a price that was 30% less than the dealer (that bar and shield logo proves what "H-D" stands for – "hundred dollars"). I've since found it to not leak, it seemed lighter to me, much quieter, and the mechanism seemed solid as compared with the HJC. I'm glad the visor tab isn't directly in the middle, since I don't want to accidentally close the chin vent when trying to open the shield.
The chin mechanism is quite solid, having a solid "click" at either end of moving up or closing. While not as quiet as a full-face, it comes close (especially with ear plugs). Hopefully, I'll never put it to the test as far as discovering how well it protects, but for high speed freeway/interstate riding in all kinds of weather, it is a gem."
---
From "K.W.":  "My silver FFR that I bought early last year will no longer latch when closed. I opened the foam padding behind the chin bar to find that the small springs that pull the latch pins into the helmet to lock it are supposed to be attached under tension to posts inside the chin bar, both posts have broken off. This helmet has never been dropped. Even if it was the posts look like they would be protected. I'll try and send photos later. I really like this helmet as it is one of the only ones I've found that fits comfortably.
Yes it does have metal hinges and the latches which are pins that slide into receivers that are metal also. The problem I'm having is the pins are supposed to be spring loaded so they slide open and then closed as you close the face of the helmet. The mounting points for each of two springs broke off.
The mounts are incredibly flimsy looking, measuring about 1/4″ long by 1/8″ wide with a small rubber band at the end to keep the spring from sliding off. The mechanism looks to be well protected even if the helmet is dropped, just really flimsy construction at that one point.
I really like this helmet as it fits perfectly. I called KBC customer service and spoke to William who asked how old the helmet is (2005) and specifically what color (plain silver). I also told him it only had about 300 miles on it. I didn't ride much last year or this due to dropping my last bike (SV650) in front of an oncoming car at a four way stop intersection. Not hurt, just scared witless. Anyway, William said to send the helmet to them and they would fix it, after they had a look at it. I'll keep you posted as to how this turns out. "
UPDATE from K.W., who sent his FFR to KBC for repair:  "I received my repaired helmet on 10-03-06, they paid the return shipping via DHL. They made the repair by replacing the chin bar, I know for a fact it was replaced because I had torn a small section of the foam lining.
Another thing I like about this helmet is the face shield is a little farther away from my face than other helmets which means it does not fog up as easily. I tried using Fog Tech on this helmet after I got it back today and it does seem to work, although you have to be careful and apply an even coating of this product to get good results without any distortion of vision."
UPDATE #2 from K.W.:  "It was not too many days ago I got my KBC FFR back from Mr. William Yoo at KBC Helmets in Burbank. Yesterday 10-09-06 was a beautiful day here in Vermont and I headed out to meet some friends at the scenic overlook, Owls' Head Mountain, twenty miles from my house.
I had debated whether or not to wear all of my protective gear beyond the helmet, jacket and gloves that I always wear it being such a nice day, 60 degrees (t-shirt weather, here in Vermont) and decided that it would probably cool off quite a bit as sunset approached, so I wore everything; Joe Rocket armored textile pants and jacket set, Oxtar Gore-Tex boots, Aerostich gauntlet Ropers, KBC FFR helmet and my lime-yellow safety vest.
After meeting my friends I headed back home and I took the Groton Forest Road (route 232) southbound. The road is very narrow with no shoulders, lots of twists and turns with very sudden changes in elevation, Deals Gap in 3-D, but its southernmost portion was just recently repaved. My wife and I are frequent campers to the area and I thought I was very familiar with the road. Different on a bike I suppose.
As I was coming up to the entrance to our favorite campground I found I was going too fast for the turn in front of the place, hit the brakes and my wheels locked.
There was no room for error as I was already on the outside of a left turn and quickly ran out of pavement, as soon as the wheels hit the soft wet soil on the side of the road the bike fell on its left side with my left foot being squeezed between the peg and the engine casing. The bike stopped moving but I continued sliding down the asphalt on my left knee, left hand knuckles and the face shield of the FFR for about ten feet.
The park rangers on duty, Lisa and Brett, were very helpful in making sure I was alright and in getting the bike out of the ditch it was in. After we got he bike across the road I was surprised it started. My left foot was sore which made shifting a riveting experience.
The headlight housing was broken open and stuffed with grass and soil. I kept trying to ride with the shield open but kept getting dirt from the headlight blown into my face. I hoped the vest which I still had on would alert drivers of my presence and also had installed a Freeway Blaster horn that morning which I gave a toot whenever I came upon someone waiting at a cross road. I managed to make it home before dark without being ticketed for no headlight or disturbing the peace.
The KBC looks terrible but the helmet seems to have faired pretty well except I'll have to order a replacement shield and Fog City insert, the latches are intact, as it didn't suffer any great impact as I was already on the ground when it made contact with the road. When I came to a stop face down I noticed my chin was not resting on the inside of the chin bar. I had also debated earlier as to whether or not to wear the FFR or the HJC replacement I bought after I mailed the FFR to Burbank.
I am sure I could have suffered bruising from the HJC as my chin rests lightly on the inside of the chin bar. From now on it will be *All The Gear, All The Time*. The bike was OK on the ride home but now I have to put together a list of parts to look for on Ebay. I might just keep the bike for parts and buy another like it as it has had a persistent cooling problem since I started riding it this summer".
---
From "S.F.":  "I've owned two of these helmets in the last year. The first helped me survive a back tire blowout at 65MPH and the second was bought to quickly replace the first. I know I don't have much variant experience to compare this helmet to, but it fits me perfectly, doesn't seem heavy (granted, I'm 6′ 3″ / 240 lbs), sits steadily in place without lifting – even in high winds, and has plenty of ear room for plugs or in-ear monitors. I guess it's all a matter of finding just the right helmet for each person, but I am one very satisfied KBC customer."
---
From "J.M.":  "I read the recent article about the KBC Flip Up helmet and couldn't disagree more. I owned a HJC flip-up and while it fit OK, it was a noisy helmet. I bought the KBC and fell in love with it from the first ride. It was much quieter than the HJC, fit me perfectly and vents very well.
I have the Freeze and have received numerous compliments from both older and younger riders. I have no problem with lift, certainly not as much as the HJC, but that may be attributed to its weight. I agree, it is a bit heavy, but I'm hoping that translates into durable. The HJC is now my official loaner helmet.
Helmets are like shoes, keep trying until you find one that fits, is comfortable and wears well – then hope it lasts. I respect your opinion. It's always nice to know what other think."
From "G.C.":  "I must agree with your review, and I have to mention some other points. 2 major problems:
I can't wear ear plugs with this helmet, the inside of the helmet pushes the plugs painfully into my ears. This goes on my list of "stuff to check for when buying a helmet"
The top vent. There's nothing in the manual on how to use it, and while I was trying to figure it out, the vent mechanism completely disintegrated and I wasn't able to figure out how it all fit back together.
2 personal dislikes:
The D-ring system. I hate screwing around with D-rings, especially while wearing gloves. I like the system on my Nolan N-100 where you just stick the tab in, it goes zzzip, and you're ready. Lift the buckle lever and it comes back off. That's ok, I bought an Echo buckle.
The fact that the visor lift isn't in the center of the helmet. This is rough when you're going slow and the thing suddenly fogs over and you're scrabbing around for the thumb catch. I didn't think it would be such a big deal, but it is, especially when the flip-up latch is in the center and you sort of expect it to match.
I do really like:
The latch mechanism & chin room, which was the selling points for me.
The flip-up latch is in the center of the helmet. Very nice.
The simple visor change system is nice too.
I think flip-ups are an absolute pain to design & manufacture, but for guys that wear glasses, it's the only way to go. My N-100 is getting a bit long in the tooth though."