Kawasaki Motors Australia has joined a worldwide recall of the Z125 Pro fun bike over an engine stalling issue.
The official recall notice, issued through the Australian Competition and Consumer Commission says there may be a program error within the Electronic Control Unit (ECU) of the fuel injection system.
"This error may cause engine RPM to drop when slightly opening the throttle during stopping or starting of the vehicle. In the worst case, the engine may stall," the notice says.
Owners are advised to return their Z125 Pro to an authorised Kawasaki dealer to have the repair completed free of charge.
Click here for your nearest Kawasaki dealer.
The list of vehicle identification numbers (VIN) of the affected Z125 Pro bikes (BR125JHF, BR125JHFA, BR125JJFB) is at the end of this article.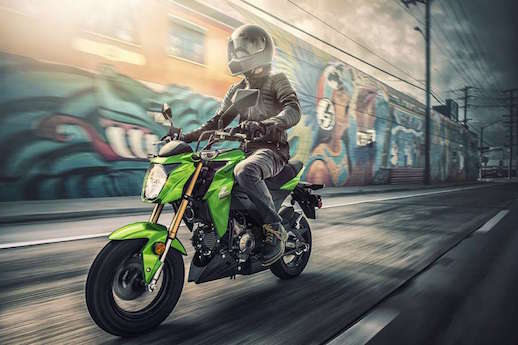 Recall notices are issued by the manufacturer through a voluntary industry code under the ACCC.
Despite hundreds of recalls by various automotive manufacturers, none has ever been mandatory.  All have been issued by the manufacturer.
While any recall is not good news for the manufacturer, it shows that they are largely diligent in fixing problems.
If you believe there is an endemic problem with your bike that should be recalled, contact the ACCC on 1300 302 502.
To check whether your motorcycle has been recalled, click on these sites:
• USA
• UK
• Canada
Affected Z125 Pro bikes
| | |
| --- | --- |
| VIN # | Model |
| JKABRRJ1XHDA00051 | BR125JHF |
| JKABRRJ11HDA00178 | BR125JHF |
| JKABRRJ13HDA00179 | BR125JHF |
| JKABRRJ1XHDA00180 | BR125JHF |
| JKABRRJ11HDA00181 | BR125JHF |
| JKABRRJ13HDA00182 | BR125JHF |
| JKABRRJ15HDA00183 | BR125JHF |
| JKABRRJ17HDA00184 | BR125JHF |
| JKABRRJ19HDA00185 | BR125JHF |
| JKABRRJ12HDA00187 | BR125JHF |
| JKABRRJ14HDA00188 | BR125JHF |
| JKABRRJ16HDA00189 | BR125JHF |
| JKABRRJ12HDA00190 | BR125JHF |
| JKABRRJ14HDA00191 | BR125JHF |
| JKABRRJ16HDA00192 | BR125JHF |
| JKABRRJ18HDA00193 | BR125JHF |
| JKABRRJ1XHDA00194 | BR125JHF |
| JKABRRJ11HDA00195 | BR125JHF |
| JKABRRJ15HDA00197 | BR125JHF |
| JKABRRJ17HDA00198 | BR125JHF |
| JKABRRJ19HDA00199 | BR125JHF |
| JKABRRJ11HDA00200 | BR125JHF |
| JKABRRJ13HDA00201 | BR125JHF |
| JKABRRJ15HDA00202 | BR125JHF |
| JKABRRJ17HDA00203 | BR125JHF |
| JKABRRJ19HDA00204 | BR125JHF |
| JKABRRJ10HDA00205 | BR125JHF |
| JKABRRJ12HDA00206 | BR125JHF |
| JKABRRJ14HDA00207 | BR125JHF |
| JKABRRJ16HDA00208 | BR125JHF |
| JKABRRJ18HDA00209 | BR125JHF |
| JKABRRJ14HDA00210 | BR125JHF |
| JKABRRJ1XHDA00213 | BR125JHF |
| JKABRRJ11HDA00214 | BR125JHF |
| JKABRRJ13HDA00215 | BR125JHF |
| JKABRRJ15HDA00216 | BR125JHF |
| JKABRRJ12HDA01159 | BR125JHF |
| JKABRRJ19HDA01160 | BR125JHF |
| JKABRRJ10HDA01161 | BR125JHF |
| JKABRRJ12HDA01162 | BR125JHF |
| JKABRRJ14HDA01163 | BR125JHF |
| JKABRRJ16HDA01164 | BR125JHF |
| JKABRRJ18HDA01165 | BR125JHF |
| JKABRRJ1XHDA01166 | BR125JHF |
| JKABRRJ11HDA01167 | BR125JHF |
| JKABRRJ13HDA01168 | BR125JHF |
| JKABRRJ15HDA01169 | BR125JHF |
| JKABRRJ11HDA01170 | BR125JHF |
| JKABRRJ13HDA01171 | BR125JHF |
| JKABRRJ15HDA01172 | BR125JHF |
| JKABRRJ17HDA01173 | BR125JHF |
| JKABRRJ19HDA01174 | BR125JHF |
| JKABRRJ10HDA01175 | BR125JHF |
| JKABRRJ12HDA01176 | BR125JHF |
| JKABRRJ14HDA01177 | BR125JHF |
| JKABRRJ16HDA01178 | BR125JHF |
| JKABRRJ18HDA01179 | BR125JHF |
| JKABRRJ14HDA01180 | BR125JHF |
| JKABRRJ16HDA01181 | BR125JHF |
| JKABRRJ18HDA01182 | BR125JHF |
| JKABRRJ1XHDA01183 | BR125JHF |
| JKABRRJ11HDA01184 | BR125JHF |
| JKABRRJ13HDA01185 | BR125JHF |
| JKABRRJ15HDA01186 | BR125JHF |
| JKABRRJ17HDA01187 | BR125JHF |
| JKABRRJ19HDA01188 | BR125JHF |
| JKABRRJ17HDA01190 | BR125JHF |
| JKABRRJ19HDA01191 | BR125JHF |
| JKABRRJ10HDA01192 | BR125JHF |
| JKABRRJ12HDA01193 | BR125JHF |
| JKABRRJ14HDA01194 | BR125JHF |
| JKABRRJ16HDA01195 | BR125JHF |
| JKABRRJ18HDA01196 | BR125JHF |
| JKABRRJ1XHDA01197 | BR125JHF |
| JKABRRJ11HDA01198 | BR125JHF |
| JKABRRJ13HDA01199 | BR125JHF |
| JKABRRJ16HDA01200 | BR125JHF |
| JKABRRJ18HDA01201 | BR125JHF |
| JKABRRJ1XHDA01202 | BR125JHF |
| JKABRRJ11HDA01203 | BR125JHF |
| JKABRRJ13HDA01204 | BR125JHF |
| JKABRRJ15HDA01205 | BR125JHF |
| JKABRRJ17HDA01206 | BR125JHF |
| JKABRRJ19HDA01207 | BR125JHF |
| JKABRRJ10HDA01208 | BR125JHF |
| JKABRRJ12HDA01209 | BR125JHF |
| JKABRRJ19HDA01210 | BR125JHF |
| JKABRRJ10HDA01211 | BR125JHF |
| JKABRRJ14HDA01213 | BR125JHF |
| JKABRRJ16HDA01214 | BR125JHF |
| JKABRRJ18HDA01215 | BR125JHF |
| JKABRRJ1XHDA01216 | BR125JHF |
| JKABRRJ11HDA01217 | BR125JHF |
| JKABRRJ13HDA01218 | BR125JHF |
| JKABRRJ10HDA02522 | BR125JHF |
| JKABRRJ12HDA02523 | BR125JHF |
| JKABRRJ14HDA02524 | BR125JHF |
| JKABRRJ16HDA02525 | BR125JHF |
| JKABRRJ18HDA02526 | BR125JHF |
| JKABRRJ11HDA02528 | BR125JHF |
| JKABRRJ13HDA02529 | BR125JHF |
| JKABRRJ1XHDA02530 | BR125JHF |
| JKABRRJ11HDA02531 | BR125JHF |
| JKABRRJ13HDA02532 | BR125JHF |
| JKABRRJ15HDA02533 | BR125JHF |
| JKABRRJ17HDA02534 | BR125JHF |
| JKABRRJ10HDA02536 | BR125JHF |
| JKABRRJ12HDA02537 | BR125JHF |
| JKABRRJ14HDA02538 | BR125JHF |
| JKABRRJ16HDA02539 | BR125JHF |
| JKABRRJ12HDA02540 | BR125JHF |
| JKABRRJ14HDA02541 | BR125JHF |
| JKABRRJ16HDA02542 | BR125JHF |
| JKABRRJ18HDA02543 | BR125JHF |
| JKABRRJ1XHDA02544 | BR125JHF |
| JKABRRJ11HDA02545 | BR125JHF |
| JKABRRJ13HDA02546 | BR125JHF |
| JKABRRJ15HDA02547 | BR125JHF |
| JKABRRJ19HDA02549 | BR125JHF |
| JKABRRJ17HDA02551 | BR125JHF |
| JKABRRJ19HDA02552 | BR125JHF |
| JKABRRJ10HDA02553 | BR125JHF |
| JKABRRJ14HDA02555 | BR125JHF |
| JKABRRJ18HDA02557 | BR125JHF |
| JKABRRJ1XHDA02558 | BR125JHF |
| JKABRRJ18HDA02560 | BR125JHF |
| JKABRRJ1XHDA02561 | BR125JHF |
| JKABRRJ12HDA02991 | BR125JHF |
| JKABRRJ14HDA02992 | BR125JHF |
| JKABRRJ16HDA02993 | BR125JHF |
| JKABRRJ18HDA02994 | BR125JHF |
| JKABRRJ1XHDA02995 | BR125JHF |
| JKABRRJ11HDA02996 | BR125JHF |
| JKABRRJ13HDA02997 | BR125JHF |
| JKABRRJ15HDA02998 | BR125JHF |
| JKABRRJ17HDA02999 | BR125JHF |
| JKABRRJ18HDA03000 | BR125JHF |
| JKABRRJ1XHDA03001 | BR125JHF |
| JKABRRJ11HDA03002 | BR125JHF |
| JKABRRJ13HDA03003 | BR125JHF |
| JKABRRJ10HDA03007 | BR125JHF |
| JKABRRJ14HDA03009 | BR125JHF |
| JKABRRJ10HDA03010 | BR125JHF |
| JKABRRJ16HDA03013 | BR125JHF |
| JKABRRJ18HDA03014 | BR125JHF |
| JKABRRJ1XHDA03015 | BR125JHF |
| JKABRRJ11HDA03016 | BR125JHF |
| JKABRRJ13HDA03017 | BR125JHF |
| JKABRRJ15HDA03018 | BR125JHF |
| JKABRRJ17HDA03019 | BR125JHF |
| JKABRRJ15HDA03021 | BR125JHF |
| JKABRRJ17HDA03022 | BR125JHF |
| JKABRRJ19HDA03023 | BR125JHF |
| JKABRRJ10HDA03024 | BR125JHF |
| JKABRRJ14HDA03026 | BR125JHF |
| JKABRRJ16HDA03027 | BR125JHF |
| JKABRRJ18HDA03028 | BR125JHF |
| JKABRRJ1XHDA03029 | BR125JHF |
| JKABRRJ16HDA03030 | BR125JHF |
| JKABRRJ18HDA03031 | BR125JHF |
| JKABRRJ11HDA03033 | BR125JHF |
| JKABRRJ13HDA03034 | BR125JHF |
| JKABRRJ15HDA03035 | BR125JHF |
| JKABRRJ17HDA03036 | BR125JHF |
| JKABRRJ19HDA03037 | BR125JHF |
| JKABRRJ10HDA03038 | BR125JHF |
| JKABRRJ12HDA03039 | BR125JHF |
| JKABRRJ19HDA03040 | BR125JHF |
| JKABRRJ10HDA03041 | BR125JHF |
| JKABRRJ12HDA03042 | BR125JHF |
| JKABRRJ14HDA03043 | BR125JHF |
| JKABRRJ16HDA03044 | BR125JHF |
| JKABRRJ18HDA03045 | BR125JHF |
| JKABRRJ1XHDA03046 | BR125JHF |
| JKABRRJ11HDA03047 | BR125JHF |
| JKABRRJ13HDA03048 | BR125JHF |
| JKABRRJ15HDA03049 | BR125JHF |
| JKABRRJ11HDA03050 | BR125JHF |
| JKABRRJ10HDA00186 | BR125JHF |
| JKABRRJ13HDA00196 | BR125JHF |
| JKABRRJ16HDA00211 | BR125JHF |
| JKABRRJ18HDA00212 | BR125JHF |
| JKABRRJ10HDA01189 | BR125JHF |
| JKABRRJ12HDA01212 | BR125JHF |
| JKABRRJ1XHDA02527 | BR125JHF |
| JKABRRJ19HDA02535 | BR125JHF |
| JKABRRJ17HDA02548 | BR125JHF |
| JKABRRJ15HDA02550 | BR125JHF |
| JKABRRJ12HDA02554 | BR125JHF |
| JKABRRJ16HDA02556 | BR125JHF |
| JKABRRJ11HDA02559 | BR125JHF |
| JKABRRJ15HDA03004 | BR125JHF |
| JKABRRJ17HDA03005 | BR125JHF |
| JKABRRJ19HDA03006 | BR125JHF |
| JKABRRJ12HDA03008 | BR125JHF |
| JKABRRJ12HDA03011 | BR125JHF |
| JKABRRJ14HDA03012 | BR125JHF |
| JKABRRJ13HDA03020 | BR125JHF |
| JKABRRJ12HDA03025 | BR125JHF |
| JKABRRJ1XHDA03032 | BR125JHF |
| JKABRRJ16HDA04419 | BR125JHFA |
| JKABRRJ15HDA04430 | BR125JHFA |
| JKABRRJ11HDA04439 | BR125JHFA |
| JKABRRJ15HDA04444 | BR125JHFA |
| JKABRRJ18HDA04454 | BR125JHFA |
| JKABRRJ11HDA05607 | BR125JHFA |
| JKABRRJ13HDA05608 | BR125JHFA |
| JKABRRJ15HDA05609 | BR125JHFA |
| JKABRRJ18HDA05619 | BR125JHFA |
| JKABRRJ1XHDA05623 | BR125JHFA |
| JKABRRJ10HDA05632 | BR125JHFA |
| JKABRRJ14HDA05634 | BR125JHFA |
| JKABRRJ14HDA05651 | BR125JHFA |
| JKABRRJ1XHDA05654 | BR125JHFA |
| JKABRRJ11HDA05655 | BR125JHFA |
| JKABRRJ17HDA05658 | BR125JHFA |
| JKABRRJ19HDA05659 | BR125JHFA |
| JKABRRJ14HDA07657 | BR125JHFA |
| JKABRRJ16HDA07658 | BR125JHFA |
| JKABRRJ18HDA07659 | BR125JHFA |
| JKABRRJ16HDA07661 | BR125JHFA |
| JKABRRJ11HDA07664 | BR125JHFA |
| JKABRRJ17HDA07667 | BR125JHFA |
| JKABRRJ10HDA07672 | BR125JHFA |
| JKABRRJ12HDA07673 | BR125JHFA |
| JKABRRJ11HDA07678 | BR125JHFA |
| JKABRRJ13HDA07679 | BR125JHFA |
| JKABRRJ13HDA07682 | BR125JHFA |
| JKABRRJ15HDA07683 | BR125JHFA |
| JKABRRJ10HDA07686 | BR125JHFA |
| JKABRRJ12HDA07687 | BR125JHFA |
| JKABRRJ14HDA07688 | BR125JHFA |
| JKABRRJ16HDA07689 | BR125JHFA |
| JKABRRJ16HDA07692 | BR125JHFA |
| JKABRRJ1XHDA07694 | BR125JHFA |
| JKABRRJ11HDA07695 | BR125JHFA |
| JKABRRJ13HDA07696 | BR125JHFA |
| JKABRRJ17HDA07698 | BR125JHFA |
| JKABRRJ19HDA07699 | BR125JHFA |
| JKABRRJ13HDA07701 | BR125JHFA |
| JKABRRJ19HDA07704 | BR125JHFA |
| JKABRRJ10HDA07705 | BR125JHFA |
| JKABRRJ14HDA04418 | BR125JHFA |
| JKABRRJ12HDA04420 | BR125JHFA |
| JKABRRJ14HDA04421 | BR125JHFA |
| JKABRRJ16HDA04422 | BR125JHFA |
| JKABRRJ18HDA04423 | BR125JHFA |
| JKABRRJ1XHDA04424 | BR125JHFA |
| JKABRRJ11HDA04425 | BR125JHFA |
| JKABRRJ13HDA04426 | BR125JHFA |
| JKABRRJ15HDA04427 | BR125JHFA |
| JKABRRJ17HDA04428 | BR125JHFA |
| JKABRRJ19HDA04429 | BR125JHFA |
| JKABRRJ17HDA04431 | BR125JHFA |
| JKABRRJ19HDA04432 | BR125JHFA |
| JKABRRJ10HDA04433 | BR125JHFA |
| JKABRRJ12HDA04434 | BR125JHFA |
| JKABRRJ14HDA04435 | BR125JHFA |
| JKABRRJ16HDA04436 | BR125JHFA |
| JKABRRJ18HDA04437 | BR125JHFA |
| JKABRRJ1XHDA04438 | BR125JHFA |
| JKABRRJ18HDA04440 | BR125JHFA |
| JKABRRJ1XHDA04441 | BR125JHFA |
| JKABRRJ11HDA04442 | BR125JHFA |
| JKABRRJ13HDA04443 | BR125JHFA |
| JKABRRJ17HDA04445 | BR125JHFA |
| JKABRRJ19HDA04446 | BR125JHFA |
| JKABRRJ10HDA04447 | BR125JHFA |
| JKABRRJ12HDA04448 | BR125JHFA |
| JKABRRJ14HDA04449 | BR125JHFA |
| JKABRRJ10HDA04450 | BR125JHFA |
| JKABRRJ12HDA04451 | BR125JHFA |
| JKABRRJ14HDA04452 | BR125JHFA |
| JKABRRJ16HDA04453 | BR125JHFA |
| JKABRRJ1XHDA04455 | BR125JHFA |
| JKABRRJ11HDA04456 | BR125JHFA |
| JKABRRJ19HDA05600 | BR125JHFA |
| JKABRRJ10HDA05601 | BR125JHFA |
| JKABRRJ12HDA05602 | BR125JHFA |
| JKABRRJ14HDA05603 | BR125JHFA |
| JKABRRJ16HDA05604 | BR125JHFA |
| JKABRRJ18HDA05605 | BR125JHFA |
| JKABRRJ1XHDA05606 | BR125JHFA |
| JKABRRJ11HDA05610 | BR125JHFA |
| JKABRRJ13HDA05611 | BR125JHFA |
| JKABRRJ15HDA05612 | BR125JHFA |
| JKABRRJ17HDA05613 | BR125JHFA |
| JKABRRJ19HDA05614 | BR125JHFA |
| JKABRRJ10HDA05615 | BR125JHFA |
| JKABRRJ12HDA05616 | BR125JHFA |
| JKABRRJ14HDA05617 | BR125JHFA |
| JKABRRJ16HDA05618 | BR125JHFA |
| JKABRRJ14HDA05620 | BR125JHFA |
| JKABRRJ16HDA05621 | BR125JHFA |
| JKABRRJ18HDA05622 | BR125JHFA |
| JKABRRJ11HDA05624 | BR125JHFA |
| JKABRRJ13HDA05625 | BR125JHFA |
| JKABRRJ15HDA05626 | BR125JHFA |
| JKABRRJ17HDA05627 | BR125JHFA |
| JKABRRJ19HDA05628 | BR125JHFA |
| JKABRRJ10HDA05629 | BR125JHFA |
| JKABRRJ17HDA05630 | BR125JHFA |
| JKABRRJ19HDA05631 | BR125JHFA |
| JKABRRJ12HDA05633 | BR125JHFA |
| JKABRRJ16HDA05635 | BR125JHFA |
| JKABRRJ18HDA05636 | BR125JHFA |
| JKABRRJ1XHDA05637 | BR125JHFA |
| JKABRRJ11HDA05638 | BR125JHFA |
| JKABRRJ13HDA05639 | BR125JHFA |
| JKABRRJ1XHDA05640 | BR125JHFA |
| JKABRRJ11HDA05641 | BR125JHFA |
| JKABRRJ13HDA05642 | BR125JHFA |
| JKABRRJ15HDA05643 | BR125JHFA |
| JKABRRJ17HDA05644 | BR125JHFA |
| JKABRRJ19HDA05645 | BR125JHFA |
| JKABRRJ10HDA05646 | BR125JHFA |
| JKABRRJ12HDA05647 | BR125JHFA |
| JKABRRJ14HDA05648 | BR125JHFA |
| JKABRRJ16HDA05649 | BR125JHFA |
| JKABRRJ12HDA05650 | BR125JHFA |
| JKABRRJ16HDA05652 | BR125JHFA |
| JKABRRJ18HDA05653 | BR125JHFA |
| JKABRRJ13HDA05656 | BR125JHFA |
| JKABRRJ15HDA05657 | BR125JHFA |
| JKABRRJ12HDA07656 | BR125JHFA |
| JKABRRJ14HDA07660 | BR125JHFA |
| JKABRRJ18HDA07662 | BR125JHFA |
| JKABRRJ1XHDA07663 | BR125JHFA |
| JKABRRJ13HDA07665 | BR125JHFA |
| JKABRRJ15HDA07666 | BR125JHFA |
| JKABRRJ19HDA07668 | BR125JHFA |
| JKABRRJ10HDA07669 | BR125JHFA |
| JKABRRJ17HDA07670 | BR125JHFA |
| JKABRRJ19HDA07671 | BR125JHFA |
| JKABRRJ14HDA07674 | BR125JHFA |
| JKABRRJ16HDA07675 | BR125JHFA |
| JKABRRJ18HDA07676 | BR125JHFA |
| JKABRRJ1XHDA07677 | BR125JHFA |
| JKABRRJ1XHDA07680 | BR125JHFA |
| JKABRRJ11HDA07681 | BR125JHFA |
| JKABRRJ17HDA07684 | BR125JHFA |
| JKABRRJ19HDA07685 | BR125JHFA |
| JKABRRJ12HDA07690 | BR125JHFA |
| JKABRRJ18HDA07693 | BR125JHFA |
| JKABRRJ15HDA07697 | BR125JHFA |
| JKABRRJ15HDA07702 | BR125JHFA |
| JKABRRJ17HDA07703 | BR125JHFA |
| JKABRRJ16HDA02671 | BR125JHFA |
| JKABRRJ17JDA08498 | BR125JJFB |
| JKABRRJ19JDA08499 | BR125JJFB |
| JKABRRJ11JDA08500 | BR125JJFB |
| JKABRRJ13JDA08501 | BR125JJFB |
| JKABRRJ19JDA08504 | BR125JJFB |
| JKABRRJ1XJDA08513 | BR125JJFB |
| JKABRRJ17JDA09201 | BR125JJFB |
| JKABRRJ10JDA09203 | BR125JJFB |
| JKABRRJ12JDA09204 | BR125JJFB |