Kawasaki appears to be joining Kymco in proposing a battery that can the owner can swap quickly to recharge their electric motorcycle.
The company filed a patent for an electric version of its baby Ninja in 2013, but the patent has only now been published.
In the main photo above, the battery and motor are shown to the left of the motorcycle to demonstrate how it can be pulled from the tubular frame of the machine.
That seems strange because only the battery would need to be replaced, although it would make maintenance on the motor easier.
That's also strange as motor maintenance is not an issue with electric vehicles. They tend to be long-lasting and have low maintenance requirements.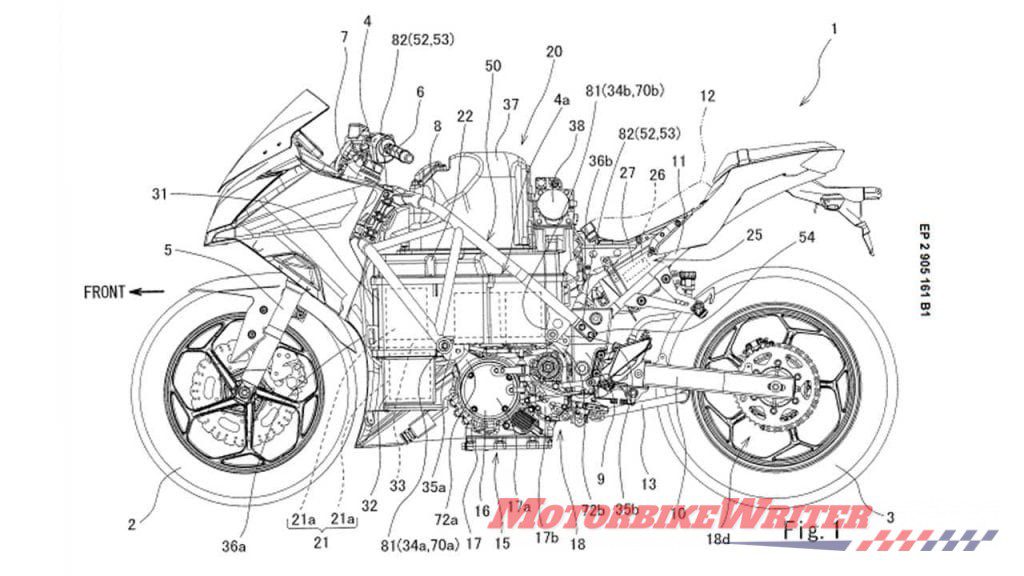 Battery swap history
The patent varies from the Kymco plan to make only the battery replaceable.
Kymco also has battery swap vending machines.
Battery swap technology is not new. British company Battery Traction Ltd came up with the idea in 1938, but it was sidelined by World War II.
Better Place also suggested the idea in 2008 and went broke in 2013.

Car companies dabbled with the idea, but have largely canned it because their batteries are too big.
However, Tesla has patented a robot that can charge an electric car's battery in 15 minutes and some small electric city cars can swap batteries in under a minute.
Standard battery swap size
While battery swap technology makes a lot of sense and would solve the problem of hours-long recharging, it would require all manufacturers to get on board with standard sized batteries.
The good news is that the four Japanese motorcycle manufacturers recently announced they are planning to standardise electric motorcycles.
However, Kawasaki's patent doesn't seem to advance the notion of a standard battery size the whole battery and motor coming out of the motorcycle in one unit.
Electric motorcycles and scooters need smaller batteries than cars, so a quick battery swap system for two-wheelers could still be likely.
Since battery technology is developing at a rapid pace, especially decreasing in size, a standardised battery size would become obsolete in just a few years.
Kymco suggest multiple small batteries would get around the battery size issue. However, their batteries are still quite big – about the size and weight of a 1990s laptop (about 5kg).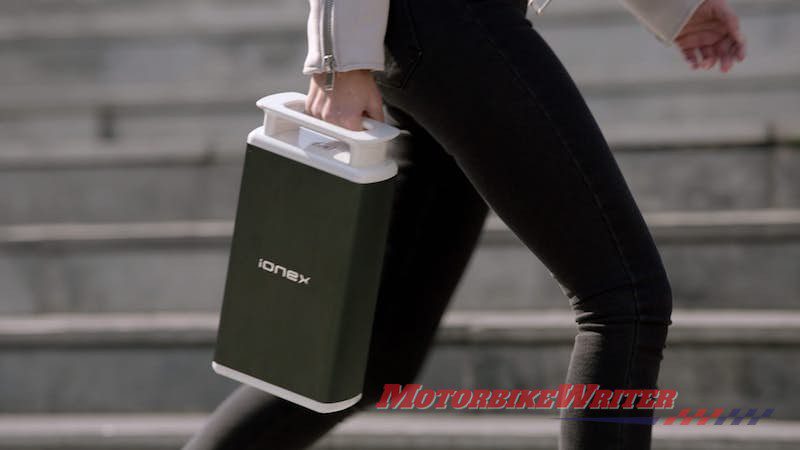 The Ionex is powered by two batteries stored under the floor pan. Each battery is good for about 30-40km.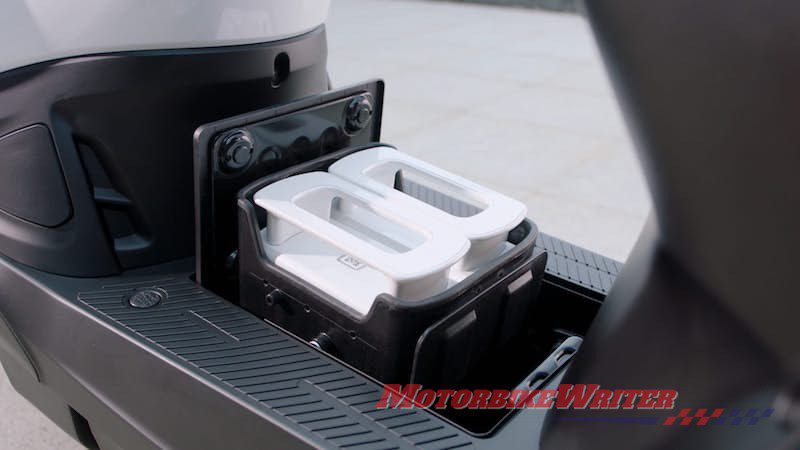 Kymco says riders can also rent up to three extra batteries and store them in the underseat compartment, extending range to 200km.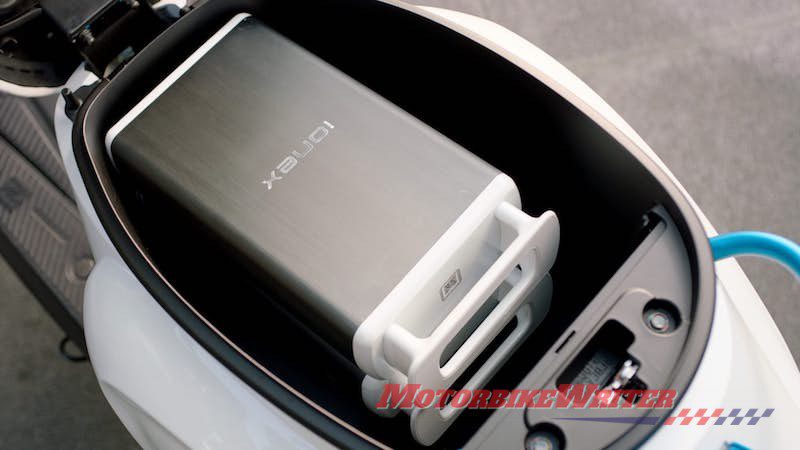 But then you lose the advantage of underseat storage for your helmet, jacket and gloves.
The Ionex can also be charged by plugging the scooter into a power outlet or plugging each battery into a portable charger you can have at home or work.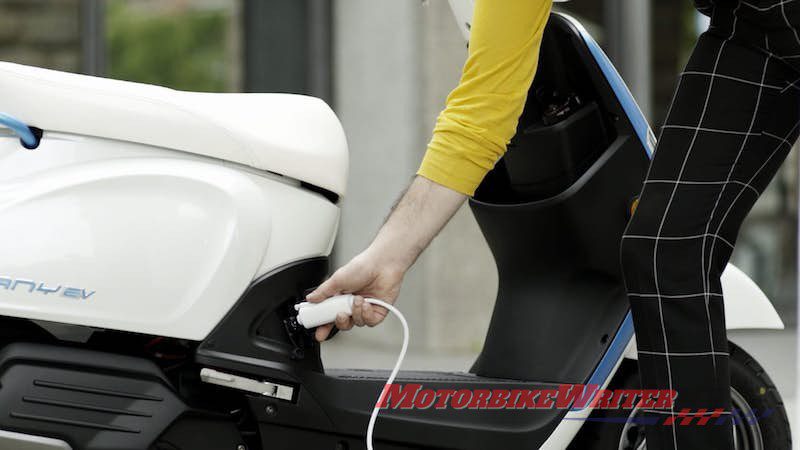 Chairman Alan Ko says they are launching 10 electric models in the next few years, establish their own charge battery-swapping networks in 20 countries and sell more half a million electric vehicles worldwide.
"With the Ionex, together we start an open movement that celebrates one of the most important social missions of our time," he says.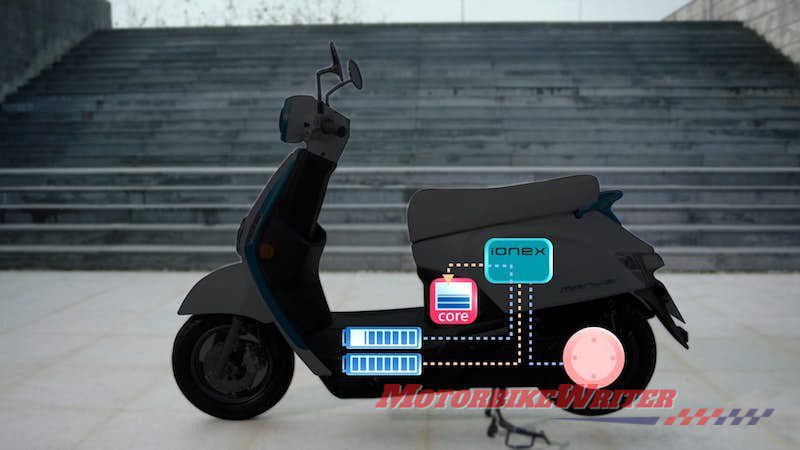 Infrastructure hurdle
There is also the problem of the expense of infrastructure to provide vending machines in enough places to make it workable.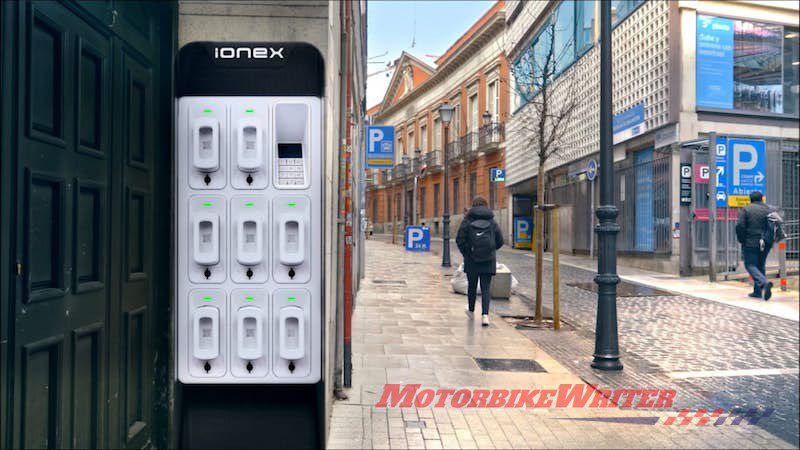 It may work in large cities, but would be impossible to get adequate con ergo in a large country such as Australia.
Kymco isn't the first scooter company to suggest battery swap technology.
San Francisco company Scoot has about 700 electric scooters for short-term hire.
Now they are looking at moving into small cars with swappable batteries.