Kawasaki Motors Australia took to a Brisbane race track to prove that the new Ninja 400 is an exciting addition to their lineup.
The bike replaces the Ninja 300 which was launched five years ago and has been among Australia's top-selling bikes ever since, selling more than 11,000.
Depending on your location, average ride away price for the Ninja 400 is $7699 for lime green or orange, and $200-$300 less for the black, all with ABS as standard. Click here for the Kawasaki ride-away price calculator.
The Ninja 300 was listed at $5654 and the Ninja 300 with ABS was $6199.
For the increase in pricing you get a lot more bike with more power and torque, LED headlights, lighter assist and slipper clutch, thicker and narrower seat to suit more rider sizes and the largest front brake disc in its class.
Click here for the introductory offer on finance and insurance.
Class war
Kawasaki started this class war that other manufacturers including Honda, Yamaha and KTM have followed.
Now Kawasaki is escalating the war with an increase in engine capacity to 399cc and power to 33.4kW.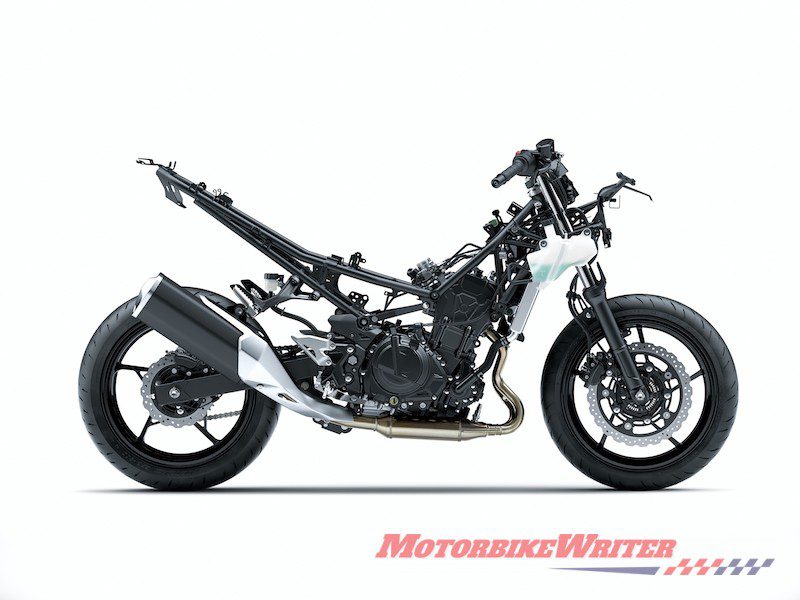 It still meets Australia's Learner-Approved Motorcycle Scheme (LAMS) without the need for an ECU limit or throttle stop and meets the Euro novice licence limit of 35kW.
The Ninja 400 parallel twin engine features a larger 5.8-litre airbox for more torque down low yet a dizzying 15,000 rev limit.
The result is a bike that accelerates faster than the Yamaha R3 and closely matches output with the KTM RC 390.
It's not just an upgrade, but a completely new engine that now sits as a stressed member in a lighter and more rigid trellis frame with a longer swingarm mounted directly on the back of the engine like the Ninja H2 hypserport models.
This all translates into a bike that is faster, better handling and more stable than the previous model, even in race form. More about the track test later.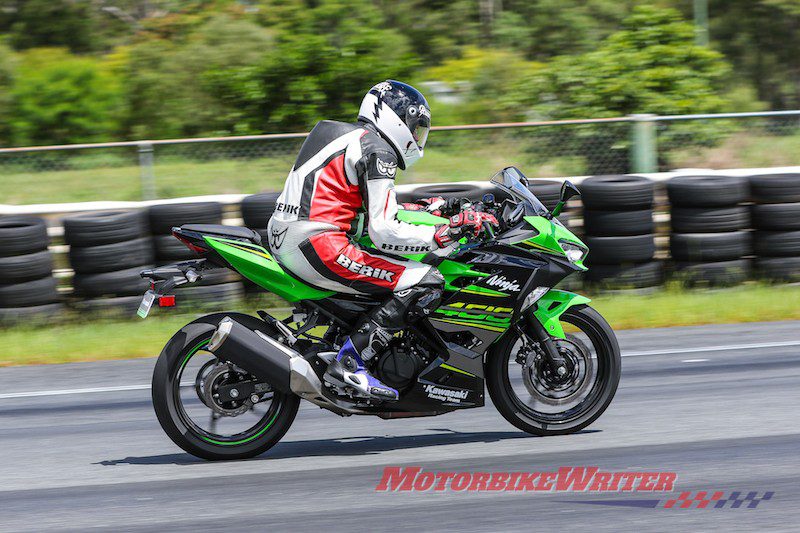 Light weight
Despite the bigger engine, the Ninja 400 is 6kg lighter than the Ninja 300 and now the lightest in class at 168kg fully fuelled.
Ninja 400 project manager Kunihiro Tanaka says most of the weight saving was in the new high-tensile steel frame, plus a 600g saving in the spindly wheels.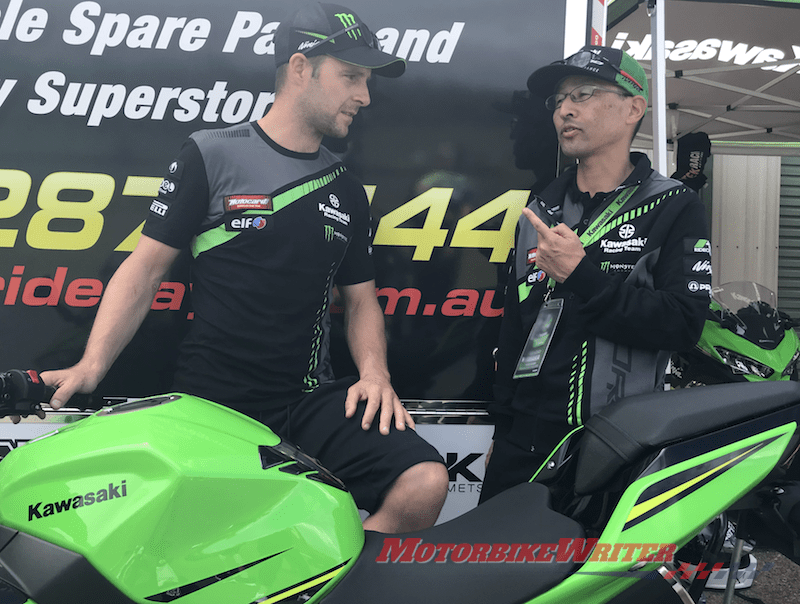 For all its weight saving, it looks a bigger bike than the Ninja 300 with its styling based on the H2 and ZX-14R with larger painted surfaces.
However, the bigger silhouette doesn't slow it down. Kunihiro says it was styled with aerodynamics in mind and wind-tested in their new wind tunnel at their Akashi factory.
The layout includes a longer swingarm for more high-speed stability, a steeper 2.47-degree caster angle for more precise steering and stiffer 41mm Showa telescopic forks for better handling and cornering.
It comes with the largest front brake disc in its class at 310mm which is the same as on their Ninja ZX-14R.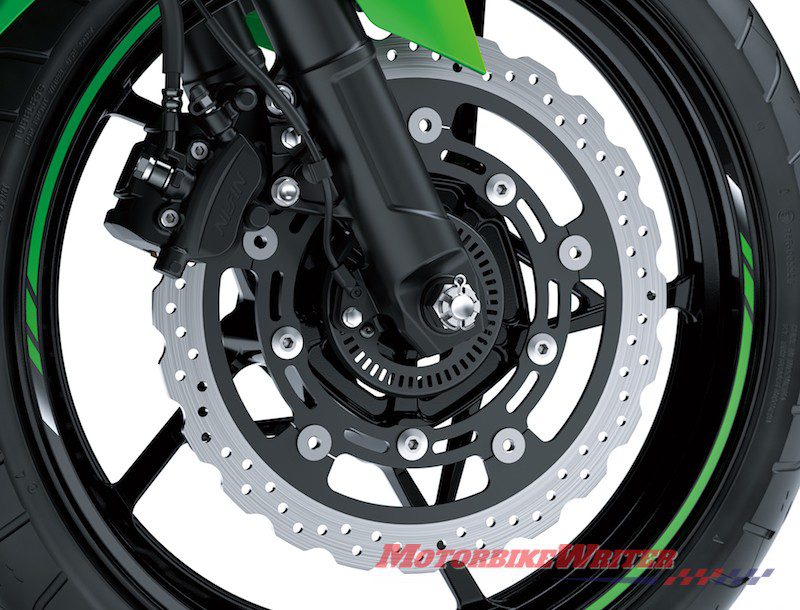 Other features
Rider comfort has been improved with more relaxed ergonomics, a narrower and thicker seat that allows shorter riders to more easily get their feet on the ground and an engine heat management system.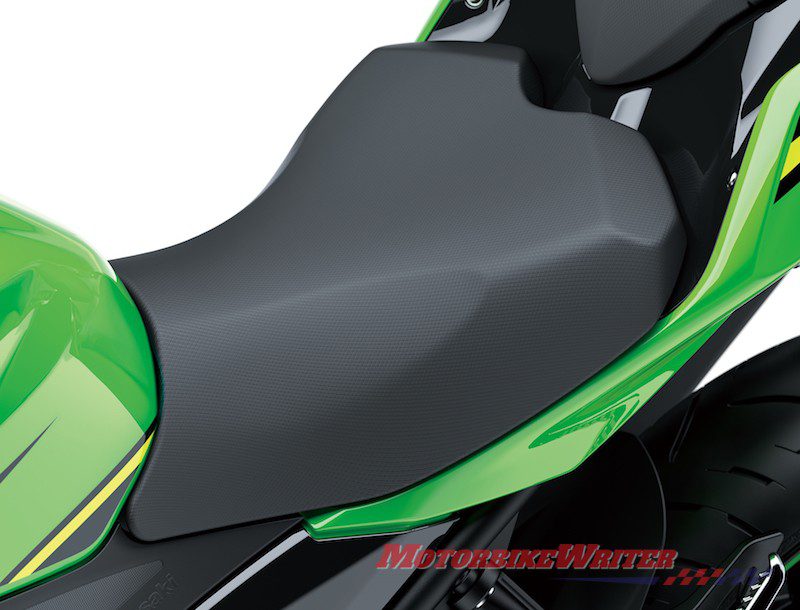 Basically they mean the fan pushes air down toward the ground, rather than through the fairing  and on to the rider.
We didn't get the chance to test this on the track, but it is the same system as on the Ninja 650L which does keep the rider quite cool in slow-moving commuter traffic on a hot day.
Another rider comfort feature is the assist and slipper clutch. Not only does it prevent rear-wheel lock-ups on downshifts, but it decreases tiring clutch effort in heavy traffic.
It is the lightest clutch I have felt. In fact, so light that when using two fingers to cover the clutch I occasionally activated the clutch!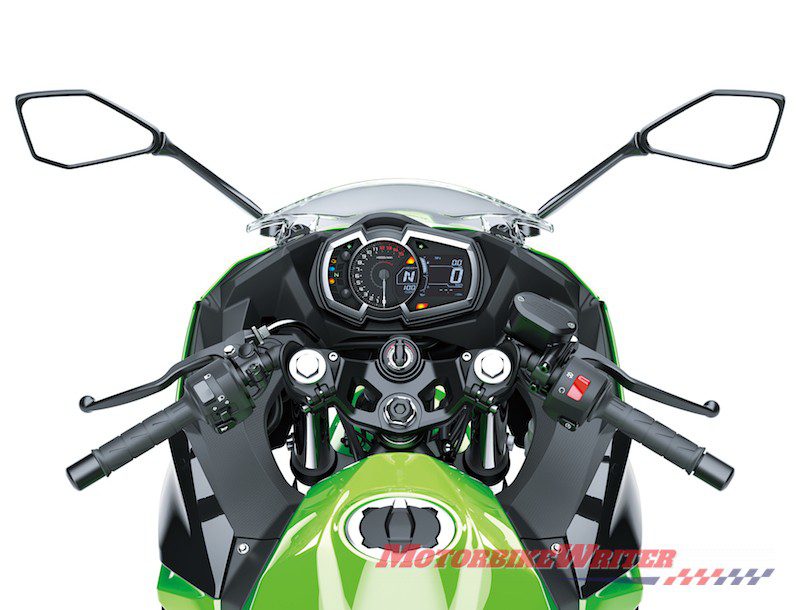 Even though it is a sports bike, riders of most heights should feel relaxed with high clip-on bars that are now 15mm closer and aluminium footpegs that are moved 9mm forward and 9mm down.
I felt very comfortable on the bike with my 185cm frame and there were taller and shorter riders among us who felt equally comfortable.
The Ninja 400 now comes with the backlit LCD/analogue instruments from the Ninja 65 L which are bigger, brighter and easier to read.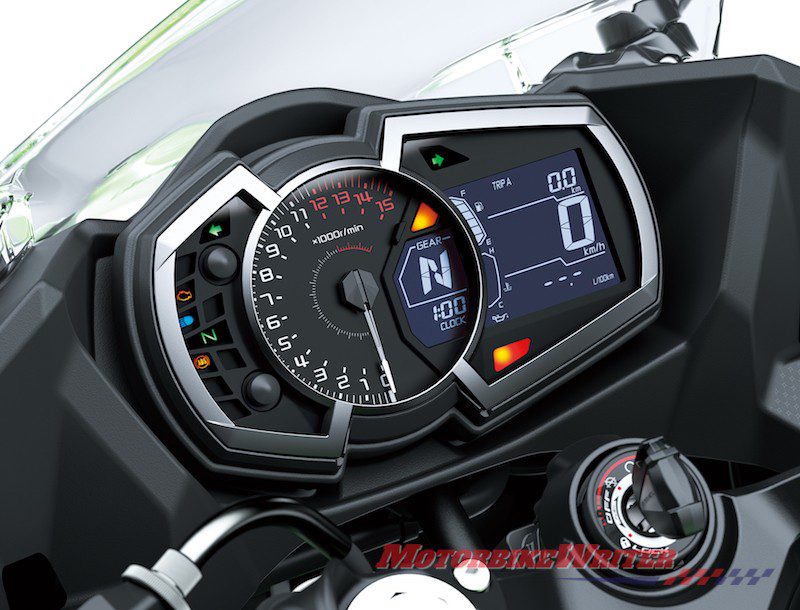 Information featured includes a clock, gear position indicator, analogue engine revs, fuel level, coolant temperature and speed on constant display.
You can also switch through other information such as the odometer, dual tripmeters, range and fuel consumption.
It now comes with LED headlights where both lights are on at low beam, unlike the previous model that only had one headlight on.
Track tested
Media launches for this model around the world have been held at racetracks, which seems strange for a bike that is targeting novices riders, females and commuters.
However, Kawasaki is keen for riders to explore its potential.
So the Australian launch was held at the historic Lakeside International Raceway in Brisbane.
And they even invited three-time World Superbike champion Jonathan Rea along.
He didn't get to ride the Ninja 400 on the track, but he has ridden it before for the video ads and being the bike's ambassador, he was quite effusive.
"I really enjoy it. It has the same Ninja heritage as my race bike," he says.
Champions Ride Day was also on hand to assist with tyre warmers, suspension adjustments and tyre pressures, just like a real pit crew.
As we set off for our first session, the heavens opened up, so it was a fairly slow ride.
I came in early as the back tyre was spinning on corner exit and the bike went sideways under power on the main straight kink.
I asked them to drop tyre pressures which were 34.5psi which is way too high for a dry track, let alone a wet track.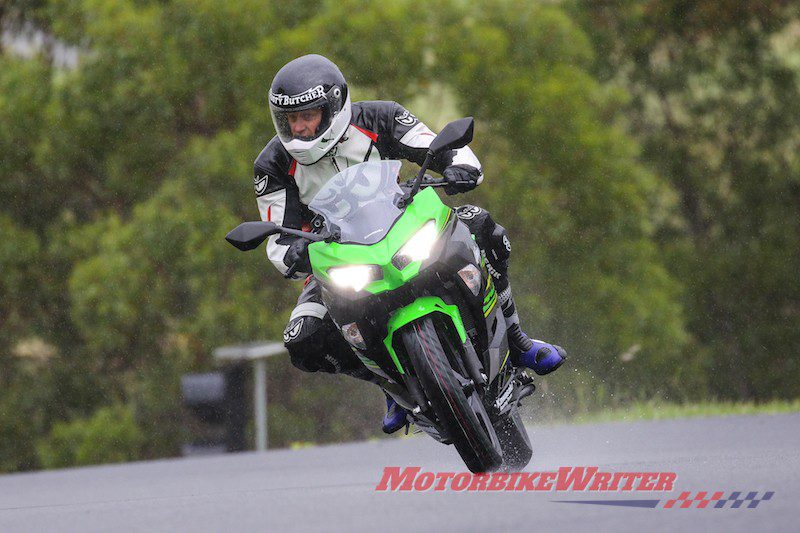 The result was instant hook-up from the Dunlop tyres and great high-speed stability.
There was no need for any suspension adjustment, although the new bottom-link rear shock has five-position preload. It requires tools which are provided, but were not needed on this occasion.
As the track dried out, speeds and corner angles increased and those tyres stood up to a total 60 minutes of track time with plenty of meat and grip left.
Proving there is no replacement for displacement, the new engine was up to the task of the undulating track, registering a top speed of 178km/h (some got as high as 190km/h).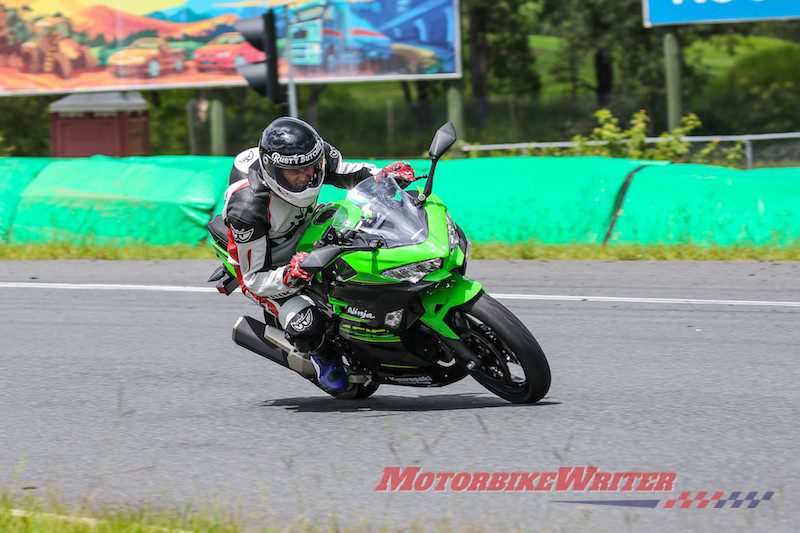 At that speed, the anger airbox has a glorious howl that belies the engine size.
Down at the braking markers at the end of the straight, the big front brake proved its worth with little dive from the Showa forks and plenty of stopping power.
There was some squirming around at the back, so I stayed off the rear brake here and allowed the slipper clutch to do its work, helping to slow the bike for the carousel.
On exit, the torque of the engine provided rapid acceleration, even in third gear.
In fact, you could easily ride the bike around the track in just third, fourth and fifth. Pulling sixth provided no extra acceleration down the main straight.
A track test gives little indication of how the suspension will handle real-world road bumps.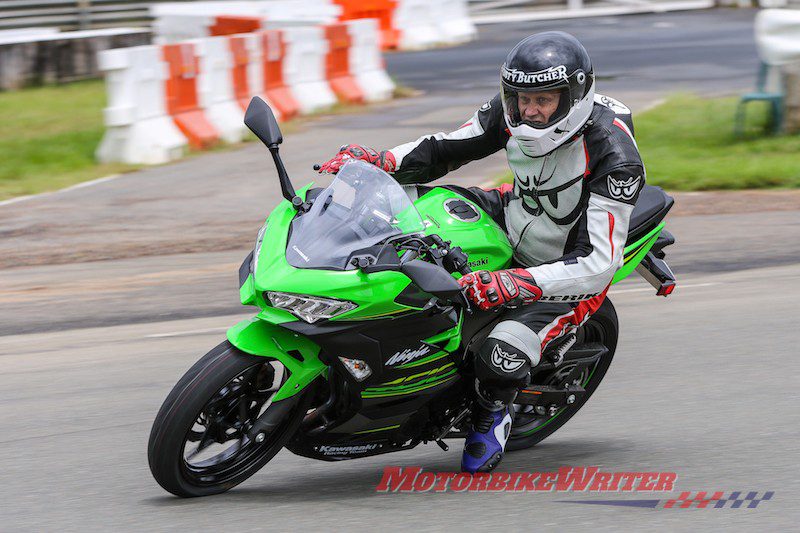 However, this track has a section called the bus stop, which is quite bumpy and tight.
It showed that the bike will quickly change direction, won't be bumped out of line and will ride through bumps with some comfort.
However, on the exit of the bus stop there is a crown in the road and a couple of bumps that provoked a bit of momentary head shake.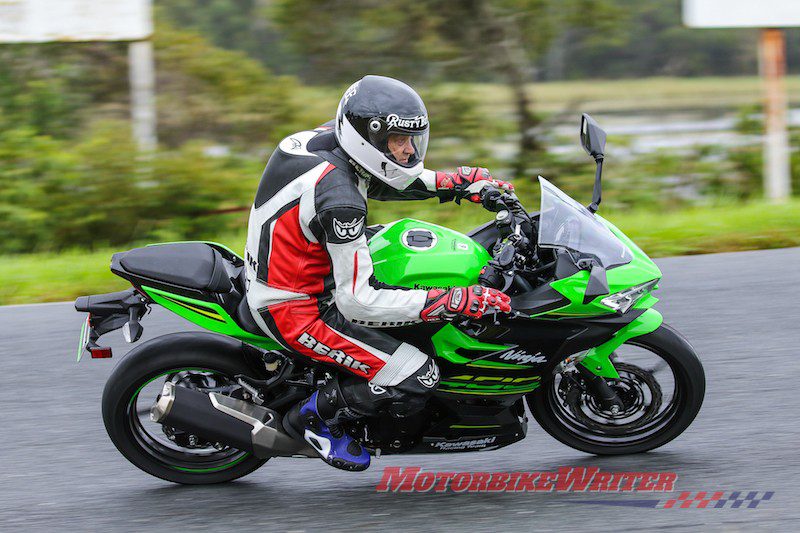 Conclusion
Bigger cubes win sales wars and Kawasaki has balanced the bigger engine with light weight, nimble handling, improved rider comfort and an attractive price tag.
We can understand the confidence of Kawasaki Motors Australia national sales manager Robert Walker that this bike will return to the top of the sales charts.
Kawasaki Ninja 400 SE tech specs
Price: about $7699 (ride away for lime green or orange – $200-$300 less for black)

Warranty: 24 months unlimited km

Engine: liquid-cooled, DOHC, 399cc, parallel twin

Power: 33.4kW @ 10,000rpm

Torque: 38Nm @ 8000rpm

Bore x stroke: 70×51.8mm

Compression: 11.5:1

Transmission: 6-speed, chain drive, assist and slipper clutch

Frame: steel trellis

Tyres: 110/70R17, 150/60R17

Suspension: 41mm telescopic fork, bottom-link Uni-Trak shock with reload adjustment

Brakes: 310/220mm petal discs, ABS

Length: 1990mm

Width: 710mm

Height 1120mm

Wheelbase: 1370mm

Clearance: 140mm

Seat: 785mm

Wet weight: 168kg

Fuel: 14 litres