Kawasaki KFX 700 In-Depth Guide
The Kawasaki KFX 700 is a 34 horsepower sport class four wheeler model manufactured by Kawasaki Heavy Industries inc. The KFX 700 weighs 516 lbs and has a 697cc 4-stroke V-twin engine resulting in a Kawasaki KFX 700 top speed of 74 MPH (stock). The KFX 700 has a seat height of 33.5 inches. I give Kawasaki an enthusiastic high five, I like what I see very much.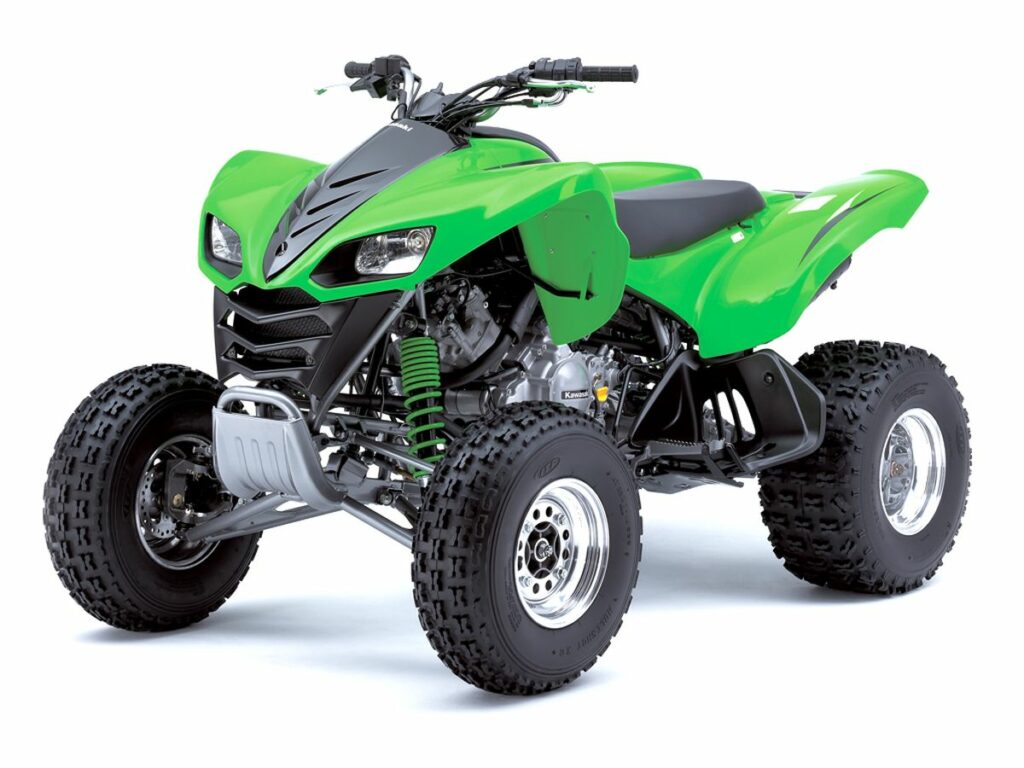 Kawasaki KFX 700 Specifications
Engine: liquid cooled 4 stroke V-twin, SOHC w/ four valves per cylinder
Displacement: 697cc
Bore and stroke: 82 x 66mm
Carb: Dual Keihin CVKR-D32
Starter: Electric
Kawasaki KFX 700 weight: 516 lbs.
Transmission: Variable with forward, reverse and neutral
Drive type: Shaft
Kawasaki KFX 700 Top Speed: 74mph stock
Frame type: Double cradle high tensile tubular steel
Kawasaki KFX 700 Horsepower: 34 HP
Front suspension: Dual A-arms, coil-over shocks / 9.3 in.
Rear suspension: Linkless swing-arm with piggy-back reservoir shock and dual-rate spring / 7.9 in.
Front tires: ITP Holeshot AT22x7-10
Rear tires ITP Holeshot AT22x11-10
Front brakes: Dual discs with two piston calipers
Rear brake: Sealed, oil-bathed multi-disc
Overall length: 78.1 inches
Overall width: 47.0 inches
Kawasaki KFX 700 Seat Height: 33.5 Inches
Overall height: 46.1 inches
Wheelbase: 50.6 inches
Color options: Lime Green and Metallic Marble Red
KFX 700 ATV appeal – Striking good looks and a distinctive style jump out at you right away which is important in the ever evolving sports ATV market. A closer look at the grab bars and plastics reveals a very similar design to the 2008 model but a change in color to metallic marble red is well received.
Also included on the 2009 KFX 700 are GNCC tested ITP Holeshot tires, aluminum alloy wheels, more powerful halogen lighting and sports style serrated footpegs perfect for off road four wheeler fun.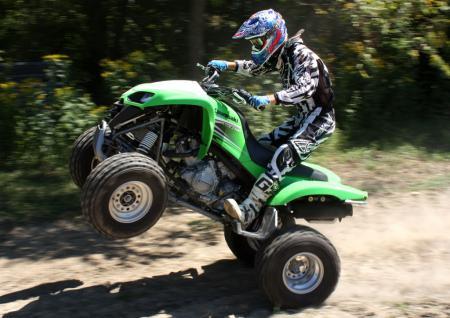 Kawasaki KFX 700 Engine Details
The KFX 700 Engine is a familiar liquid cooled four stroke V-twin, single overhead cam design with four valves per cylinder and wet sump lubrication. Also included are two Keihin downdraft carburetors and tuning designed to provide a wide torque curve for power across the entire rpm range. Who needs a motorcycle for raw power ?!
The KFX700 ATV also comes in traditional Kawasaki green if you're a diehard team green fanatic. Kawasaki has clearly been paying attention to the ATV racing scene as well as can be told by the fact that the 2009 KFX 700 sports a racing style chassis design made popular by many GNCC ATV racers. Do you recognize the team green Kawasaki beast in these pictures?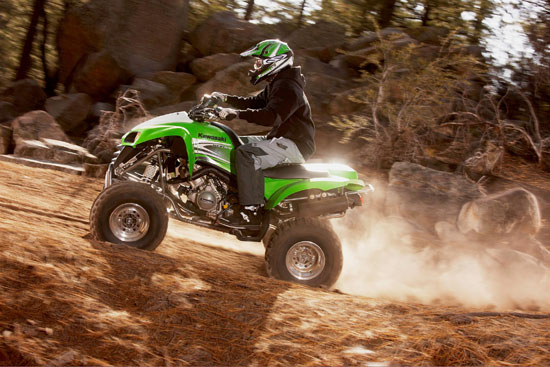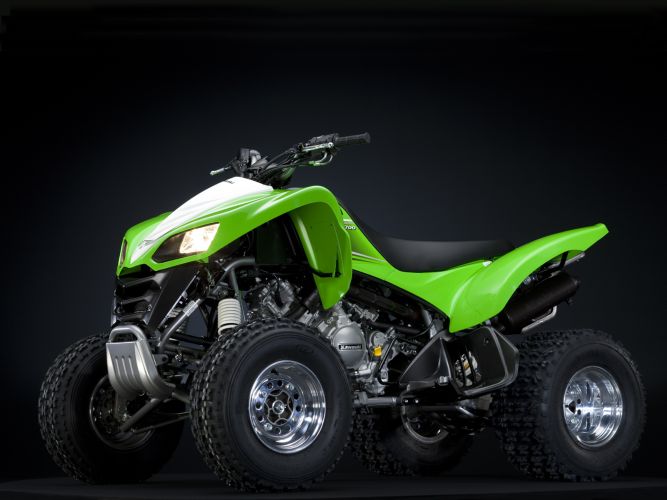 Here is what the official Kawasaki website had to say about the KFX 700
"The KFX 700 all-terrain vehicle continues to be a hit with off-road enthusiasts for obvious reason. Its the winning formula of Kawasaki's powerful V-twin engine and automatic transmission coupled with a racing-style chassis, which adds up to a sport ATV offering aggressive all-day riding that is fun and easy for a wide range of riders."