Kawasaki KFX 450R In-Depth Guide
Kawasaki infused a heavy dose of racing technology into the 2008 Kawasaki KFX 450R ATV. The Kawasaki KFX 450R is ready to race right out of the crate! Of course you may want to bolt on some high performance KFX 450R parts to make it even better but you don't have to break the piggy bank to do it. Seat height is 30.9 inches and top speed is 85 MPH.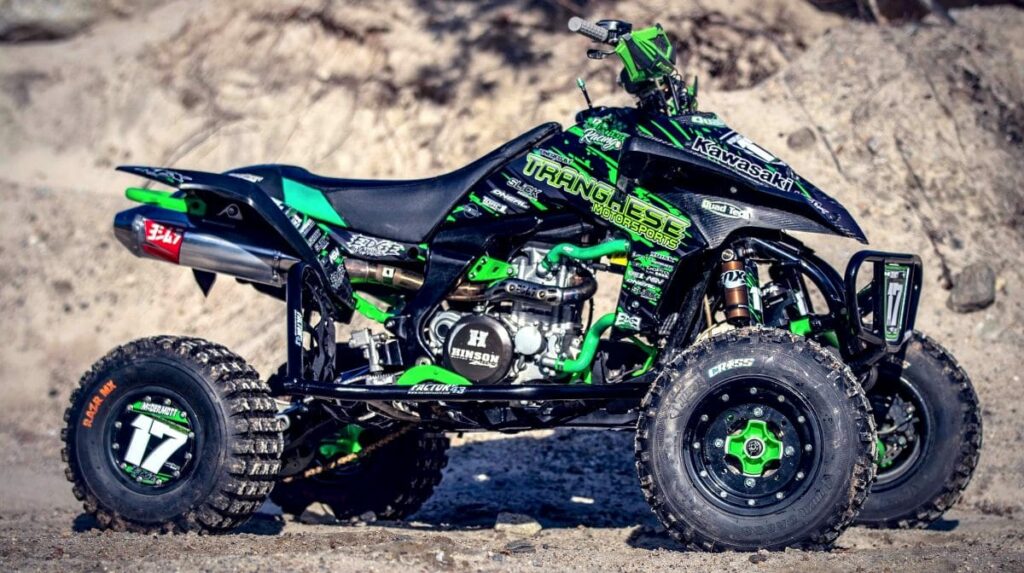 The KFX 450 introduces a 32-bit digital fuel injection system to help the KFX450R's engine produce more torque in the low and medium rpm ranges. Expect outstanding hole-shot acceleration don't let go of the grips. Other KFX450R features include a lightweight titanium exhaust header pipe and a durable forged piston an all aluminum frame.
Kawasaki's KFX450R model also has the only reverse gear in its class. If you happen to get stuck at the start of a race or run straight into a wall your race doesn't need to be over, a quick reverse and you're back in the race. The KFX450R was also designed to take high speed cornering by making it sit low to the ground and eliminate roll tendencies.
The official Kawasaki ATV website lists key features as follows for 2009.
KFX 450R Specs
Engine: Liquid-cooled, four-stroke single, DOHC, four valves per cylinder
Displacement : 449cc
Bore and stroke : 96 x 62.1mm
Fuel Injection: 32-bit digital, with 42mm Keihin throttle body
Starter : Electric
Transmission : Five-speed with reverse
Drive : Two-wheel chain
Frame : Aluminum double cradle, racing type
Front suspension : Dual A-arms, coil-over shocks w/ 8.5 inches of travel
Rear suspension : Swing-arm with piggy-back reservoir shock, dual-rate springs w/ 10.0 inches of travel
Front tires : AT21x7-10
Rear tires : AT20x10-9
Front brakes : Dual 163mm discs with two-piston calipers
Rear brakes : 200mm petal-type rotor with single-piston caliper
Length : 71.1 in
Width : 46.0 in
Height : 41.9 in
Kawasaki KFX 450R Seat height: 30.9 inches
Wheelbase : 49.4 in
Ground clearance : 4.3 in
Lighting : Dual removable headlights
Kawasaki KFX 450r weight : 364 lb
Kawasaki KFX 450r Top Speed : 85 MPH
Kawasaki KFX 450r Oil type : 10w40
Fuel capacity : 2.6 gal
Foot-pegs : Sport-style serrated
Color choices : Lime Green / Super Black, Bright White / Super Black, Super Black
This 2010 Kawasaki KFX 450R is SUPER CLEAN and in immaculate condition ready for some serious ATV mudding! Actually it's so clean I would hesitate to get into the mud, maybe for a minute anyway.
Special features include the 449cc 4-stroke fuel injected engine with 5-speed + reverse manual transmission. The rest of the quad is essentially stock but it's so clean you could eat off it. I ran the VIN number and it checks out as ready to be a project build candidate.
Overall this KFX450r has a lot of great qualities, I found it in Arlington Texas with a $5,500 asking price.
The 2009 KFX 450r ATV has it's sights set on conquering the affections of the serious ATV racing crowd and I'd dare to say it has accomplished it's mission. A quick inspection of what the KFX 450r 2009 model has to offer reveals a long list of desirable traits such as an all aluminum chassis, digital fuel injection a tapered Renthal Fatbar.
Every component has been designed to yield good results in the ultra-competitive 450 sport quad market and the KFX 450R is already an award winner. The 2008 KFX 450R was named best quad of the year and best 450 sport quad by the Ehlert Publishing Group, Inc.
Kawasaki offers this race ready ATV with your choice of lime green or sunbeam red and super black graphics at an MSRP of $7,549.00. Optional 2009 KFX 450R performance parts from the factory include a roll design steering shaft/bar mount for 409.95.
The 2009 KFX 450R Monster Energy ATV is promoted as being for riders wanting something different. By Different Kawasaki means the KFX 450R ATV is a race-ready high performance ATV.
Distinctive black ATV graphics and aggressive Monster Energy colors the KFX 450R Monster Energy stands out from the pack. The Asymmetrical cam set found in the 2009 449cc KFX 450R engine lend themselves to creating efficient fuel intake characteristics. Looking good Kawasaki!