UPDATED SEPTEMBER 27: It appears Kawasaki is keen to claim the title of the world's fastest motorcycle with the supercharged Ninja H2 which will be unveiled at the Intermot show in Cologne on September 30.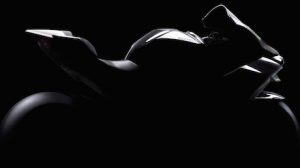 Kawasaki has been releasing teaser videos of the H2 over the past couple of weeks hinting that the supercharged green machine could be the world's fastest … and hottest! (Check out the latest video at the end of this story.)
That may not mean top speed as the motorcycle companies capped that a few years ago at 299km/h amid the Busa-Blackbird fight. However, Kawasaki may be about to break that long-standing agreement.
Or it could mean Kwaka is chasing the title for the fastest accelerating bike. According to Wikipedia, the top five fastest accelerating bikes are the 2006 Suzuki GSX-R1000 which takes 2.4 seconds to hit 100km/h. Second is the 2010 Yamaha VMAX (2.5s), 2012 Kawasaki Ninja ZX-14R (2.6s), 2010 Ducati 1198S and BMW S1000RR ((2.7s). 
The seventh video (below) does more than hint that the new H2 will be supercharged. It says "supercharged supersports debut" and refers to the supercharged four-cylinder engine they revealed last year at the Milan motorcycle show. It talks about the company's technological heritage with gas turbines which seems to run counter to the second teaser video which featured the sound of a turbo.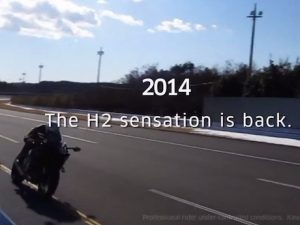 The sixth video says the H2 is "inspired by" and "built from" a legend, referring to the 1971 750SS Mach IV also known as the H2. It was renowned as the world's fastest motorcycle with "incredible acceleration" that made the H2 a motorcycle industry "sensation".
The video concludes: "The H2 sensation is back."
The eighthg video just features the sound of the bike at high revs with images of the glowing red header and the ninth video is about aerodynamics, but shows some fins in carbon fibre. (See below)
All will be revealed at the Cologne Intermot show on September 30 along with the rest of their range of 2015 models. Meanwhile, another teaser video will be released on September 24.
Check out the previous videos here.