Naked bikes are enjoying a boom in sales and now Kawasaki Australia has dropped the price of its "super naked" Z1000 ABS by $1300 and added a slipper clutch.
The attractive, Sugomi-designed naked bike is now even more attractive at $15,499.
It also comes with a newassist and slipper clutch in Metallic Matte Carbon Gray with Candy Crimson Red highlights.
Kawasaki says the assist and slipper clutch was developed based on feedback from racing activities.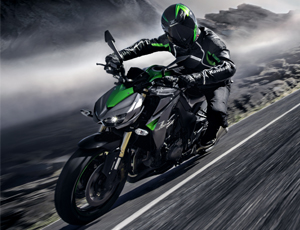 The clutch uses two types of cams (an assist cam and a slipper cam), offering two new functions not available on the standard clutch of the previous model.
"When the engine is operating at normal rpm the assist cam functions as a self-servo mechanism, pulling the clutch hub and operating plate together to compress the clutch plates," Kawasaki says.
"This allows the total clutch spring load to be reduced, resulting in a lighter clutch lever pull when operating the clutch. Fewer (3, vs 5 on the previous model) clutch springs translate to a 30% lighter clutch lever feel.
"When excessive engine braking occurs – as a result of quick downshifts (or an accidental downshift) – the slipper cam comes into play, forcing the clutch hub and operating plate apart. This relieves pressure on the clutch plates to reduce back-torque and help prevent the rear tyre from hopping and skidding."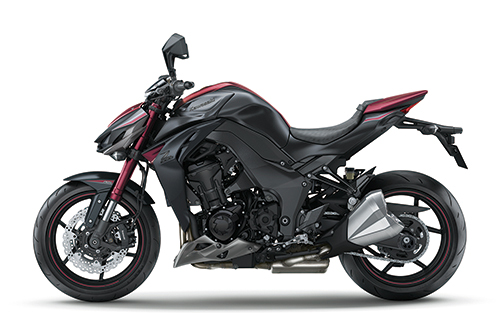 Basically this all means that you can bang through the gears quickly without having to worry about matching engine and road seeds to avoid a rear wheel lock-up. It makes the Z1000 ride faster and safer into corners.
The bike is still powered by a liquid-cooled, DOHC, 16-valve 1043 cm3 In-line four with 104.5kW of power and 111Nm of torque.
The Z1000 features a "Z" pattern on the front seat cover and integrates the rear seat shape so it looks like a single-seat cover.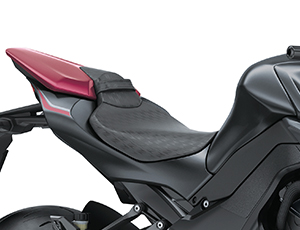 Furthering the sporty look are the low and slim mirrors, the compact headlamp and the low instrument cluster mounted directly to the handlebars, giving riders the impression they are flying because all they'll see ahead is the road.
And isn't that what ring naked is all about!