If you have ever been stranded with a flat battery on your bike, or been caught out with a flat battery on your phone, camera, Bluetooth headset, GPS, etc … worry no more.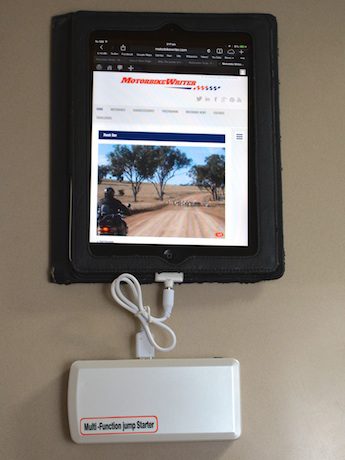 The Buzztech Multi-Function Jump Starter, which is claimed to be the world's smallest and lightest, is a dream come true for motorcycle riders. Even though it is only 16cm x 7.5cm x 2.5cm, or the same size as half a 450g tub of margarine, it is claimed to be able jump start a big motorcycle or car 20 times on a full charge. Ok, I didn't test it on 20 motorcycles, but I did jump start my bike's flat battery five times and it still had plenty of oomph left in the little unit to keep going.
But wait, there's more … it will also power or charge almost any portable electrical device you can name as it comes with a series of 15 connectors. The only adapters I couldn't find were the new small Apple connectors for iPhone 5 and iPad and the magnetic Apple laptop connector.
Buzztech claims it will fully charge a laptop in 2-3 hours or an iPhone in an hour, and still have enough power left over to charge at least six more iPhones. (I couldn't test that because of the iPhone 5 connector incompatibility.)
There are three different outputs. The 5V USB socket will supply 2 Amps of output for most small electrical devices such as mobile phones, tablets etc, a 19V socket with 3.5A output will power or charge a laptop computer and a 12V 2A output will power or trickle-charge a 12V vehicle. You could also use it to power a GPS, electric camp cooker, air compressor, gaming console, portable fridge, etc.
It comes in a zip-up leatherette case that neatly holds the unit charger, the jumper leads, all the connectors and adapters yet weighs just 977g. It's about the size of an iPad holder and I won't be leaving home without it tucked away in a backpack, tank bag, panniers or top box.
If you don't recharge the unit, it will hold a decent charge for up to six months, but it's best to top it up every three months to keep enough power for an emergency.
I expected the unit to cost several hundreds dollars, but it's only $147 and comes with a 12-month warranty. It's so cheap you could also get one for your car or boat.
http://www.buzztech.com.au/minijumpstarter/