The Joe Rocket Sahara vest uses evaporative cooling effect when soaked in cool water.
When it's dry, the vest can also be used to ward off the chill in cool weather.
It zips into Joe Rocket Phoenix 2.0 and Reactor jackets, but it can be worn under any mesh-type motorcycle jacket that flows air.
The vest fits comfortably and is very light when dry.
It has elastic side panels and no pockets.
You can also wear the Sahara vest off the bike for either cooling or warmth.
Introduction
Believe it or not, some time right after the Industrial Revolution, learned scholars were quoted as saying that anything that could be discovered had been.
Pretty pompous, those old farts…
Little did they know how many cool motorcycle products and accessories would be "discovered" in the early parts of the 21st century…
Maybe its because I'm becoming (or already am, depending upon who you ask) an old fogey myself, but I still get pretty excited when something new and useful comes along.
Back in the old days (you can be sure you're entering Fogeydom when you say things like "back in the old days"…), new motorcycle gear came along about once a decade.
Maybe today's jaded youngsters are used to seeing new developments on a near-weekly basis, but not me. Recent "discoveries" in hot-weather motorcycle clothing have been really exciting.
We now have super-light helmets that actually flow air and mesh jackets and pants that are as comfortable as pajamas.
Then there are fabrics that wick away moisture and now under-garments that use a recently rediscovered ancient technology — "evaporative cooling" — to help keep us cool!
The Joe Rocket Sahara Vest
The Joe Rocket Sahara "Evaporative Cooling System" vest uses a special polymer material in the liner that absorbs moisture, then slowly releases it in the form of a gas.
This process, (called "evaporation" for those of us who were out riding during Physics class) creates a cooling effect that is put to good use in helping to keep us comfortable during hot weather riding, or even for hanging-out in hot weather comfort.
The Sahara vest is made by motorcyclists for motorcyclists, so it's appropriately tailored for wear under motorcycle jackets, with a shorter back that will fit under most jacket styles.
The sides of the Sahara vest are made from a wide elastic, which helps the vest fit comfortably and close to the body. This is important for the optimal evaporative effect.
The vest will zip into the newer Joe Rocket Phoenix 2.0 and Reactor jackets, which is a nice feature, because when dry, the Sahara vest also provides some wind protection and a bit of warmth.
This means that the Sahara vest could be worn out in the morning under a Phoenix jacket, and then as the day heats up, it can be hydrated and used for cooling.
Soak 'n' Ride
The Sahara vest is very light when dry at 265 grams (9-3/8 oz.). Joe Rocket recommends soaking the vest in cool water for one to three minutes, but I found that soaking it a bit longer seems to cause it to hold more water.
After gently wringing it out a couple of times to eliminate the excess H2O, the vest weighs in at 1846 grams, or about 4 lbs., 1 oz. That's a difference of about 1573 grams, or 3.47 pounds of water!
One of the nice features of the Sahara vest is that the liner seems to be made of some type of fabric that allows you to get most of the evaporative cooling effect while still keeping most of the water from soaking your T-shirt worn underneath.
On the Road With the Sahara
Other clothing that I've tried that uses the evaporative cooling effect can sometimes also give a "wet T-shirt" feeling underneath, which isn't all that bad when you're riding in the heat, but feels pretty icky otherwise.
The Sahara vest does feels a bit damp underneath, but the liner prevents that soaking wet feeling. It's nice to be cool without also feeling like you've just crawled out of the Atlantic with your clothes on…
Our house has a nice, deep well that provides cool tap water, which works nicely to hydrate, or "activate", the vest.
I use a deep plastic Tupperware container and fill it about half-way with tap water, then I fold up the vest, sink it to the bottom with something heavy and let it soak.
The vest can also be placed in a plastic grocery bag after it's activated and stored in the refrigerator for a while to get an extra cooling effect, but I'm usually not thinking that far ahead.
If you know you're going out for a ride in a few hours or the next day, and it's going to be a hot one, the refrigerator trick comes in handy.
Alternatively, some ice cubes can be added to the "hydration activation device" (the water bucket!) to cool things down even more.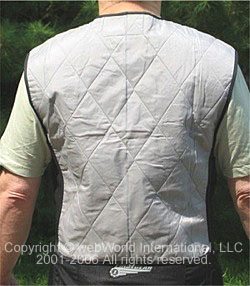 Optimal Use Factors
The Sahara vest's cooling effect works best when underway, although it can also be felt as soon as you put it on.
I don't really notice feeling the wetness, but I do notice the cooling factor.
It seems to last about one hour when riding a "naked" bike; a bit longer behind a fairing. It's not a pronounced chill like walking into an air-conditioned room, but the subtle cooling makes riding more bearable during those miserably hot and humid days.
In the past, I've sometimes avoided riding in the middle of the day in the summer because it's just too uncomfortable. But the Sahara vest provides just enough relief, and in the right places (on the back, chest and stomach) to make a difference.
I have a first-generation Phoenix jacket, which doesn't have the extra liner zipper, but it really doesn't matter.
The Sahara vest fits nicely underneath either the Phoenix mesh jacket (review) or my newFirstgear Hypertex mesh jacket (review) and it will fit under just about any mesh or other perforated jacket.
When activated with water, the Sahara vest is not designed to be used under any type of non-perforated jacket that doesn't provide large amounts of air flow.
The air flow is necessary to provide the evaporative cooling effect, and if you wear the activated vest under a leather or textile jacket, you'll only feel awfully wet and sticky. Yuck!
The Sahara vest also folds up into a nice little square, so it's easy to tuck it into the back pocket of a jacket or into a small tank bag.
Joe Rocket warranties the Sahara vest for one year, and the vest is available in sizes from small to XXXL.
Whether you have a new generation Phoenix jacket or not, the Sahara vest is a worthy addition to your hot-weather riding ensemble.
w

BW

 Review:  Joe Rocket Sahara Vest
List Price (2008): $79.95
Made In: Unknown
Colors: Silver
Sizes: S-2XL
Review Date: May 2008